Special offer: Free Thermage consultation if you have a Thermage procedure performed. Offer valid for new patients only and cannot be combined with any other offers.
For many people, the focal point of one's face is the eyes and the areas that surround them. When meeting someone for the first time or engaging in conversation, it's human nature to look directly into a person's eyes. We tend to notice when a person looks tired and run down and, unfortunately, droopy or sunken eyes can give us that appearance even when we're feeling wide awake and full of energy.
Though a certain amount of volume loss and excess skin or wrinkles around the eyes are natural parts of the aging process, it can be frustrating when your appearance makes you feel ragged. For individuals who wish to reduce the appearance of aging around the eyes, there are a number of different eye rejuvenation treatments available. Popular options include under eye dermal fillers, such as Juvederm or Restylane to treat the tear troughs, Mesopeel Periocular chemical peels to reduce the dark circles, skincare to treat pigmentation and fine lines, and Botox to reduce the appearance of crow's feet.
One of the more popular treatment areas, in Dr. Green's private NYC dermatology office, is Thermage directly around the eyes. When the skin in this area starts to sag (known as skin laxity) it can make an individual look prematurely old or tired. This skin laxity is easily treated with a skin tightening procedure called Thermage. Thermage eye treatment is an FDA-approved, non-invasive treatment designed to reduce wrinkles in the upper eyelids and eye bag area and make the eyes appear more "awake."
If you're unhappy with tired-looking eyes, except New York City cosmetic dermatologist Dr. Michele Green is here to help. Contact the office today to have Dr. Green create your own custom eye rejuvenation treatment plan and revolutionize your eye area today.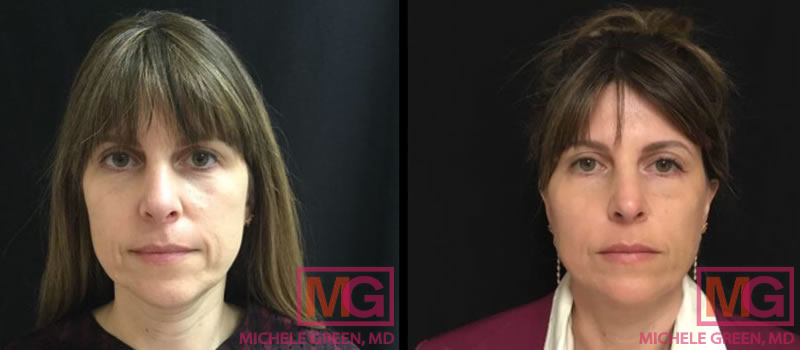 Thermage Before/After Photo (6 months, combined with Voluma & Restylane Lyft)
Skin Tightening through Thermage
Thermage works by using radiofrequency energy to safely heat the area under the skin while simultaneously cooling the surface. The heating helps tighten existing collagen to give the appearance of smooth looking skin. One of the key benefits of having Thermage is that it helps to stimulate collagen production and skin renewal in the treatment area, which in turn helps reduce the appearance of wrinkles.
Does Thermage CPT for eyes work?
Thermage CPT has been delivering outstanding results with skin tightening via radiofrequency energy  in reducing the visible signs of aging and skin laxity in the eye area. Thermage CPT or Thermage Comfort Pulse Technology sends radiofrequency energy into the layers of the skin, and it provides both immediate improvement and long-term collagen growth and blood flow stimulation that will help to rejuvenate and tighten skin near the treatment area. Thermage CPT is designed with a cooling feature in the tip to keep the surface of the skin cool, and a vibration component to increase comfort.
The newer Thermage FLX is a refined version of its predecessor that was recently approved by the FDA for use on almost all areas of the face and body. Its innovative design  includes wider tips that are 33% larger than Thermage CPT, which allows for wider surface coverage and improved cosmetic results. This means that Thermage FLX can work up to 25% faster than previous Thermage technologies, providing treatment to the entire face in around 45 minutes. For eye rejuvenation, Thermage FLX is typically more comfortable for patients, and it can revitalize the eye area in as little as 20 minutes.
When it comes to the eye area, an individual may have issues with a number of different aspects that are then treated through combination methods. For example, for a hollow tear trough area, a hyaluronic acid filler may be more appropriate than Thermage. However, one of the benefits of undergoing Thermage treatment is that it is a procedure that works well when done in combination with other techniques. For example, patients may use eMatrix®  and Botox injections in addition to Thermage in order to help reduce under-eye wrinkles. Chemical peels will lighten the dark circles and hyperpigmentation around the eyes. It is this combination approach which allows Dr. Green to provide her NYC patients outstanding eye rejuvenating results.
Ultimately, the best treatment or combinations of treatments are selected on an individual basis and dependent on your own needs and aesthetic goals. Dr. Green can discuss the options that are best for you during your initial consultation.
Does Thermage require any downtime?
Thermage is unique in that its radiofrequency design is able to stimulate collagen and tighten skin without the need for surgical procedures. It's effective, non-invasive, and it requires zero downtime. After your procedure, which typically takes around 45 minutes, you'll be able to resume normal daily activity, without any redness, swelling, or discomfort.
Browlift Thermage Treatment
Thermage can be used in other areas of the body and face (including the jawline) to both rejuvenate skin and even temporarily reduce the appearance of cellulite. One area that many people are interested in these days is a "Thermage browlift."
Thermage can be used in the brow area to help reduce the appearance of sagging in this area. Typically, this area is treated with injectables, like Botox, but this method is not appropriate for everyone. A big benefit of Thermage treatment is that results can last up to two years, which can be a major benefit when it comes to time and confidence for busy individuals who work and travel in and out of New York.
When it comes to the aging process, each of us ages slightly differently, but a sagging brow is one of the first signs of aging for many patients. This can be frustrating, as for some patients it can make them appear tired round the clock, while for others wrinkles and crepey skin around the eye area can make it more difficult to apply eyeliner and makeup. Whether you're frustrated by crow's feet and wrinkles around the eye, or you're feeling defeated by dark eye bags, Thermage treatment can help. A Thermage "brow lift" can create results akin to a surgical "eye lift" (a much smaller version of a facelift) without the need for invasive surgery or downtime.
Thermage Before/After Photo (with Botox)
Thermage Procedures for the Upper Eyelids
There are a couple of issues that can affect the eyelids specifically. The first issue commonly seen along the entire face is fine lines and wrinkles. Another issue that is commonly associated with the eyelid area is hooding. This is where there is visible loose skin and sagging of the upper eyelid skin. This can make the eyes appear more closed and is one of the reasons people may say that you are looking a little tired.
An eye lift without the need for surgical procedure
The good news is that modern dermatology practices such as Thermage can help give you the appearance of an eye lift and avoid you having to go through invasive eyelid surgery. Thermage's radiofrequency technology can help stimulate collagen production within the skin, and in turn this new collagen can tighten up loose skin along the upper eyelid. Thermage and Thermage FLX, a newer version approved by the FDA in 2017, both work to reverse skin laxity and tighten excess skin. Thermage FLX also provides a faster, more comfortable alternative to traditional Thermage due to its larger tips.
Eyelid Before and After – Source: Thermage
Eyelid Thermage: Does Thermage work on eyelids?
Eyelid Thermage can help regenerate the collagen in the layers of the skin, which in turn will help reduce the sagging, fine lines and wrinkles. Skin tightening will also occur, and this can make the eyes appear more 'open' and reduce the appearance of hooding. If you are experiencing issues with your eyelids where they are making your eyes appear more closed than you would like, then Thermage can help make your eyes appear more open by tightening the drooping skin. With Thermage, once you've had the treatment, you can resume your normal activities since there is no downtime. Most people will require a single treatment but in some cases more than one may be required. Thermage is also a long-lasting treatment and you can expect the results to remain for a few years.
Best approach for Eyelid tightening
When it comes to mild eyelid tightening, Thermage is an excellent method. Thermage can be combined with a variety of skin tightening and rejuvenating treatments in order to target the eye area and create a youthful, more energized appearance. In the case of more severe eyelid sagging, Thermage can be combined with eMatrix or Fraxel laser to tighten the skin and reduce the appearance of tired-looking eyes.
Are there any side effects to Thermage?
For those new to radio frequency technology, you may wonder, is Thermage safe for eyes? Thermage is not only safe and effective, but it's FDA approved to treat skin laxity and wrinkles on the eyelid and surrounding the eyes. After treatment, you may experience some minor swelling or temporary redness on the treatment area, but these symptoms typically dissipate over the first 24 hours.
Thermage eye procedures: How much does Thermage for eyes cost?
The cost of Thermage treatment depends on the needs of each patient, and the specific treatment area.
How much is Thermage for eyes?
Thermage for eyes is variant depending on the severity of skin laxity, but typically treatment costs vary per patient. Most patients only require one treatment session for optimal results, and these rejuvenating results can last up to two years.
How much is Thermage for eyelids?
A Thermage eyelid treatment has a similar price range to Thermage for eyes, but of course the total cost will be dependent on your aesthetic goals and the amount of treatments required to achieve rejuventated, tighter skin.
Other Eye Rejuvenation Treatments & Solutions
Often when it comes to the eye area, we need to take a flexible approach to rejuvenation treatments, as one procedure cannot always deal with every concern. Often, if there are issues with the upper eyelid, we may also need to look at treatments for other areas. Common issues with the eye area include wrinkles and sagging of the lower eyelid, crow's feet and wrinkles at the side of the eyes, and dark circles and eye bags that are unsightly. Typically we can use Thermage to tackle the upper eyelid and brow area, but we may also consider alternative options, such as Botox, eMatrix for wrinkles under the eyes, or Fraxel laser treatments and Juvederm injectables in the same treatment session to help with the appearance of the eyes in general.
Say goodbye to droopy eyelids
If you're frustrated with the appearance of your eyes and surrounding area, Dr. Green's NYC cosmetic office can offer you a customized treatment plan to help. To learn more about Thermage in the eye area, eye lid area, or Thermage brow lifts, contact us online today or call 212-535-3088.