One area of the body that many individuals can be self-conscious of is the stomach and abdominal area. Even with a good diet and exercise regime, excess fat in the stomach area can linger and be hard to lose. The good news is that there are a number of options available that can help reduce excess fat in this area. Generally, treatments to this area fall into two distinct areas, reducing excess skin with laser skin tightening techniques and fat removal.
In her New York City office, board-certified dermatologist Dr. Michele Green has offered non-invasive skin tightening and fat removal procedures for her patients since the technologies were first developed. Dr. Michele Green is an expert in non-invasive cosmetic techniques, such as CoolSculpting®, Thermage®, Botox®, Juvederm® injections, BBL, Fraxel laser and other skin rejuvenation treatments. With over two decades of experience in nonsurgical skin tightening and an emphasis on cosmetic procedures with no recovery time, Dr. Green will help you get the best cosmetic results.
What is laser skin tightening for the stomach?
Laser skin tightening is a process by which a targeted laser can help to increase the elastin and collagen production in the skin, which in turn can produce effective nonsurgical skin tightening. Common radiofrequency energy lasers include Thermalift, Exilis, and Thermage. Occasionally, dermatologists will also rely on ultrasound energy (Ultherapy).
Dr. Green's highest recommendation for laser skin tightening for the stomach is that of Thermage®. Thermage uses innovative radiofrequency energy within its laser to heat the deeper layers of the dermis, which in turn leads to smoother, firmer skin. It's a popular cosmetic procedure that's safe to use along the majority of the body, and requires zero recovery time.
Radiofrequency laser for skin tightening treatment
For individuals with a little excess or sagging skin, a skin tightening procedure such as Thermage could be a good option. Thermage uses radiofrequency heating to tighten existing collagen and, over the following few months, produce new collagen growth. This extra collagen helps tighten the skin further. Though Thermage cannot replace surgery when it comes to a severe amount of loose skin, it is an excellent option for those with a mild amount of excess skin. There is no downtime with this procedure and you can resume your normal routine immediately your Thermage treatment.
In cases where there is not excess skin, the Thermage laser treatment is commonly performed by Dr. Green to tighten the abdominal area. Results are long-lasting, with the effects of a single Thermage treatment lasting up to two years. Many of our patients often use this option to reduce skin issues post-pregnancy, or to tighten skin after a weight loss experience.
Thermage FLX
The new Thermage FLX is at the forefront of laser skin tightening technology. Thermage FLX treatment works in a similar way to earlier Thermage technology, but with additional enhancements and improvements. With the addition of AccuREP™ algorithmic technology, Thermage FLX can apply radiofrequency energy with extreme precisision, and the wider treatment tip allows for more comfortable and faster treatment sessions, with even better treatment results. Now, patients can experience a fast and easy treatment that boosts collagen, tightening the skin to wondrous effect. Additionally, Thermage FLX works to improve the appearance of cellulite on selected treatment areas, such as the thighs or buttocks.
Thermage in abdomen area, 4 months before/after photo
How does laser skin tightening work?
So, does laser tighten skin? With innovative radiofrequency technology, Thermage is able to tighten skin through a non-invasive skin tightening procedure. Thermage uses radiofrequency energy to access the deeper layers of the dermis, while keeping the epidermis cool, which in turn can improve the elasticity of the skin. This deep heating of collagen is the mechanism by which new collagen growth is stimulated.
The skin tightening treatment is rather simple. Dr. Green will meet with you for an initial consultation to discuss your goals, as well as your medical history, and will determine the best course of treatment for skin tightening. If Thermage is determined to be the best choice for optimal results, you will come in for the treatment, where Dr. Green will apply the handheld device to the treatment area. The device will emit a series of heating pulses to the skin, and typically takes around one hour to complete. The procedure for Thermage is painless, and no topical numbing cream is needed at all before your treatment. After your procedure, you'll be able to resume normal activity immediately, and your results will continue to improve over the next few months, as new collagen production is stimulated and the skin is tightened.
Is skin​​​​ tightening effective on other areas of the body?
Laser skin tightening with Thermage is a highly effective way to create all-over body contouring. Thermage is FDA approved to treat the face, jawline, eye area, stomach, arms, hands, thighs, and buttocks. It's frequently used in combination with dermal fillers, Botox, or skincare procedures to create a non-surgical facelift, providing amazing facial rejuvenation.
How long does laser skin tightening last?
Laser skin tightening has long-lasting results. Typically, patients will see continued improvement in the look and feel of their skin for the first 3-6 months post-treatment. From there, patients can enjoy 1-2 years of laser skin tightening treatment results. Many patients are so thrilled by the results from a single treatment that they will return for follow-up procedures on an annual or semi-annual basis.
How many laser treatments are needed?
In order to achieve optimal results, some patients may require more than one session. However, the majority of patients achieve satisfying results from a single Thermage treatment session. Thermage is unique in that its results continue to improve for several weeks-to-months after an initial treatment, but a second Thermage treatment can be considered at the six month mark for even better results and increased collagen production.
Is laser skin tightening safe?
Thermage laser skin tightening is FDA-approved for treatment almost everywhere on the body. It's an incredibly safe and effective way to improve the firmness of your skin, with long-lasting results and no downtime required. For this reason, Thermage has become the gold standard for skin tightening and treatment patients with with mild to moderate amount of loose skin.
Can laser skin tightening cause cancer?
Laser skin tightening is not a cause of skin cancer. It is FDA-approved as a safe way to firm skin on the body.  An aesthetician or medical spa employee is not trained to identify cancerous growths on the skin but laser skin tightening does not in any way cause skin cancer or any other types of cancers.
CoolSculpting for fat removal
While Thermage tackles skin laxity, CoolSculpting focuses on fat reduction via a process called cryolipolysis, known as 'fat freezing', to help reduce the fat cells in the body. Suction adapters are attached to the treatment area and the skin under the pads is cooled down, destroying the fat in the stomach. After the fat freezing session has taken place, the fat leaves the body naturally in the targeted area. Post treatment, a patient can resume their normal routine since there is no downtime.
CoolSculpting can target both the abdomen and the hip area, or love handles. Results appear a few months after the treatments take place. Sometimes, more than one treatment may be recommended since with each successive treatment more fat is reduced from the targeted area. Each CoolSculpting session can reduce the fat in the area by up to 25%, which can be a significant improvement.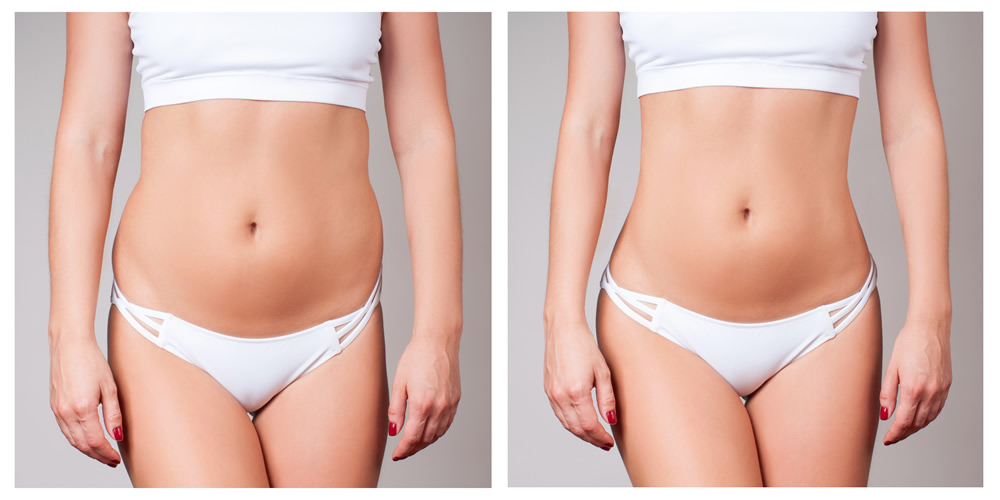 Additional fat removal options
Another non-surgical option for removing fat from around the stomach area is the FDA approved treatment, Vanquish®. This treatment uses RF technology to heats up the fat cells in the body around the stomach area. After the treatment and over the following days and weeks, the Vanquish procedure helps 'flush' out the fat from the body, reducing the size and improving the appearance of the stomach area.
An individual normally requires six treatments to achieve optimal results, and these sessions typically take place a week apart. One of the main benefits of Vanquish is that it is considered pain free and there is no downtime. Some patients may experience a little discomfort and post-treatment redness, but this reduces quickly. Overall, a patient can expect to reduce their waist between two and four inches in total, which can be quite a dramatic change to the overall shape of the stomach area.
If the patient retains a healthy diet and exercise routine, then the size of the stomach can usually be maintained after Vanquish sessions are completed. However, a poor diet and exercise routine can mean that eventually the effects from Vanquish are reversed. For this reason, neither CoolSculpting nor Vanquish are considered appropriate alternatives to weight loss.
How much do fat removal and skin tightening procedures cost?
The cost of non-surgical procedures for fat removal and skin tightening varies depending on the size of the area being treated, the amount of treatments needed, as well as the aesthetic goals of each patient. When you work with Dr. Green, she will discuss your needs and develop a treatment plan that balances your goals and budget.
Non-invasive fat removal vs. tummy tuck
Liposuction and tummy tucks (also known as abdominoplasty) are also a popular option for reducing the size of the stomach and abdomen area, and are offered by plastic surgeons. The general goal of a tummy tuck is to remove excess fat, but also to help sculpt the abdomen area. Some individuals who have lost a lot of weight, may have excess skin or severe stretch marks remaining, and this can be difficult to reduce without some form of plastic surgery. Many people refer to this procedure as a "Mommy Makeover."
45-54 year old female, thermage in abdomen area, 9 months
Generally, this procedure can work very well, but this treatment does not come without the potential for serious issues since this is classed as major surgery, and involves an invasive procedure to accomplish. The patient will also need to spend a few nights in a hospital and will require a lot of downtime afterwards (potentially between four and six weeks). This means that time off work will be required, and the individual will not be able to drive a car for a few weeks after the procedure. For many people, this expense and downtime is too great a hurdle, so other options such as non-invasive procedures are much more attractive, particularly as excellent results can still be achieved for the majority of cases.
If you're frustrated by the appearance of excess skin or fat on the stomach, Dr. Michele Green can help. An expert in skin tightening and non-surgical body contouring, Dr. Green will restore lost volume, improve skin laxity, remove stretch marks, and increase new collagen production, without any downtime.
Call Dr. Michele Green at 212-535-3088 or contact us online to schedule a consultation to discuss which cosmetic treatments would be best for you to help tighten the stomach area.