Kybella injectable treatment, used to eliminate pockets of fat under the chin, is one of the most popular procedures at Dr. Michele Green's New York City dermatology office. Submental fullness, also referred to as the "double chin," is common in both men and women and can make many of us feel self-conscious. According to the American Society for Dermatological Surgery (ASDS), a recent student demonstrated that 67% of patients felt uncomfortable with the accumulation of fat under the chin. A double chin and sagging jowls can be a particular bothersome because even with a healthy diet and a steady exercise regimen, accumulated submental fat is difficult to get rid of without the help fo a cosmetic procedure. For a long time, the only procedures available to reduce submental fullness and contour the jawline was plastic surgery with liposuction. But with the FDA approval of Kybella in 2015, there is now a safe and effective non-surgical treatment for fat reduction available with minimal downtime.
Over time, fat can accumulate under the chin and as collagen and elastin production decrease in the body, the skin becomes looser and thinner, which causes fat pads to protrude more and the appearance of jowls to worsen. With Kybella, the result is a reduction in the fat cells of the double chin and a more contoured jawline. Expert, board-certified dermatology, Dr. Michele Green, will inject Kybella directly into the submental treatment area, to dissolve the fat cells at the injection site.With Kybella, the result is a reduction in the fat cells of the double chin and a more contoured jawline. To effect the best contoured jawline, Dr. Green often combines Kybella injections with other treatments, such as dermal fillers of Juvederm and skin tightening lasers. For patients who struggle with loose skin, Dr. Green may pair Kybella with the Thermage FLX, to tighten the skin in the neck and jowls. If there is a particularly large pocket of fat at the treatment area, Dr. Green may "debulk" the area with CoolSculpting first before utilizing Kybella injections to contour the jawline and jowls. Dr. Green is an expert in generating an individualized treatment plans to adequately meet your specific needs.
Dr. Green was one of the first New York physicians to incorporate Kybella into her private, Upper East side, dermatology office. She utilizes Kybella, or deoxycholic acid, to improve the appearance of the double chin, jowls, neck, and other areas of stubborn body fat. In addition, With over 25 years of experience, Dr. Green is an expert in minimally invasive cosmetic procedures, including Botox, Juvederm, laser treatments, dermal fillers, and Kybella injections, which she expertly performs daily in her New York City cosmetic dermatology practice. Dr. Green ensures that all patients experience top quality of care and has been consistently voted one of the best doctors in New York City by Super Doctors, Castle Conolly, The New York Times, and New York Magazine. If you are interested in facial contouring and addressing your jowls, chin, or jawline with Kybella treatments and dermal fillers, Dr. Green is here to help.
Kybella Treatments
Kybella injections were approved by the FDA in 2015, and designed to target submental fat in the jowls and neck area of the face. FDA approval for treatments is important because this means the drug is thoroughly tested and proven to be effective. In the case of Kybella, it has been approved as a non-invasive procedure for fat reduction along the jawline and under the chin. It is considered an innovative treatment as it serves a similar purpose functionally to liposuction but without the recovery time and potential significant side effects. Kybella can be used effectively on the jowls, double chin, and around the jawline for the elimination of stubborn fat.
What are Kybella Injectables?
Kybella, originally known as ATX-101, is an injectable drug that relies on synthetic deoxycholic acid as its active ingredient. In its natural form, deoxycholic acid is created by the body to absorb fat, primarily by breaking down the membranes of fat cells. When this fat-dissolving process is activated, the body can then absorb and essentially metabolize the cells, which reduces the appearance of excess fat at or near the injection sites. Similar to many injectable treatments made by Allergan, such as Botox and Juvederm, Kybella requires minimal downtime and is relatively pain-free.
The amount of fat that Kybella can target is moderate to severe which means it can be very effective for a wide range of individuals. Kybella is designed to target small areas of fat in the submental area, specifically in the chin and jowl area. Kybella is injected into the target area and the substance helps break down the fat and the fat cells are removed through the body's own natural processes.
How Does Kybella Work?
The procedure for Kybella treatment is quite simple. Patients arrive an hour prior to treatment and a topical numbing cream is applied to the treatment area. Then, once the numbing cream is cleaned from the skin, the submental area or any other injection sites are marked with a grid, and Kybella is injected into these marked locations. Due to the nature of injectables, we advise all patients to refrain from using any blood thinners for at least one week before Kybella treatment.
After any Kybella procedure, ice is applied to the injection sites, and it's good to ice the affected area throughout the day following treatment in order to minimize any swelling. Dr. Green recommends that patients keep their heads elevated both during the first day and overnight, and encourages patients to avoid intensive exercise for several days post-treatment.
For the most effective results, a patient will need between three and four sessions. After the first treatment session, a patient should wait at least a month before having the second treatment. Sessions are generally spaced four to six weeks apart, depending on both swelling and the amount of submental fat present. The reason for this is because the dissolution of fat occurs over time and is a relatively slow process. Typically, results begin to show after several weeks.
Can Kybella be used on jowls?
Patients often ask, can you use Kybella on jowls, and the answer is yes, Kybella can be used on jowls and works to slim the jawline. Kybella is a non-surgical solution to address submental fullness, more commonly known as a "double chin." In addition to eliminating the appearance of a double chin, it can also destroy the fat cells that lead to the appearance of jowls. This will ultimately give your jawline a sculpted appearance.
How does Kybella work on jowls?
Kybella is a cosmetic injectable treatment for the elimination of fat cells at and around the injection site. To treat jowls, Dr. Green will start by marking a grid to determine the injection sites in the treatment area. After thoroughly cleaning the area, Dr. Green will inject the solution into the areas of fat, be in the jowls, or double chin. Kybella contains the active ingredient deoxycholic acid, and works to dissolve the fat by breaking down the membrane of the fat cells in the area. When the membrane is destroyed, the body's natural metabolic process works to eliminate the fat cells. As Kybella stimulates the body's own natural processes, it can take several months for patients to see the full effects of the treatment. After several treatments, there is permanent destruction of fat cells in the area.
Is Kybella good for jowls?
Kybella is a good option for the jowls. Oftentimes, sagging skin around the jawline can be caused by excess fat and Kybella will help with effectively dissolving these fat cells over time. Kybella can also be combined with skin tightening, Thermage FLX, for maximum results. Thermage uses radiofrequency technology to safely heat the deeper layers of the skin and stimulate collagen and elastin production. This will tighten the skin around the neck and jowls and will complement the results from Kybella for a younger and more defined jawline.
Can Kybella help sagging jowls?
One question that we're commonly asked by male and female patients is: Can Kybella help with jowls? The answer is yes, it can. Oftentimes, sagging skin around the jawline can be caused by excess fat, and Kybella can effectively dissolve these cells over time. Not only can Kybella treat jowls, but it can also be combined with other treatments for optimal results.
Thermage, which uses radiofrequency technology to safely heat inner layers of skin in order to stimulate collagen production, is used by Dr. Green in conjunction with Kybella for tightening the skin around the neck and jowls. The combination of Kybella and Thermage acts as a unique non-invasive "facelift" for most patients, which is an easy and safe alternative to plastic surgery.
Can Kybella get rid of jowls permanently?
Kybella is a treatment process that provides patients with the permanent elimination of the fat cells at and around the injection site. The treatment is best served for patients who are already at or near their target weight, who are struggling to eliminate excess fat. While Kybella injections will permanently eliminate the fat cells that were present at the time of injection, if a patient gains weight new fat cells can form. Should that occur, Kybella treatment can be performed again to eliminate any new fat cells that have accumulated.
Can Kybella help tighten jowls?
As a result of the natural aging process, collagen and elastin production in the skin decreases. These proteins are responsible for giving the skin structure and elasticity, which keep skin looking firm and youthful. When production of these proteins decreases, the skin can take on a loose and sagging appearance, which can lead to the further protrusion of fat cells and the formation of jowls. Kybella works well to eliminate excess fat that may be contributing to the appearance of jowls. When it comes to addressing sagging skin, Dr. Green will often pair Kybella with Thermage, which uses radiofrequency technology to stimulate the production of collagen and tighten the skin.
How to inject Kybella in jowls?
Kybella treatment should always be administered by an expert, board-certified cosmetic dermatologist, such as Dr. Michele Green in NYC. When you arrive for your initial consultation, Dr. Green will examine the treatment area and discuss your aesthetic goals for the treatment. She will then provide you with a treatment plan and schedule that best addresses your needs. Dr. Green recommends applying a prescription topical numbing cream at home, one hour before your Kybella treatment, to minimize any potential discomfort. Patients may experience some mild side effects following the treatment, such as swelling and some possible bruising from the injections, that will resolve after several days.
When does Kybella jowl swelling go away?
As with any injectable treatment, one of the common, minor side effects is swelling at or near the injection site. Swelling also occurs as a result of the enzymatic reaction between the deoxychholic acid in the Kybella solution and the fat cells as the fat cell membrane is destroyed. The swelling is typically most dramatic after the first treatment session, due to the high volume of fat cells, and will lessen after each treatment. For most patients, the swelling goes away within five to seven days after receiving the treatment. Patients can reduce the amount of swelling at home by icing the injection area and keeping the head elevated when sleeping.
Do Kybella injections work for the double chin?
Yes. Kybella is the only injectable which can permanently reduce the fat and treat the "double chin." Regardless of whether Kybella is used for the neck, double chin or the jowls, this treatment can have a positive effect on the skin laxity, neck fat and jowl fat that accumulates in these area and the lower face. Submental fat along the jawline, the double chin, is exactly the area in which the Kybella treatment was designed for. Kybella has been proven to be safe and effective in creating a more beautiful defined jawline and chin in patients with little to no downtime.
Can Kybella be used on cheeks?
At our office, we are frequently asked about Kybella treatments for the cheek area. Kybella is considered "off-label" for use on the cheeks, as it has not been FDA approved for the cheek area. Because of this, use of Kybella for cheeks is not recommended at this time. However, for patients looking to enhance the appearance of their cheekbones or the mid-face area, there are several other treatment options available at Dr. Green's office. Thermage RF technology can be used to tighten the skin in the mid-face, and dermal fillers can be used to provide a natural-looking plumpness and lift to the cheeks. When you have your initial consultation with Dr. Green, you can discuss your goals and she will help to determine the treatment plan that works best for you.
Which procedures give me a defined jawline and treat double chin?
Kybella treatments are an excellent non-invasive option to help redefine the jawline and dissolve excess fat around the chin area. Kybella can be combined with Thermage treatment in order to target fat cells and to promote elasticity in the skin due to new collagen production, creating a holistic skin rejuvenation treatment. An additional treatment option is CoolSculpting. CoolSculpting is a targeted treatment designed to reduce dietary fat pockets within the skin, such as bra fat and submental fat. CoolSculpting and Thermage can also be combined to great effect, and are excellent non-invasive alternatives to Kybella treatments.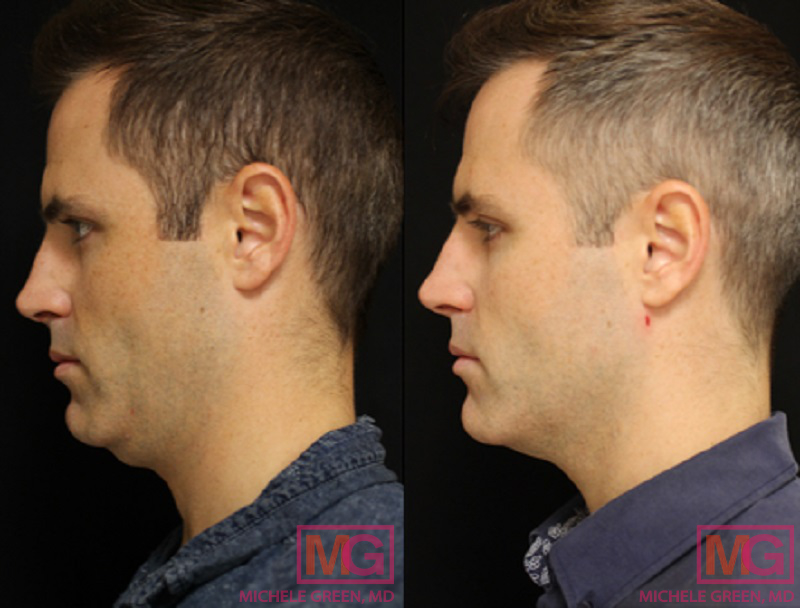 Before and After: Male patient, Kybella
How long do the results last from Kybella injections?
Kybella treatments were designed to create permanent results through this non-invasive injectable. The majority of patients find that, after a few sessions, cosmetic results are achieved and the effects are permanent. However, it's good to note that additional weight gain or fluctuation can affect the shape of the jawline and, in turn, impact the results of Kybella injections.
How many vials of Kybella for jowls?
Many patients wonder how many vials of Kybella for jowls are necessary for a single treatment. Typically, 2 vials are used per treatment of the jawline and chin. When it comes to treatment plan, the number of treatments required does vary substantially from patient to patient, which is why experience is key when it comes to your Kybella injector. Dr. Green has worked with a variety of patients and patient needs, and will be able to work with you to achieve your desired look.
How many Kybella treatments for jowls?
The number of Kybella treatments needed for the jowls depends on the size of the submental fat in the area and the size of one's neck. Typically three to four treatments are needed, spaced 4 to 6 weeks apart, for the best cosmetic treatment to rejuvenate the jowls.
What are the side effects of Kybella?
When it comes to side effects, generally there are minimal side effects from Kybella injections. There may be some swelling around the area where the series of injections occurred, along with some general soreness, bruising and numbness at the injection site. In rare cases, side effects have included hair loss or infection around the injection site. Inexperienced injectors may cause temporary damage to the submandibular never. For this reason, to avoid unnecessary side effects, it is imperative to consult an expert like Dr. Michele Green for your Kybella injections.
Many people dislike injections but with topical numbing, there is minimal discomfort to the Kybella injections. At first you may also experience a mild burning sensation when the injections take place, but this sensation fades after a few minutes.  In terms of non-surgical treatments designed to tackle facial rejuvenation, without having to visit a plastic surgeon, Kybella is an extremely effective and popular treatment in Dr. Green's office.
Can Kybella make my jowls worse?
Trying a new treatment can be nerve-wracking, and many patients wonder, can Kybella make jowls worse? Rest assured, Kybella is safe to use for under the chin and won't make jowls appear larger. In fact, Kybella treatments will improve your jawline and jowl area with each subsequent treatment.
If you're interested in Kybella and wondering, does kybella help with jowls long-term?, or in particular, can Kybella help sagging jowls permanently?, there's good news ahead. Though Kybella as an injectable is a non-invasive treatment, most patients do find that the shape of their jowls or sagging jawline shift dramatically–and permanently – after just a few Kybella treatments. Depending on the patient, several initial treatments or an occasional touch-up treatment may be needed.
How can I get rid of a sagging jawline without surgery?
Thanks to innovative treatments such as Kybella, Thermage and Coolsculpting, as well as other injectable treatments, it is entirely possible to reduce the appearance of a sagging jawline without surgery. Kybella, Thermage and Coolsculpting all have long-lasting, rejuvenating effects, but do require multiple treatments for optimal results.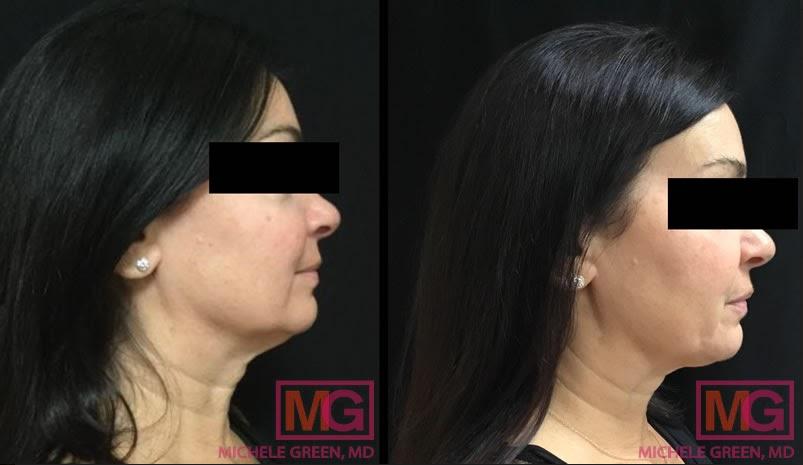 Before & After: Kybella and Botox, 3 months
Neck Contouring with Kybella, Coolsculpting and Dermal fillers
A combination treatment of Kybella, Coolsculpting and dermal fillers can be used in order to create a youthful and defined jawline. Dermal fillers, such as Juvederm, Restylane, and Sculptra, are designed to stimulate collagen and elastin production in the skin, which plumps the areas around the cheeks, nasolabial folds (smile lines), oral commissures, and jowls. By plumping up these deep wrinkles, creases and areas of lost volume, a younger looking appearance is created and the jowls and neck rejuvenated and contoured.
Kybella and CoolSculpting will eliminate fat cells, contour the neck, and firm sagging skin. If you're seeking rejuvenating neck contouring treatment, Dr. Green will work with you to create a custom treatment plan that will most effectively meet your needs.
Coolsculpting vs. Kybella
When it comes to treatment for jowls, double chin, and jawline, CoolSculpting and Kybella are both amazing treatments, which often work in tandem for the best cosmetic results. CoolSculpting is used for neck and jawline contouring using the CoolMini applicator, which is a smaller applicator designed to specifically to reduce the fat cells of the neck and treat the "double chin." The CoolMini uses CoolSculpting's patented cooling technology to deliver targeted and controlled cooling to specific areas on your body, which allows the body to metabolize and eliminate fat, leaving you with tighter, firmer skin.
Unlike CoolsSculpting, Kybella is an injectable, designed to target excess fat through a chemical process rather than through temperature shift. However, the two contouring methods can actually be combined within a treatment plan in order to rejuvenate the neck and jawline. If there is a large amount of submental fat, Dr. Green will treat and "debulk" the area first with Coolsculpting, using the CoolMini applicator. After a significant amount of fat is eliminated, she will target the remaining fat cells with Kybella injections to permanently dissolve these fat cells.
Which is better: Kybella or Ultherapy?
Ultherapy is a treatment designed to lift the brow, neck, and chin to reduce fine lines and wrinkles using ultrasound imaging technology. Ultherapy stimulates the body's natural production of collagen to improve the appearance of sagging skin and creases. Through the use of ultrasound imaging, Ultherapy providers are able to see the deep tissue being treated for precise results. Kybella and Ultherapy serve different purposes with Kybella for fat elimination and Ultherapy to treat sagging skin so one is not necessarily "better" than the other and can, in fact, be used together. However, when it comes to skin tightening, Dr. Green prefers to use Thermage FLX skin tightening, as there is less pain associated with the Thermage procedure with more consistent results.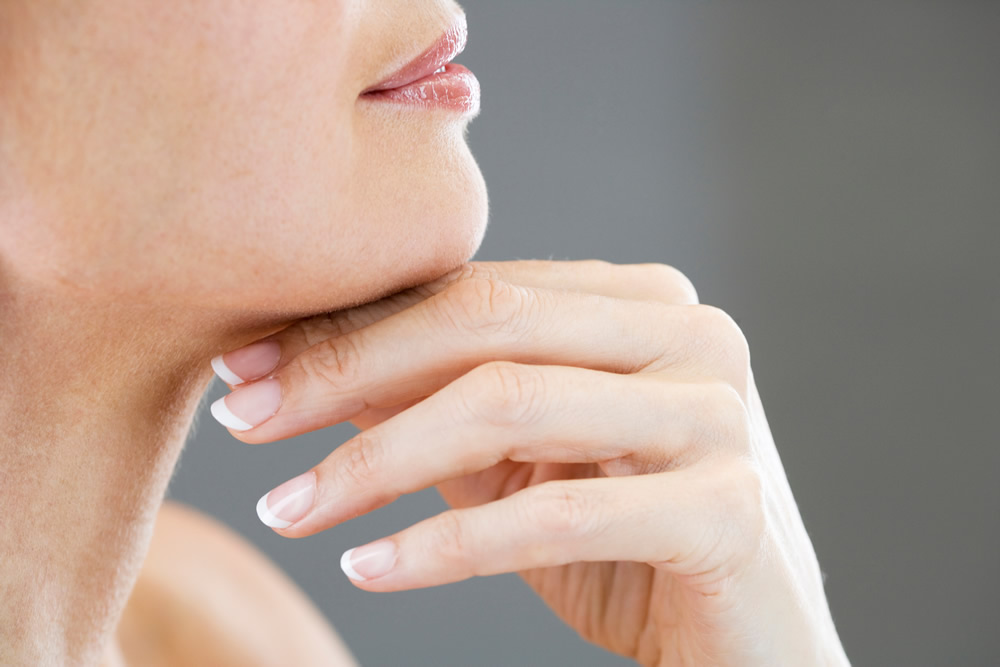 Other dermatology treatments for the jowls
Other common treatments for a defined jawline and reduced appearance of a double chin are the SkinTyte laser, also known as the BBL broadband laser, and Thermage FLX. The Thermage FLX laser treatment which utilizes radiofrequency technology to tighten the skin. Thermage and BBL lasers are particularly useful for those with darker skin tones as both of these lasers are "color blind" and can be used on all skin types. These lasers are best for patients who don't have excess fat along the jawline and predominately need skin tightening.
Skincare for the best neck rejuvenation
Dr. Michele Green's MGSKINLABs line of products offers some of the best anti-aging skincare designed to reduce the visible signs of aging and to prevent premature aging. When it comes to neck rejuvenation, Dr. Green's Neck Renew Skin Rejuvenation Cream is uniquely formulated to tighten the neck and give it a more youthful appearance. Dr. Green recommends using her Neck Renew in combination with the Antioxidant Infusion, which is formulated with retinol, to revitalize and firm the skin. These cutting edge products rejuvenate your skin while encouraging the natural restorative elements of the skin itself, such as collagen and essential amino acids.
How do I get started with treatment for my jowls?
Kybella is an innovative treatment designed to permanently eliminate stubborn pockets of fat that form jowls or a double chin without any downtime. Kybella injectable is the idea treatment to contour the jowls, double chin, and produce a beautiful, rejuvenated jawline. Whether it be Kybella treatments, dermal fillers, or laser skin tightening treatments, Dr. Michele Green will customize a unique treatment plan to rejuvenate your jawline and jowls. An expert in noninvasive cosmetic procedures in NYC, Dr. Green will help you design the best treatment plan created individually for you. Find out more and contact us online or at 212 535 3088 to arrange a consultation with Dr. Green today.