Over the past decade, skincare regimens and cosmetic procedures for men have grown exponentially in popularity. Whether it is treating sun spots with laser treatments, skin tightening with Thermage or BBL, injecting Botox and dermal filler injections for fine lines, wrinkles, and volume loss, or relying on Platelet Rich Plasma injections (PRP) for hair growth, CoolSculpting and Kybella to remove the "double chin," men's dermatology procedures are some of the most sought-after treatments in Dr. Michele Green's discreet, Upper East Side, NYC dermatology office. Good skin care and sun protection is not only beneficial for maintaining a youthful and healthy-look to the skin, but it also prevents skin cancer, wrinkles, and pigmentation. For patients who are wondering where to begin with skincare treatments or cosmetic procedures, a great first step is to consult with an expert, board-certified dermatologist, such as Dr. Michele Green on the Upper East Side of Manhattan. The natural aging process affects all of us – whether it is the effects of sun damage, fine lines, hair loss, or old acne scars – and Dr. Green will create the treatment plan that will best meet your needs. Dr. Green treats men of all skin types and is an expert in cosmetic dermatology, treating patients with Asian, Mediterranean, and Black skin.
There are many treatment options and skincare products available at Dr. Green's NYC office to address a wide range of dermatological needs. To eliminate the visible signs of sun damage, hyperpigmentation, as well as acne scars, Dr. Green utilizes the latest cutting edge laser and cosmetics treatments, including the Fraxel and AlexTrivantage laser, TCA Cross, subcision, dermal fillers, and chemical peels. For patients experiencing redness or rosacea, the VBeam laser is available to eliminate facial redness, telangiectasias, broken blood vessels and red acne scars. Additionally, hair loss is a common dermatology condition which can be distressing for many men who experience it. Dr. Green offers the most cutting edge treatments for male pattern hair loss, such as PRP injections for hair growth, which can restore hair loss in as few as 4 sessions. For patients frustrated with a double chin or stubborn rolls of fat, Kybella and CoolSculpting treatments can easily eliminate these pockets of fat. Further, as we age, collagen loss in the skin can lead to the development of fine lines and wrinkles, as well as a hollow appearance in the face. For patients showing these signs of aging, Dr. Green's office offers a wide range of dermal fillers, such as Sculptra, Restylane, and Juvederm injections, as well as Botox to both prevent and treat facial winkles. Dr. Green's propriety MGSKINLABs, Inc. line of skincare makes designing and using and effective skincare regimen even simpler.
Dr. Green has been treating cosmetic dermatology patients of all ages, both men and women, in her private, Upper East Side New York City dermatology office for over twenty five years. Dr. Green is an expert cosmetic injector, with a "less is more" philosophy to cosmetic dermal fillers and Botox injections. Dr. Green is consistently voted as one of the best dermatologists in New York by Castle Connolly, The New York Times, Super Doctors, and New York Magazine. Dr. Green is accomplished in the early detection of skin cancers including melanoma, performing annual skin cancer screenings for all of her patients. Whether it is acne breakouts, acne scars, Botox injections, laser treatments, body contouring, or hair growth regimens, Dr. Green is an expert in non-surgical cosmetic procedures and is here to help.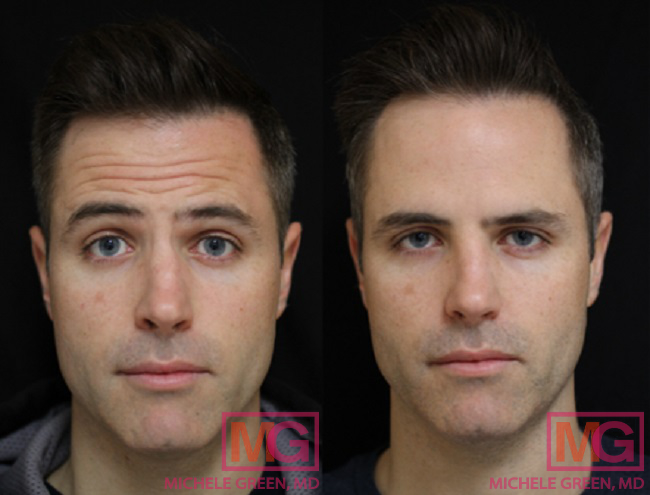 Male Botox patient before and after photo
Why seek out a dermatologist for men's skincare?
Good skincare is incredibly important for both men and women in order to maintain a healthy, youthful appearance. Many male patients beginning or wishing to enhance their skincare regimen may find it difficult to know where to begin. For that reason, it is incredibly helpful to start with a consultation with an expert dermatologist, such as Dr. Michele Green. When you book your initial consultation with Dr. Green, the two of you will discuss your current skincare routine as well as your aesthetic goals. From there, Dr. Green will be able to recommend skincare products or a range of treatments in order to maintain or restore healthy skin. From skin rejuvenation, to the elimination of sunspots, acne scars, and wrinkles, to diagnosing conditions such as melanoma or psoriasis, to hair restoration and fat reduction, Dr. Green offers it all at her Upper East Side office.
Botox injections to remove wrinkles and more
When looking to eliminate fine lines and dynamic wrinkles that develop as a result of the natural aging process, Botox injections are a great solution. Botox, the brand name for onabotulinumtoxin type A, is an FDA-approved injectable treatment that can be used for a wide variety of purposes. For one, Botox is extremely effective in eliminating the appearance of fine lines and dynamic wrinkles on the face. Dynamic wrinkles are the creases that occur when you make certain facial expressions. For example, crow's feet can appear around the eyes when you smile, forehead lines, or frown lines, can occur when you furrow your brow, and marionette lines can appear along the corners of the mouth when you smile or laugh. When injected into the treatment area, the Botox neurotoxin essentially freezes the muscle at the injection site. As a result, the dynamic muscles responsible for creating wrinkles relaxes and does not contract, causing the fine lines and wrinkles to disappear.
In addition to its cosmetic use to treat fine lines and wrinkles, Botox has been approved to treat many medical conditions including chronic migraines, muscle spasms, excessive sweating, and TMJ, or jaw clenching, disorders. If the pain or discomfort associated with a condition is based on muscular tension or overactivity, Botox is a go-to solution. When it comes to TMJ disorders, an overactive jaw muscle, called the masseter muscle, can lead to clenching, tension, and discomfort along the jawline, which can negatively effect food consumption, speaking, and other activities. When Botox is injected into the masseter muscle, it causes the muscle to relax, thereby relieving the tension and pain. An added benefit of Botox injections into the masseter muscle is that the release of tension in the muscle also leads to facial slimming. If you are suffering from any of these conditions, Dr. Green can help to relieve pain, discomfort, and tension with Botox treatment.
Cosmetic dermatology treatments for sun spots, rosacea, and photo-damage
Redness, discoloration, hyperpigmentation, and sun spots can appear on the face and body for a number of reasons. It is important to have the lesions and medical conditions correctly diagnosed in order to receive the proper treatment. For some patients, brown, black, or gray spots may form on the skin as a result of sun damage, which are called age spots or sun spots. Sun spots can be treated at Dr. Green's office through a variety of methods including the Fraxel laser, Alex-Trivantage laser, Intense Pulsed Light treatment, and chemical peels. Other patients may experience redness, bumps, and flushed skin associated with a condition known as rosacea. For those suffering from rosacea, the redness can be eliminated and skin texture improved with treatments such as the VBeam laser and Intense Pulsed Light (IPL). Redness and rough textured skin can also arise as a result of scars, which, depending on the type of scar, can be eliminated with the use of the Fraxel laser, VBeam laser, eMatrix laser, Vivace, microneedling, or microdermabrasion.
What are sun spots?
Sun spots, which are also known as liver spots or age spots, are areas brown, gray, or black flat discoloration on the skin. These blemishes develop as a result of too much exposure to the sun without the use of sunscreen. When the skin is overexposed to the harmful UV rays of the sun, there is a natural increase in the body's production of melanin, which is the pigmentation in the skin. Melanin occurs naturally in the skin and protects the skin from UV rays, which helps to prevent the development of skin cancer. Patients with lighter skin type have less melanin in the skin and are therefore more likely to develop visible sun spots after too much sun exposure. Sun spots typically develop on patients that are older than the age of thirty and occur frequently in both men and women who have been exposed to too much sun. Luckily, sun spots can be treated with a variety of procedures, including the Alex-Trivantage laser, Fraxel laser, chemical peels, Cosmelan, and Intense Pulsed Light treatment.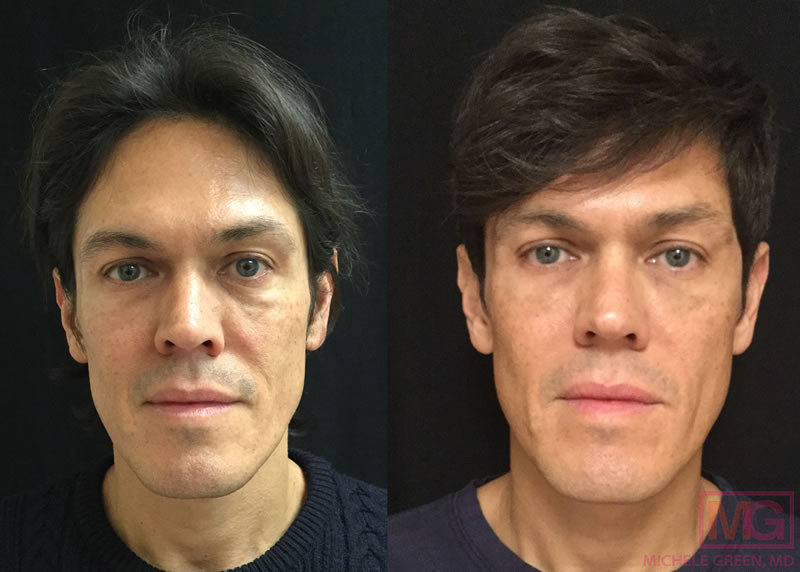 45-54 year old male, Sculptra 2 treatments
What is rosacea?
Rosacea is a skin condition that affects approximately 1-10% of the general population. Characterized by a flushed appearance to the face, bumps, broken blood vessels, pimples, and a rough texture on the surface of the face, rosacea can be a highly visible, distressing condition. Patients may also experience itching and burning in the affected area, which is, most commonly, the cheeks, nose, chin, chest, and forehead. Rosacea can also be treated but it is very important that patients receive an accurate diagnosis as, when not diagnosed properly, there are treatments that can make the condition worse. At Dr. Green's office, she has many options available for the safe and effective treatment of rosacea.
Laser treatments for skin rejuvenation for men
There are several different laser treatments available that can be used to address redness, rosacea, sun spots, and photo-damage on the face. Dr. Green will determine the treatment that is right for your specific condition or skin type after your initial consultation.
Fraxel laser for photo-damage and fine lines
 The Fraxel laser is a fractionated laser that is best used to treat age spots and damage from the sun, though it can also be used to eliminate acne scars, wrinkles, and improve overall skin texture. This FDA-approved laser treatment works to resurface the skin by created small, micro-injuries at the treatment site. The creation of these micro-injuries triggers the body's natural healing response and the production of new collagen. As a result, the new collagen replaces the hyperpigmentation of age spots on the skin for a clear, smooth, and natural look. In order to treat age spots or hyperpigmentation on the skin, Dr. Green will use the 1927 wavelength of light, as opposed to the 1550 wavelength to treat wrinkles, fine lines, and acne scars. Optimal results are received over a series of five to six treatment sessions.
Alex-Trivantage laser for sun spots
The Alex-Trivantage Laser is best used to treat small, individual sun spots. The beam of light emitted from the laser will target the pigmented areas of skin while leaving the healthy skin around the spot unaffected. Typically, only one to two treatments are necessary to eliminate the sun spots and the full effects of the treatment will become visible in one to two weeks post-procedure.
VBeam laser to treat rosacea and facial redness
The VBeam Pulsed Dye Laser treatment, available at Dr. Green's NYC office, is the gold standard for treating rosacea, broken blood vessels, red acne scars, stretch marks, and redness anywhere on the body. When targeting the treatment area, the VBeam laser emits a 595nm energy beam into the skin, which serves to target the blood vessels responsible for redness on the body. As a result, the blood vessels disappear and the redness fades, leaving patients with clear, bright, healthy skin. Before the treatment, Dr. Green may suggest using a topical numbing cream to minimize any discomfort. The treatment itself is quick and relatively painless – patients may experience a sensation as though a rubber band is being snapped against their face – and there is no downtime following the procedure.
Thermage laser for non-invasive skin tightening 
Thermage treatment uses radiofrequency laser technology to non-surgically, non-invasively tighten the skin. As a result of the natural aging process, the loss of collagen and elastin in the skin can lead to increased skin laxity, or looser skin. High skin laxity can cause fine lines and wrinkles to be more apparent or can lead to sagging skin. The number one skin tightening procedure available at Dr. Green's office is Thermage radiofrequency laser treatment. The treatment works by delivering radiofrequency (RF) energy to the deeper layers of skin tissue, known as the dermis and subcutaneous tissue. The RF energy heats the tissue, triggering the body's natural healing response and causing the production of collagen and elastin to increase. This, in turn, causes the skin to tighten and become firmer and more youthful in appearance. The treatment can be used in a number of areas across the body, including the forehead, eyelids, face, jowls, neck, arms, legs, stomach, and buttocks. Dr. Green utilizes both the Thermage CPT and the Thermage FLX, with the most advanced skin tightening capabilities. Thermage can also be paired with a number of other cosmetic treatment, such as Fraxel, Botox, and dermal fillers, for the ultimate skin rejuvenation.
Intense Pulsed Light treatment for photo-rejuvenation
Intense Pulsed Light (IPL) treatment is safe and effective to treat both sun damage in the form of sun spots and rosacea on the face. The treatment, sometimes also referred to as "photo rejuvenation" differs from laser treatment in that rather than employing a single wavelength of light, IPL treatment releases many different wavelengths to treat a variety of different conditions. The IPL treatment can eliminate hyperpigmentation from sun damage, broken blood vessels, rosacea, birthmarks, scars, and can even act as laser hair removal. Following the treatment, Dr. Green recommends maintaining strict sun avoidance by either staying indoors when the sun is at its most intense or wearing sunscreen of at least SPF 50.
Best Acne and Acne Scar treatment
Many of us have experienced acne and the resulting acne scars. If acne breakouts become infected or the breakout covers a large area, acne scarring can develop in the form of depressions across the surface of the skin, raised bumps, or discoloration. There are many treatment options available at Dr. Green's office to eliminate acne scars. For particularly deep atrophic acne scar depressions, Dr. Green may begin with a dermal filler to restore lost volume and collagen in the treatment area. Different lasers, include the VBeam laser, Fraxel laser, and eMatrix laser can also be used to reduce the appearance of the scars. In some cases, Dr. Green may employ the use of a microdermabrasion, TCA Cross, or chemical peels. When you arrive at your consultation appointment, Dr. Green will make a determination about the treatment or series of treatments that will work best for your specific needs.
What are acne scars?
When acne breakouts are not treated effectively, bacterial infection can result in acne scars that stay on the face for years following the actual breakout. Acne occurs when the pores are clogged with natural oil, called sebum, debris, including dead skin cells, and bacteria. Generally, the skin will heal itself following the breakout, however, if the infection is bad enough or the affected area too large, you may find yourself with acne scars. There are two main types of acne scars: atrophic scars, which are indentations or divots that occur in the skin as a result of deep infection or collagen loss, and hypertrophic scars, which are typically raised and occur as a result of excess collagen production following an acne outbreak. Sometimes, hyperpigmentation can occur after acne breakouts, leaving the skin blotchy and discolored.
What are the best treatments for acne scars?
Dermal Fillers – In addition to being used to replace lost volume in the cheeks, dermal fillers can be used to treat atrophic, or depressed, acne scars. When injected into the atrophic scars, dermal fillers can replace the collagen that was lost as a result of the acne breakout to fill in the indent in the skin. Dermal fillers, such as Juvederm and Restylane can be used to treat these atrophic scars.
VBeam Laser – The VBeam Pulsed laser is effective not only to treat rosacea and redness, but to address acne scars as well. For acne scare treatment, the VBeam Pulsed Dye laser can remove redness or hyperpigmentation as a result of the acne scar.
Fraxel Laser – The Fraxel Laser can be used on two different wavelength settings: 1927, which is best used to treat hyperpigmentation from age spots, for example, and 1550, which eliminates fine lines and wrinkles and helps in the treatment of acne scars. Fraxel lasers are best used on atrophic acne scars and improved results can be seen after 5 to 6 treatment sessions.
Microdermabrasion – Microdermabrasion is a treatment in which the top layer of skin is exfoliated and removed in order to improve skin texture and contour and eliminate the appearance of acne scars. The treatment, which works best for patients with lighter skin tones, increases the production of collagen to heal depressed acne scars.
eMatrix RF Laser – The eMatrix laser uses radiofrequency energy to resurface the skin for all skin types and eliminate the appearance of acne scars. The treatment works through the emission of radiofrequency (RF) energy to create a micro-injury in the inner tissue to increase the production of collagen.
Vivace – Vivace Microneedling treatment is a combination of microneedling and radiofrequency energy treatments to tighten the skin, improve the texture, and increase the production of collagen and elastin. The treatment is effective in reducing the appearance of acne scars in two ways: with the microneedling properties of the treatment, skin texture is improved and pore size is reduced. With the radiofrequency properties, the inner layer of skin tissue is heated to boost collagen and elastin production for rejuvenated skin. Optimal results can be achieved in three session spaced four weeks apart with long lasting effects.
Men's dermatology to treat hair loss
Many men have to deal with a common condition called androgen alopecia, sometimes referred to colloquially as male-patterned baldness, which can manifest as hair thinning on the crown of the head, beginning as hair loss above both temples. This can result in the characteristic "M" shape of hair loss for men. For many men, hair can be a defining characteristic that you don't want to lose and the cause of the condition is largely genetic and difficult to restore, once the hair follicles are lost. Fortunately, there are treatment options available to prevent hair loss, promote thicker hair, and maintain hair growth. Dr. Green is an expert both in male and female pattern hair loss and at her office, Platelet Rich Plasma injections (PRP) are an option for promotion of hair growth and restoration following hair loss.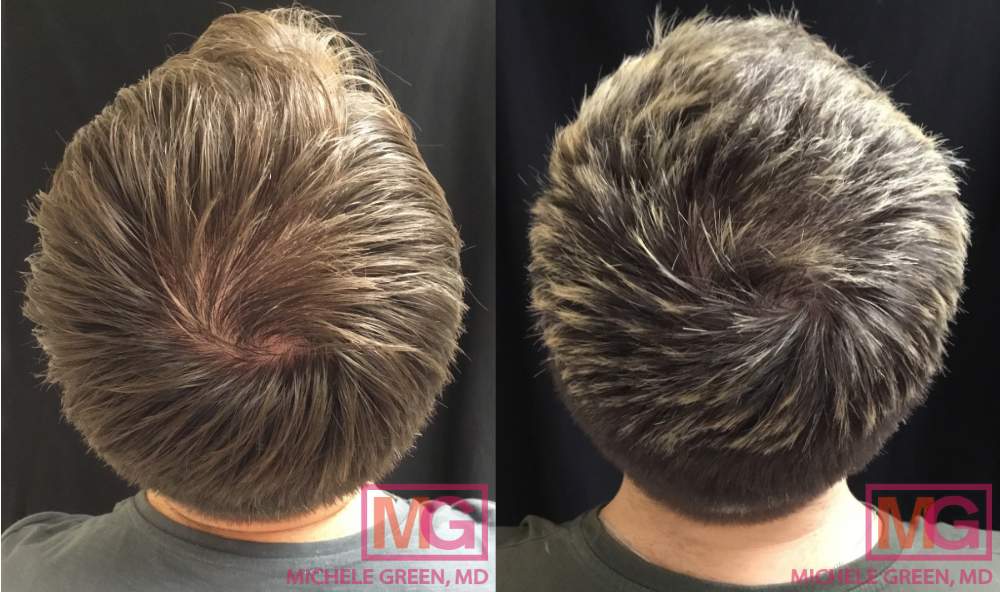 6 months before and after PRP
What are PRP injections for hair growth?
Platelet Rich Plasma (PRP) injections are an effective treatment to stimulate the hair growth phase, improve hair shaft thickness, and increase the amount of hair growth in a treatment area. The injections help to improve and maintain the natural growth process to restore hair loss and keep hair looking thick and healthy. The treatment happens in three main steps: first, the patient has their blood drawn and the blood is placed in a centrifuge, which is a machine that spins the contents of a vial around at a rapid pace in order to separate the cells. The second step occurs when the centrifuge causes the blood to separate into red blood cells, platelet poor plasma, and platelet rich plasma. In the third step, this platelet rich plasma (known as PRP) is injected into the treatment area, usually the scalp, in order to increase the caliber of hair and restore hair growth. Following the treatment, the scalp might be sore for a few minutes. In order to achieve optimal results, four treatments of PRP should be scheduled one month apart and maintenance sessions should be followed every four to six month as needed.
Non-invasive body contouring treatments
Stubborn fat bulges can occur in almost any area of the body and can be difficult to eliminate, even with a healthy diet and exercise regimen. Submental fat, which is fat that occurs under the chin and on the neck, can result in the dreaded double chin or a fullness counter to the ideal square jawline. Stubborn areas of fat can also be found on the arms, stomach, thighs, and buttocks flanks and breasts, despite your best efforts. If you are wishing to eliminate these pockets of fat, there are several treatment options available at Dr. Michele Green's private NYC dermatology office, including Kybella injections, Velashape, and CoolSculpting.
Kybella to treat the double chin
Kybella is the first, and only, FDA approved injectable treatment used to permanently  dissolve fat cells. Dr. Green was one of the first dermatologists in NYC to treat patients with Kybella injections to eliminate the double chin. Specifically approved to eliminate fat in the submental region under the chin, Kybella can also be used in other areas including the arms, stomach, thighs, knees, and buttocks. The procedure works by injecting a synthetic form of the naturally occurring deoxycholic acid. Deoxycholic acid works by dissolving these fat cells, which then causes the  fat to be dissolved and eliminated by the body. The result is a natural-looking contoured treatment area. Kybella injections are a non-invasive procedure for the elimination of fat, meaning there is no downtime with this procedure.
Male Kybella patient before and after photo, after two treatments of Kybella
CoolSculpting for non-invasive body contouring
CoolSculpting has been FDA approved since 2012 to reduce fat bulges in virtually any area of the body. Dr. Michele Green first introduced CoolSculpting to her boutique NYC practice over a decade ago and was one of the first dermatologists to incorporate this cutting edge non-invasive body contouring technique. CoolSculpting can be used to permanently treat fat bulges in the abdomen, flanks, arms, inner and outer thighs, banana rolls, and "man boobs." The procedure works using a technique called "cryolipolysis," which is a process by which fat cells are frozen with the purpose of destroying them to reduce bulges of fat.
When the fat cells, which freeze at a higher temperature than the surrounding tissue, are frozen, they rupture and are expelled from the body. Each treatment session serves to reduce a pocket of fat in the treatment area by up to 25%. As such, patients may require multiple treatments in order to receive optimal results. CoolSculpting is designed with unique applicators for the various areas of the body, designed with these anatomic locations in mind. CoolSculpting can be paired with other cosmetic treatments, including Kybella where Dr. Green may first treat the area with CoolSculpting in order to "debulk"  the area of fat prior to utilizing Kybella injections.
Dermal Fillers for rejuvenation in cosmetic dermatology
Dr. Michele Green is an expert in cosmetic dermal fillers and is known as one of the best cosmetic injectors in NYC. As a master injector, she utilizes dermal fillers to treat a variety of age-related volume loss, facial fine lines and deep wrinkles, and atrophic acne scars. As we age, there is a decrease in collagen production in the skin. This loss of collagen leads to volume loss, particularly in the cheeks, under eye hollows, and jowls. In order to address these concerns, Dr. Green may use one of the following families of dermal fillers:
Juvederm – The Juvederm family of dermal fillers consist of hyaluronic acid and are best used to restore a hydrated look to the skin, boost collagen production, eliminate the appearance of fine lines and wrinkles and restore lost volume. Different types of Juvederm products can be used in different areas, for example, Juvederm Ultra Plus is best for deep wrinkles and filling in hollows in the mid face, Juvederm Voluma can be deeply injected into the cheek to restore volume loss, and Juvederm Vollure can be used for moderate wrinkles, including the nasolabial folds.
Restylane – Restylane is another family of hyaluronic fillers produced by the company Galderma to treat volume loss and decrease the appearance of fine lines and wrinkles. Similarly to Juvederm, different Restylane fillers can be used on different areas of the face to address moderate to severe volume loss and wrinkles. Restylane differs in that it uses the propriety XpresHan technology for volume restoration in the cheeks.
Sculptra – Sculptra differs from the hyaluronic fillers in that is composed of poly-L-lactic acid to boost the natural production of collagen in the body. With the natural increase in collagen, Sculptra, which is sometimes referred to as a "liquid facelift," provides very natural-looking, subtle results. The results of Sculptra take a longer time to show their full effects but after 4-6 weeks, the natural restoration of volume to the treatment area becomes apparent.
24 year old male, eMatrix, Juvederm & Restylane
Skin care tips for men
When it comes to establishing a healthy skincare regimen to keep your skin looking smooth, clear, and youthful, there are several key things to remember: sun damage can lead to the development of age spots and blemishes on the skin. As such, it is always important to wear sunscreen when going outside. Dr. Michele Green recommends using a sunscreen of SPF 50 or higher whenever you are outside when the sun is most intense – between the hours of 10am and 2pm – even in the winter. Additionally, the use of a rich moisturizer is important for keeping the skin hydrated particularly after washing your face. And when it comes to choosing the right products, based on your skin type and skin conditions, it is best to consult an experienced dermatologist, such as Dr. Green, to decide which products will be best for you. Dr. Green's MGSKINLABs line of products can help make this process simple, effective, and affordable. Dr. Green will help guide you to the best topical products, including serums, moisturizers, and sunscreens for your skin type. She will then pair these special products with the best cosmetic procedures to help you achieve beautiful, younger-looking, heathy skin.
Does men's skin age better?
There are biological and social factors that can impact the natural aging process. Biologically, males and females have differing levels of a variety of hormones that fluctuate at different times throughout life. After puberty, pregnancy and menopause are two periods of time in which hormone fluctuations can lead to changes in women's skin that do not affect men. The high presence of the hormone, testosterone, in males can lead to men having naturally more oily skin. This can make men more prone to acne breakouts but it can also keep men's skin more hydrated. Men also typically have physically thicker skin than women, which can mean that there less of a chance for lax, sagging skin as men age. There are also a variety of social pressures that can affect the natural aging process, including diet, sun exposure, and stress levels, which can sometimes correlate with gender.
Why is men's skin different to women's?
The presence and prevalence of certain hormones can, biologically, affect the skin. Male patients typically have higher levels of testosterone, which can affect how oily the skin is, and may have thicker skin than female patients. Facial muscles and anatomy can vary in men, and require different dermal fillers or more units of Botox in male patients to achieve the best cosmetic results.
What is a good skincare routine for men?
It is important to create a good skincare regimen in order to maintain healthy skin and prevent future damage. If you are looking to build a skincare routine, a good first step is to consult with expert dermatologist, Dr. Green. She can help you to determine the best routine for your specific needs. Further, with her proprietary MGSKINLABs line, Dr. Green has the best skincare products available to purchase. Typically, the basic skincare regimen consists of the following products:
Dr. Green may also recommend the use of her unique Hair Revitalization Serum for men experiencing hair loss.
3 PRP treatments, 4 months
How do male models take care of their skin?
In order to achieve smooth, fresh, bright skin, male models follow the same skincare regimen outlined above. It can feel as though the accessibility of skincare treatment low but in reality, male models follow a simple, accessible regimen. By washing their faces with cleanser followed by toner, serum, and moisturizer, male models keep their faces looking fresh. Additionally, other lifestyle habits can keep their skin clear, including a healthy diet consisting of fiber-rich foods and foods containing healthy fats, while avoiding sugary foods, dairy-rich foods, alcohol, caffeine, and cigarettes.
How to take care of Black male skin?
Dr. Green is an expert in treating patients of color, particularly male patients with Black skin. Special care must be used for choosing both the products and procedures needed for patents with darker skin types. Skin color is directly proportional to the amount of melanin, or pigment cells, found in the skin. Patients with large amounts of melanin have darker skin while those with less melanin have lighter skin tone. Many patients with darker skin tone have more sensitive skin and can be more sensitive to certain ingredients in skin care products, causing irritation, hyperpigmentation or discoloration. Certain products containing glycolic acids, lactic acid, fragrance, or alcohol, can cause irritation and result in hyperpigmentation.
Similarly, darker skin tones require different laser treatments than patients with lighter skin tones. For example, with male patents seeking laser hair removal, Dr. Green has two different lasers for laser hair removal. One laser, the GentleLase is primarily designed for patients with light skin and the other laser, the GentleYag, is designed for patients with darker skin tones. Similarly, for female and male patients with hyperpigmentation or acne scars, Dr. Green utilizes special chemical peels called Cosmelan to remove hyperpigmentation or sun damage. Radiofrequency lasers such as the eMatrix is the ideal laser to remove acne scars in patients with darker skin tones such as African American or Hispanic skin tones, since it is a "color blind" laser and does not have the risk of hyperpigmentation. It is very important to consult an expert dermatologist, like Dr. Michele Green, who specializes in treating patients with all skin tones.
How to get started with a dermatologist today?
If you are a man who is concerned with sun damage, frown lines, hair loss, double chin, or fine lines, Dr. Green is here to help. Dr. Green is an expert in men's skin care and combining the best topical skin care products and non-surgical treatments to achieve the best cosmetic results. As an expert in dermal fillers, Botox injections, Kybella, laser treatments, CoolSculpting, chemical peels, and other non-invasive cosmetic procedures, Dr. Green will help you achieve the best skin possible and the ultimate rejuvenation. Dr. Green is consistently voted as one of the best dermatologists in New York. Please call the office of Dr. Michele Green in NYC today at 212-535-3088 or contact us online to help you plan to rejuvenate your skin with the best cosmetic treatment options available.