More men than ever are discovering ways to look younger and are having minimally invasive procedures, like Botox injections, laser treatments, and dermal fillers,which require no downtime. Botox and other neuromodulator injections such as Dysport® and Xeomin®, have increased in popularity each year since Botox was first introduced in the Fall of 2000. The percentage of patients getting Botox injections has increased over 400 percent from its introduction to the present, more than twenty years later. Men want to have the same benefits from facial procedures as women, including Botox, skin tightening, facial rejuvenation, skin care, and overall wellness. Botox injections are the most common cosmetic procedure for which male patients consult Dr. Michele Green in her private, upper East Side New York dermatology office.
Dr. Michele Green has been at the forefront of cosmetic facial injections, and was one of the first dermatologists in NYC to incorporate Botox injections in her boutique NYC private practice. An expert injector, Dr. Green has been quoted by GQ, Forbes, and other men's magazines, about the rise of Botox and cosmetic treatments for male patients. Most men do not want plastic surgery and cannot afford the downtime associated with cosmetic surgery. Competition in the workplace and the rise of social media are just two factors which have caused the rise of Botox among male patients. With the advent of non-invasive procedures and cosmetic injectables, accessibility to a more youthful appearance has increased dramatically with both men and women.
Botox is manufactured by Allergan cosmetics, where Dr. Green is a platinum Allergan Botox injector. When seeking consultation for Botox injections, it is important to consult an expert in Botox injections and dermal fillers for the best cosmetic results. Dr. Green has been at the forefront of cosmetic dermatology in New York City for over two decades. Dr. Green is consistently voted as one of NYC's best doctors in Castle Connolly, the New York Times, New York Magazine, and Super Doctors. Whether you are looking for a physician who has experience or accessibility, Dr. Green has been described as the "best Botox injector" in NYC. If you are interested in non-invasive facial rejuvenation, Dr. Green is here to help.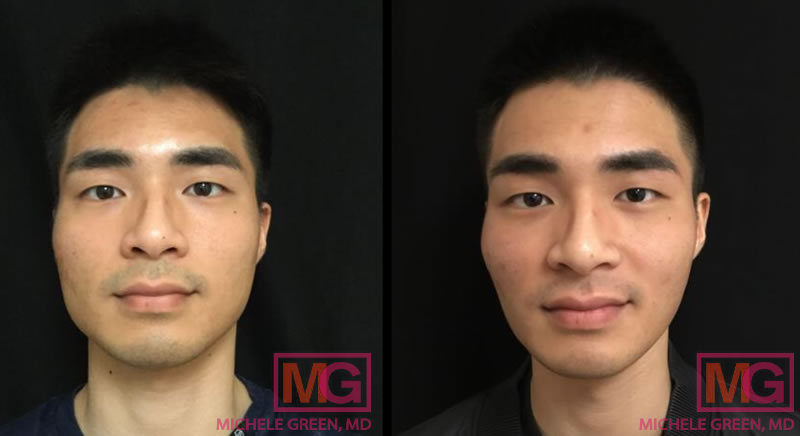 Botox in Masseter area – 3 months
The Benefits of Botox for Men
Botox has gained in popularity amongst men in recent years. Botox (or Botulinum Toxin Type A) is a popular cosmetic treatment which helps men reduce facial lines and wrinkles as they age. Botox requires no downtime and is often used by male patients  to smooth out facial lines, frown lines, horizontal lines on the forehead, and corners of the eyes, also known as crow's feet. Treatments can take as little as 15 minutes, and can be done during someone's lunch break. Results last for several months before requiring any re-treatment for ongoing maintenance.
Some male patients may still be concerned that Botox or injectables are cosmetic procedures that are designed for women. As a result, some places have tried to destigmatize the procedure with names like "Brotox".  In reality, the recent increase in Botox injections in male patients is because more men are exercising, dieting, keeping fit, and aiming to look young and healthy. Some dermatologists have seen an increase of almost half of their cosmetic patients being male now. As Forbes's writer Joseph DeAcetis noted in "The importance of Men's Grooming," for business, men are concerned with making themselves better "groomed", which is in effect better "packaging." This business concern combined with the "selfie" and social media based culture have increased the desire for men to make the right first impression.
What are the most popular injection sites for Botox for male patients?
Forehead to reduce fine lines and deep creases
Glabella in between the eyes for frown lines
Around the eyes to treat and prevent crow's feet
The neck to reduce neck bands and wrinkles
The masseter muscle
Dimpled chin
Lip Flip
Botox "sprinkles"
Botox for Men's Frown Lines
As quoted in Forbes, Dr. Green summarized the demand for Botox for men. "Men are results driven, and non-invasive procedures with little or no down-time has a great appeal." Botox can reduce frown lines on men via a series of small injections to the forehead. Botox relaxes muscles in the face, therefore reducing the prominence of wrinkles.
Another common use for Botox in the forehead is in the area known as the glabella area, which is the area between the eyebrows, also known as "11 lines" or "frown lines." Male Botox patients generally require a slightly higher dose of Botox than female patients in this area, since their muscles are generally stronger.
The ultimate result of Botox for frown lines is a relaxation of the forehead, a relief to some migraines, and ultimately a simple method of rejuvenation. Patients feel that they don't look "angry" or "worried" after their Botox treatments in their forehead lines and with the relaxation of facial muscles, comes a more youthful appearance.
How does Botox work?
Botox is the most popular injectable drug in aesthetic medicine used to treat fine lines and wrinkles, as well as TMJ, jaw slimming, and hyperhidrosis. Botox is a protein derived from Botulinum Toxin Type A, which is produced by the bacterium Clostridium botulinum. Botox is a neurotoxin which inhibits the release of the neurotransmitter acetylcholine. Acetylcholine is responsible for signaling the muscle to contract or shorten. This inhibitory effect blocks the nervous system and temporarily paralyzes the affected muscle to stop it from contracting. Dynamic wrinkles, most commonly on the forehead, glabella, crow's feet, and nasolabial area, are formed via repeated muscle movement. By allowing the facial muscles to relax thereby halting the repeated muscle movement, wrinkles and deeper creases are diminished.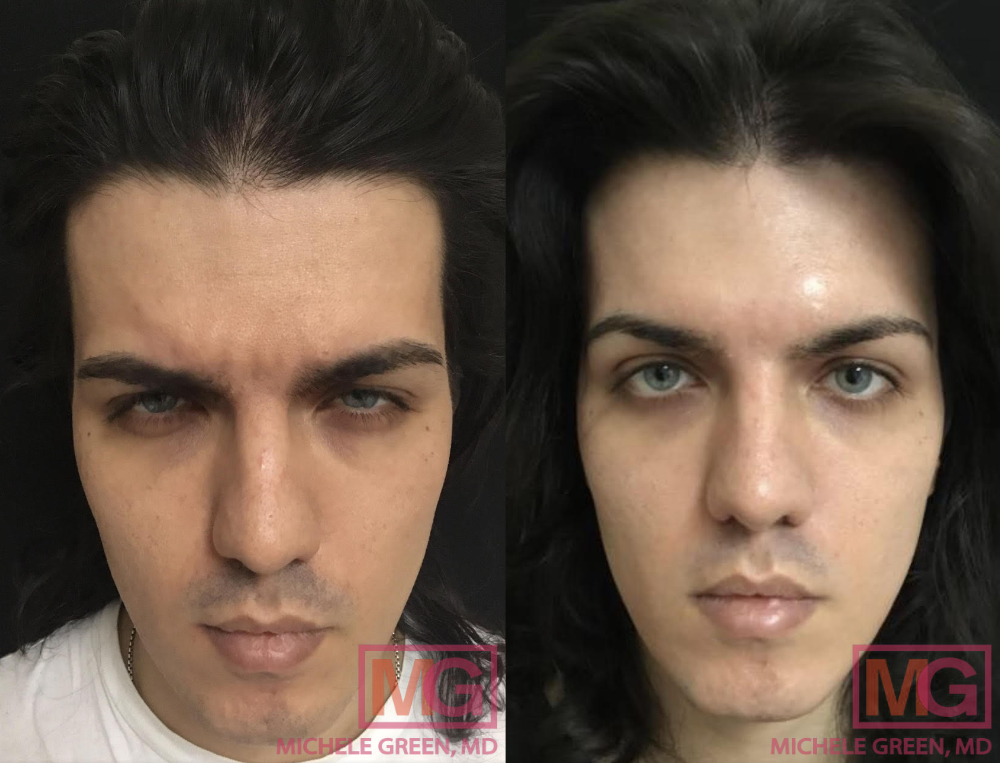 Botox before and after
What can men expect from their first time Botox treatment?
Botox injections or any cosmetic injection may sound intimidating for first time patients. However, it would not be the number one most popular treatment in the United States if it was so difficult! First time patients would consult with Dr. Green in her private New York dematology office. Medical photographs are taken for your personal medical record and documented for future comparisons. Dr. Green will explain Botox injection and any other dermal filler, like Juvederm, Sculptra, or Restylane, that you might want to combine during the same visit. Many patients request dermal fillers for their cheeks, temples, or jawline.
Botox works by blocking the nerve signals to the muscle in which it was injected, preventing muscle contraction, and ultimately relaxing fine lines and wrinkles. Botox injections do not need any numbing but if you are very sensitive to pain, a topical numbing cream can be applied to the treatment area one hour before the treatment. The injections themselves only take a few minutes. Dr. Green uses tiny needles to inject Botox into the treatment area, whether it be around the eyes (crow's feet), dimpled chin, masseter muscle for facial slimming, glabella, forehead wrinkles, or platysymal neck bands and wrinkles. Botox will work both on treating fine lines and wrinkles but also as a means of preventing deep creases and wrinkles from forming. It is this mechanism of wrinkle prevention which is making Botox increase in popularity.
Brotox and dermal fillers in social media
The ubiquity of social media has brought around two major shifts when it comes to discussions about and feelings towards Botox and dermal fillers for men. The first, is that social media has amplified the conversation about cosmetic procedures for men, making many men feel more empowered to pay attention to skincare and anti-aging treatment options. With male celebrities discussing their Botox experience, there is more representation available and information about Botox and dermal fillers for men. Further, due to social media platforms and the era of Zoom, we are all looking at our faces all the time and are more apt to notice the onset of fine lines and wrinkles. Botox and dermal fillers can be used to address these concerns and help men to put their best foot forward.
Medical indications of Botox for men
Besides cosmetic indications for Botox, Botox has numerous medical indications. One of the most popular uses for Botox is for the treatment of TMJ. The following is a list of the medical indications for Botox injections:
Hyperhidrosis – excessive sweating of the underarm area, as well as hands and feet, is a very popular indication for Botox injections.
Pain management
Bladder incontinence
Strabismus (lazy eye)
Can Botox be used around the eyes for crow's feet?
Botox Cosmetic is currently the only FDA approved neurotoxin that works as a treatment for both moderate and severe lines around the eyes. Most patients have used eye creams, retinoids, and various skin care products. However, the effect of aging, gravity, genetics, and sun damage, cannot always be averted by topical skin care. That is where Botox comes in! Botox is the most effective way to remove and treat the lines and creases around the eyes, which are typically the first signs of aging. Through Botox injections of the eye area, specifically the crow's feet, you can instantly have a more youthful appearance.
Side effects for Botox for male patients
Possible side effects of Botox include:
Bruising, swelling, or tenderness at the injection site
Flu-like symptoms
Headache
Drooping eyelids
Dryness in the eye or excessive tearing
Drooling or crooked smile
The risk of developing side effects decreases when receiving treatment from an expert, board certified dermatologist, such as Dr. Michele Green. More serious potential side effects include:
Muscle weakness
Vision problems
Difficulty speaking or swallowing
Trouble breathing
Loss of bladder control
Make sure to disclose all medical conditions and allergies before undergoing Botox treatment, especially past surgeries and allergies, medicines you currently take and other cosmetic procedures undertaken in the past year. Some common possible side effects may include redness or bruising at the treatment area, or headaches. Certain neuromuscular disorders such as myasthenia, ALS, or Lambert-Eaton Syndrome may be at an increased risk of side effects. Flu-like symptoms have been reported as well. Rare side effects such as loss of muscle control, difficulty breathing, speaking, or swallowing, vision disturbances, and loss of bladder control have been reported.
It is advised to refrain from blood thinners, oral vitamins, or herbal supplements, which can cause bruising for one week before Botox injections. After your Botox injections, you should refrain from heavy exercise for 24 hours, and avoid saunas or steam rooms for 2 days, as this may exacerbate swelling.
Botox for Male Pattern Baldness? Myth.
Last but not least, we've seen a lot of queries about Botox's effect on the scalp for male pattern baldness. However, this is based on a myth – Botox has no effect on baldness or hair growth. It is very important to instead make sure you choose the right dermatologist, like Dr. Green, who is an expert with these cosmetic procedures. Choosing the best dermatologist is critical in having the best cosmetic results with the least unwanted side effects.
Choosing the right dermatologist for Botox Treatment
Dr. Michele S. Green is a board certified cosmetic dermatologist based in New York City. With over 25 years of experience in treating both female and male patients in her private New York office, Dr. Green is an expert in cosmetic injectables. It is important to do your research before choosing a specialist in the field of cosmetic dermatology. Google their qualifications and review their before and after patient photos to ensure that their results look natural.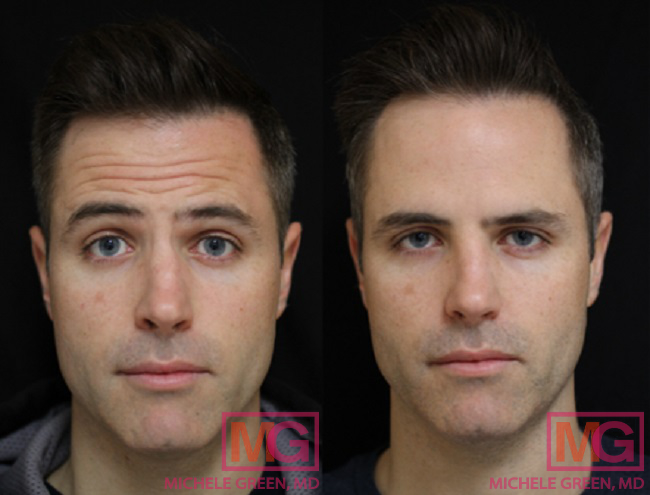 25-34 year old man treated with Botox
The effects of Botox lasts from 3 to 6 months until the treated area muscles have regained ability to function and therefore re-form lines and wrinkles. Continued use of Botox at regular intervals will prevent new wrinkles from forming. Overall, treatments can be combined with other dermal fillers such as Belotero under the eyes for tear trough hollows, V-Beam laser treatment for rosacea, or Fraxel and Clear & Brilliant to brighten and rejuvenate skin from sun damage.
"Brotox" For Men's Forehead, Crow's Feet & Glabella
Men are seeking the same cosmetic procedures as women, but the goals of men and women are often slightly different when it comes to Botox.
Fine lines and wrinkles are the first signs of aging and the FDA approved Botox (Botulinum toxin type A) is one of the oldest cosmetic treatments available for wrinkles. Men are increasingly becoming more focused on their appearance. This once untapped market is growing exponentially as the use of social media rises with increasing numbers of online profiles. Male patients are getting Botox and dermal fillers to look better on Instagram.
Men are seeking the same cosmetic procedures as women, but the goals of men and women are slightly different when it comes to Botox. More than 10 percent of all Botox procedures are currently received by male patients. Men want to be very discreet about the procedure and are mainly interested in non-invasive treatments and injectables such as Botox for the glabella (the space just above and between the eyebrows) and crow's feet lines and cosmetic injection of wrinkles with dermal fillers such as Juvederm.
Aesthetic procedures such as Botox can benefit a man in the workplace. Men can combat ageism by doing minimal invasive aesthetic procedures that will give them the advantage of staying competitive for additional training and promotion within the workplace. The use of aesthetic procedures such as Botox for anti-aging and treating the glabella and crow's feet lines among men has risen over the years. The media have dubbed this as 'Brotox'. More and more men are looking for noninvasive cosmetic treatments to enhance their appearance and also give them an edge amongst their younger counterparts. The old taboo of the use of Botox being a feminine treatment has long flown out the window as the number of men doing Botox treatment rises.
Botox versus dermal fillers
Botox and fillers work in conjunction with each other but often treat entirely different areas. Most dermal fillers are composed of Hyaluronic acid (HA), like Juvederm, Restylane, and Belotero. Botox and other neurotoxins are used for dynamic wrinkles, wrinkles which can be treated by stopping their movement. Dermal fillers best treat lines and creases which are seen at rest, such as the nasolabial area (smile line), chin, cheeks, or tear trough area. While they are completely different, Dr. Green often combines both modalities to treat fine lines and wrinkles during the same visit for the best cosmetic results.
Botox for men gains in popularity
Men's grooming was recently an untapped market. Today there has been more focus on men's grooming which not only includes clothing, skin care products designed specifically for men but also cosmetic issues that are most important to men, including the appearance of wrinkles. Male patients are most concerned with their eleven lines (glabella), double chin, crow's feet, nasolabial folds, razor bumps and abdomen. Men aren't afraid of doing cosmetic procedures. Many men are most interested in "lunch time" procedures that are quick with no downtime. Facial wrinkles, frown lines and forehead wrinkles are popular Botox cosmetic procedures. Generally men prefer to avoid plastic surgery because of the length of downtime involved and the higher risk of adverse events.
25 year old male treated with Botox in Glabella
Botox for Excess Sweating/Hyperhidrosis
A common condition for which men turn to Botox is for excess sweating, known medically as hyperhidrosis. Men sweat a lot, and Botox is able to reduce sweat on the palms, soles, and underarms. Many men don't have the confidence to shake hands because of the profuse amount of sweat or wear clothes which are easily ruined from sweating. Botox injections will block this excess sweating for up to six months after injection in the treatment area.
Botox for chronic migraines
Botox has been a boon for patients who suffer from chronic migraines. Botox was originally used to treat patients who were suffering from the pain associated with strabismus. During these injections, it was noted that the wrinkles around the eyes, crow's feet, diminished. Similarly, Botox injections were discovered to benefit patients with chronic migraines. The FDA approved the use of Botox to treat migraines in 2010 and has been an enormously successful treatment since its release.
Common questions about Botox for men:
Do men use Botox?
Botox has gained in popularity among men in recent years, with male celebrities such as Simon Cowell admitting to using Botox, and statistics from the American Society of Plastic Surgeons noting a 337% increase in men receiving Botox injections since 2000. This increase is even ahead of the pace of dermal fillers among male patients, which has gone up by over 86% since 2000. Botox injections is the number one, most popular cosmetic treatment in Dr. Green's private boutique Upper East Side dermatology. Neurotoxins, such as Botox, Xeomin, and Dysport, combined with dermal fillers such as Juvederm and Sculptra, can rejeuvenate your appearance in as little as one visit, with no downtime.
Is Botox for men good?
Botox is treatment that works wonders at reversing visible signs of aging on the face and body, as well as for a variety of medical concerns, including excessive sweating, migraines, muscle spasms, and jaw clenching. While Botox may have a reputation of being a cosmetic treatment for women, the reality is that more than half a million men receive botulinum toxin injections each year for a wide variety of concerns. If you are looking for an anti-aging treatment that eliminates fine lines and wrinkles, Botox may be the best treatment for you. The first step is to schedule a consultation appointment with Dr. Green to discuss your aesthetic goals and needs to determine the treatment plan that will best suit you.
What age should a man get Botox?
When patients ask what age is best for getting Botox, the answer is: it depends, as Botox treatment can serve a different function at different points along the natural aging process. Botox is approved for patients 18 and older but Dr. Green does not recommend starting Botox treatment until patients are at least 25 years old. Collagen production begins to decrease starting in a patient's late 20s or early 30s, so Botox treatment at that time will be a way to prevent wrinkles for forming. By freezing the muscles in the treatment area, it keeps them from contracting and dynamic wrinkles will not have the chance to form in the first place. If you are seeking Botox for the first time in your late 30s or 40s, you may have already noticed dynamic wrinkles on the forehead and around the eyes becoming etched deeper into the skin. Botox at this time of life will work to smooth out those wrinkles and give you a naturally more youthful appearance. No matter your age, you can consult with Dr. Green to discuss the ways in which Botox treatment can work for you.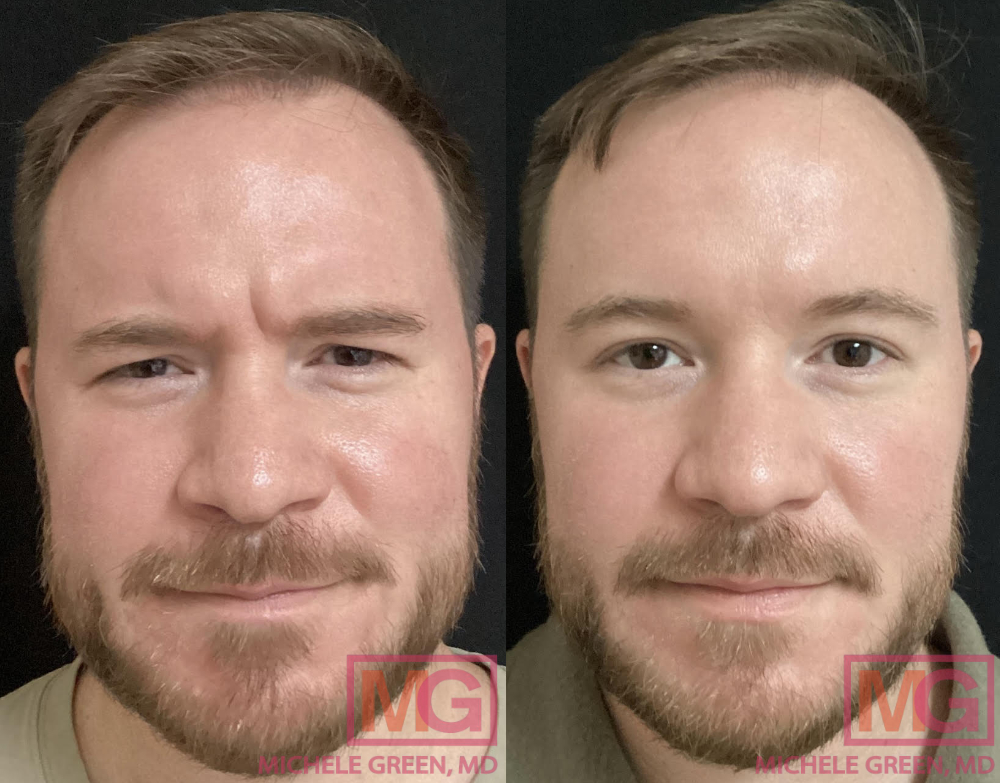 What age is too late for Botox?
Luckily, there is no age in which it is too late to receive Botox treatment. Even men in their 60s can still receive Botox treatment to help rejuvenate and refresh the appearance of the skin. Botox later in life may not help you to look 30 years younger, however, it can help to make patients age gracefully and subtly. Botox treatment can also be paired with other treatments available at Dr. Green's office to address a wide variety of concerns, including Thermage for skin tightening and dermal fillers to replace lost volume.
How long does male Botox last?
Botox is a non-permanent solution for reducing the appearance of fine lines and wrinkles. The effects of the treatment usually last for between three and four months, as the body gradually breaks down the botulinum toxin in the treatment area. Some patients may observe that effects last for longer than four months, particularly if they have received the treatment consistently for an extended amount of time. This can be due to the muscle shrinking as a result of disuse. For others, the effects may last for a shorter period of time as the body gets used to metabolizing the Botox injection. If this occurs over time, patients can switch to another botulinum toxin-based product, such as Dysport or Xeomin. Once the results have worn off, patients can schedule a maintenance appointment in order to maintain the effects of the treatment. Typically, maintenance appointments take place three to four times a year for continued results.
What happens when you stop Botox?
As Botox is a non-permanent treatment, the results of Botox treatment gradually fade approximately 3-4 months after receiving the procedure. If patients do not continue with maintenance Botox treatment, the muscle in the treatment area will be able to function again as normal, meaning that dynamic wrinkles will again begin to form in the area. Patients can stop treatment at any time without any additional negative repercussions other than the regular, age-related onset of wrinkles and fine lines.
Why do men need more Botox?
Men require a different amount of Botox at the injection site compared to women, as they have stronger facial muscles and they metabolize the product much faster than women. The typical male should have Botox injections every three to four months to prevent the full effects of previous Botox treatments from wearing off completely. The effects of Botox treatment for the glabella area also known as the "eleven lines" and crow's feet are different for men.  Men aren't necessarily trying to look younger but mainly they do Botox as it helps them to put their best face forward by giving them a more relaxed and refreshed appearance.
How many units of Botox for men's forehead?
Since men typically have more developed muscles of facial expression than women, they require more units of Botox. Typically men will need at least 20 units of Botox for their foreheads, 30 units for frown lines, and a total of 30 units for the wrinkles around the eyes.
What is preventative Botox?
Dynamic wrinkles develop over time as repeated use of muscles to make facial expressions etches creases into the skin. When we are young, the skin will crease while the facial expression is being made and then once the face is at rest, the skin returns to being smooth and unlined. By the time patients reach their mid-to-late 30s, however, the lines that appear as a result of facial expressions no longer disappear when the face is at rest and rather can be seen as a static line at all times.
Preventative Botox seeks to halt the formation of dynamic wrinkles that can occur on the forehead, around the mouth, and at the corners of the eye before they have even formed. Preventative Botox is typically administered in a patient's late 20s or early 30s when evidence that dynamic wrinkles are beginning to set into the skin starts to show. The procedure works by inhibiting the use of the muscle at the injection site, which prevents the muscle from contracting to form dynamic wrinkles. When receiving preventative Botox, Dr. Green will start with a lower dose in order to maintain a patient's natural youthful appearance.
Botox & Restylane before and after
Does Botox make you look younger?
Botox works to eliminate the appearance of fine lines and wrinkles. As we age, the production of collagen and elastin – the proteins that maintain smooth, firm skin – decreases, which contributes to the formation of dynamic wrinkles. Wrinkles, fine lines, and creases contribute an older appearance and can be particularly visible around the mouth, in the corners of the eyes, and on the forehead. Botox relaxes the muscle in those areas, which, in turn, causes the wrinkles to smooth out. By eliminating fine lines and wrinkles, Botox leads to a more youthful appearance in patients.
Should a man get Botox?
For a long time, there was a prevalent stigma that men should not seek cosmetic treatments, however, thanks in large part to social media and the spread of information, Botox for men is no longer so stigmatized. Botox is a safe and effective procedure to reduce the appearance of fine lines and wrinkles in the face, contributing to a more youthful appearance. Botox can also be used for medical purposes, including reducing excessive sweating, addressing muscle spasms, and eliminating chronic migraines. No matter the reason why men may be interested in Botox, Dr. Green will create a treatment plan that addresses each patient's unique physical and aesthetic needs.
Does Botox make your forehead shiny?
The appearance of a shiny forehead can be a risk if there is too much Botox injected into the forehead to completely freeze the area. When Botox is over-administered, the forehead can become so smooth such that light is reflecting off of it uniformly, leading to a shiny appearance. Dr. Green practices a less-is-more approach to Botox to provide patients with a more natural look, thereby avoiding the risk of creating an overly-smooth, shiny forehead.
Who is a good candidate for Botox treatments?
Botox treatments are useful for many different aesthetic needs and a good candidate for Botox can take many forms. Cosmetically, Botox is also FDA-approved to treat forehead lines, lines around the corners of the eyes, and frown lines. A good candidate for Botox injections is a male or woman over 21 years of age, who is in good health, and who has fine or deeper lines on the forehead, glabella, neck cords, or eye area. In addition, many patients wish to have a slimmer appearing face, and Botox injections in the masseter area work effectively to create a more youthful appearance. Many male patients are unhappy with the appearance of wrinkles around the neck. By injecting Botox into the neck cords and wrinkles, these fine and deeper wrinkles can be markedly improved. During the consultation with Dr. Green, she will help analyze your facial structure and aesthetic goals to see if Botox injections are the best treatment for you. Botox treatment may also be the best option to address certain medical needs, as Botox is FDA-approved to treat blepharospasm, chronic migraines, abnormal eye muscle alignment, hyperhidrosis, and cervical dystonia.
How much does Botox cost?
When patients ask, how much is Botox, the answer is: it depends. There are many factors that determine how much the procedure costs including your geographic location, how many units are necessary to meet your treatment needs, and the experience of your cosmetic injector. The number of Botox units necessary depends on each patient's treatment goals and will be determined by Dr. Green during your consultation appointment. The more Botox needed, the higher the cost will be. At spas, for example, the cost of the procedure may be lower due to specials that are offered with nurse injectors. The risk of developing side effects are higher if you receive treatment with a less experienced provider. For that reason, it is best to seek treatment from a board-certified, expert injector, such as Dr. Michele Green in NYC.
Skincare for men
In addition to Botox, dermal fillers, and laser treatments, skin care is equally important for men. Using retinols, Vitamin C serums, hyaluronic acid, eye creams, and sun screen, are all paramount to maintaining healthy skin. Dr. Green was recently interviewed by Forbes with her products featured on "How MGSKINLABS products help you rise to corporate ascension"  Dr. Green's specially designed line of skincare helps reduce fine lines and wrinkles, promote new collagen, treat existing actinic damage and and prevent future sun damage.
How do I get started with Botox today?
Thanks to Botox, non-invasive facial rejuvenation has never been easier. Whether you are interested in smoothing out the appearance of dynamic facial fine lines and wrinkles, or want to prevent them from developing in the first place, Botox is the perfect solution. To get the ideal results from your treatment, it's best to have your Botox with an expert injector, such as board-certified cosmetic dermatologist Dr. Michele Green. Dr. Green is consistently voted as one of NYC's top physicians by Castle Connolly, New York Magazine, and Super Doctors.
Dr. Green is recognized and appreciated around the world for her holistic approach to facial revitalization and her "less is more" philosophy when it comes to cosmetic injectables. As an Allergan platinum injector and one of the first physicians in New York to incorporate cosmetic Botox injections into the treatment plans of her patients, you can trust that when Dr. Green performs your Botox injections, the result will be beautiful, natural-looking rejuvenation. To find out more about Botox and other non-invasive cosmetic treatments that will leave you looking and feeling your absolute best, call 212-535-3088 or contact us online to book an appointment today.