Non-Surgical Jaw Reduction & Masseter Botox
Botox for the Masseter Muscle enables Facial Slimming
Botox is lauded in the world of cosmetic dermatology due to its ability to consistently produce phenomenal results in a quick treatment session with zero downtime. Botox injections into the masseter muscle can produce a contouring effect for the jawline, as well as relieve tension that's associated with clenching, grinding, and TMJ. Dr. Michele Green was one of the first dermatologists in New York City to incorporate Botox injections into her patients' customized treatment plans, and is an Allergan platinum injector. Dr. Green has over 25 years of experience providing what has been described as the "best Botox in New York."
Since Botox® was approved by the FDA for cosmetic use in 2002, the injectable has skyrocketed in popularity. Botox is currently the number one noninvasive aesthetic medical procedure performed in the United States, and provides patients with an outstanding non-surgical treatment option for facial rejuvenation. Botox, AKA botulinum toxin, is a neuromodulator that essentially 'freezes' targeted facial muscles by blocking nerve signals that control movement. Injecting precise amounts of Botox into the masseter muscle allows it to relax and overtime the muscle shrinks, resulting in enhanced facial contour and relief of tension in the jaw.
Dr. Green is an internationally renowned dermatologist with over two and a half decades providing her patients with the best in non-invasive cosmetic procedures including Botox, dermal fillers, CoolSculpting, Microneedling, Chemical Peels, Thermage, and laser skin resurfacing treatments. She is recognized and appreciated around the world for her holistic approach to facial rejuvenation treatments and her "less is more" philosophy. Her dedication to her patients and to her practice is well-reflected by the fact that she is consistently voted as one of New York's top doctors by Super Doctors, Castle Connolly, and New York Magazine. If you are bothered by the appearance of enlarged masseter muscles and want a more contoured appearance, or have issues with teeth grinding, TMJ, or clenching the jaw, Botox injections for the masseter muscle with Dr. Green may be the best solution for you.
What is non-surgical jawline contouring or jaw reduction?
Non-surgical jawline contouring or jaw reduction refers to the use of Botox injections to contour the masseter muscle in the lower face. Botox is a neuromodulator, which blocks the release of acetylcholine, a compound that is responsible for muscle contraction. Botox will effectively reduce the contraction of the masseter muscle which will allow it to relax and shrink with disuse over time. When your jawline is overused, hypertrophy or enlargement of your masseter muscles occurs. The masseter muscle in your jaw is similar to other muscles in your body in that the more they are engaged, the larger they can develop. This hypertrophy can result in the jaw taking on a square shape. In addition, this can contribute to TMJ or grinding of your teeth. When Botox is injected into the masseter muscles, it serves to shrink the jawline, which will create a V-shaped, slimmer-looking face. Botox effectively creates non-surgical jaw reduction, without any recovery time, in a matter of minutes.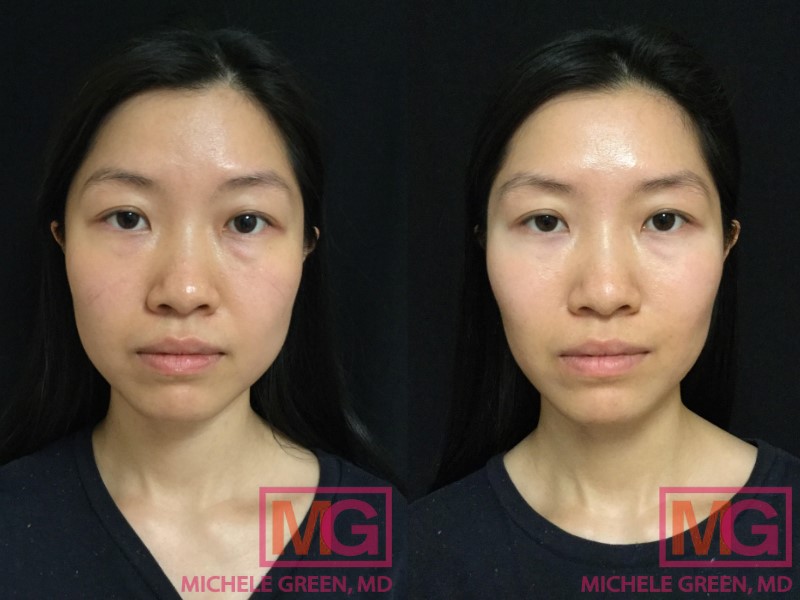 25-29 Year old female, Botox to masseter muscle, 2 weeks before and after
What is the masseter muscle?
The masseter muscle is located on each side of your jaw and is one of the main muscles involved in chewing, along with the temporalis and pterygoid muscles. When someone chews or grinds their teeth too often, the masseter muscles can increase in size and cause issues with the shape of your face. It is akin to someone lifting weights too often, and their muscles enlarging.  Botox injections in the masseter muscle will relax this facial muscle, and in turn, shrink the jawline and reduce the square appearance of the jawline. The result is that a square face will morph into a more V-shaped appearance. The best part is that no surgery is required. Injections of Botox in the masseter muscle are a safe, non-invasive method for jaw reduction and facial slimming, which can be performed in just a few minutes.
How are Botox injections for the masseter muscle performed to slim the jawline?
Dr. Michele Green has perfected the technique of reducing the enlargement of the masseter muscle by making just one single injection on each side of the muscle. In the past, Botox injections to slim the jawline involved injecting 3 to 6 points on each side of the face. However, Dr. Green has developed an innovative technique that involves the injection of one single point on each side of the face, which helps reach the other points within the masseter muscle. There is no topical anesthesia needed for these Botox injections for facial slimming results. The use of minimal injection sites means quicker, more effective, and painless results. There is absolutely no discomfort with this technique and no downtime. This procedure can be performed in Dr. Green's office during your "lunch break" with no preparation or aftercare needed.
Botox for jawline slimming without surgery
The cosmetic injection of the botulinum toxin in Botox, Dysport, Jeuveau, or Xeomin into the masseter muscle will all help contour the lower jaw and slim the face. Botox is FDA-approved to treat fine lines around the eyes (crow's feet), glabella, and forehead area. Botox blocks the signals for the nerves to the muscles, preventing their contraction. In the masseter muscle, this block in the signal allows the size of the muscle to decrease, resulting in a slimmed and contoured jawline. While jaw Botox injections work the same way as every other type of Botox injection, the injection of the masseter muscle for the jawline is still considered "off-label" and not yet FDA approved. Botox of the masseter muscle, for facial slimming and non-surgical facial contouring is one of the most popular procedures in our office. Most patients prefer non-surgical jaw reduction, without any downtime, over a surgical procedure.
Why does the masseter muscle enlarge?
The size of the muscle is determined by several factors. There most common factors for the increased size of the masseter muscles are genetics, ethnicity, clenching, grinding, excessive chewing, and/or chewing on only one side of the mouth. Research has shown that individuals with Asian heritage are more likely to have enlarged masseter muscles due to natural genetic differences creating a wider face proportion.
Botox jaw reduction
Masseter reduction is a procedure that reduces the size of the masseter muscle, to create a narrower jaw through the use of botulinum toxin injections. Many patients are unhappy with their wide jaw and Botox jaw reduction can be combined with other treatments such as Kybella injections, CoolSculpting of the neck with the CoolMini applicator, and Thermage for tightening the jowls and necks. The benefit of Botox for the masseter is a slimmer appearing face and the relief of TMJ and bruxism.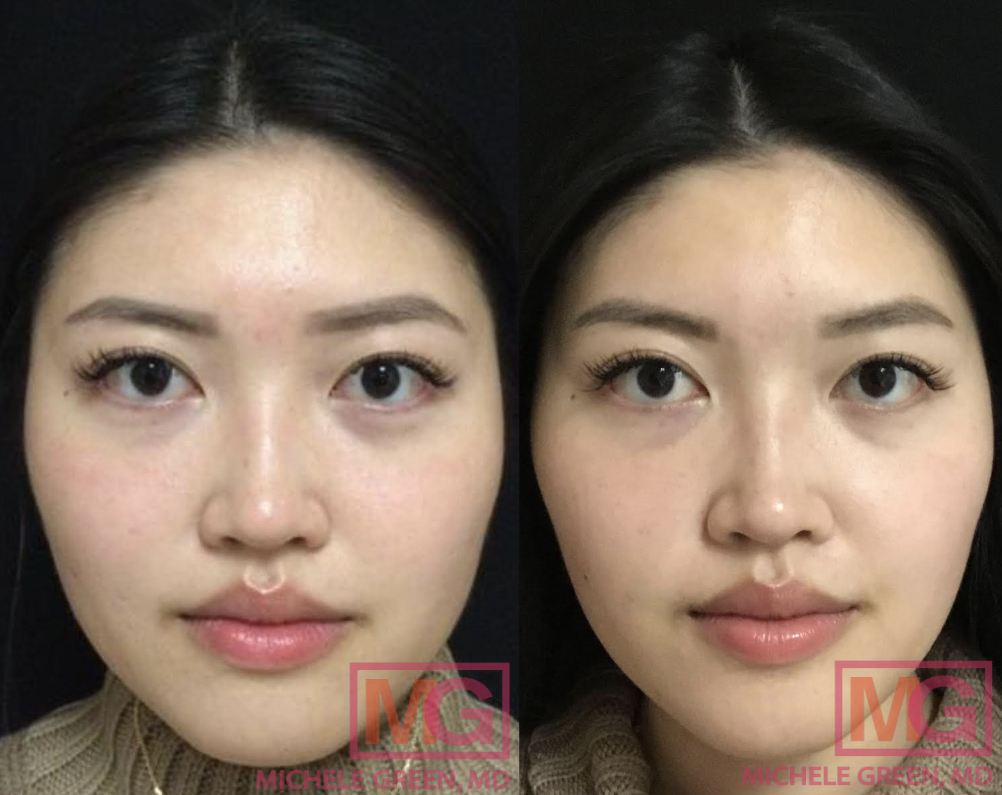 27 year old – 1 treatment of Botox in masseter area
Botox for masseter reduction vs jaw surgery
Botox injections are a safe procedure for jawline reduction with no downtime compared to going to a plastic surgeon for jawline augmentation which includes incisions, and longer recovery times. Traditional jaw reduction surgery involves breaking and removing part of the jaw bone. With jaw reduction surgery, there is the risk of serious complications such as infection, facial nerve damage, and extended pain.
Most patients do not want invasive plastic surgery to contour their face like jaw surgery or rhinoplasty and opt for nonsurgical options like Botox injections to slim the lower face and create a more attractive V-shaped appearance. Botox is an effective, convenient solution to treating the jawline and contouring the appearance of the lower face.
How long for Masseter Botox to work?
The facial slimming and jaw reduction procedures can end up taking anywhere from 2 to 8 weeks to see visible results. And the best part is that the treatment will look natural. It will feel to others as if you merely lost a little weight or some baby fat from the face. Dr. Green makes sure that the right amount of Botox is used so that there is no risk of it looking "over-done".
And since you have approximately 75% fewer skin injection points versus conventional methods or dermal filler procedures (which also require multiple injections), the one-injection Botox procedure of the masseter muscles has quickly become the preferred option for many male and female patients.
Results are not permanent though, and additional injections will be needed at regular intervals to maintain these cosmetic results. During your initial consultation with Dr. Green, she will discuss with you what options might work best for your requirements.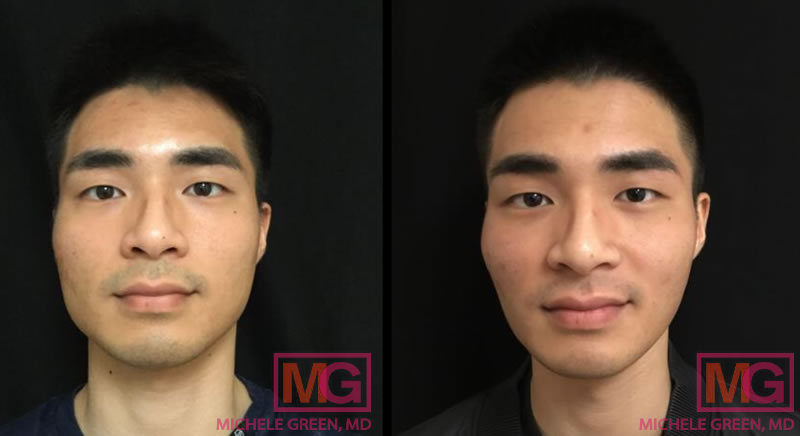 18-24 year old male. Botox to masseter muscle, 3 months before and after.
How to inject masseter Botox?
Botox is injected directly into the masseter muscle itself to contour the jawline and have the best facial slimming effects. Botox injections into this muscle will also treat TMJ, bruxism, migraines, and other medical conditions.
Who is a good candidate for masseter Botox?
Botox injections in the masseter are the best treatment for healthy patients who have tension in their jaw and want to:
Slim their face and create a more V-shaped appearance
Improve the cosmetic appearance of their jawline
Minimize teeth grinding and jaw clenching
Treat migraines and headaches
TMJ
Relieve bruxism
Treat an asymmetric jawline
What are the contraindications for masseter reduction?
Masseter Botox reduction is a very safe and effective procedure for jaw slimming. However, the same contraindications which pertain to Botox for other indications extend to Botox for jaw reduction. These contraindications include:
Known allergy or hypersensitivity to neurotoxins
Active skin infections at the site of injection
Pregnancy
Breast-feeding
History of central nervous system diseases such as ALS
Botox treatment for TMJ
Many patients suffer from teeth grinding, or clenching their teeth under stress or while they are sleeping. This grinding or clenching of your teeth can cause you to experience TMJ or bruxism. The masseter muscle is one of the key areas where patients build up stress. By relaxing the masseter muscle, through Botox injections, the muscle atrophies and jaw pain, jaw clenching, and the symptoms of temporomandibular joint syndrome or TMJ are improved. Dr. Green often suggests to her patients who suffer from TMJ to consult their dentist or orthodontist as well, to see if a retainer or mouth guard can help too. Finally, in addition to Botox injections, patients are advised to avoid excessive gum chewing, as this can contribute to masseter muscle hypertrophy.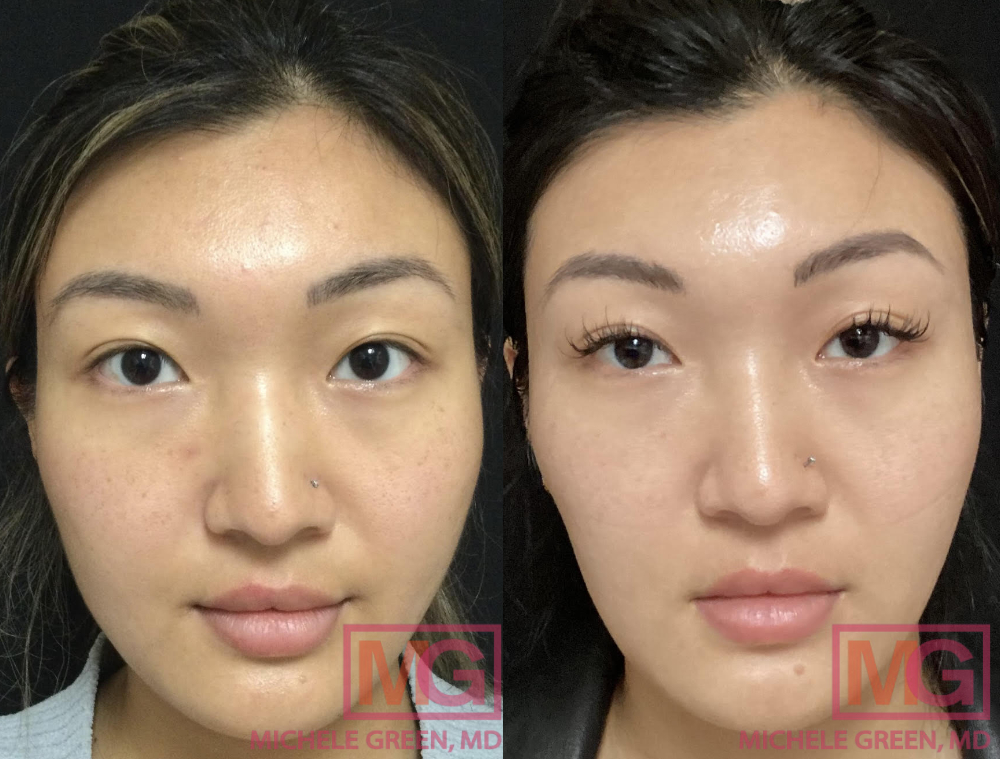 Botox in Masseter area, 12 months
FAQ: Frequently Asked Questions and Answers
Do Botox masseter muscle injections hurt?
Botox injections into the masseter muscle do not hurt and it is one of the quickest, most painless, and popular options in our office. No numbing is required for this procedure unlike other cosmetic injections, such as dermal fillers. Dr. Green is incredibly experienced and has a gentle hand that effectively injects Botox into the masseter muscle within a matter of minutes. There is absolutely no downtime or recovery from this non-surgical jaw reduction procedure.
What does masseter Botox do?
Injections of Botox into the masseter muscle will work to slim and contour the jawline. Botox is a neurotoxin, consisting of botulinum toxin type A, which relaxes the masseter muscles and that can occur from hypertrophy or overuse. Over time, with continued Botox injections, the muscles will shrink from disuse and reveal a more defined jawline. Patients who receive the treatment will start to see the effects of Botox in four to six weeks following the procedure but it can take more than one single treatment to shrink the masseter muscle. With repeated treatment, the masseter muscle is weakened, and a beautiful, slimmed jawline is achieved.
Are there any side effects for Botox in the masseter muscle?
There are generally few side effects for Botox injections for non-surgical jaw reduction. Improper injection of Botox in this area can cause facial asymmetry, which may be caused by paralysis of the zygomaticus major muscle. Besides facial asymmetry, injecting Botox incorrectly into this area can cause a crooked smile, although these side effects are not permanent. In addition, special care must be used in balancing the correct amount of Botox used on each side, to correct for any disparities between the size of the right and left masseter muscle. It is best to consult an expert, like Dr. Michele Green in NYC, who has been injecting Botox for cosmetic indications for years.
Can masseter Botox affect your smile?
Botox injections, when placed properly into the masseter muscle, should not affect your smile. Improper injections or too many units of Botox, however, can result in an asymmetrical smile. This risk is reduced when you consult a board-certified dermatologist, like Dr. Michele Green in NYC, who has over 25 years of experience in cosmetic dermatology.
How many units are needed for masseter Botox for non-surgical jaw reduction?
Dr. Green typically injects 50 units of Botox, or 25 units on each side, directly into the masseter muscles. The effect of Botox starts to be visible in a few days but the full effect takes up to two weeks. When Botox is used to reduce masseter muscle hypertrophy, the maximum effect is not realized for the first 3 months. There is a cumulative effect of Botox in the masseter muscle. With repeated injections, over a year, the masseter muscle gets weaker. This decrease in strength comes with atrophy of the muscle and a decrease in muscle hypertrophy and ultimately, facial slimming. Dr. Green recommends having repeat Botox injections every 3 to 6 months to maintain the best cosmetic results.
How much Botox is needed for masseter reduction?
The amount of Botox needed for masseter reduction will vary from patient to patient depending on the size and strength of their particular masseter muscles. Dr. Green will examine your jaw muscles and generally initiates treatment with 25 units on each side but may re-inject an additional 25 units or more if the masseter muscle is particularly strong and more facial slimming is needed.
How much is Botox for the masseter muscle?
The cost for Botox in the masseter muscle varies based on the experience of the cosmetic injector. A board certified dermatologist with over 25 years of experience, like Dr. Michele Green in New York City, may be more expensive than a nurse at a medspa. It is best to consult an experienced injector for dermal fillers and Botox injections to minimize any potential side effects from your procedure and ensure the best cosmetic results.
When does Botox in the masseter muscle kick in?
Botox injections of the masseter start to take effect within two to four weeks after your injections. Dr. Green generally will re-examine the treated area four weeks after your Botox injections to evaluate the effect and determine if additional Botox injections are needed fro jawline reduction. In general, Botox lasts approximately three to four months and it is best to return at that time to maintain the proper "freezing" of the masseter muscle. Optimal maintenance is Botox injections every four months to ensure that the enlarged masseter muscle is unable to increase in size. With continued Botox injections in the masseter muscle, you will see continued improvement in the form of a slimmer jawline and it will also help to alleviate any jaw tension as well.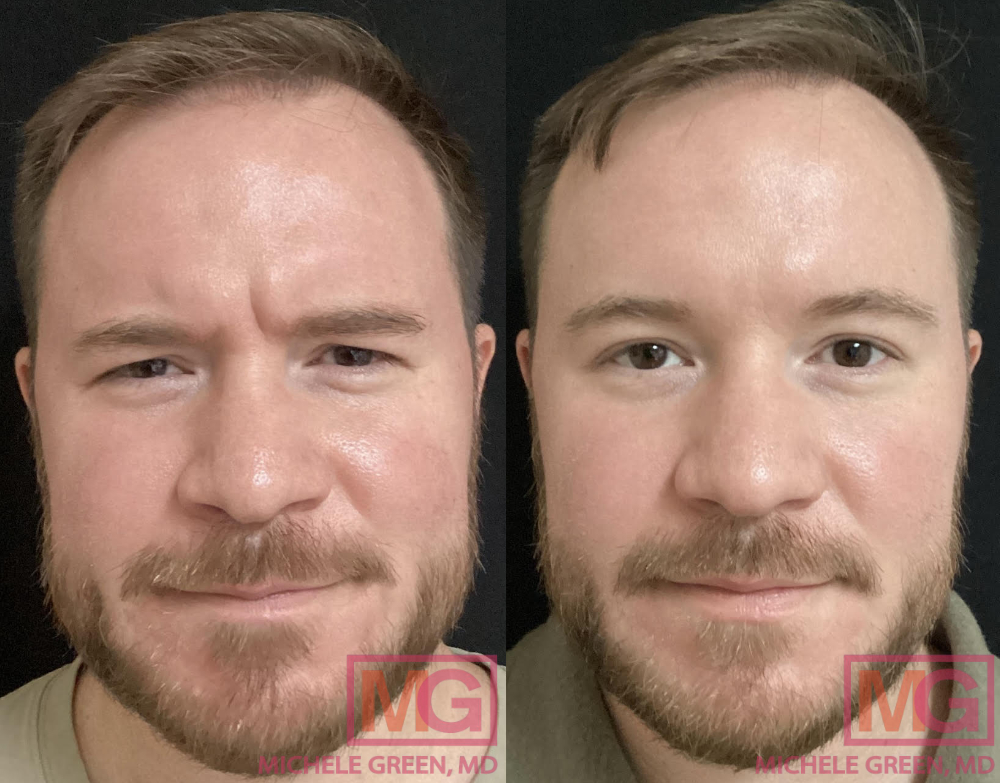 How often should I get Botox for the masseter?
Botox injections last approximately three to four months in duration. Maintenance of Botox injections will keep the jawline slim and continue to allow the masseter muscle to shrink and atrophy over time, giving you even better cosmetic results over months.
How long does masseter Botox last?
Botox injections in the masseter last about three to four months. Repeat injections of this jaw reduction treatment are required to maintain the ideal cosmetic results.
Is masseter Botox permanent?
Botox injections are not permanent in any area of the body injected. The muscle, in this case, the masseter muscle, is temporarily "frozen" and after the results of the Botox injections dissipate, repeat injections will be needed. Initially, Botox in the masseter muscle may last three months, and the cosmetic effects are visible for the same amount of time. However, repeated maintenance and injection of the masseter muscle will create longer-lasting results, typically with up to six months duration.
Can you eat after masseter Botox?
Yes, you can eat after your Botox injections into the masseter muscle. The procedure has no downtime and no contraindications.
Which procedures can be combined with masseter Botox to improve my jawline?
When sculpting the jawline, several factors come into play to have a beautiful jawline. If the jawline lacks definition, dermal fillers such as Juvederm and Sculptra injections can be used to create a well-angled jawline. It can also improve the underlying structure, providing definition and an enhancement of your appearance. If there is skin laxity in the jowls and neck, skin tightening with Thermage FLX is the key to producing new collagen and providing the best non-surgical skin tightening results. These can all be combined for a non-surgical facelift.
Submental fat, or fat under the chin, can be dissolved with either Kybella injections or the CoolMini applicator for CoolSculpting. These non-surgical treatments can be used to remove the fat around the neck which will greatly improve the overall appearance of your jawline. Finally, Botox injections directly into the neck cords provide a "Nefertiti Lift" and tightens and improves the appearance of wrinkling on the neck. Skin changes, such as fine lines, sun damage, and texture, can be improved with the Fraxel laser or Clear + Brilliant laser with minimal recovery time.
During your consultation with Dr. Green, she will assess your jawline structure and facial muscles and determine the best combination of treatments for you. Whether it is facial or body contouring, cosmetic injections, or laser treatments, Dr. Green will customize a unique cosmetic treatment plan for you.
Why would someone need jaw surgery?
Jaw surgery is done for a variety of reasons but is rarely used to improve the jawline since it is an invasive procedure with increased risks and extensive recovery time. It involves the removal of part of the mandible, the lower jawbone. Some of the most common reasons someone would need jaw surgery include the correction of facial asymmetries, such as a small or receding chin, a significant underbite or crossbite. Some individuals may need jaw surgery to correct birth defects or facial injuries as well.
How do I get started with Botox injections for non-surgical jaw reduction?
Botox injections for non-surgical jaw reduction is one of the most popular cosmetic injections in the private Upper East Side dermatology office of Dr. Michele Green in New York. For patients who are unhappy with their jawline, grind their teeth, or who are suffering from TMJ, Botox injections are a safe and effective procedure and provide impressive results with no downtime. Botox injections into the masseter muscle with provide painless non-surgical jaw reduction in a matter of minutes. Dr. Green was one of the first dermatologists in New York to incorporate Botox injections in the masseter muscle for facial slimming. She is consistently voted as one of the best dermatologists in New York City by Castle Connolly, The New York Times, Super Doctors, and New York Magazine. If you are interested in non-surgical jaw reduction for facial slimming, please contact us online today or call 212-535-3088 to learn more about how Botox can work for you.