Many of us rely on anti-aging skincare products such as face creams and serums, but the fact is that as we grow older, our skin loses its elasticity as our collagen diminishes. Back in the day, the only option patients had to fight the aging process was through invasive cosmetic procedures such as a blepharoplasty, facelift, or brow lift. Surgical facelifts obviously involve the risks of going under the knife and general anesthesia. Nowadays, most people want to avoid surgery, but some still want the dramatic results that facelifts offer. Most of our patents, however, prefer non-invasive procedures, with minimal down time. The good news is, for people that want gradual cosmetic results, there are new non-invasive treatments which can still help you look years younger. One of the most popular procedures which accomplishes this goal is the skin tightening laser known as Thermage.
What is Thermage skin tightening?
Thermage CPT is an FDA approved skin tightening treatment which uses radiofrequency technology to tighten loose skin as well as provide contouring for the skin. The goal of Thermage is to treat the visible signs of aging such as fine lines, crepey sagging jawline, jowls, "hooding" of the lower eyelids and the "turkey neck". Thermage treatment can be used to tighten the skin of many body parts including the face, neck, chest, abdomen, hands, legs, and arms. Every area of the face can be treated, with special attention to improving the jowls, nasolabial folds, and jawline. Since Thermage utilizes RF technology, it is a "color blind" laser and can be used to treat patients of all skin types.
Another area of concern to patients is "hooding" or extra skin and wrinkles in the eyelid area. Thermage can  be used to perform a non-surgical brow lift and tighten loose skin around the eyes. Dr. Green often combines Thermage for skin tightening with other treatments, such as Botox and dermal fillers like Juvederm and Sculptra injections. Neurotoxins, such as Botox and Dysport, help reduce the appearance of fine lines which are caused by extreme muscle movement, such as in the brows or around the eyes (crow's feet). Dermal fillers, such as Juvederm Voluma, Restylane Lyft, and Sculptra, can replace lost facial volume and compliment the skin tightening effects of Thermage. Through this unique skin tightening treatment, Thermage will provide overall reduction in skin laxity, in a single treatment
Thermage treatment for the body
Aside from using Thermage on the face, this skin tightening laser can also be used for the body. Many women may experience loose skin on their abdomen from childbirth and Thermage works well to tighten skin in the abdominal area. Thermage is also FDA approved to improve the appearance of cellulite on areas such as the buttocks and thighs. Many patients have loose skin in the area right above the  knees, and Thermage can definitely tighten the skin and improve the skin in that area as well. Many patients also benefit from the skin tightening effect of Thermage for the arms and Dr. Green often combines CoolSculpting to decrease the fat in the upper arms with Thermage to tighten the skin for the best cosmetic results.
How does Thermage work?
As we get older, our skin naturally starts to age because of reduced production of collagen, a protein that's responsible for keeping our skin firm. Thermage skin tightening uses radiofrequency energy to penetrate the deep layers of skin and promote new collagen growth. How exactly? The heat that's delivered to the deep layers of the skin, more specifically to the dermal layer, and will induce the production of new collagen. This new collagen production results in overall rejuvenation of the skin, leaving you with a more youthful and healthier appearance. A single treatment session, which can take little more than one hour, will provide you with long-lasting cosmetic results.
What to Expect During Thermage?
During your Thermage appointment, Dr. Green will apply a grid onto the treatment area followed by a thin layer of gel that will protect the skin. The procedure involves a small hand-piece that will send tiny pulses of heat through the skin. With the Thermage CPT technology, skin tightening results are highly effective and painless, as patient comfort is always priority. The procedure lasts approximately one hour, although other body parts such as the abdomen or upper arms make take slightly longer. No numbing medicine is required as the energy of the Thermage is adjusted based on patient feedback. After the treatment is complete, you may experience mild redness in the area but it will go away within the hour, before you leave Dr. Green's NYC private dermatology office.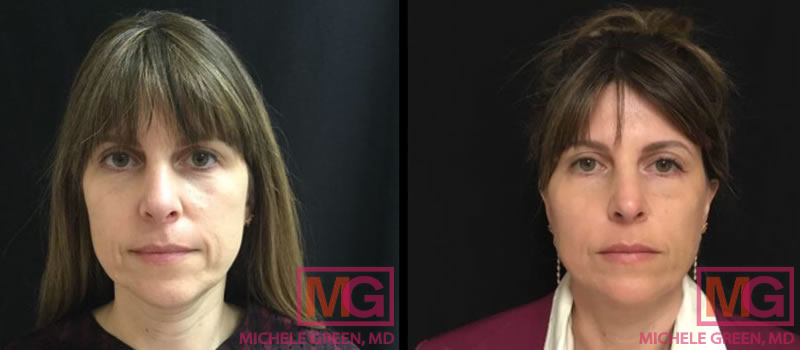 Thermage (lower face & neck), with Voluma & Restylane Lyft
Post Thermage Treatment
The great thing about Thermage is that there is no downtime and no side effects. The only side effect that you may experience is mild redness which goes away almost immediately. You can return to your normal activities directly after you finish your treatment. There are no special instructions or directions. The only thing you should remember is to maintain a good skincare regimen and to apply sunscreen daily. Unlike many cosmetic procedures where multiple sessions are required to achieve a desired look, with Thermage you will see a visible difference after just one treatment. Results can be seen within six months after this single treatment and can last for up to two years.
Ultherapy vs Thermage
Ultherapy and Thermage are often compared for skin tightening results. However, there are some important distinctions between the two cosmetic procedures. Ultherapy is only FDA approved to treat the face, as opposed to Thermage, which is FDA approved to treat crepey, sagging skin on the face, eyes, chest, arms, legs, abdomen, and buttock area. Thermage also treats cellulite, skin texture, unwanted bulges and dimpling on the skin. In addition, Thermage is entirely painless procedure, whereas Ultherapy is quite painful and requires oral pre-medication before the treatment. For these reasons, Dr. Green prefers the Thermage laser over Ultherapy for laser skin tightening of the jowls and jawline.
Why choose Thermage skin tightening?
Thermage is an amazing treatment for those who want to tighten their jawline and are beginning to notice jowls and sagging skin. Thermage treatment for fine lines and loose skin has no downtime and no discomfort. From just a one hour procedure, you'll notice tighter, firmer smoother skin, with results from a single treatment session, lasting up to two years. The Thermage system will smooth and contour your skin, stimulate new collagen, and produce a more youthful appearance. You will look amazing and no one will ever know that you had a cosmetic procedure performed.
To find out more about Thermage for jawline skin tightening, please contact us online, or call us at 212-535-3088 today in order to book a consultation. Dr. Green will examine your skin condition, discuss your goals, and create a custom anti-aging treatment protocol for you. Dr. Michele Green is a board certified dermatologist in NYC and an expert in non-invasive cosmetic procedures including Botox, Fraxel, Juvederm, Sculptra injections, CoolSculpting, Kybella, chemical peels, lasers, PRP with microneedling, cellulite, and acne scar treatments.