Thermage® radiofrequency treatment effectively tightens loose skin and smooths away wrinkles without the need for invasive procedures from a plastic surgeon, incisions, scars, or anesthesia. By triggering the body's natural collagen production process, Thermage works to rejuvenate the skin for a smoother, tighter, more youthful appearance. Just one session is often enough to create long-lasting results, and the appointment itself can typically be scheduled right over your lunch hour. With the most up-to-date comfort technology, Thermage treatment ensures that there is no discomfort during the procedure and no downtime afterwards, meaning patients can immediately resume their regularly scheduled activities.
As a result of the natural aging process, collagen production in the skin begins to decrease over time. Consequently, the skin begins to lose structure, which can result in sagging, crepey skin. Loose skin by itself can be a distressing sign of age and can also emphasize the appearance of fine lines, wrinkles, jowls, and cellulite. Luckily, sagging skin and other signs of aging can be easily addressed with treatments available at Dr. Michele Green's Upper East Side, New York City dermatology office. With Thermage RF technology, patients can look forward to firm, youthful-looking skin in as few as one treatment. Thermage can also be paired with other treatments, including dermal fillers, Botox, Kybella, and CoolSculpting to fully address your aesthetic goals.
Board certified dermatologist, Dr. Michele Green, is an expert at meeting each patient's unique needs. With over 25 years of experience, Dr. Green is known for her less-is-more approach to treatment, which provides patients with a natural, youthful look. A leader in patient satisfaction, Dr. Green has been frequently voted one of the best healthcare providers in the city by publications such as Super Doctors, Castle Connolly, and New York Magazine. She is an expert in a wide range of procedures including dermal fillers, Botox, laser treatments, including laser hair removal, chemical peels, and much more. To find out if Thermage treatment is right for you, schedule a consultation with Dr. Green today.
What is Thermage skin tightening?
Thermage is a non-invasive skin tightening treatment that uses radiofrequency laser technology to rejuvenate the skin. As you age, production of the proteins collagen and elastin, which help to keep your skin smooth and firm, decreases, causing visible wrinkles, sagging, and crepey skin. For patients looking to reduce these visible signs of the natural aging process, Thermage® gives you tighter, smoother skin, softens fine lines and wrinkles, and helps you look younger without any incisions or surgery by boosting your body's natural collagen production. The procedure can be used nearly anywhere on the face or body for a nonsurgical "lift" that firms and tightens loose skin.
What does Thermage do?
Thermage radiofrequency treatment has many uses but serves primarily to create firm, smooth, and youthful-looking skin without the need for any surgical procedures or down time. The Thermage cosmetic procedure can be used on many parts of the body including the face, arms, abdomen, legs, buttocks, for face and body contouring. When used anywhere on the body, Thermage works to tighten the skin, reducing the fine lines and wrinkles that appear as a result of sagging skin. Thermage treatment trigger's the body's production of collagen, which will also help to improve the texture of the skin, reducing the signs of aging such as crepey or saggy skin. Patients who are frustrated with the appearance of cellulite can also turn to Thermage to address the dimpled look of the skin.
What is Thermage good for?
Thermage radiofrequency skin tightening can be performed anywhere on the body including the face, hands, knees, arms, legs, buttocks, and abdomen. Most patients do not want a facelift and Thermage is able to target the jowls and restore your jawline through this revolutionary skin tightening treatment. Thermage is uniquely designed to non-surgically tighten the skin at the first signs of aging by simulating existing collagen and promoting new collagen. Thermage lifts and tightens the skin and rejuvenates the skin in just a single treatment in expert, board certified dermatologist, Dr. Michele Green's, NYC office.
Each treatment uses unique (RF) radiofrequency technology to safely heat the inner layers of your skin, while cooling the surface of your skin simultaneously. This deep heating helps tighten existing collagen and stimulates new collagen production. Over time, aged skin is replaced with smoother, tighter skin, improved tone and texture and an overall younger looking complexion.
Dr. Green's practice now offers treatment using a variety of different applicator tips that vary in size and function to be used on different areas of the body. The Thermage® Total Tip 3.0 is a new design that offers results almost immediately in addition to improved long-term results. The 3.0 tip allows for targeted, uniform treatments that deliver a more comfortable experience for patients as well as a more impressive outcome. Thermage FLX is another new and improved variety of Thermage devices. The Thermage FLX device has a 4cm tip, which is designed to be used on parts of the body with greater surface area such as the abdomen, thighs, and arms. The new tip allows for a faster and more comfortable treatment process with innovative comfort technology.
Thermage with Voluma & Lyft
What to Expect from Thermage Skin Tightening
Dr. Green performs Thermage® treatments in her private office on the Upper East Side of New York City. The treatment takes an hour to an hour and a half, depending on the location of the body and size of the treated area; larger areas may take a bit longer. The treatment is entirely pain free.
Before the procedure, a grid is outlined on your face or body to delineate the treated area. During the procedure, the handheld device is pressed repeatedly onto the outlined area of your skin. As the adaptor touches your skin, you will feel both the quick sensation of heat and a cooling sensation. The heating sensation is a sign that the deep layers of your skin are reaching effective temperatures for tightening.
The treatment is entirely pain-free, and you'll immediately have a "glow" or plumping of the skin. Thermage® requires no downtime, so you can resume all of your normal activities right away after treatment. There is no recovery time or special post-treatment care needed after your appointment.
Thermage® stimulates your body's own collagen in a single treatment. Results may appear immediately after treatment with improvements continuing in two to four months. Your skin will become smooth, firmer and tight as the new collagen production slows the aging process. Although individual results may vary, the effects of your treatment can last for two years, helping you look younger for longer.
How does Thermage work?
Thermage treatment uses radiofrequency laser technology to boost collagen production for firmer, tighter skin. When the Thermage device is applied to the skin, it emits a beam of radiofrequency (RF) energy that heats the inner layer of the skin, also known as the dermis, while keeping the surface of the skin cool for maximum comfort during the treatment. When the dermis is heated, it trigger's the body's natural healing process which promotes the production of collagen over time. The increased amount of collagen in the treatment area leads to the replacement of aged, sagging skin with new, smoother, and firmer skin over a period of 3 to 6 months. Thermage results can also be seen right after treatment, as the heating of the dermis also causes the water molecules in the fibrous collagen present in the treatment area to separate, which leads to an immediate tightening of the skin.
What is Thermage FLX for skin tightening
There are several different kinds of tips that can be used for the Thermage applicator device and the newest addition is Thermage FLX. Thermage FLX is the fourth generation of Thermage lasers and has been designed with maximum patient comfort in mind. New technology, known as AccuREP, works to create direct, precise delivery of RF energy beams, with the ability to adjust the pulses in real time. Vibrations paired with a cooling technology also help to keep patients from experiencing discomfort throughout the procedure. The tip also differs from previous models in its size – the 4cm tip allows providers to cover 25% more surface area at a faster rate, making the newest generation of Thermage devices more ideal for areas such as the abdomen, thighs, and arms.
Thermage CPT treatment
Thermage CPT, which stands for Comfort Pulse Technology, is the third generation of Thermage devices and has also been designed for maximum patient comfort. With a 3cm tip, it is 33% smaller than Thermage FLX and can therefore be used on more delicate areas that require even greater precision, such as around the eyes to reduce hooding and eliminate crows feet. Both Thermage CPT and Thermage FLX use the same radiofrequency technology to tighten the skin, improve skin texture, and eliminate the appearance of fine lines and wrinkles. Thermage CPT also employs skin surface cooling technology and a handpiece that vibrates to reduce the risk of any discomfort during the procedure.
What are the side effects from Thermage?
One of the best things about Thermage is that you can have this non-invasive procedure which tightens the skin without any side effects or downtime. Dr. Green will control with amount of energy used during the procedure to achieve maximum results while still maintaining patient comfort. Thermage uses radiofrequency technology to heat the dermis, produce new collagen, and tighten the skin, all without any side effects, all within one single treatment session.
Can Thermage damage your skin?
Thermage RF technology is a safe and effective procedure with no downtime required and minimal risk of any side effects. The heating of the dermal layer of skin that occurs as a part of the procedure is completely controlled and causes no damage to the surface of the skin. The Thermage applicators are designed with cooling technology to keep the outer layer of skin from experiencing any damage from the treatment. At most, some patients may see signs of redness and swelling at the treatment area after the procedure but these symptoms resolve themselves within 24 hours. When you consult an expert in Thermage, like Dr. Michele Green in NYC, you can expect outstanding cosmetic results without worrying about unwanted side effects.
Thermage (abdomen) 4 1/2 months after treatment
Who is a good candidate for Thermage?
The best candidates for Thermage® are good general physical and mental health, and have noticed skin wrinkling and laxity that their existing skin care routine isn't able to keep up with. Thermage® is also ideal for those patients who have realistic expectations about their results, and who prefer subtle improvement rather than the more dramatic results typically seen with cosmetic surgery. Thermage skin rejuvenation can be performed on all skin types, and for patients of all ages. The accessibility of the treatment is also appealing for patients who do not want to undergo any surgical procedures. With plastic surgery, there is significant down time required and a substantial risk for experiencing side effects. Thermage is able to achieve skin tightening results without the need for surgery or any recovery time.
Does Thermage work?
Thermage® is an FDA approved technique that delivers radiofrequency energy to the deepest layers of the skin, while simultaneously protecting the skin's surface through a continuous cooling process. The RF energy works to heat collagen fibers deep in the dermis, which tightens the skin as well as stimulates renewed collagen production for several months after treatment. The result of the new collagen growth is an improvement in the visible signs of aging like crow's feet, early jowling or "turkey neck" and neck contouring to restore a more youthful appearance.
Does Thermage work on the face?
Thermage skin tightening treatment can be used on the face to improve skin laxity and address various signs of aging. One area of the face where signs of the natural aging process can be most apparent is around the eyes. As collagen production decreases, wrinkles can easily form at the corner of the eyes, in the form of crows feet, and sagging skin can create the appearance of bags under the eyes. Lax skin above the eyes can result in "hooding," which is when sagging skin gathers above or on the upper eyelids. Additionally, sagging skin can create the appearance of jowls, causing the jawline to appear heavier. Thermage can be used to address all of these concerns on the face, tightening the skin and boosting collagen production for a more youthful appearance.
Is Thermage® just for the face?
No! The Thermage® treatment can be used on more than just the face. Thermage has two different hand pieces, one specifically designed for the face and eye area, to treat eye "hooding" and jowls to produce new collagen and the second hand piece designed for the body today with skin tightening. Women may choose Thermage® to improve their post-pregnancy belly or minimize the appearance of cellulite, while men may turn to Thermage® to improve residual skin laxity due to age or following minor weight loss.
Which areas of the body does Thermage help with skin tightening?
Thermage can be used for skin tightening for all body parts, including arms, legs, buttocks, abdomen, and thighs. When you have your initial consultation with Dr. Green, you can discuss the areas of your body where you are experiencing sagging skin and/or cellulite, which can be addressed with Thermage skin tightening treatment. Dr. Green may also recommend pairing the Thermage treatment with other procedures to more fully address each patient's unique aesthetic goals and needs. As a part of your consultation, Dr. Green will determine which Thermage RF tip would best suit your specific needs and establish a treatment schedule that works best for you.
Does Thermage work on the neck?
The neck is another area of the body that shows signs of the natural aging process and Thermage can be used to reduce the appearance of fine lines and wrinkles and tighten the skin there. One common concern that can be addressed with Thermage is what is frequently called the "turkey neck." Turkey neck is the unflattering term for loose skin that develops under the chin and along the neck. For patients experiencing sagging skin on the neck, Thermage is the best way to tighten the skin and improve the texture.
Does Thermage work on the stomach?
Yes! Thermage can be used on the stomach to rejuvenate the appearance of the skin and reduce the signs of cellulite there. Typically, to address concerns on the stomach or abdomen, Dr. Green will use Thermage FLX, as the slightly bigger tip is best for treating a greater surface area. When the dermis is heated via the radiofrequency energy, it triggers the body's natural production of collagen in the area, which leads to skin cell turnover. As a result, the skin in the treatment area is smoother and firmer in texture.
How does Thermage treat cellulite?
Thermage treatment can also be used to reduce the appearance of cellulite across the body. According to the American Academy of Dermatology, cellulite affects nearly 90% of women in the United States. Cellulite occurs most frequently on the buttocks and thighs and takes on the appearance of dimpled or lumpy skin. The condition occurs when fibrous bands under the surface of the skin cause the subcutaneous fat accumulation in the area to stick out, which leads to a rippling effect on the skin. Thermage is one treatment that can be used to reduce signs of cellulite by thickening the skin and creating a smoother texture. Thermage can also be paired with QWO treatment for treating cellulite.
45-54 Year old man treated with Thermage and Kybella
Can I combine Thermage with other facial rejuvenation procedures?
Because Thermage® only corrects the laxity of the skin, other signs of aging may require a different procedure. For example, age spots can be diminished with a resurfacing treatment like chemical peels or Fraxel Dual Laser Resurfacing, while deep lines and wrinkles may require a dermal filler. Many patients choose to have Botox and dermal fillers such as Juvederm right after their Thermage procedure. Juvederm is one of many types of dermal fillers available at Dr. Green's dermatology office. Dermal fillers work primarily to restore lost volume in the face, and can take the form of hyaluronic acid fillers, such as Juvederm and Restylane, poly-L-lactic acid filler, such as Sculptra, or calcium hydroxyapatite filler, such as Radiesse. As we age and collagen production decreases, a loss of volume can occur in many areas of the face, including in the mid-face resulting in sunken cheeks and under the eyes. With Thermage used to tighten the skin, dermal fillers can provide volume to sunken area and fill in deep lines and wrinkles.
If you notice excess pockets of fat in addition to skin laxity, Dr. Green may also recommend CoolSculpting® or Kybella to fine-tune your figure. Even with a healthy diet and a consistent exercise routine, stubborn fat can remain in places such as the neck, back, arms, thighs, abdomen, and buttocks. CoolSculpting is a body shaping procedure that uses a process called cryolipolysis to destroy stubborn fat cells in the treatment area. A roll of fat is placed between two panels on the applicator, which then cools the fat to a freezing temperature. As fat cells freeze at a higher temperature than the surrounding tissue, only the fat cells are affected. When the fat cells rupture, the body's natural metabolizing process is triggered and the cells are broken down and eliminated. CoolSculpting can provide as much as a 25% reduction in the concentration of fat per treatment.
Kybella is another procedure available at Dr. Green's office, which works to eliminate stubborn fat without the need for surgery or incision. Kybella is the first injectable fat reduction treatment, which works via the injection of deoxycholic acid. When the solution is injected into the treatment area, the deoxycholic acid works to destroy the membrane of fat cells in the area, which are then metabolized by the body, reducing the concentration of fat. Kybella is ideal for use on moderate to severe pockets of fat and can be paired with both CoolSculpting and Thermage.
What should I expect during treatment?
Depending on the size of the treatment area, your appointment can last between 45 to 90 minutes. Dr. Green will begin by marking a grid in the treatment area to mark where the Thermage handpiece will be applied to your skin. When Dr. Green touches the device to your skin, you'll feel a deep heating sensation followed by a cooling sensation on the skin's surface. The cooling function and vibrations of the Thermage handpiece serves to provide you with maximum comfort during the course of the treatment. After your appointment, you can immediately return to your regular routine without any downtime. You may experience some minimal erythema at the treatment area but these symptoms will resolve on their own within an hour after receiving the treatment. Dr. Green recommends wearing sunscreen outside in the weeks following the procedure as your skin may be more sensitive.
How long does Thermage take to work?
Most men and women see an immediate "glow" after treatment, along with a plumper, firmer look to their complexion. As collagen production in the deeper layers of the skin increases, you should continue seeing improvements over the next few months. Most patients enjoy their results for up to two or three years.
55-64 Year old woman treated with Thermage and CoolSculpting – 6 months
How long does Thermage last?
Thermage is a long-lasting, non-invasive treatment with no down time required following the procedure. Thermage results can last for up to two years before the effects of the treatment fade. The Thermage treatment can be repeated once a year, so Dr. Green often recommends scheduling an annual treatment with Thermage to maintain the best cosmetic results and increase the collagen production in your skin.
How much does Thermage cost?
The cost of Thermage treatment depends on several factors, including your geographic location, the area of the body you are treating, and the type of institution at which you receive treatment. The cost of Thermage treatment will be higher if you are looking to address concerns on multiple areas of your body and if you are pairing the Thermage treatment with other treatments. After your initial consultation with Dr. Green where you discuss your goals and a treatment plan is established, her office will be able to provide you with a closer estimate of the cost of your treatment. Additionally, the cost can vary based on the type of institution where you seek Thermage treatment. A MedSpa may be more inexpensive but receiving treatment from a board-certified dermatologist, such as Dr. Green, will provide you with a higher quality of care.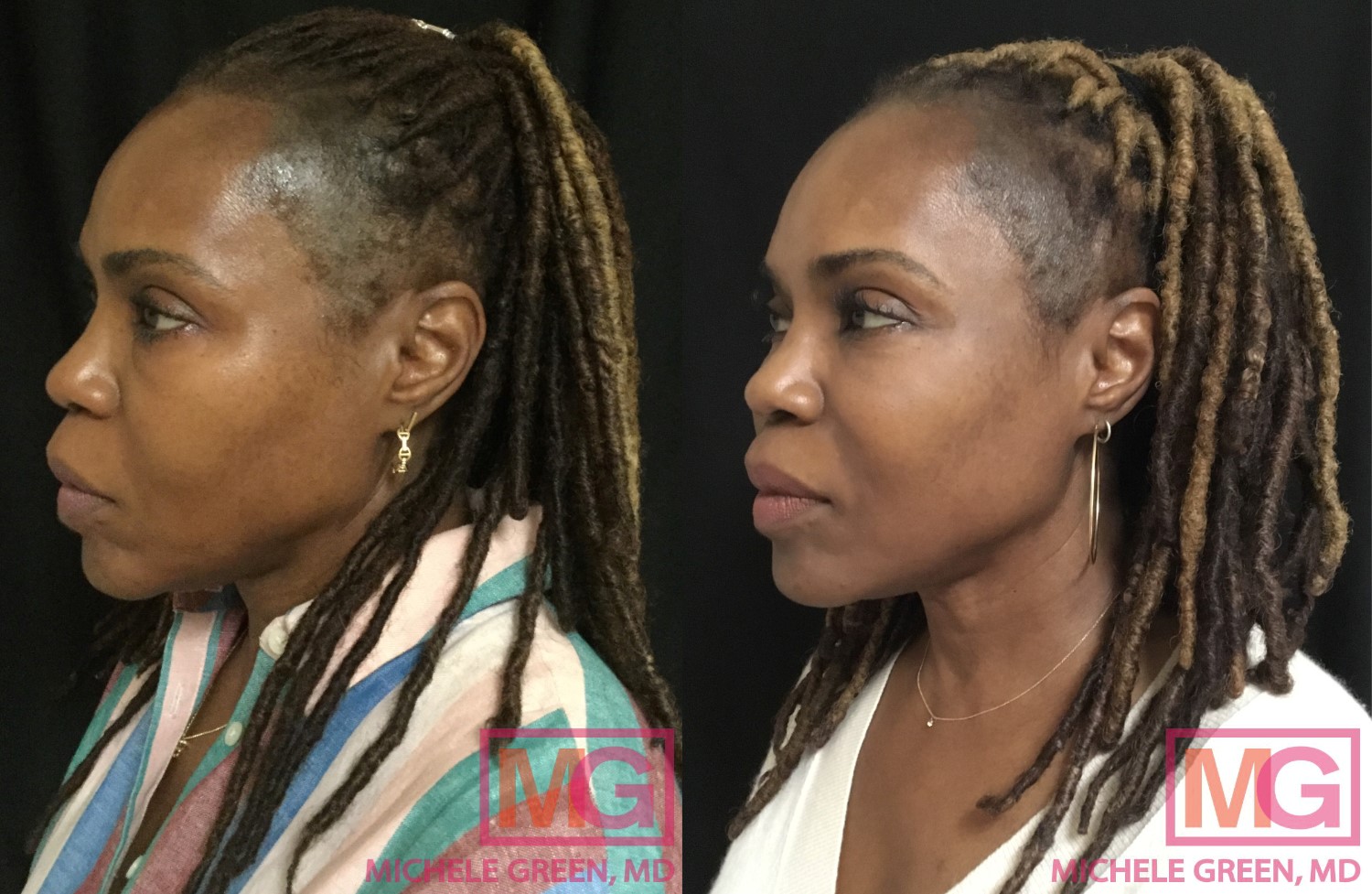 How to get started with Thermage in NYC today?
Part of the natural process of aging entails that collagen in the skin begins to break down. Collagen is a naturally occurring protein in the skin that provides it with a firm, youthful foundation. When collagen levels in the skin start to deplete, patients may observe increased skin laxity. Sagging, crepey skin can be a tell-tale sign of the natural aging process and can further emphasize wrinkles, fine lines, and cellulite across the body, causing many individuals to have feelings of self-consciousness. Cosmetic surgery is not an option for everyone who is looking for a solution to loose, sagging skin. Luckily, thanks to advancements made in the field of cosmetic dermatology, there is a non-surgical, non-invasive cosmetic treatment option for skin tightening that is painless and is not associated with any incisions or downtime. Thermage is the radiofrequency treatment that helps to tighten the skin, improve the texture, reduce signs of cellulite, fine lines, and wrinkles, and provide patients with a youthful appearance, in just a single treatment session. If you are looking to restore a youthful appearance by enhancing skin elasticity, Dr. Green can help. Dr. Green is an internationally renowned board-certified cosmetic dermatologist with over 25 years of experience providing patients from around the globe with the best non-invasive cosmetic procedures. When you work with Dr. Green, she will help you to create a personalized treatment plan that incorporates the most cutting edge technologies and innovative techniques for facial rejuvenation that are best suited to addressing your specific skin concerns and producing the natural-looking, long-lasting results that you're after. To schedule a consultation with Dr. Green and learn more about how a Thermage treatment can work for you, contact our office by calling 212 535 3088 or contacting us online.