As time goes on, we all naturally age and, unfortunately, this can lead to sagging or loose skin. For the most part, diet, exercise, and skincare can reduce the signs of aging, but gravity can catch up with us. This is especially true for areas that we cannot specifically target through exercise and strength training, such as the neck area. Excess weight can cause the neck area to sag, but even when someone is relatively thin (in terms of body fat composition), the neck area can show wrinkles, fine lines, excess sagging, and loose skin. In areas such as the neck and jawline, new collagen production slows down as we age and is the one of the first areas to show the visible signs of aging. That is why Thermage non-invasive skin tightening for the neck area has become one of the most popular procedures in Dr. Michele Green's NYC private dermatology office.
Thermage is the "gold standard" non-invasive treatment for skin tightening, that is designed to firm up the skin, in a single treatment, without any downtime. In recent years, Thermage has become a popular treatment to reduce skin laxity along the face and body–it's even able to temporarily reduce the appearance of cellulite around the treatment area. Thermage uses state-of-the-art radiofrequency technology to heat the inner layers of the skin, which in turn ignites new collagen development in the body. For targeted areas such as the neck, jawline or jowls, it can be an easy and painless way to reduce the appearance of loose skin, creating the effect of a mini "facelift" without the need for invasive plastic surgery.
An aging neck can cause feelings of self-consciousness and will often make us appear much older than we really are. If you are frustrated by sagging skin in your neck and jawline, and increasing neck wrinkles, board certified cosmetic dermatologist, Dr. Michele Green is here to help. Dr. Green is an expert when it comes to minimally invasive cosmetic procedures such as Botox, Juvederm, and Kybella injections, Fraxel Dual laser, and CoolSculpting for removal of unwanted fat, among others. Dr. Green is internationally renowned for her holistic approach to rejuvenation treatment and embracing a 'less is more' philosophy, and she is consistently voted as one of New York's best physicians by Super Doctors, New York Magazine, and Castle Connolly. For all your neck rejuvenation needs and goals, Dr. Green has a solution.
What is Thermage neck treatment?
Thermage is a non-surgical, non-invasive cosmetic procedure for tightening the skin. Thermage utilizes radiofrequency energy to heat the skin and stimulate new collagen production in the treatment areas. The procedure is effortless and painless. Patients do not need anesthesia or a topical numbing cream prior to having the treatment, and there is zero downtime involved with the procedure. This means that patients can resume their normal activities immediately upon completion of their treatment session. The cosmetic results of Thermage begin to be observable several weeks after initial treatment, as new collagen is produced in the skin in the weeks that follow. New collagen growth may persist for up to six months after having a single treatment session, with the skin tightening benefits of treatment lasting for up to two years in duration. For any given treatment area, patients only require one treatment session. Many patients choose to engage in a maintenance Thermage treatment session on an annual basis, in order to maintain the best cosmetic results.
How does Thermage work for skin tightening?
Thermage skin tightening laser by Solta Medical is a fantastic advancement in the world of skin care and skin rejuvenation. Thermage relies on radiofrequency energy that is delivered via the application of a handheld device to the skin's surface. The radiofrequency energy stimulates the lower layers of the skin with heat, without disturbing or damaging the surface of the skin. The process of heating the skin in turn induces new collagen production in the treatment area. Thermage treatment has no downtime and only requires one single treatment to rejuvenate loose skin. By encouraging new collagen growth in the skin, Thermage is able to revitalize sagging skin, leading to smoother, firmer, and tighter skin at and around the treatment area. Thermage can be used on the neck, jowls, lower face, and other areas of the body such as the arms, thighs, abdomen, and buttocks.
Does Thermage work on the neck?
Many patients are curious about the Radiofrequency technology behind Thermage, and are curious about the extent to which Thermage is effective for tightening the skin. During their consultation with Dr. Green, many patients will often ask, Does Thermage really work on the neck? Can Thermage be used on the neck safely? Thermage may work for some, but does Thermage work for "Turkey neck"?  Luckily for us, we can reply to these concerns with a confident "yes". Thermage laser treatment is FDA-approved for treatment on the neck and jawline, and its radiofrequency energy is able to stimulate collagen production which in turn creates firmer, smoother skin at and around the treatment area. When it comes to addressing the appearance of neck wrinkles or skin laxity, Thermage is highly effective, as collagen is a vital way to revitalize the skin and reduce the appearance of loose skin underneath the jawline. The reason that treatment with Thermage works so well for the neck is that as we age, collagen in the skin is naturally broken down over time. Collagen is a protein that is in the skin that gives it a firm foundation and a youthful appearance. By inducing new collagen growth, Thermage helps to replenish lost collagen in the skin.
Will Thermage tighten the skin on my neck?
Thermage is designed to tighten loose skin along the majority of the body, and in the case of the neck, Thermage's continued innovation in radiofrequency technology helps to tighten skin along the neck to wondrous effect. Thermage FLX, the newest Thermage device, is an innovative tool when it comes to skin tightening. Its algorithmic technology allows for real-time adjustments on a pulse-by-pulse basis, which increases precision during treatment. Additionally, it has a larger treatment tip design than previous devices, which vastly decreases treatment length. As a disclaimer, the skin tightening results observed from a Thermage treatment session will vary from patient to patient.
Thermage for reducing fine lines and neck wrinkles
For those looking to reduce the appearance of sagging skin in the neck area, Thermage skin tightening treatment works remarkably well. Its patented radiofrequency technology reduces the appearance of crepey skin and fine lines in the neck area. Thermage is an excellent option for skin rejuvenation not only on its own, but can also be used effectively in combination with other skin tightening cosmetic procedures for optimal cosmetic results. Thermage can be paired with laser skin resurfacing treatment, as well as injectables, in order to create optimal results. If a patient is hoping to reduce stubborn fat under the chin/neck area, they might combine Thermage treatment with CoolMini treatment or Kybella injectable treatment to maximize contouring. Another common treatment pairing is known as the "Nefertiti Lift", which combines Thermage and Botox to treat wrinkles caused by sun damage and aging.
Coolsculpting is a non-invasive treatment that eliminates pockets of stubborn fat that are unresponsive to regular exercise and a healthy diet. Fat cells freeze at higher temperatures than the surrounding tissue, and CoolSculpting works by employing an innovative cooling technology to deliver targeted and controlled freezing treatment to specific areas on your body. The treatment exclusively affects the fat cells in a treatment area while protecting the surrounding skin tissue. The fat cells in the area are destroyed and metabolized out of the body, resulting in enhanced body contour and slimmed appearance that lasts.
Kybella is an injectable treatment designed to dissolve submental fat, providing a contouring and slimming effect for the neck area. The active ingredient in Kybella is synthetic deoxycholic acid, which is a naturally occurring substance in the body and plays a role in the absorption and breakdown of fats. Patients can observe a reduction in submental fat and enhanced chin and neck contour in as little as 4-6 weeks after initial treatment with Kybella injections. Most patients will require a short series of Kybella treatments to achieve optimal cosmetic results.
In addition to skin laxity, it is common for patients to develop fine lines and wrinkles on the neck. Botox is one of the most popular cosmetic treatments around the globe, for its ability to eliminate the appearance of dynamic wrinkles. Not only is Botox the perfect solution for wrinkles on the forehead, around the eye's, and between the brows, but it can also be used to reduce the appearance of neck bands. Dr. Green injects Botox directly into the platysmal bands to rejuvenate the appearance of the neck. There is no downtime involved with Botox injections in the neck, and patients can enjoy the cosmetic effects for 3-4 months before needing a maintenance session.
Modern dermatology practices have become so advanced that, when it comes to treating many skin conditions and body contouring issues, non-invasive treatments can be used in lieu of invasive or costly plastic surgery. Dr. Michele Green in NYC is a board-certified cosmetic dermatologist with over 25 years of experience providing her patients from around the globe with customized treatment plans that incorporate the non-invasive solutions that deliver ideal natural-looking, long-lasting results.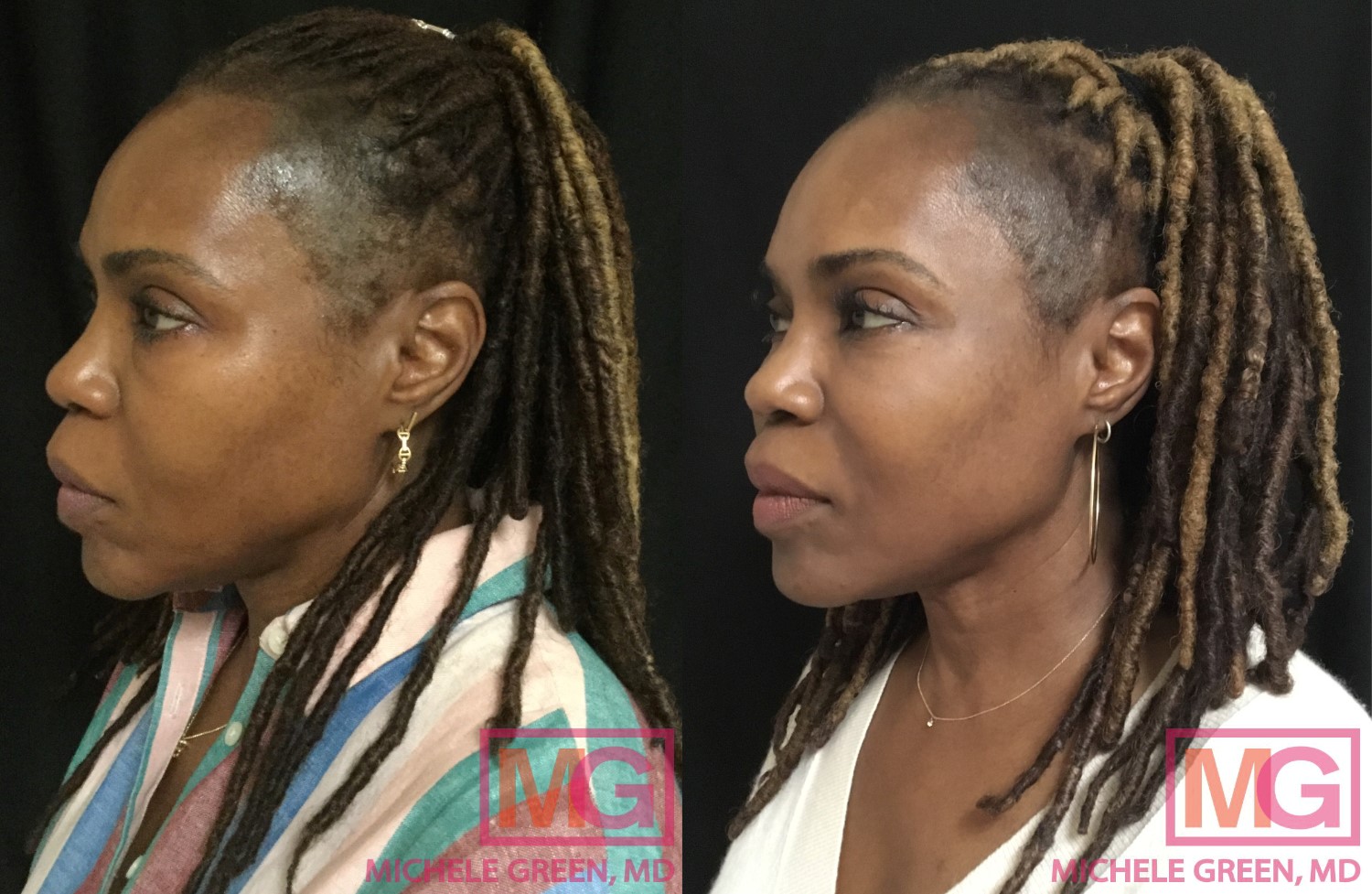 How effective is Thermage for loose neck skin? For neck wrinkles?
When it comes to reducing the appearance of loose neck skin or neck wrinkles, Thermage can work in as little as one single treatment, in less than one hour. Initial improvements to the treatment area can be seen immediately after a treatment session, and maximum skin rejuvenation is seen about six months post-treatment. Thermage is exciting in that it's a non-invasive procedure that can lead to dramatic results. In order to maximize collagen growth, many patients opt to have yearly Thermage treatments, and the majority of patients who are treated for loose neck skin or neck wrinkles have skin tightening results which last up to two years. To enhance Thermage results, patients may elect to combine their radiofrequency laser treatment with other non-invasive cosmetic procedures such as chemical peels, injections with dermal fillers, or laser skin resurfacing treatments like Fraxel Dual laser. During your consultation with Dr. Michele Green in NYC, she will help you to customize your individual treatment plan to incorporate the ideal in-office procedures for your skin type,
Thermage CPT for skin tightening
Thermage has been approved by the FDA since 2002 for body and facial contouring, but its recent design innovations have allowed for an even better treatment experience. Thermage CPT has been in use for several years, and it is a reliable device for both effectiveness and patient comfort. The "CPT" stands for Comfort Pulse Technology, and both Thermage CPT and Thermage FLX rely on this in order to reduce any patient discomfort on the treatment area. Thermage CPT and Thermage FLX have similar designs, but Thermage FLX has excellent enhancements, such as a larger treatment tip for greater speed and a patented algorithmic system (AccuREP™) for greater precision accuracy. Treatment with either Thermage CPT or Thermage FLX will result in the induction of new collagen production in the treatment area and smoother, firmer, tighter skin in a single treatment session. Dr. Green offers both Thermage CPT and Thermage FLX in her private dermatology office located in the Upper East Side neighborhood of Manhattan.
What are the side effects for Thermage?
When it comes to Thermage treatment, side effects are typically quite minimal. Patients may experience minor swelling or slight redness to their skin around the treatment area, but this generally subsides within the first few hours following their treatment session. During a Thermage treatment, patients experience the feeling of a minor heating sensation on the skin's surface, which is then followed by a cooling sensation, in repetition. Most patients adjust to the sensation quite quickly during the treatment session.
How much does Thermage cost for the neck?
The answer to how much does Thermage cost for the neck is entirely dependent on the specific needs and goals of each individual patient. Thermage varies in treatment cost, depending on the size of the treatment area and skin condition. When it comes to Thermage for neck skin tightening, cost is also based on the skill and experience level of the individual that is performing your Thermage procedure, as well as the geographic location of the office in which you have your treatment. Having your Thermage skin tightening procedure performed in a private dermatology office may be more expensive than a clinic or medical spa, but it grants you access to a board-certified medical professional with extensive experience and expertise to supervise your non-surgical cosmetic treatment.
Does Thermage work for turkey neck?
Not only does Thermage work for treatment of what many individuals refer to as the 'turkey neck', but the non-invasive radiofrequency laser treatment is also ideal for use in treatment areas such as the face, chest, eye area, upper arms, thighs, and abdomen. Comparatively, other skin tightening laser treatments on the market are limited in terms of areas that they can treat. Ultherapy, for example, is a painful skin tightening treatment that utilizes ultrasound energy and may result in the undesirable effect of fat loss in a treatment area, and it can only be used in certain areas of the face and neck.
How long do Thermage results last for?
The cosmetic effects of Thermage can be observed for up to several years. Most patients notice the benefits from a single treatment session for approximately two years. Many patients, however, choose to engage in an annual maintenance session of their Thermage treatment to keep up the best results. When you consult with Dr. Green at her private dermatology office in the Upper East Side neighborhood of Manhattan, you will have the opportunity to discover which combination of non-invasive treatment options will deliver ideal long-lasting cosmetic results.
Thermage vs. Ultherapy for skin tightening
Many patients come to Dr. Green wondering which skin rejuvenation treatment will be best for them. Thermage and Ultherapy are both options for skin tightening. Ultherapy is a non-invasive skin tightening treatment that uses heat to rejuvenate the skin, similarly to Thermage. These two cosmetic procedures both target deep skin layers to create a youthful appearance to the skin, but they differ in their methodology. Unlike Thermage, Ultherapy relies on ultrasound energy to regenerate collagen, targeting skin, muscle, and surface-level wrinkles.
When it comes to choosing between Thermage and Ultherapy, a patient must consider what the aesthetic goals of the treatment are. Ultherapy is only FDA approved to treat the face, and not the eyes, body, or cellulite.  Thermage is less painful than Ultherapy, which is quite painful and requires anesthesia before the procedure. Thermage is also a more competitive option for reducing the appearance of wrinkles on the neck and other areas of the body. There have also been reports of a decrease in fat in areas of the face being treated. During your initial consultation, Dr. Green will work with you to determine the best treatment options available, helping you to navigate the world of skin rejuvenation with an expert eye.
How do I get started with having a Thermage treatment for my neck?
Despite our best efforts to maintain a youthful appearance with a targeted skincare regimen, evidence of aging starts to develop as collagen levels in the skin are depleted overtime. Often, the neck area may be more obviously affected by the signs of aging than the face is. Crepey skin, skin laxity, wrinkles and fine lines, and sagging jowls can cause feelings of self-consciousness and make one appear to be much older than they truly are. Invasive cosmetic surgery may not be an option for every individual that is struggling with the appearance of an aging neck. For those who are frustrated by the look of sagging skin, neck wrinkles, or other signs of skin aging, and who are not interested in or ready for an invasive neck lift with plastic surgery, there is now a non-invasive cosmetic procedure that can help.
Thermage radiofrequency laser for skin tightening is a non-surgical solution for inducing new collagen growth in the skin to provide firmer, tighter skin and a more youthful appearance, without any downtime involved whatsoever. Thermage has been a favorite procedure of Dr. Green's for tightening the neck, jowls, and jawline for over ten years. Patients enjoy that they can schedule a treatment session with ease and that they may resume their daily normal activities promptly after their procedure has been completed. With the newest Thermage FLX laser device from Solta Medical, neck rejuvenation can be accomplished with shorter treatment times and even better cosmetic results. Call the NYC based office at 212 535 3088 or contact Dr. Michele S. Green online to schedule an initial consultation today and learn more about non-invasive cosmetic treatment options for rejuvenation that will leave you looking and feeling your best.