Asian Skin Treatments
Find out popular skin treatments for overall healthy, younger and more beautiful looking skin
Dr. Michele S. Green is a leading cosmetic dermatologist in New York City and is internationally renowned for treating Asian skin. Dr. Green utilizes the latest technology in lasers, chemical peels, cosmeceuticals, and skin therapies to treat darker skin types such as Asian, Mediterranean, Middle Eastern and Latin American skin.
Skin Tightening and Asian Skin
Dr. Michele Green has had remarkable success in anti-aging and skin tightening with Thermage® treatments. If you are interested in looking younger and want to avoid surgical procedures, Dr. Green's treatment results are entirely non-surgical, painless, with no downtime.
In order to tighten the skin around the eyes, the forehead, and the jowls, Dr. Green has devised a unique treatment plan to both tighten the skin and treat the skin texture. If your eyelids are sagging and need tightening, Dr. Green's expertise in Thermage® can help lift your eyes in only a single one-hour treatment with no downtime.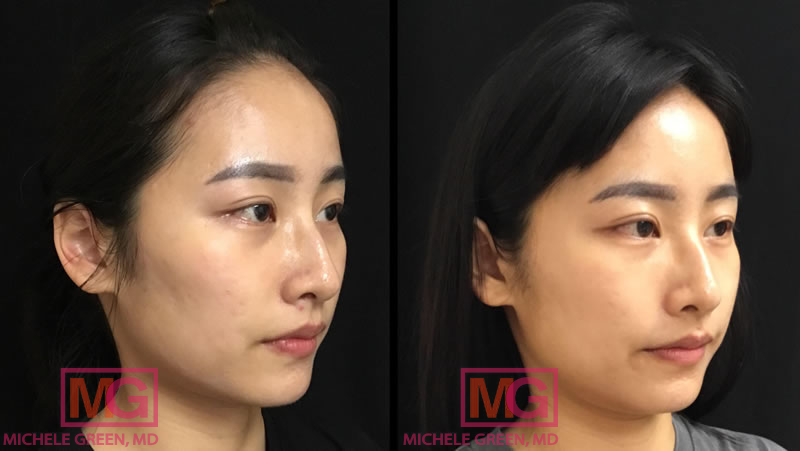 Sagging jowls and neckline can be treated painlessly in only a single treatment to create firmer and and younger looking skin. The Thermage laser treatment takes approximately 90 minutes and is done in the comfort of Dr. Green's private NYC office. The results take several months as new collagen is stimulated and your skin is lifted, tightened, and rejuvenated. The benefits of Thermage laser may last up to two years after the treatment is performed.
With the new Thermage FLX laser, Dr. Green can achieve these skin tightening results faster and with even more impressive results than the previous Thermage laser. Thermage can be used on other areas of the body, to tighten the skin, including the abdomen, thighs, knees, arms, and buttocks. Thermage has become the gold standard in skin rejuvenation for skin tightening. Because Thermage is a "color blind" laser, it is safe to use on all skin tones without the risk of hyperpigmentation. Thermage FLX is currently the number one skin tightening laser in Asia.
Restylane lip filler before and after
Best Laser treatments for Asian Skin
There are many different laser treatments offered today in dermatology for anti-aging. However, skin of color, particularly Asian skin is extremely sensitive to post-inflammatory hyperpigmentation (PIH), as well as hypopigmentation (white spots). Whether it be choosing a laser for laser resurfacing, or one for laser hair removal or sun spots, it is extremely important to consult an expert in treating Asian skin to avoid any of these side effects.
For brown spots, sun spots, and pigmentation, there are several lasesr which Dr. Green recommends which are specifically designed for Asian skin. Clear + Brilliant laser is a gentle laser, which is able to gently treat sun damage, skin texture and pore size. Clear + Brilliant has absolutely no down time and after a series of 5 to 6 treatments, will rejuvenate your skin and return it to its previous luster.
42 year old female – Sun Spot treatment with AlexTrivantage
For deeper areas of pigmented patches, brown spots, or sun spots, Candela Alex-Trivantage laser has a specifically designed hand piece to treat Asian skin. This unique laser effectively treats age spots and freckles with very little down and is specifically created for Asian patients.
For broad or more extensive laser resurfacing, to treat fine lines and sun damage, Dr. Michele Green recommends the Fraxel laser as an amazing anti-aging laser treatment. The Fraxel laser makes microscopic channels in the skin, which induces new collagen and elastin formation, creating new, younger-looking skin. The Fraxel laser is the gold standard for fractional laser resurfacing and anti-aging treatment.
For facial rosacea, capillaries, broken blood vessels, stretch marks, acne, acne scars, and keloids, the Vbeam laser is the gold standard for treating these skin conditions. The Vbeam laser is a pulsed dye laser, which is a type of nonablative laser. This means that you will have no recovery time for this laser and it is also safe to treat Asian skin.
For laser hair removal Dr. Green removes hair safely and effectively with Candela's Gentle Yag laser. This laser hair removal laser allows treatment of Asian skin and other patients with skin of color without any side effects of hyperpigmentation or hypopigmentation. This special laser does not cause any discomfort, and works efficiently to produce the best results for last hair removal. After a series of treatments, this cutting edge laser will reduce your unwanted hair and leave your skin clear and beautiful.
Dr. Michele Green also utilizes the eMatrix™ Sublative Rejuvenation system to treat sun damage, wrinkles, and acne scars in patients who have sensitive, darker skin tones. Many patients are suffering from acne scars and now there is an effective treatment with minimal down time to treat these scars. Acne and acne scarring are one of the main reasons which patients consult Dr. Green to manage and treat these skin conditions. Within three to five treatments, spaced one month apart, your acne scarring will be reduced, new collagen stimulated, and new healthy skin produced in its place.
Melasma and Asian Skin
Melasma is a common problem in Asian skin, patients with darker skin tone, and skin of color.  Because Asian skin has more melanin in the skin, it is more sensitive to sun exposure and the effects of pigmentation. Melanin absorbs the sun's ultraviolet rays, and acts as a natural protection from the sun. However, as your skin is exposed repeatedly to the sun, the amount of melanin increases, and in response to this increase, the amount of sun spots, hyperpigmentation, melasma, and sun damage is more visible.  Dr. Green is a specialist in treatment melasma and sun damage. With her specially designed system of chemical peels and her MGSKINLABS, Inc. line of products, Dr. Green will successfully treat your melasma. As an expert in Cosmelan peels, Dr. Green has outstanding results in treating facial melasma. When treating melasma, it is essential to remember that in order to keep melasma from recurring, regular sunscreen and sun avoidance is essential.
Hyperpigmentation in Asian Skin
One common problem from the lack of understanding of treating Asian skin is how delicate and easily it can become pigmented. Hyperpigmentation is a a serious problem and can come from a number of factors. Acne or acne breakouts can cause residual pigmentation, which appears as acne scarring. Also, using the wrong setting or wrong laser, when treating the skin, such as with the Fraxel laser, Picosure, or IPL laser.can lead to hyperpigmentation. When using these lasers, proper knowledge of skin types is critical since skin of color has  increased melanin, and can easily become discolored. This is the reason that using the proper lasers, specially designed for Asian skin, are paramount to avoid this side effect. An expert in these lasers, with a firm understanding of all skin types, is essential to having the best cosmetic results.
This unwanted discoloration can lead to post-inflammatory hyperpigmentation (PIH) which can be very difficult to treat. The best treatment for this hyperpigmentation usually involves hydroquinones and chemical peels. Some patients who cannot tolerate hydroquinones can benefit from oral Tranexamic Acid treatment to reduce their melasma. If you suffer from this discoloration, Dr. Green will review with you the proper skin care and therapy to successfully reverse this hyperpigmentation.
Before and after 1 Juvederm Ultra in Lips
Skin care in Asian skin & acne
Using the correct skin care is essential to having beautiful clear skin. Dr. Michele Green has years of experience in treating Asian and Mediterranean skin. She utilizes her own MGSKINLABS products, and a customized protocol of lasers and peels, to achieve the most beautiful skin possible. Dr. Green often recommends using her Vitamin C serum, the AM/PM, serum duo to combat redness and pigmentation, and her Antioxidant Infusion with retinol to exfoliate and rejuvenate the skin. For deep hyperpigmentation, Dr. Green has compounded hydroquinone based creams, of various strengths, to combat pigmentation and skin discoloration. Finally, Dr. Green recommends a sunscreen of SPF 50 to protect your skin and prevent any sun damage.
Acne and Acne Scarring in Asian Skin
It is extremely important to treat acne breakouts quickly and effectively in Asian patients. Since darker skin tones are more prone to discoloration and post-inflammatory pigmentation (PIH), it is vital to treat acne immediately to prevent this hyperpigmentation. Similarly, Asian skin scars easily and preventing acne breakouts will minimize any unwanted acne scarring in the future.
eMatrix 5 months 4 sessions
Dermal Fillers and Botox in Asian Skin
While skin care, laser treatments, and chemical peels, are all essential for maintaining beautiful skin, over time with collagen loss and new wrinkles may need additional treatment. Botox, Dysport, Jeuveau, and Xeomin act on smoothing fine lines and wrinkles, such as those in the forehead, neck and around the eyes (crow's feet). Dermal fillers such as Juvederm, Restylane, and Sculptra are important for correcting volume loss and filling in deep to moderate lines and wrinkles. Dr. Green uses a combination of these injectables in her pallette of artistic rejuvenation. These different dermal fillers, are designed in various thicknesses for different areas of the face. For example, Juvederm Voluma and Restylane Lyft were specifically designed to restore volume in the mid-face. Whether it be lip enhancement, cheek augmentation, jawline contouring, or tear trough correction, Dr. Green is an expert in dermal fillers in her boutique Upper East Side, NYC practice.
Non-Surgical Jaw Reduction with Botox
Dr. Green frequently uses BOTOX® Cosmetic to treat the masseter muscle for facial slimming. Dr. Green was one of the first dermatologists to treat this area for facial slimming. Many patients prefer a slimmer jaw line, and prefer to have it reduced. Through only a single injection into the masseter muscle, Dr. Green has honed her skills to transform the jaw line easily and with no discomfort or down time.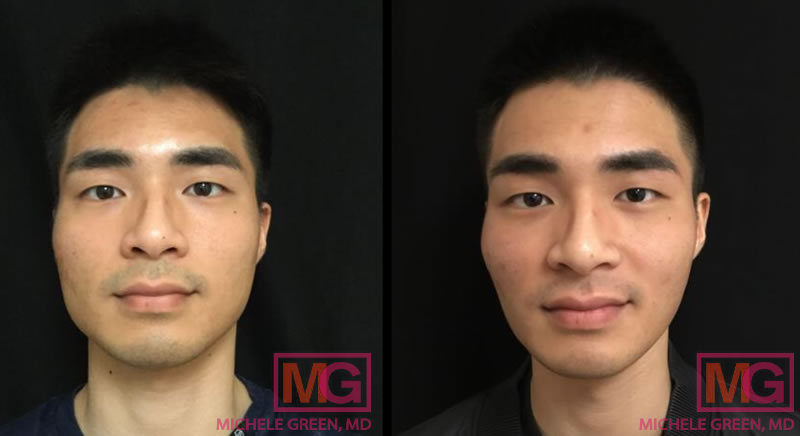 1 treatment of Botox to masseter muscle
Microneedling
Microneedling is a unique anti-aging procedure, which is designed to help treat fine lines, skin texture, skin tone, acne scarring, melasma and hyperpigmentation. Platelet Rich Plasma (PRP), is replete with growth factors, which stimulates the skin to produce new elastin and collagen. These growth factors are then able to penetrate into the skin and augment the results of your facial rejuvenation.
Body Treatments
There are many body treatments for skin tightening, stretch marks, cellulite, and fat freezing like Velashape and Coolsculpting, and Thermage which are safe for Asian skin, and yield fantastic results. Dr. Green has all of the latest state-of-the-art lasers and body contouring devices to give you the ultimate cosmetic results.
Can Asian skin get skin cancer?
Skin cancer examinations are extremely important since Asian patients can develop skin cancer, including malignant melanoma. Since trends for tanning have increased in the last three decades, so too has the incidence of sun induced skin cancers, such as Basal Cell Carcinoma and Squamous Cell Carcinoma. More women than men seem to be predisposed to these skin cancers, with the average age of 70 years old for these type of skin cancers in Asian women. While Asian skin has an increased amount of melanin, it would be foolish to believe that melanin alone would protect patients from skin cancer.  Dr. Green urges all of her patients in her NYC Upper East Side office to have a complete skin examination during their consultation.
How do you schedule a consultation?
Based on your needs, Dr. Michele Green will help you design a treatment plan, in her private NYC office. Whether it be overall sun damage, skin tone, texture, hyperpigmentation, sagging skin, fine lines, wrinkles, or acne scars, Dr. Green will help create overall healthy, younger, and more beautiful skin.
To consult with Dr. Michele Green in New York contact us online today or call 212-535-3088 to find out what is the best treatment for your skin for a more rejuvenated complexion.