Despite our best efforts in maintaining a healthy diet and daily exercise, stubborn fat deposits remain behind. Common problem areas include the "double chin," love handles, abdomen, and inner and outer thighs. These stubborn fats can negatively impact your self-esteem and may even prevent you from wearing your favorite swim suit. Luckily, there is a revolutionary, non-invasive procedure, CoolSculpting treatment, that reduces fat cells without surgery. This easy, painless, and quick procedure is the most popular non-invasive fat reduction and body sculpting treatment in New York City and Los Angeles, and for a good reason. Before the FDA approval for noninvasive fat reduction devices like CoolSculpting, the only method available aside from lifestyle changes was liposuction, which can be painful, risky, and requires a lot of downtime. CoolSculpting allows us to eliminate stubborn fat without undergoing invasive and painful surgical procedures with considerable risk and downtime.
Dr. Michele Green is an award-winning cosmetic dermatologist and has helped thousands of patients achieve their body contouring goals in her private New York City office. As a leading provider of CoolSculpting®, Dr. Green has been voted repeatedly as one of the best CoolSculpting providers in NYC. She has been a leader in the field of cosmetic dermatology and non-invasive cosmetic procedures for over 25 years, and has the expertise to provide you with outstanding results. Dr. Green was one of the first dermatologists to provide CoolSculpting in the Upper East Side of Manhattan and has been successfully treating patients with this unique technology for over a dozen years.
Whether it be fat bulges on your abdomen, love handles, bra fat, or neck, arms, inner or outer thighs, CoolSculpting has a unique applicator which is especially adapted for each individual area and treatment plan. The CoolSculpting procedure is not a weight loss device. Coolsculpting is a unique body contouring procedure with no recovery time or discomfort, and is able to permanently remove a fat bulge by 25% in just one 35 minute treatment. Dr. Green has been voted as one of the best dermatologists in NYC by Castle Connolly, The New York Times, and New York Magazine. If you are looking for the best non-invasive permanent body contouring, Coolsculpting through cryolipolysis may be the best procedure for you.
What is CoolSculpting?
CoolSculpting is a popular noninvasive fat reduction treatment that utilizes cryolipolysis, or "fat freezing," to permanently destroy stubborn fat cells in a targeted area of the body. CoolSculpting uses patented cooling technology to deliver controlled cooling to specific areas of the body, affecting only the fat cells and ensuring no harm occurs to the surrounding tissue or the skin. A single CoolSculpting treatment will result in a 25% reduction of stubborn fat in the treated areas.
Who is a good candidate for CoolSculpting?
The best candidate for CoolSculpting is a healthy adult at their ideal weight who is struggling with stubborn fat bulges that will not resolve with diet and exercise. CoolSculpting was first designed to treat abdominal fat, but has since evolved to treat other areas of the body, such as flanks, double chin (submental fat), arms, bra fat, and inner and outer thighs. CoolSculpting allows the destroyed fat cells to be gradually metabolized and excreted through the lymphatic system. Because the fat removal process is a gradual one, there is no risk of skin laxity with CoolSculpting as there is with liposuction.
How does CoolSculpting work?
CoolSculpting is an FDA-approved treatment designed for fat reduction in stubborn problem areas for healthy patients. CoolSculpting is not a weight loss device or a treatment for obesity or being overweight. The ideal candidate for CoolSculpting is a patient who has has reached their targeted ideal weight, but still has specific bulges which need treatment. It is not a weight loss device. CoolSculpting reduces the fat cells in any treatment area by 25 percent without any side effects. This process of fat freezing was originally designed to treat the abdominal area, but has since extended its use to treat multiple areas of the body. Some of the most common areas of treatment of unwanted fat are the submental area (double chin), love handles, upper arms, inner thighs, outer thighs, bra fat, flanks, back and abdominal areas.
CoolSculpting uses patented cooling technology to deliver targeted and controlled cooling to specific areas on your body, affecting only fat cells and ensuring no harm occurs to any surrounding tissue or cells. Fat cells freeze at higher temperatures than the surrounding tissue. Known as cryolipolysis, this process causes the fat bulges to be "frozen" and the body to excrete these fat cells through its own natural metabolic process. CoolSculpting causes these fat cells to be slowly metabolized by the lymphatic system, and for this reason there is no increased skin laxity associated with this treatment. The ultimate cosmetic results are a leaner, tighter body, known as non-invasive CoolSculpting body contouring.
CoolSculpting has revolutionized cosmetic dermatology through this amazing non-invasive fat freezing technology and its non-surgical removal of body fat. The CoolSculpting solution offers numerous advantages over conventional plastic surgery such as liposuction, as it requires no needles or incisions. Because the treatments are gentle and entirely non-invasive, no anesthesia is needed, which means zero downtime or recovery. It also means that your CoolSculpting treatment does not carry the risks or side effects which are associated with surgical procedures. Dr. Michele Green was one of the first cosmetic dermatologists in NYC to incorporate CoolSculpting in her boutique New York practice more than ten years ago, and has produced outstanding cosmetic results.
What does CoolSculpting treatment do?
CoolSculpting is a noninvasive cosmetic treatment that works to reduce stubborn fat by freezing away fat cells in targeted areas through a process called cryolipolysis. CoolSculpting can treat common stubborn areas like the love handles, double chin, arms, abdomen, and inner and outer thighs to reduce the bulging appearance and contour the body. It is important to note that CoolSculpting is not a weight loss procedure, but it will decrease the appearance of fat bulges. The vacuum applicator is able to deliver controlled cooling to the fat cells. Because fat cells freeze at a higher temperature than the skin and surrounding tissue, CoolSculpting technology only affects the targeted fat cells. This treatment permanently reduces up to 25% of fat cells in the treated area to contour your body and meet your aesthetic goals. It is a quick, easy, and painless treatment that is a perfect "lunchtime" procedure for those with busy lives.
What is the consultation for CoolSculpting like?
Once you call and schedule your consultation with Dr. Michele Green in her New York City office, she will discuss the unique cooling technology behind CoolSculpting with you. During your consultation, pre-treatment photographs of the desired treatment areas will be taken in order to track your progress. An honest, thorough assessment is made, and a treatment plan will be discussed with you at length. A copy of your personal treatment plan will be given to you with both the time needed for each treatment area and the corresponding cost. You can then schedule your CoolSculpting procedure to have the fat removal done at a time that is comfortable for you and you can return home, to work, or the gym, directly after your treatment, with no recovery time.
Male CoolSculpting treatment on body
How long does CoolSculpting take?
The duration of CoolSculpting sessions vary depending on the type and number of applicators used. The treatment times range from 35 to 75 minutes per applicator, with additional time needed for marking the area, preparing the treatment site, and the two minute massage that is performed afterwards. You can also choose to treat all areas in one visit, like the chin and abdomen, or you can treat one area at a time. CoolSculpting is popular because it requires zero downtime, meaning you can return to work or the gym immediately after your treatment. The accessibility of this treatment allows you to tailor your CoolSculpting treatment sessions to coincide with your busy schedule. Because CoolSculpting is easy and painless, many patients read a book, watch a movie, catch up on work, or take a nap during the treatment session.
Does CoolSculpting work?
Yes! CoolSculpting is a very effective method of fat reduction and has become the gold standard for non-invasive body contouring. CoolSculpting is a nonsurgical method of treating fat cells beneath the skin, and has been used since its FDA cleared in 2010 throughout the world. Since 2010, the total number of CoolSculpting treatments has increased by 823 percent. Due to the clinical efficacy of cryolipolysis or fat freezing, the treated fat cells in a given area are decreased by 25 percent. Repeat treatment of the same area shows even greater results with up to a 40 percent decrease in fat cells. Within weeks of treatment, dead fat cells are excreted from the body, and the amazing CoolSculpting results can be fully realized after four months. Since its first introduction in 2010, the number of applicators and areas of treatments has increased to treat stubborn fat from the abdomen and flanks, to include bra fat, knees, neck, arms, and inner and outer thighs. In order to realize the  best cosmetic results from your CoolSculpting treatment, it is important to consult an expert in CoolSculpting, like Dr. Michele Green in NYC. Dr. Green has been treating patients with CoolSculpting, in her private New York office, since CoolSculpting was first introduced.
Are there contraindications to CoolSculpting?
CoolSculpting treatment is not for everyone. CoolSculpting is a safe FDA cleared treatment to reduce stubborn fat bulges. You should not have the CoolSculpting procedure if you suffer from cryoglobulinemia, cold agglutinin disease, or paroxysmal cold hemoglobinuria. If you are pregnant or breast feeding, you are also not a candidate for CoolSculpting. If you have a history of hernias, recent surgery, and scars in the desired treatment area, it is best to avoid CoolSculpting.
Is CoolSculpting FDA-approved?
Yes! The U.S. Food and Drug Administration (FDA) first approved CoolSculpting in 2010 to treat fat bulges on the flanks (love handles). In 2012, the FDA approved CoolSculpting for the abdomen. ZELTIQ Aesthetics, now acquired by Allergan, introduced newer applicators catered to other areas on the body, and a new model to treat the thighs was FDA-approved in 2015. Currently, CoolSculpting is approved by the FDA for 9 areas of the body. This includes under the chin, under the jawline, upper arms, back fat, bra fat, flanks (love handles), abdomen, thighs (inner, outer, and distal), and under the buttocks (banana roll).
What to do after CoolSculpting
There are no particular instructions after CoolSculpting, except continuing and maintaining a healthy and active lifestyle. Although CoolSculpting permanently removes up to 25% of fat cells in the treated area, the results will not be maintained if there is significant weight gain after the treatment. The body eliminates the fat cells gradually for up to 6 months after the treatment, so you will not see immediate, dramatic results. You can resume your daily activities such as working and exercising. Some people may experience minor tenderness in the treated area, similar to muscle soreness after working out, but you can resume normal activities immediately after treatment.
Which areas of the body does CoolSculpting treat?
Submental area ("double chin")
Abdominal area
Flanks
Inner thighs
Outer thighs
Back and bra fat
Knee fat
Buttock fat (banana roll)
Male breast tissue (gynecomastia)
Upper arms
Axillae (armpit fat)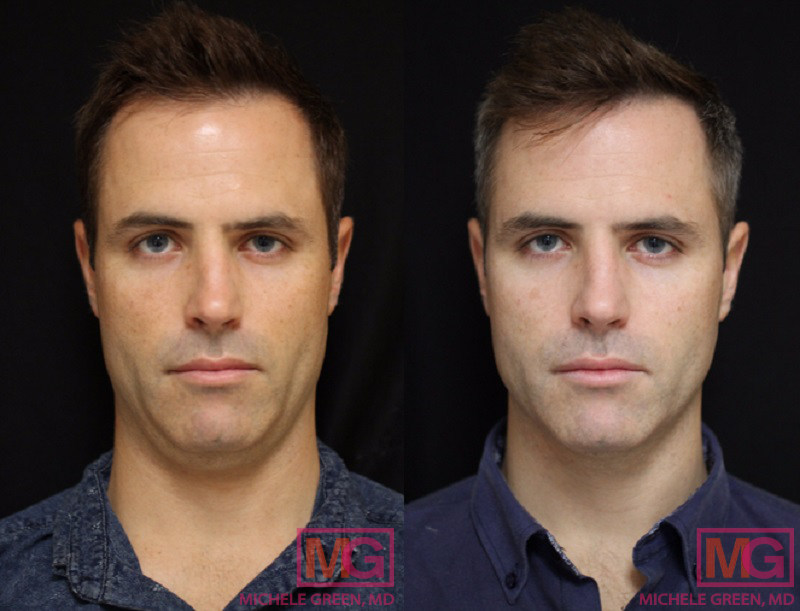 Before & After Photos: Treatment in neck area with CoolMini After one treatment (4 months)
Which are the main CoolSculpting Applicators?
The office of Dr. Michele Green has the latest CoolSculpting applicators including:
CoolMini
CoolFit
CoolCurve
CoolSmooth
CoolCore
CoolAdvantage Plus
Each CoolSculpting applicator is uniquely designed for fat removal in a different area of the body.  Some applicators are larger and are designed with suction while others are smooth with no suction at all. Some patients prefer dual-sculpting, which is having two sides treated at the same time with two simultaneous applicators, as for the outer thighs.
CoolMini™
The CoolMini is a small applicator and is used to treat small fat bulges, where a larger size applicator cannot fit.  The CoolMini applicator is the ideal size, shape, and curvature to fit into the small area under the neck, and treat the submental fat. Despite diet and exercise, the area under thin chin is a particularly stubborn area of fat, with many patients having a genetic proclivity to a "double chin." Before the advent of CoolSculpting, the only way to treat the "double chin" was through liposuction. Most patients no longer want invasive liposuction and can accomplish these same results thanks to advances in non-surgical alternatives, such as CoolSculpting and Kybella injections. The CoolMini applicator was designed to freeze the fat under the chin, to get rid of a "double chin". One to two applicators of the CoolMini may be needed to treat this submental area, depending on how much fat is present.
Several months after treatment with the CoolMini, if there is a small amount of fat which remains in the submental area, Kybella injections can be used to reduce the remaining fat and contour the jawline. The CoolMini and Kybella injections work synergistically to deliver the ultimately contoured jawline. In addition, Kybella injections can tighten the skin under the chin, which is in direct opposition to liposuction, which leaves loose sagging skin. In addition, the CoolMini applicator can also be used to treat small areas of fat by the knee, and in front and behind the underarm area, and bra fat. Ninety percent of patients who do CoolSculpting for the bra fat, utilize the CoolMini for treatment to reduce this stubborn fat bulge. The treatment time for the CoolMini applicator is just 45 minutes, with repeat treatment for the neck as early as 4 weeks after the procedure if needed. The full results of the CoolMini treatment will be realized within four months. When two treatments are done within one month, these two CoolMini treatments can reduce submental fullness by up to 40 percent within 3 to 4 months.
CoolAdvantage™
The CoolAdvantage applicator takes just 35 minutes and is faster than the original one hour applicator.  It consists of 3 different applicators, the CoolFit, CoolCurve, and CoolCore. The CoolAdvantage applicator treats a larger surface area, with lower temperature, with a faster treatment time. The CoolAdvantage treats multiple ares of the body including the abdomen, flanks, love handles, waist, hips, banana roll, upper arms, and inner thighs.
CoolFit™
The CoolFit applicator treats the inner thighs and upper arms. Each arm or inner thighs takes 35 minutes to treat each area to completion. The CoolFit applicator is entirely painless with no downtime. After four months, you will observe the complete cosmetic results of your treatment. For larger areas of fat on the upper arms or inner thighs, repeat treatment with CoolSculpting is recommended after one month.
CoolCore™
The CoolCore treats the flank area. It is a curved applicator which takes 35 minutes to treat each flank. Many patients combine CoolSculpting of the flanks with CoolSculpting for the abdomen. For patients treating the abdomen, who need a "diamond shaped" treatment, to treat various fat bulges in the abdomen, and not one solid area, Dr. Green utilizes the CoolCore applicator at four to six different areas of the abdomen, to treat to transformation. The CoolCore can also be used for an area of bra fat.
CoolCurve™
The CoolCurve is similar to the CoolCore applicator, except that it has a larger curve. The CoolCurve treats the love handles or flanks to produce an "hourglass" figure. Each treatment of the CoolCurve is completed in 35 minutes.
CoolAdvantage Plus™
The CoolAdvantage Plus takes 45 minutes to treat primarily a large abdominal area. CoolSculpting can be used to treat a stomach area of any size. Many patients need two treatments for a large abdomen. The CoolAdavtange Plua applicator is commonly used to treat the "muffin top" of the stomach. Repeat treatment can be done in one month if there is a sizable area of the abdomen. However, it is important to remember that CoolSculpting is not a weight loss device, and you should be within 25 to 30 pounds of your ideal weight for the best cosmetic results.
CoolSmooth™
The CoolSmooth™ is a unique applicator designed to treat the outer thighs. Each session for the outer thigh takes 75 minutes. The CoolSmooth applicator is unique in that it requires no suction. There are no side effects from this fat freezing treatment. A large outer thigh with a bigger fat bulge will require two treatments of CoolSculpting to have the best results.
CoolPetite™
The CoolPetite takes 35 minutes and is used for small areas where the CoolAdvantage applicator does not fit. It can be used on small areas of back fat, small flanks, a small stomach, inner knees, and small banana roll.
CoolSculpting patient, lower abdomen, 10 months post treatment
What is the recovery time for CoolSculpting?
One of the best things about the CoolSculpting procedure is that there is no downtime and almost no recovery time! You can return to the gym, school, or normal daily activities the same day as the treatment. Depending on which applicator is used, there may be some bruising if the applicators requires suction. Usually, there is no bruising. Some patients have some soreness or numbness from the procedure, which resolve on their own in a few weeks. Since, there is typically no recovery time, CoolSculpting is the ideal procedure to get done during your "lunch time" or any day of the week.
Does CoolSculpting hurt?
For the first five minutes, during the procedure, there is some discomfort until the skin is "frozen". After the treated area is "frozen", there is no discomfort during the entire treatment. Most patients watch a movie, work on their laptop, or take a nap during the procedure. Immediately after the treatment, when the applicator is removed, there is some tenderness as the treatment area is "thawed".  This soreness goes away from 1 day to 2 weeks. A rare side effect of pain has been associated with some patients after CoolSculpting which can be treated with oral medications such as Neurontin, and also resolves within a few weeks.
Does CoolSculpting tighten skin?
CoolSculpting does not tighten the skin, but there are treatments available to address skin laxity, such as Thermage. The benefit of CoolSculpting is that it does not contribute to skin laxity such as liposuction. After CoolSculpting, the destroyed fat cells are naturally processed and removed from the body through the lymphatic system. This is a gradual process that occurs over months, so your skin is able to retract along with the treated area. Unlike liposuction, which is a sudden decrease in fat, associated commonly with significant skin laxity as a common side effect, there is no skin laxity resulting from the CoolSculpting procedure.
If you are concerned with skin laxity, Thermage FLX is a great option for you. Thermage FLX is a noninvasive skin tightening technology that uses radiofrequency (RF) technology to heat the deeper layer of the skin. This heat stimulates collagen synthesis to reduce skin laxity, and tighten the skin. Skin laxity occurs naturally with age, as our body's rate of collagen synthesis gradually decreases over time. Thermage FLX works to stimulate the production of collagen to treat and prevent visible signs of aging such as fine lines, wrinkles, uneven skin texture, and skin laxity. This technology can treat skin laxity on the face as well as neck, arms, knees, thighs, abdomen, chest, and buttocks. Many patients combine Thermage FLX with CoolSculpting to give you the best cosmetic results.
How much does CoolSculpting cost?
The cost of CoolSculpting depends on both the number of treatments needed and how many sessions are required to reach your desired goals. The price of CoolSculpting treatments also depends on the type of applicator needed for the targeted areas. Depending on the size of the applicator needed, the session could be 35 minutes to an 75 minutes, with the larger applicators generally costing more than the smaller ones. For optimal results, we may recommend a repeat session in a given area 4 to 12 weeks after your initial treatment. Most patients who are looking for more dramatic results have several areas treated on the same day which may require three to four hours of treatment in one given session. Generally, costs of cosmetic treatments like CoolSculpting vary depending on the geographical area. CoolSculpting prices in New York City may differ from prices in Los Angeles.
What is the difference between CoolSculpting and Liposuction?
CoolSculpting and liposuction are both methods of fat reduction. Liposuction is an invasive surgical procedure, which produces skin laxity by the sudden removal of fat, under anesthesia, with a cannula. There is considerable downtime, pain, and potential side effects from liposuction. CoolSculpting is a non-invasive method of fat cell destruction, which relies on fat freezing technology called cryolipolysis. CoolSculpting is the first FDA cleared non-surgical treatment for stubborn pockets of fat on the body. There is almost no downtime from CoolSculpting, no skin laxity formation, and minimal side effects from the procedure.
Although the results from liposuction are seen rather quickly, there is considerable recovery time from liposuction. CoolSculpting takes several months to see the full cosmetic effects, but there is no recovery time, incisions, pain, or anesthesia. Most patients prefer CoolSculpting over liposuction since this method of fat reduction can be performed on your lunch hour, for virtually any area of the body.
How much is CoolSculpting for chin?
CoolSculpting for the chin costs $1,000 per area. If someone has a larger double chin, then often both sides of the neck are treated, with a cost of $1,000 per side, to have the best cosmetic results. It is best to call Dr. Green's office to check for pricing since there are often specials run specifically for CoolSculpting. Each treatment of the CoolMini applicator takes 45 minutes, so both sides of the neck with treatment, marking, and massage will take close to two hours to complete. The stubborn fat area under the chin is a cosmetic concern for many patients. Thanks to the unique fat freezing results of CoolSculpting, within 3 to 4 months, the double chin will be reduced, without any down time or discomfort.
Over two thirds of Americans are unhappy by their "double chin" according to Allergan Cosmetics. A "double chin" affects one's profile, jawline, and detracts from the beauty of one's face. The CoolMini applicator is perfectly designed to remove this excess fat from below the chin and leave your neck contoured and rejuvenated. CoolSculpting is an amazingly effective treatment for the submental area. As long as a patient maintains a healthy lifestyle and does not gain weight, the long-term results from CoolSculpting are permanent.
Does CoolSculpting work on arms?
Yes! CoolSculpting works extremely well on the upper arms. If you want to reduce the fat in the upper arms, CoolSculpting will make your arms slimmer and more lean. If there is any previous skin laxity involved before CoolSculpting, Dr. Green combines Thermage for skin tightening to help produce new collagen and tighten lax skin. Another excellent procedure to combine with CoolSculpting for the arms is Sculptra Cosmetics. Sculptra injections will stimulate new collagen production and replace lost volume in the upper arms, thereby tightening the skin. Dr. Green is an expert in NYC in noninvasive fat removal and will combine the best cosmetic treatments to rejuvenate your arms.
Does CoolSculpting treat bra fat?
CoolSculpting for the bra fat is an excellent treatment. A bra bulge is a very common problem, particularly for women as they get older or gain weight. This bra fat is an accumulation of fat cells which increase its distribution around the upper back, armpit, and bra area. In addition, lack of exercise or muscle strengthening in these areas can make bra fat more noticeable. Dr. Green treats many women in her NYC office for bra fat and back fat with CoolSculpting.
Stubborn fat in the bra area can appear under the arms and make someone self-conscious wearing a bra or a t-shirt. CoolSculpting treatment removes these fat cells in one simple treatment. Depending on the size of the back fat or bra fat, Dr. Green may utilize the CoolMini, CoolPetite, or CoolAdvantage applicator. An in person consultation and examination is the only way to assess which applicator would fit best for fat reduction treatment.
Removing the bra fat is one of the most popular areas of CoolSculpting treatment in Dr. Green's New York office. Whether it be the result of genetics, hormones, metabolism, or lack of exercise, CoolSculpting is extremely effective in treating the stubborn fat cells in this area. Many women have the bra fat treated in conjunction with slimming the upper arms with CoolSculpting for painless and effective non-invasive body contouring.
Does CoolSculpting work for back fat?
CoolSculpting works extremely well for back fat. In the past, there was no non-invasive treatment for back fat. Thanks to cryolipolysis, it is now possible to freeze fat cells in the back fat area and remove stubborn fat through a single CoolSculpting treatment without any downtime. Depending on the size the back fat, more one than one type of CoolSculpting applicator may be used for different individuals. An in person consultation with Dr. Green is the best way to see which applicator is best for your specific area of treatment. Treatment of back fat can be combined with fat reduction treatment of the arms, bra area, or any other area during the same day. A treatment plan will be organized to maximize the removal of unwanted fat during one single day. After three to four months, you will be able to appreciate the full CoolSculpting results.
Before and after – 16 weeks, buttock, hip and leg area
Does CoolSculpting work for the inner and outer thighs?
CoolSculpting treatment works on many areas of the body, including the inner and outer thighs. The CoolFit applicator and CoolSmooth applicator are especially designed to treat the inner and outer thighs, respectively. Despite diet and exercise, the thigh area is one cosmetic area which is difficult to reduce. CoolSculpting is designed to remove unwanted fat for the thighs, without any recovery time. The CoolFit for the inner thighs takes 35 minutes on each side to reduce fat in this treatment area. The outer thighs use the CoolSmooth applicator which is 75 minutes for completion to freeze this unwanted fat. If you have a large fat bulge in the inner or outer thighs, Dr. Green recommends repeat treatment in one month to have the best CoolSculpting results in four months.
Are there any side effects to the CoolSculpting procedure?
Common side effects during the CoolSculpting procedure include deep pulling, tugging, pinching, numbness or discomfort. Following the procedure, typical side effects include temporary numbness, redness, swelling, bruising, firmness, tingling, stinging and soreness in the treated area. There is an extremely rare side effect of paradoxical adipose hyperplasia after cryolipolysis which has been observed as well.
Why choose between a MedSpa or a dermatology office for your CoolSculpting?
When choosing an office to have your CoolSculpting procedure done, there are some important considerations to consider. First, you should research and google the physician or practice who is offering CoolSculpting. You should see how long they have been practicing and what their experience is with CoolSculpting treatments. You should know if the physician will be doing the CoolSculpting consultation or not.
At our office, all of the CoolSculpting consultations are done by Dr. Green and all of the CoolSculpting procedures are supervised by Dr. Michele Green in her NYC office. Many MedSpas, CoolSculpting centers, and clinics in New York do not have a physician at the practice and you will not be having your consultation with a board-certified dermatologist or plastic surgeon. They offer "free consultations" but they are rarely with an experienced physician. In addition, you should research the facility to see if they are trained and certified in CoolSculpting. The training of the physician and staff is very important in knowing their experience in CoolSculpting and impacting your ultimate cosmetic results.
35-44 year old Female. CoolSculpting upper abdomen, lower abdomen, 3 months
What to expect during your CoolSculpting treatment
During your treatment session in our New York City based location, Dr. Green will place a gel pad and a specialized applicator to deliver cooling to the fat cells in the targeted area. This process – also known as cryolipolysis, chills the fat cells and stimulates the natural metabolism of these cells. The fat is then excreted by your own body.
Treatment time depends on the size of the area being treated. Dr. Green can give you an estimate of your appointment time at your initial consultation. Longer sessions can be broken up over several days or can be scheduled all together in one sitting. With the newest CoolSculpting applicators, treatment cycles are 35 minutes, cutting treatment time by almost half.
Most patients experience only minimal discomfort during this procedure. During your treatment, you can read a book, listen to music or simply take a nap. While everything necessary will be provided, you are welcome to bring any additional comforts of home such as movies, music, pillows or reading material.
This technology enables precise, controlled delivery of the cooling that affects only fat cells on your body, ensuring that no surrounding tissue or cells are affected or damaged. Other common methods for treating fat cells, like lasers, ultrasound and radiofrequency, can impact other cells, posing greater risk to you. Additionally, because CoolSculpting is a non-invasive procedure, there is no risk of infection, complications from anesthesia, or other side effects associated with surgery.
The CoolSculpting procedure contours the body by safely and effectively freezing unwanted fat. Unlike the liposuction process, fat is not re-distributed to other parts of the body, and the skin will not be loose after the procedure. The unwanted fat is gradually dissolved, unlike liposuction, so there is no risk of skin laxity from CoolSculpting. Since this non-surgical fat reduction procedure is non-invasive, there is no recovery time required following your treatment. Patients may resume normal activities immediately and even exercise right after their procedure. Mild redness in the treated area can last several minutes up to two weeks, and some people may see bruising. Within the first two weeks you may experience, tingling, tenderness, cramping, itching or some soreness. You may feel a temporary dulling sensation in the treated area for up to eight weeks, although most patients experience only mild side effects if any.
CoolSculpting results are visible within 3 to 4 months after treatment. After CoolSculpting treats fat cells in your body, they will not reappear if healthy exercise and lifestyle are maintained. The procedure may be repeated in the same area within one to four months.
Before & After Photos: CoolSculpting Treatment – 8 weeks, thighs
When do you see the results of CoolSculpting?
The results of your fat freezing will appear gradually as the body metabolizes and excretes the treated fat cells. Some patients notice the results in a few weeks after their treatment, and others continue seeing improvement for up to four months. At that time, Dr. Green recommends a follow up appointment to determine if a second session is needed.
Is CoolSculpting safe?
Yes! CoolSculpting is a safe procedure that is FDA-approved to treat stubborn fat in nine different areas using the cryolipolysis. An approval by the FDA means that the treatment has undergone many clinical trials to test its safety and efficacy. The risks associated with CoolSculpting are few and rare. Common mild side effects include redness in the treated area, bruising, mild swelling, and soreness which are all temporary and resolve on their own. The numbness in the treated area can last up to a few weeks after the treatment, which is normal and expected. There is a slight risk of developing nerve pain after CoolSculpting procedure, which was more common with the older CoolMax applicator. If nerve pain occurs, it is temporary and will resolve within one month. It can also be remediated with medications like Neurontin.
Is CoolSculpting effective?
Yes, CoolSculpting is extremely effective in treating fat bulges that do not go away with regular healthy diet and exercise. Clinical studies have shown an average reduction of 20% of fat cells in the treated area, and the procedure was especially effective in patients with lower body mass. It is important to note that CoolSculpting is not a method for weight loss, but to reduce the appearance of stubborn fat bulges. It is highly recommended to continue a healthy and active lifestyle to maintain the best results after CoolSculpting.
How long does CoolSculpting last?
The effects of CoolSculpting are permanent as long as you don't gain weight after the procedure.  CoolSculpting is not a weight loss device. CoolSculpting is a fat reduction treatment for a targeted area. Each treatment of CoolSculpting causes a 25 percent decrease in fat in a given area. Repeat treatments of CoolSculpting in the same area are not necessary as long as you maintain a healthy diet and exercise. Dr. Green has had outstanding results with CoolSculpting in her New York City office and finds CoolSculpting a permanent solution as long as patients do not gain weight back after treatment.
Am I a good candidate for CoolSculpting?
The best candidates for CoolSculpting® are those who are already at or near their healthy body weight, but find that they have a few problem spots (like the love handles) that just aren't responding to diet or exercise. Candidates should also be in good overall physical and mental health, and have realistic expectations about their results.
How does CoolSculpting® work?
CoolSculpting® is a patented, FDA-cleared technology that allows for concise, intense cooling of fat cells in the treatment area. Through this process, called cryolipolysis, the targeted fat cells are destroyed, and the body gradually processes and excretes them through the lymphatic system over time. The final result is a sleeker physique without the need for incisions, scars or even downtime.
Can I combine CoolSculpting® with other cosmetic procedures?
Yes! The benefit of CoolSculpting is that it has no downtime, so it can be combined with other cosmetic treatments. Some patients may benefit from combining CoolSculpting® with a secondary treatment like Thermage® for patients who also notice loose skin in the treatment area or to treat cellulite. For example, the CoolMini can be done on the submental area to decrease the appearance of a double chin, followed by Thermage on the jawline and neck to tighten the skin. Dr. Green works closely with every patient to ensure a customized treatment plan that will help meet your cosmetic goals.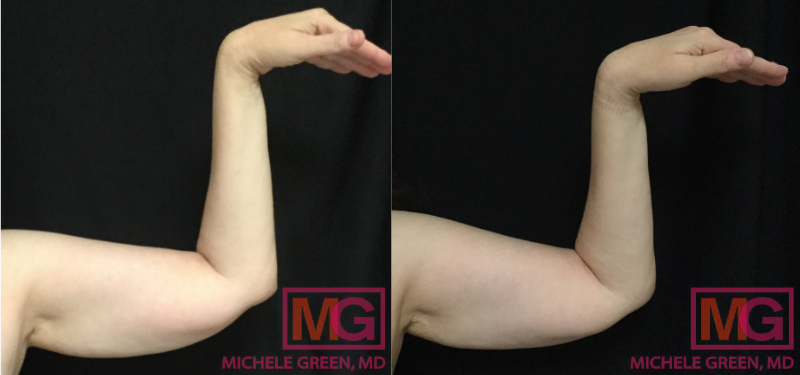 Before & After Photos: CoolSculpting Treatment – Arms
Can you do CoolSculpting at home?
No. Attempting CoolSculpting at home using ice or frozen goods is not recommended. Not only will it not be effective, it can also potentially be dangerous. Applying ice or frozen materials on fat bulges at home will not be effective in getting rid of fat cells as the cold probably will not reach the subcutaneous fat, but it will most likely freeze your skin. This can lead to frostbite and permanent tissue damage that requires extensive medical treatments to remedy. CoolSculpting should be done in an office setting with a licensed healthcare professional at a dermatology or plastic surgery office. Cryolipolysis, the procedure done in CoolSculpting, should be performed using an FDA-approved CoolSculpting equipment (like CoolSculpting Elite) to ensure safety of the patient.
What should I expect during treatment?
The treatment session itself is relatively short, generally lasting 35 to 75 minutes depending on the applicator used. Larger treatment areas require more time. Dr. Green will use the handheld device to position the target area between the two specially made cooling panels. Once the cells have been sufficiently frozen, the session is completed, and you can return to your normal daily activities.
Will I need multiple sessions?
Some patients may see improvement after just one appointment, while others need additional sessions for further fat reduction. The number of sessions needed, depends on how much fat is in the treatment area.  Dr. Green will be able to assess the areas during your consultation, and let you know how many sessions will be needed for the best cosmetic results.
What areas respond best to CoolSculpting treatments?
Stubborn fat on the inner thighs, upper arms, love handles (the oblique areas of the stomach), the tummy, the bra area and back fat, and submental area (double chin) are targets for CoolSculpting. Any area with enough fatty tissue will respond well to CoolSculpting procedure.
Are there any pre-existing conditions that affect CoolSculpting treatment?
Some patients experience neuropathy (numbness and tingling sensations) in the abdomen after CoolSculpting, but this lasts only during the recovery phase right after a treatment. There are several causes of neuropathies and rarely are these caused by cold temperature. However, as with any pre-existing medical condition, if you have questions or concerns about how a procedure may affect you, talk to Dr. Green during your consultation.
Does CoolSculpting work on arms, love handles, thighs, back and bra fat?
Yes! Whether or not you weigh less, you'll be thinner and your clothes will fit better, you'll feel better, and you'll look better.
Before & After Photos: CoolSculpting Treatment – 47 year old male, Flanks
Is CoolSculpting right for diabetics?
Because this is a non-invasive procedure that involves no medications or anesthesia, CoolSculpting is safe for diabetics. There are no incisions made in the skin, there is no surgical wound and no risk of infection or poor healing. You may experience slightly increased numbness in the treated areas, but most diabetic patients experience no additional discomfort or side effects.
Can CoolSculpting be used after pregnancy?
Patients who are pregnant are not generally candidates for CoolSculpting, but the procedure is safe and effective after pregnancy for that post-baby belly bump and will not affect future pregnancies in any way. Three months after your pregnancy you can consult Dr. Michele Green about Coolsculpting to help with your "mommy makeover."
Is CoolSculpting permanent?
The results of CoolSculpting are permanent. However, if you gain weight the remaining fat cells that are present will expand and negate the positive effects of your CoolSculpting procedure. Continuing a healthy lifestyle, diet, and exercise, are essential to maintaining the positive effects from your CoolSculpting treatment.
Do you lose weight with CoolSculpting?
You do not lose weight from CoolSculpting, as the CoolSculpting treatment is not a weight loss device. You do, however, lose inches from CoolSculpting and not pounds.
How cold is CoolSculpting?
CoolSculpting, as the name suggests, uses controlled cold temperature (about -11 degrees Celsius) to destroy stubborn fat cells. For the first 5-10 minutes, you will feel an intense cold sensation in the treatment area. Then, the area becomes numb, and you may feel some tugging sensation from the vacuum applicator for the remainder of the treatment session. The treated area will feel cold immediately after the treatment, but the skin will warm up especially during the two minute massage.
Does insurance cover CoolSculpting?
CoolSculpting is a cosmetic procedure and since it is not medically necessary, it is not covered by insurance.
What is CoolTone®?
CoolTone® is a device made by the CoolSculpting company that utilizes Active Magnetic Pulse technology to induce muscle contractions to create a more toned, firmer, and stronger appearance. The magnetic muscle stimulation causes involuntary contractions to strengthen the muscle fibers in the targeted treatment area. It is FDA-approved to treat three areas, including the abdomen, glutes, and thighs. Typically, patients need four treatments over two weeks to achieve body contouring. See coolsculpting.com for more information.
How do I get started with CoolSculpting?
If you are concerned with unwanted stubborn fat bulges and are seeking non-invasive body contouring solutions, Dr. Michele Green is here to help. Dr. Green has been utilizing CoolSculpting to treat stubborn fat in her private Upper East Side dermatology office for over ten years. From abdomen, upper arms, and even the double chin, her patients have seen incredible fat reduction results with just one CoolSculpting treatment. At your consultation with Dr. Green, she will carefully listen to your concerns and conduct a thorough assessment to create a customized treatment plan to meet your aesthetic goals. From CoolSculpting to VelaShape, Kybella injections, and Thermage laser, Dr. Green will recommend a combination of treatments to achieve the ultimate noninvasive body contouring results.
Dr. Green is an internationally renown expert in the field of cosmetic dermatology with over 25 years of experience in Botox, Sculptra, Juvederm, Restylane, CoolSculpting, Thermage, and more. She takes pride in the long-term relationships she builds with her patients, and her dedication is reflected by consistently winning best dermatologist in New York City by Castle Connolly, New York Magazine, and Super Doctors. If you are interested in non-surgical fat reduction and want to learn more about CoolSculpting in New York City, contact us online, or call us at 212-535-3088 to schedule a consultation.