Special offer: Free CoolSculpting consultation if you have a CoolSculpting procedure performed. Offer valid for new patients only and cannot be combined with any other offers.
If you've never heard of CoolSculpting before, it may sound too good to be true. CoolSculpting treatment is a non-invasive cosmetic procedure that uses the process of fat freezing to eliminate fat cells, acting as a permanent fat removal treatment in as little as 35 minutes, in one single treatment. CoolSculpting reduces fat cells in a given treatment area by 25% without any side effects. Cryolipolysis, the method which is a targeted cold treatment, both eliminates fat cells and allows the newly-dead cells to be metabolized naturally in the lymphatic system. CoolSculpting gradually causes the destruction of treated fat cells and is both incredibly safe and effective. Two harvard medical professionals, inspired by a popsicle's ability to temporarily cause a dimple in a child's cheek, discovered that fat cells freeze at higher temperatures than nerves, muscles, and organs in the body. They applied this principle to develop CoolSculpting, which was FDA- cleared more than 10 years ago, to permanently reduce body fat in as little as one treatment.
In fact, CoolSculpting is one of the most popular body contouring methods available today: according to the American Society of Plastic Surgeons, more patients preferred non-invasive body contouring with CoolSculpting procedures to invasive fat reduction plastic surgery, such as liposuction in 2020. As CoolSculpting procedures require zero downtime and are able to permanently remove stubborn pockets of fat, CoolSculpting fat reduction has become most patients' top solution to treat stubborn fat bulges for various areas of the body.
CoolSculpting is an affordable, non-invasive alternative to surgical fat reduction treatments. CoolSculpting is not a replacement for weight loss, but rather it's an innovative option for those who live a healthy lifestyle but are seeking fat loss for specific areas of the body. Dr. Michele Green is an expert in non-invasive cosmetic procedures, such as Botox, Juvederm, Kybella, skin tightening, laser treatments, and CoolSculpting.
Why choose CoolSculpting?
CoolSculpting is the best non-invasive body contouring treatment available and can treat the abdomen, love handles, upper and lower back, bra fat, male breast tissue (gynecomastia), inner and outer thighs, buttocks, and upper arms both painlessly and without any downtime. There is no anesthesia or numbing required. Since it is totally non-surgical, there are no incisions, scarring, or recovery time, unlike an invasive procedure such as liposuction. As soon as the treatment session is completed, the applicator is removed, the treated area is massaged, and the patient can resume all normal activities.
Cost of each Coolsculpting Applicator
The office of Dr. Michele Green has all of the latest CoolSculpting applicators including:
CoolFit
CoolCore
CoolCurve
CoolMini
CoolSmooth
CoolAdvantage
CoolAdvantage Plus
CoolPetite
Which areas does CoolSculpting treat?
CoolSculpting is FDA cleared for eight target areas on the body. For larger areas, these targeted treatments include love handles, outer thighs (including "banana rolls" along the edge of the buttocks), inner thighs, back fat (upper back and flanks), and stomach. For smaller areas, smaller CoolSculpting applicators are designed to tackle bra fat (armpits, upper back, and below the bra line), upper arms, and along the submental area (reducing fat in the jawline and double chin area).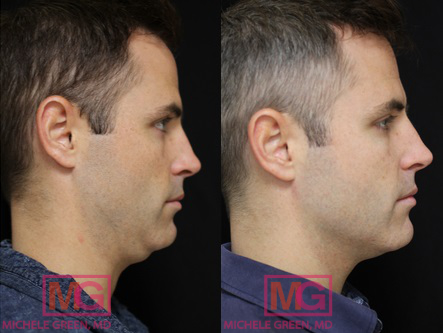 CoolSculpting applicators come in a variety of sizes designed to target different areas of the body in order to achieve desired results. For smaller areas or areas with less stubborn fat, the CoolMini and CoolPetite can be used, including the double chin area and small areas of back fat. The CoolSmooth is tailored to treat outer thighs, and is unique in that it requires no suction on the treated area. The CoolAdvantage applicator uses a combination of three smaller applicators: CoolCore, CoolCurve, and CoolFit. These three applicators are able to cover a larger area with a lower temperature and an expedited treatment time. Additionally, the CoolAdvantage Plus applicator can treat large abdominal areas in a shorter CoolSculpting procedure time. All of the CoolSculpting procedures are designed to be completed within 35-60 minutes, and applicators can be combined to target stubborn pockets of fat throughout a treatment area.
After your initial treatment, you can go back to your normal daily activity immediately. Your CoolSculpting results will continue to develop over the course of several weeks while your body naturally metabolizes further fat cells from the treated area. After as little as four weeks, you can come back for a second treatment to ensure you achieve your desired results.
How Much Does CoolSculpting Cost in 2021?
So, what does CoolSculpting cost? The answer varies depending on your personal needs, goals, and body shape. In general, CoolSculpting session costs are dependent on which applicators are used, and to what extent. The cost is based on the area of the body being treated. The smaller the treatment, the lower the cost. When treating multiple areas of the body, the cost will increase. There are different prices for specific areas of the body, and the cost is dependent on the applicator used. The cost is also dependent on where you live and the experience and credentials of your treating physician. A private board certified dermatologist will generally be more expensive than a medspa with a technician performing the CoolSculpting treatments. Almost all CoolSculpting treatment plans are more affordable than invasive fat reduction treatments, and it's good to note that CoolSculpting results are permanent, provided the patient does not gain weight dramatically post-treatment. Below are the average costs for specific treatment areas of the body:
How much does CoolSculpting cost for the lower abdomen?
The cost of CoolSculpting for the lower abdomen depends on the amount of fat reduction taking place. The abdomen is one of the most popular areas for Coolsculpting since it is a common area for people to gain extra weight, due to age, hormones, pregnancy, or genetics. For most patients, the CoolAdvantage is best for lower abdomen fat removal, which costs $750 per treatment. For those with a smaller amount of stubborn fat on the stomach, the CoolPetite will be the best option, which also costs $750 per treatment. For those with larger areas of fat on the lower abdomen, the CoolAdvantage plus may be a better fit, which costs $1500 per treatment.
How much does CoolSculpting cost for arms?
When it comes to sculpting of the upper arms, the best CoolSculpting applicator is typically the CoolAdvantage, though occasionally the CoolPetite may be a good fit. The price for each arm ranges from $750 to $1,000 and depends on which applicator or applicators are needed. Each treatment for the arms can last about 35 minutes on average. Dr. Green will work with you to develop the right treatment plan for you, and many patients experience optimal results from a single treatment.
How much does CoolSculpting cost for the chin?
When it comes to the submental area that encompasses the jawline and the chin, the CoolMini is far and above the best applicator option for most patients. The CoolMini costs $1,000 per treatment, and many patients combine CoolSculpting treatment with Kybella and Thermage cosmetic procedures in order to achieve optimal results. With the use of this "trifecta", patients can enjoy a permanently rejuvenated jawline with little to no downtime.
What is the cost of CoolSculpting for the inner and outer thighs?
For the inner thighs, the CoolAdvantage applicator is typically the best option for CoolSculpting treatment. The CoolSmooth applicator is specifically designed to treat the outer thighs with no suction necessary on the treated area, and costs $1500 per treatment. The CoolPetitie can also be used for patients seeking to sculpt the full leg, as the CoolPetite is small enough to target stubborn pockets of fat along the inner knee. The inner thigh treatment generally costs $750 per leg. Treating both the inner and outer thighs during the same treatment session can cost more than $4,000. Depending on the amount of fat in these areas, one treatment session can give your permanent results with the desired cosmetic results.
What are the side effects of CoolSculpting?
Immediately after treatment, some patients experience mild swelling, bruising, or tingling as the skin surrounding the treatment area "thaws", but these symptoms usually dissipate within the first week post-treatment. In rare cases, patients may experience more acute pain, or an uneven disbursement of fat cells. These more rare side effects are more common in cases where the CoolSculpting treatment is supervised by a non-medical professional, which is why we recommend you work with an experienced, board-certified dermatologist, such as Dr. Green.
Free Consultation for CoolSculpting NYC
For more information on pricing and treatment plan, contact the office today for a consultation. For new patients, the cost of the consultation will be credited towards your first CoolSculpting procedure. CoolSculpting is a unique treatment for each individual patient, and Dr. Green will work with you from the beginning of your CoolSculpting treatment plan to determine the number of treatments and the applicator type that will work best for you. From your very first appointment, whether in person in our NYC office or via virtual visit, Dr. Green will give you an honest assessment of your treatment area and your goals, and provide full transparency on what treatment plan will work best for you.
CoolSculpting Specials and Discounts
It is always best to check the price of CoolSculpting since there are often specials and promotions which Allergan sponsors for treatment sessions. There are many times when discounts can be as much as 25% per area. In addition, Allergan at times run promotions to pre-pay your CoolSculpting and receive a $600 credit towards your treatment. We recommend checking periodically with our office to see what CoolSculpting specials are currently running when scheduling your consultation.
Does CoolSculpting work?
The reason why CoolSculpting has become one of Dr. Green's most popular cosmetic procedures is because CoolSculpting does not only work, it works extremely well. Most patients are completely satisfied with their CoolSculpting results a few weeks after their initial treatment, when maximum results are apparent, and those who continue with additional treatments are able to gain even more fat loss from the treated area, enjoying an entirely new sense of body confidence. It's a wonderful alternative to more invasive cosmetic procedures, and uses the body's natural metabolic systems for successful body contouring.
Does insurance cover CoolSculpting costs?
As CoolSculpting is classified as a cosmetic treatment, it is not covered by health insurance companies. However, there are often specials and discounts for CoolSculpting that occur periodically. CoolSculpting is much more affordable than invasive plastic surgery and liposuction and is the better choice if you've been struggling with stubborn fat and have already attempted fat reduction through healthy diet and muscle development.
Is CoolSculpting worth the cost? Does CoolSculpting really work?
Almost all of our patients agree that CoolSculpting is the best non-invasive fat reduction treatment out there for problem areas of stubborn fat. In our experience, CoolSculpting can even provide our patients with a new lease on life, often motivating them to live healthier lifestyles in order to enjoy maximum benefits from their Coolsculpting results. If you're tired of feeling self-conscious about stubborn pockets of fat on the body, we recommend CoolSculpting treatment. The ability for you to walk through the world with confidence and pride in your body is invaluable.
How many times do you have to do CoolSculpting?
The number of times you need CoolSculpting performed depends on the amount of fat in the area being treated. If it is a small budge then one single treatment session should be enough to destroy the fat cells in the area. Larger areas, such as a large neck or submental fat, or a large abdomen, may need two or more treatments to remove the fat cells in the area. Dr. Green will assess the area and give you an honest assessment in terms of the number of treatments and which applicators would be best to have the ultimate body contouring experience.
How long does CoolSculpting last?
As long as you continue a healthy diet and exercise, the results from CoolSculpting are permanent as these fat cells are destroyed through cryolipolysis. However, if you gain weight, the fat can return into these or other areas of the body.
Do you lose weight with CoolSculpting?
CoolSculpting procedure is not a weight loss device. You will not lost weight with CoolSculpting. However, your clothes will fit you better and patients have commented that they have dropped one or two dress sizes in the areas that are treated. You need to continue to maintain a healthy diet and exercise in order to sustain the continued positive benefits and fat reduction from CoolSculpting.
Why Choose Dr. Green for CoolSculpting?
As CoolSculpting is frequently offered in a medical or "med" spa setting, many patients may wonder why a doctor's office is the best option for their CoolSculpting experience. Though med spas may offer free consultations or discounted treatments, these appointments are often carried out without the supervision of a medical professional and, in rare cases, a medical professional may not actually be on premises while the CoolSculpting procedure takes place. Though not all med spas are created equal, there have been cases where neglectful med spas have caused aesthetic issues when it comes to CoolSculpting or dermal fillers. In other cases, a lack of medical supervision has caused severe complications in cosmetic procedures. The only way that you can guarantee both the safety and medical assurance that you deserve during your CoolSculpting treatment is by working directly with a board-certified medical professional, in a CoolSculpting certified practice.
Dr. Green has been working with CoolSculpting technology for over a decade, and is an expert in the world of non-invasive cosmetic procedures. Dr. Green's role as your physician is to balance your desired goals, needs, and safety while developing the best treatment plan, and her artistry is unparalleled in the cosmetic dermatology world. When you work with Dr. Green, you will receive an honest assessment of your desired treatment area, and Dr. Green will work with you to develop a treatment plan that helps you to look and feel like the best "you" possible. As one patient on RealSelf put it, "Dr. Michele Green and her entire staff are absolutely amazing. From the moment you enter her office you are greeted by amazing, knowledgeable people who immediately make you feel as if you are home and the only star in their universe."
Whether you're tired of seeing a double chin, love handles, or other areas of stubborn fat on the body, Dr. Green is here to help. Contact our office online today or call Dr. Michele Green's NYC based office at 212-535-3088 to learn more about your treatment options and to schedule an in-person or virtual consultation.