Melasma is one of the most common skin conditions associated with brown or gray-brown patches of skin that are darker than the rest of the face. The dark patches of skin that are related to melasma are typically found on the forehead, cheeks, and the upper lip. Melasma has been found to be linked to an overproduction of melanin in concentrated cells of the skin via melanocytes, the melanin-producing cells. Melasma can be exacerbated or triggered by a variety of factors such as the sun exposure, hormones, and lasers. Regardless of gender, skin tone, and skin type, patients with melasma often tend to feel self-conscious about the cosmetic appearance of concentrated pigment patches. Thankfully, Dr. Green provides the best in-office treatments for melasma in her NYC office which can help to diminish the appearance of hyperpigmentation, including chemical peels, Mesopeels, Dermamelan, and Cosmelan peels. The Cosmelan peel is particularly effective in treating melasma and other signs of hyperpigmentation when other cosmetic methods, including creams and lasers, have failed. Dr. Green is one of the only dermatologists in NYC to provide the Cosmelan peel for depigmentation.
Hyperpigmentation is a broader term which describes many skin conditions which leaves your skin discolored or dark from a myriad of factors. Hyperpigmentation can be the result of sun damage, sun spots, acne scarring, post-inflammatory hyperpigmentation, eczema or sensitive skin healing and resulting in dark spots. Many patients develop hyperpigmentation as a side effect from other treatments, such Fraxel laser, Intense Pulsed Light (IPL), or Picosure lasers. All too often, patients will attempt to have laser treatments to remove melasma and the result is a worsening of the melasma and hyperpigmentation. This type of hyperpigmentation, as a result of laser treatment, is more difficult to remove as the hyperpigmentation becomes more entrenched in the deeper layers of the skin. However, Dr. Green has successfully treated this type of post-inflammatory pigmentation with specially designed Cosmelan depigmentation treatments in her private, New York City dermatology office.
Dr. Michele Green is a world renowned specialist in Cosmelan and disorders of hyperpigmentation and is here to help you brighten your skin and remove melasma. She is one of the only dermatologists in New York City who treats patients of all skin tones who are suffering from melasma or hyperpigmentation with Cosmelan peels. Cosmelan depigmentation system is an outstanding skin lightening treatment and one that Dr. Green utilizes daily in her private NYC dermatology office. Cosmelan can be used on all skin types and is safe and effective for removing melasma and pigmentation on your face and body. If you are suffering from dark spots, hyperpigmentation, or melasma, it's time to schedule a consultation with Dr. Michele Green in New York.
Before and after – 3 parts, Cosmelan treatment
What types of hyperpigmentation does Cosmelan treat?
Dr. Michele Green in NYC is an expert in skincare and treating hyperpigmentation on the face and other areas of discoloration on the body. Her focus on depigmentation treatment comes in part from seeing patients who were treated with Fraxel, IPL, Picosure, and other lasers incorrectly, resulting in hyperpigmentation. Most cases of melasma and hyperpigmentation are best treated with chemical peels, Cosmelan, Mesopeels, and other appropriate cosmeceuticals and skincare. In addition, dark spots or post-inflammatory hyperpigmentation from acne can be treated effectively with Cosmelan. The following list are the main conditions which Cosmelan treats:
Melasma
Sun spots
Sun damage
Acne scarring
Age spots
Post-Inflammatory hyperpigmentation (PIH)
Skin discoloration on chest, neck, and back
Blemishes
Uneven skin tone
Dark spots on buttocks
Dark patches on knees, elbows, feet
Discoloration from laser treatments such as Fraxel, GentleYag, Erbium, CO2, IPL, and Picosure lasers
What is a Cosmelan peel?
The Cosmelan® peel is a professional-grade mask that is applied by board certified dermatologist Dr. Michele S. Green in her practice on the Upper East Side. The mask is left in place for a number of hours (depending on the degree of pigmentation and skin type). The cream is easily removed at home by the patient, with a neutral gentle facial cleanser several hours later. Cosmelan® will produce an initial "peeling" of the skin, which will leave the skin smooth and dramatically decrease the signs of facial pigmentation. Cosmelan® is a simple and safe treatment with minimal downtime. A follow-up appointment will be made in four weeks time so Dr. Green can assess the progress.
A series of creams containing kojic acid, azelaic acid, hydroquinone, hydra-vital factor K (Vitamin K cream), and sunscreen are used at home after the Cosmelan mask is removed to maintain the effects of the procedure and keep the skin clear and pigment-free. Strict sun avoidance and a mineral sunscreen with an SPF 50 or higher are absolutely necessary to prevent melasma and hyperpigmentation from reoccurring. Dr. Green recommends patients to layer on two different sunscreens to ensure total sun protection. She recommends using a chemical based sunscreen, such as one that contains avobenzone, and a mineral based sunscreen, such as one that contains zinc oxide or titanium dioxide. Sunscreen use is paramount throughout the procedure and afterward to avoid melasma, brown spots, and the recurrence of your hyperpigmentation.
Cosmelan before and after
What is the Cosmelan Treatment?
The Cosmelan depigmentation treatment consists of one Cosmelan 1 peel followed by maintenance with Cosmelan 2 and other recommended skincare products. The first part of the Cosmelan depigmentation treatment is an in office procedure in which Dr. Green will apply the Cosmelan 1 peel on your face. Dr. Green will determine how many hours you will need to keep the peel on based on how extensive the hyperpigmentation is and your skin tone. Afterward, she will carefully go over the maintenance protocol that will be continued at home to remove the dark spots, maintain healthy looking skin, and prevent recurrence of the pigmentation.
At home, patients are instructed to use the Cosmelan 2 depigmenting cream once or twice a day, depending on the patient's ability to tolerate the product. It is important to note that Cosmelan 2 contains both hydroquinone and retinoids. As such, Cosmelan 2 can be very irritating, particularly if you have sensitive skin. However, it is essential to use Cosmelan 2 daily to achieve optimal results. If the cream does cause severe irritation, you should discontinue Cosmelan 2 use for several days until the irritation completely resolves. Failure to comply with these instructions can cause increased irritation to your skin and increased hyperpigmentation. Since the goal of the Cosmelan depigmentation protocol is to lessen and eliminate hyperpigmentation, it is counter-productive to continue using Cosmelan 2 if you are irritated.
To counter balance any irritation from the products, Dr. Green recommends Hydra-vital factor K, Melan Recovery, and MGSKINLABs Recovery Cream to allow your skin to heal and give you the best cosmetic results. Sun avoidance and the re-application of sunscreen every 90 minutes is vitally important. Daily compliance with the home maintenance products and sun avoidance will bring about the best results and help reduce the pigmentation both immediately and in the long-term.
Melasma
Melasma is one of the most common skin disorders that patients consult Dr. Michele Green for at her Upper East Side NYC medical office. Melasma is also called chloasma, or the "mask of pregnancy," when it occurs in pregnant patients. Ninety percent of patients who suffer from melasma are women, due to both a genetic and hormonal component. Studies have shown that there is a four-fold increase in thyroid disease in patients who have melasma. There is also an increased presence of melanocytic and lentiginous nevi in patients with melasma. Melasma is more likely to develop in patients with darker skin types, especially in patients with type IV or darker skin tone. Women are affected nine times more than men and most commonly affects women during their reproductive years. There is a genetic correlation with melasma, with 50% of patients reporting a positive family history of hyperpigmentation disorders. Medications, such as certain chemotherapies and cosmetics can also cause a phototoxic reaction and trigger melasma.
The classic presentation of melasma are dark or discolored patches on the face, typically darker than your normal skin color. These dark patches are often symmetrical and affect both sides of the face. They can also affect other areas of the body, such as the neck, chest, and forearms. The most common areas of the face for melasma to develop are the:
cheeks
forehead
bridge of nose
chin
Other extra facial areas involved include the forearms, upper arms, and shoulders, in a classic sun-exposed distribution.
In the past, a Wood's lamp examination would be used to diagnose and confirm melasma. However, this common clinical diagnosis rarely requires a skin biopsy or Wood's lamp for diagnosis today.
What is the pathophysiology of Melasma?
Exposure to ultraviolet light (UV light) is the number one most important factor in developing melasma. UV radiation triggers the production of alpha-melanocyte-stimulating hormone, corticotropin, interleukin 1, and endothelia 1, which triggers an increased amount of melanin production by melanocytes in the skin.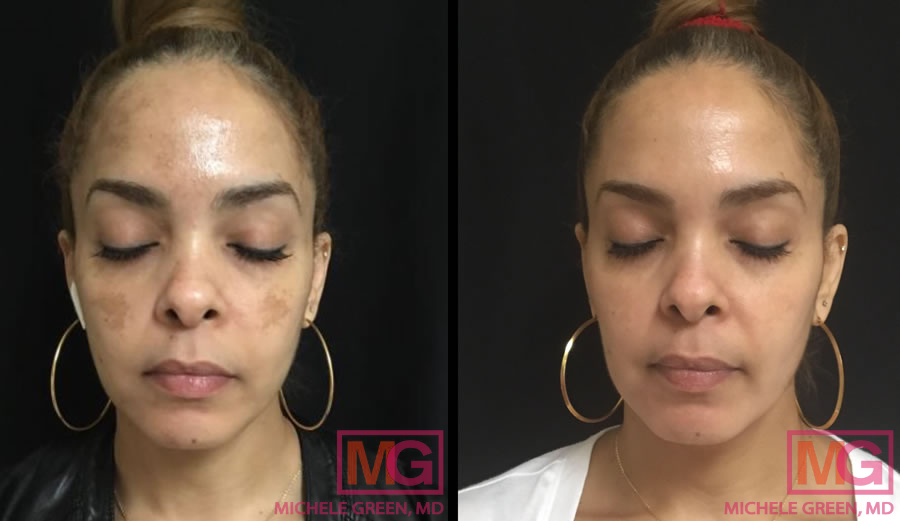 Cosmelan – 10 weeks before and after
Mesoestetic products
Mesoesthetic products have revolutionized the treatment of melasma and depigmentation with their Cosmelan treatments, Mesopeels, and other products to treat facial and body hyperpigmentation. Cosmelan treatment can be used for all skin types, especially for patients with type IV or darker skin. Cosmelan is uniquely made to treat patients with Asian, Hispanic, Mediterranean, and African American skin. Home maintenance creams are a crucial part of treating hyperpigmentation and melasma with the Mesoestetic line of products.
Mesoestetic products have expanded dramatically over the past few years, to improve skin texture, luminosity, and successfully achieve pigment control. In addition to the Cosmelan depigmenting creams and peels, other specially formulated peels for the treatment of hyperpigmentation have been developed, including:
Dermamelan Intimate:  used to treat vaginal and anal discoloration and hyperpigmentation
Mesopeel Periocular:  to remove hyperpigmentation around the delicate eye area and improve periocular luminosity
Mesopeels for Body:  designed to remove discoloration and varying types of hyperpigmentation around the axillae (underarms), groin, and buttocks.
These depigmentation treatments complement the existing line of chemical peels and treatments for patients with all skin tones. Proper skin care, including cleansers and treatment products are reviewed with you during your consultation with Dr. Green, to provide you with the best treatment outcomes in rejuvenating your skin.
6 months before and after Cosmelan and 1 microneedling 
How does Cosmelan work?
Cosmelan is a proprietary combination of active ingredients of proven efficacy that acts on the entire process of pigment formation to remove the accumulation of melanin and inhibit the formation of new pigment. Cosmelan works by several mechanisms:
Accelerates epidermal renewal to remove the accumulation of melanin
Reduces the amount of melanin formation and decreases dark spots
Blocks the transfer of melanin from the melanocyte to the keratinocyte thus inhibiting the migration of pigment to epidermal layers of the skin
Reduces the synthesis of melanin inside melanocytes
The Cosmelan peel consists of 51 active ingredients, including numerous tyrosinase inhibitors, which block the production of melanin in the skin. The 5 key tyrosinase inhibitors and lightening agents include:
Kojic Acid
Azelaic Acid
Arbutin
Phytic Acid
Licorice
Ascorbic acid
Cosmelan is a prescription formulation, which is only available to physicians, and is compounded with 8 percent hydroquinone for increased skin lightening.
Cosmelan 8 months before and after
Depigmentation Peel
The Cosmelan depigmentation gel decreases the melanin production in the skin, by inhibiting the tyrosinase enzyme, and helping you achieve beautiful, clear skin. It is important to discontinue all retinoids, glycolic acids, and any other exfoliants one week before your Cosmelan peel. In addition, the use of these exfoliating products, as well as Retin-A should be discontinued for one week before the procedure and during the Cosmelan 2 maintenance treatment.
How long does the Cosmelan peel last?
The Cosmelan peel needs to be incorporated with the home maintenance treatment to have the best cosmetic results. The results from the Cosmelan chemical peel will be permanent as long as strict sun avoidance is maintained and you properly follow the at-home maintenance protocol.
Is Dermamelan better than Cosmelan for treating melasma?
Dermamelan contains a stronger amount of salicylic acid, in addition to azelaic acid, arbutin, kojic acid, licorice extract, and phytic acid. Some cases of melasma may require Dermamelan treatment but this will be decided on an individual basis, depending on skin type, skin tone, cosmetic history, and medical history.
How to treat melasma?
Melasma is a complex pigmentation condition, which is caused by the body's overproduction of melanin in the skin. Melasma cannot be treated with plastic surgery or laser treatment. The Cosmelan depigmentation system is the best chemical peel treatment to reduce melasma and prevent its reappearance. Proper skin care and sun avoidance is essential to maintain the results of your Cosmelan peel and prevent the recurrence of your melasma.
Does Cosmelan have hydroquinone?
Yes, Cosmelan contains eight percent hydroquinone which is compounded with other skin brightening agents to reduce the overproduction of melanin in the skin. Cosmelan does not contain any trichloroacetic acid (TCA). Cosmelan contains multiple agents in addition to hydroquinone, which inhibit the tyrosinase enzyme, which is responsible for causing hyperpigmentation.
Cosmelan before and after
Can Cosmelan make melasma worse?
Cosmelan will not make melasma worse. Dr. Green considers the Cosmelan treatment the best depigmentation treatment to improve facial melasma. Laser treatments with Fraxel, IPL, Picosure, as well as other CO2, Erbium, or fractional lasers, can make melasma worse. Cosmelan can be used to treat the unwanted pigmentation and discoloration, which can be side effects of laser treatments.
Can I do the Cosmelan peel at home?
No. Cosmelan MD is not an at-home peel and must be applied by a board-certified dermatologist or other medical professional. However, Cosmelan does have other skincare products and chemical peels for at-home use. It is important to note that these products are not the same as the Cosmelan MD which has hydroquinone, retinoids, and other active ingredients. Following an application of Cosmelan 1, the results and maintenance treatment need to be monitored by Dr. Green, who is experienced in treating facial pigmentation and melasma.
How to use Cosmelan 1?
Cosmelan 1 is the first part of the Cosmelan depigmentation pigment plan and will need to be applied by a dermatologist like Dr. Green to treat your melasma. At the time of your depigmentation treatment, Dr. Green will advise you on the length of time you are required to leave your Cosmelan peel on. Depending on your skin type and skin tone, the length of time can vary from 4 to 10 hours. The Cosmelan 1 peel will then be removed by the patient at home with a gentle skin cleanser.
How to use Cosmelan 2 maintenance cream? How does Cosmelan 2 work?
Cosmelan 2 is a topical anti-spot pigmentation cream for home maintenance use after the Cosmelan 1 peel is performed in Dr. Green's office. Cosmelan 2 can be used once or twice daily, depending on how much irritation is associated with the product use. Cosmelan 2 prevents the appearance of new dark spots and treats existing dark spots on the face. If Cosmelan 2 cream causes too much irritation, Dr. Green advises to discontinue its use for several days until the irritation is resolved, and continue moisturizing until you can initiate treatment with Cosmelan 2 again. Cosmelan 2 is a critical part to the success of the Cosmelan depigmentation system since it helps with regulating the production of melanin in the melanocytes.
45-54 year old male, Cosmelan – 2 months before and after
Do I wash off Cosmelan 2?
You do not wash off Cosmelan 2 after applying it to the skin is it must be allowed to penetrate the skin. If Cosmelan 2 is too irritating, you should discontinue it for several days and apply moisturizer as directed by Dr. Green. You patients are only able to tolerate Cosmelan 2 three times a week. Overuse of Cosmelan 2, with irritation, can cause unnecessary hyperpiguentaion and the reverse of the desired skin lightening effect of Cosmelan.
Does Cosmelan 2 cause peeling?
Yes, Cosmelan 2 can cause peeling when applied to the skin. However, if there is any peeling caused by Cosmelan 2, discontinue use until the peeling is resolved. Applying the proper moisturizers that Dr. Green recommends will also help minimize any dryness and irritation caused by the product. Using Cosmelan 2, while peeling and irritated, is counterproductive and can worsen your pigmentation.
Can you use Cosmelan 2 without Cosmelan 1?
In general, you should not use Cosmelan 2 without Cosmelan 1. Cosmelan 2 is meant to be the maintenance cream after treatment with Cosmelan 1. If you choose to use Cosmelan 2 without first doing the Cosmelan 1 peel, you will not get the results you are looking for. There are special indications where Dr. Green may prescribe Cosmelan 2 without having a cosmelan peel.
Where can I buy Cosmelan?
The Cosmelan MD line of products is available through the office of Dr. Michele Green in New York. Only current patients have access to purchase this depigmentation line of products, since they need to be under the care of a board certified physician to monitor their use and prevent unwanted side effects.
How often can you do a Cosmelan peel?
The Cosmelan peel can be performed again, if required. If certain areas have re-pigmented due to sun exposure, or an area is difficult to treat due to entrenched pigmentation, the Cosmelan peel can be repeated for the entire face or spot areas. The decision to repeat the Cosmelan peel will be discussed in consultation with Dr. Green.  Proper sun avoidance and sunscreen will help prevent the recurrence of melasma and the need to repeat the Cosmelan peel.
Cosmelan – 1 session, 3 months before and after
How long does the Cosmelan peel last?
Melasma and other disorders of pigmentation are exacerbated by the sun. If you practice complete sun avoidance, the results should be permanent.
How much is the Cosmelan peel?
The Cosmelan peel involves a Cosmelan 1 peel which is performed in the office by Dr. Michele Green. It will also include the price of additional products to maintain results and further help with the depigmentation process. The price for the Cosmelan peel depends on the area of the body that is treated. Treating just the face will be less expensive than treating the neck and chest areas.
Does the Cosmelan peel work?
Yes! Cosmelan peel is an extremely safe and effective treatment for melasma and hyperpigmentation. Cosmelan peels are the best way to treat melasma, sunspots, dark spots, and other disorders of hyperpigmentation from sun exposure in all skin tones.
Lasers and the treatment of melasma
In general, laser treatments such as the Fraxel laser, Picosure, and IPL often worsen melasma and make it more difficult to effectively remove and treat melasma in the future.
How to protect my skin with melasma from the sun?
Strict sun avoidance
Wide-brimmed hat
Year-round, life-long sun protection
Daily sunscreen with a broad spectrum SPF 50 or higher with re-application every 90 minutes
Makeup/BB Cream to help protect facial skin from the sun
Sun umbrellas
Discontinue hormonal or oral contraceptive whenever possible
How do I get started with Cosmelan to treat my melasma and hyperpigmentation?
Dr. Michele S. Green is one of the only dermatologists in New York to offer the Cosmelan peel treatment. Originally developed in Spain, Cosmelan® is both safe and effective on all skin types. The mask treatment has been proven to be more effective than laser treatments on all skin types, included darker skin tones, such as Asian, Hispanic, and African American skin. Dr. Michele Green has over 25 years of experience and has treated thousands of cases of melasma and hyperpigmentation. She will create a customized treatment plan for you that can include Cosmelan, select lasers, and certain skincare products like Vitamin C. If you are suffering from hyperpigmentation or melasma, Dr. Green is here to help. She is consistently voted as one of the best dermatologists in NYC by Castle Connolly, Super Doctors, and New York Magazine. If you're ready to rejuvenate your skin, contact us online today or call 212-535-3088 to book a consultation with Dr. Green.