Restylane is one of the most popular dermal fillers, composed of hyaluronic acid, which Dr. Green has utilized as an expert injector, for almost two decades.  Dr. Michele Green was one of the first dermatologists in NYC to incorporate the Restylane® line of fillers for her patients in her boutique New York practice. With over 25 areas of experience as a cosmetic dermatologist and one of the best injectors in New York, Dr. Green chooses the best dermal fillers and injectables to treat fine lines, wrinkles, and restore lost volume. Dr. Green is consistently voted as one of NYC's top doctors, and has been offering Restylane to her patients since it was first introduced as a dermal filler to her patients in Manhattan's Upper East Side. While proper skin care and sun avoidance are both important for your skin, there are times when skin care is not enough and patients require dermal fillers and neurotoxins, like Juvederm, Restylane, Botox, Dysport, and Xeomin, to reverse the visible signs of aging.
The Restylane family of products, manufactured by Galderma, have become a favorite hyaluronic acid dermal fillers, since the original Restylane injection was FDA approved in 2003. Restylane is a non-animal dermal filler, which is biodegradable and fully biocompatible with the hyaluronic acid present in your skin. Hyaluronic acid is a natural substance which exists in your body, and when injected, restores volume to your skin. The Restylane family of products is comprised of several distinct products, and utilizes the unique NASHA technology, which gives each product its own unique particle size. The complete Restylane line of products includes Restylane-l,Restylane Silk, Restylane Lyft, Restylane Defyne, Restylane Refyne, Restylane Kysse, Restylane Contour, Restylane SkinBoosters, and Dysport. Each Restylane injectable has its own unique particle size, designed to treat various areas of the face, from fine lines to severe wrinkles. These dermal fillers correct deep and fine wrinkles and add volume to restore fullness to your face to produce overall skin rejuvenation and a more youthful appearance.
If you are considering lip augmentation, treating fine lines and facial wrinkles, marionette lines, smile lines, laugh lines, jowls, the chin, or restoring lost volume, the Restylane family of dermal fillers may be the best treatment for you. Dr. Michele Green is an expert in non-invasive cosmetic treatments, particularly injectable filler treatments. As an internationally renowned authority in the field of cosmetic dermatology, Dr. Green is consistently voted as one of the best physicians in New York by Castle Connolly, New York Magazine, and Super Doctors. When you consult with Dr. Green at her private office in the Upper East Side neighborhood of Manhattan, she will works with you individually to construct a treatment approach that is best suited to addressing your needs and delivering ideal results.
Which areas of the face and body can you have Restylane treatment?
Nasolabial folds (laugh lines or smile lines)
Corners of the mouth
Jowls
Marionette lines
Lip volume
Lines above the upper lip (smoker's lines)
"Cupid's bow" (the philtrum above the lip)
Jawline
Midface (cheek augmentation) and chin for volume loss
Restore volume to the back of the hands
Acne scars and depressions
Minimizes dark circles under your eyes (tear trough area)
Neck lines
What is the process of having a dermal filler injected?
At your initial consultation, Dr. Green will discuss which areas of the face are your specific concerns, and work closely with you to develop an individualized treatment plan.  Some patients have a specific area which they want treated such as their smile lines or lip enhancement, while others are looking to restore volume in multiple areas of the face for pan-facial rejuvenation.
The next step is to have photographs done of the treatment areas for your records and a written treatment plan.  Dr. Green will review your complete medical record and discuss if you have any medical conditions or a history of bleeding disorders which might prevent treatment. A topical numbing cream, which contains lidocaine, is applied to the treatment areas for 30 to 45 minutes to lessen any discomfort before the injections. Patients are asked to discontinue any blood thinners or herbal supplements which may cause bruising for at least one week before your injections to avoid excess bruising.  The areas are cleaned with alcohol before your injections and iced immediately afterwards to prevent any unnecessary swelling.
Dr. Green will inject Restylane® directly into the skin in tiny amounts using an ultrafine needle, resulting in minimal discomfort with superior sculpting results. Since hyaluronic acid is a substance that the body produces naturally, the risk of side effects is minimal, with usually some temporary redness and swelling at the injection site. Dr. Green will often layer or combine Restylane products with other dermal fillers and injectables such as Botox during the same visit, to have the most youthful appearance. Restylane can be injected into various areas of the face, where there is noted collagen loss. The results of your treatment should be visible almost immediately, although they may be disguised by a little swelling at first. These hyaluronic acid injections dissolve slowly over time, and generally last about 6 to 9 months, depending on the number of syringes and the areas injected.
What to do after Restylane injections?
After injection, it is important to avoid taking blood thinners and herbal supplements for one week after your treatment. You should also minimize strenuous exercise and avoid exposure to sun, saunas, steam rooms, heat, or UV light, for 24 hours after the treatment to avoid swelling or redness. Applying ice compresses immediacy after the procedure helps minimize any swelling. Any bruising can be treated with oral Arnica supplements or a quick treatment of the V-Beam pulsed dye laser.
Restylane & Restylane-L
Restylane-L® was the original Restylane filler used to correct moderate facial wrinkles such as the corners of your mouth, marionette lines, laugh lines, and the tear trough area (under eye area). Restylane is a hyaluronic acid filler which can be used in many anatomic faces on the face. In particular, Restylane is a favorite for natural, soft, lip injections. Restylane lasts approximately 6 to 9 months when injected in the face. Restylane can provide facial symmetry, increase lip plumpness, define the "cupid's bow" and restore lost volume in the chin, oral commissures, nasolabial folds, and lines around the mouth. Restylane produces an extremely natural appearance and through pan-facial rejuvenation, or a "liquid face lift", can restore volume and rejuvenate the entire face.
What is Restylane Lyft?
Restylane Lyft was originally marketed as Perlane, and is generally used for the deepest lines and furrows out of all of the Restylane fillers. Restylane Lyft is used commonly to restore facial hollows for the cheeks, the oral commissures (corners of the mouth), marionette lines, and deep nasolabial folds and facial folds. Restylane Lyft has also been FDA approved for hand rejuvenation. One of the main uses for Restylane Lyft is for restoring facial volume, especially for midface contour deficiencies. Restoring volume in the midface, raises the cheekbones to give you a more youthful appearance.
Restylane Lyft for Hand Rejuvenation
As we age, we lose volume in our hands as well, leaving them wrinkled with the veins in your hands becoming more prominent. Restylane Lyft, has the highest G-prime of any hyaluronic acid fillers, and is able to restore and plump up this lost volume, leaving your hands rejuvenated and younger looking. Restylane Lyft is the thickest injectable filler of the Restylane family of products and lasts between 9 and 12 months, depending on how fast your body metabolizes the injectable product.
Restylane Defyne and Restylane Refyne
Restylane Defyne® is made for deep smile lines and laugh lines and Restylane Refyne® is for moderate smile lines and laugh lines. Both Restylane Defyne and Restylane Refyne are made of hyaluronic acid, and are created using XpresHAn Technology, which customizes the hyaluronic acid particles to cross-link with each other.  This unique technology allows these two dermal fillers more flexibility in correcting and smoothing out facial lines and wrinkles.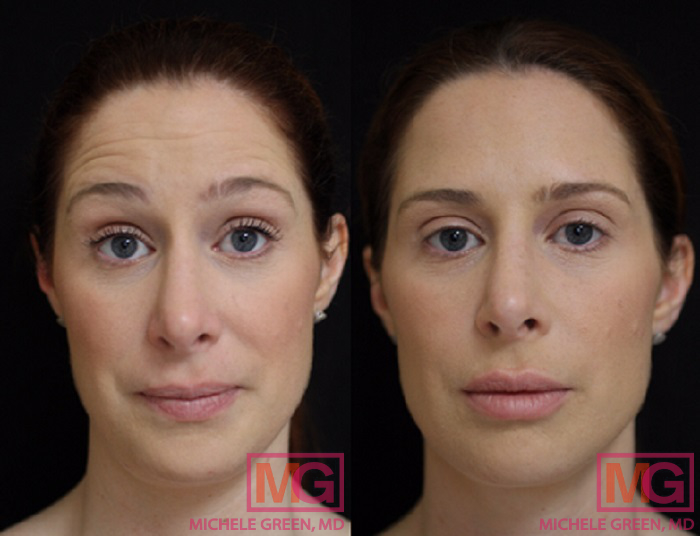 32 year old female, 3 weeks after one syringe of Restylane Defyne.
What is Restylane Kysse?
Restylane Kysse is the newest Restylane filler designed for lip augmentation and for the correction of upper lip lines (perioral lines), also called "smoker's" lines. Restylane Kysse® has been showed to last up to one year in duration. Restylane Kysse is able to add moisture to the lips, making them appear more luscious. Due to its natural looking appearance and increased longevity, Restylane Kysse is an extremely popular as an injectable filler for lips. Restylane Kysse is designed with XpresHAn Technology, which delivers flexible movement of the lips with natural looking volume restoration. Restylane Kysse, in fact, improves the natural color of the lips themselves. Restylane Kysse is used only for the lips and is compounded with lidocaine to make the injection more comfortable for the patient.
Restylane Contour for mid-face cheek augmentation
Restylane Contour is the latest addition to the Restylane family of dermal fillers. It is a unique hyaluronic acid filler which has been FDA approved in June 2021 for cheek augmentation and the correction of midface contour volume loss. Restylane Contour® is Galderma's first product which incorporates their proprietary XpresHAn Technology™ for the cheeks. This unique formulation allows the hyaluronic acid gel to be integrated into the treatment area and allow natural expression and motion. With the popularity of cheek fillers and the need to replace volume loss in the midface area, Restylane Contour is a welcome addition. In clinical studies conducted by Galderma, 98% of patients who were injected with Restylane Contour were happy with their results at 1 year. Outside of the United States, Restylane Contour has already been used to treat over 1.5 million worldwide.
Restylane Defyne for chin augmentation
Restylane Defyne was FDA approved in 2021 for the correction of mild to moderate chin augmentation. Typical results can last approximately one year with no downtime after injection.  Many patients may feel that they have a "weak" or recessed chin and Restylane Defyne can improve the projection and correct the lower-face, including the jowl area. Many patients do not want a permanent chin implant, and by using Restylane Defyne, Dr. Green is able to offer patients a safe, straightforward alternative to invasive plastic surgery
Restylane Silk for lip injection
Restylane® Silk, is the first FDA approved treatment designed specifically for the lips and the fine lines around your lips.  Restylane Silk's unique, refined formulation, with small particle size, is designed for precise lip shaping and for smoothing the lines around your mouth to create a natural look.  As we age, one of the main areas which shows the visible signs of aging are the lips and the perioral lines.
Restylane Silk specifically addresses this area and provides natural looking younger looking lips. It is frequently used to minimize the appearance of "smoker's lines" around the mouth. Restylane Silk lasts 6 months or more with immediate visible improvement in lip fullness after the injection.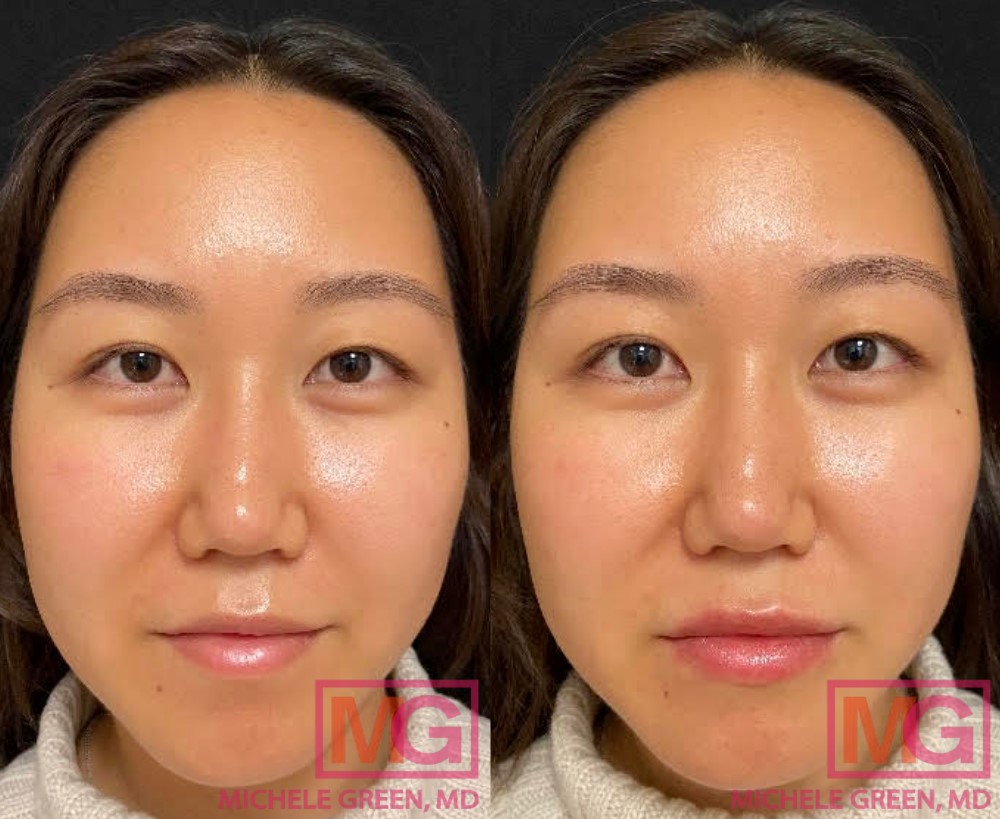 Restylane for tear trough: under eye filler
Restylane L is the ideal filler for the tear trough and under eye hollows. The best patients for tear trough injections are those who do not already have a lot of under eye wrinkling or fat herniating in the area. Those patients who need volume replaced and have dark circles under their eyes are perfect for this procedure. Generally, one syringe of Restylane is enough to treat most under eye hollows.
What is Restylane Volyme?
Restylane Volyme®  is a new hyaluronic acid dermal fillers that is part of the Restylane family of fillers. Restylane Volyme is a softer injectable filler which can add much needed volume to the area injected, with a very natural appearance. It was created to work synergistically with Restylane Defyne and Refyne. Restylane Volyme has been used in Europe and is known as being part of the Restylane Emervel family of dermal fillers. Volyme can be injected into the malar (cheeks), chin, jowls, and jawline, to provide much needed volume lift in the aging face. As we age, our face loses collagen and often undergoes bone loss, leading to sagging skin and wrinkles. Injections of Restylane Volyme will replace  lost volume and treat fine and deeper wrinkles. Volyme typically lasts approximately one year in duration, although studies show it can last longer. As with other dermal fillers, Dr. Green can combine Volyme with other hyaluronic acid fillers, in various parts of the face, to give you the best cosmetic results.
Restylane SkinBoosters
Restylane SkinBoosters® are a special way to delivering hydration, deep within the skin, to improve the moisturization, texture, and look of your skin. The treatment with Restylane SkinBoosters involves microinjections of hyaluronic acid gel into your skin, which will restore and maintain the skin's elasticity, firmness, and hydration. As we age, we lose hyaluronic acid, elastin, and collagen in our skin. The result is skin laxity, dull skin, and fine lines. With Restylane SkinBoosters, the quality of our skin is restored, texture and firmness improved, and will provide overall skin rejuvenation. By injecting Restylane SkinBoosters, three treatment sessions 4 weeks part, the microinjections stimulate the fibroblasts in your skin, increases skin cell turnover, and provides a youthful and revitalized appearance of your skin. Long lasting rejuvenated effects are achieved and biannual maintenance treatments are recommended for continued improvement.
What is the difference between Juvederm and Restylane?
Restylane and Juvederm are both dermal fillers composed of hyaluronic acid which can be used in similar anatomic locations on the face. Juvederm® is made by Allergan, the makers of Botox®. Restylane is manufactured by Galderma. Juvederm generally lasts a few months longer than Restylane fillers.  Juvederm and Restylane both have different types of fillers within their "family" group and some are thinner for fine lines like Juvederm Volbella which competes with Restylane Silk.  Juvederm also has a thicker hylauronic acid filler for mid-face correction, called Juvederm Voluma, which is often compared to Restylane Lyft. The question is always "which is better Juvederm or Restylane?" The answer is that there is no one "best" dermal filler. Dermatologists and injectors may have a personal preference between the two injectables, and find that some dermal fillers work better than others with their patients and some injectables causing less swelling or bruising than others.
Can you mix Juvederm and Restylane?
You can absolutely mix Juvederm and Restylane treatments during the same visit. Restylane and Juvederm are both hyaluronic acid based fillers, and can often be used interchangeably or in conjunction for different areas of the face. The most important consideration is the size of the product as thicker fillers are better used only for certain areas of the face.
What are the side effects of Restylane injections?
The most common side effects of Restylane fillers are redness, swelling, discomfort, bruising, localized tenderness, lumps.  Rare but serious side effects include infections such as herpes simplex, allergic reactions, keloids, and superficial necrosis at the site of the dermal filler injection. Unintentional injection into a blood vessel can cause serious complications, including blindness. The safety of Restylane injections while pregnant or breastfeeding has not been established. If having any perceived allergic reaction, it is best to contact your treating physician as this web site is not a substitute for medical advice.
Severe allergies to Restylane are rare. If you have a history of severe allergies or a history of anaphylaxis, or are allergic to lidocaine or gram-positive bacterial proteins, it is suggested to avoid having Restylane injections. If you have a history of scarring or are taking medications which prolong bleeding, it is best to review your entire medical history with Dr. Green before considering any cosmetic injections.
What are the contraindications for Restylane injections?
There are several contraindications to having Restylane injections which include:
a history of severe reactions (anaphylaxis)
allergy to lidocaine or gram-positive bacterial proteins used to make hyaluronic acid
prone to bleeding
bleeding disorder
allergy to gram-positive proteins
the safety during pregnancy or breastfeeding has not been established
an infection or outbreak of cysts or pimples at the proposed site of injection
For a thorough list of side effects and more information on Restylane dermal fillers, one can explore the RestylaneUSA website.
Restylane FAQs:
What is Restylane?
Restylane is an injectable, non-surgical facial dermal filler that has been designed not only to "fill in" lines and wrinkles in the face, but also add moisture to the skin. The effect of this added moisture makes the skin feel younger and fresher.
Restylane is a biodegradable dermal filler gel that is composed of hyaluronic acid, which occurs naturally in the body. In addition, Restylane is FDA approved to smooth moderate to severe facial wrinkles and nasolabial folds (smile lines).
Am I a candidate for Restylane injections?
Most people are likely to be suitable candidates for Restylane treatment. If you are pregnant or have recently given birth, have skin issues, or have a history of allergy to hylauronic acid, you should discuss this with Dr. Green prior to treatment, as you may not be suitable for this particular treatment. If you are taking medications which interfere with clotting and affect bleeding, such as Aspirin or Warfarin, these medications cause increased bruising and should be discussed with Dr. Green before treatment. Otherwise, if you are healthy and over the age of 21 and would like volume enhancement or replacement, you would be a good candidate for Restylane injections.
What is Restylane used for?
Restylane is used to restore lost volume in the mid face, treat laugh lines, under eye hollows in the tear trough area, lip enhancement, aging hands, smile lines, lip lines, and chin and jowl area. Depending on the anatomic area and the depth of the wrinkles or volume loss, different types of Restylane fillers are utilized from the Restylane family of products.
What is the cost of Restylane injections?
The cost of Restylane injections varies according to the number of syringes used and the type of Restylane dermal filler chosen. The cost also varies in different geographic areas and the skills and expertise of the treating board certified dermatologist versus a spa or clinic.
How long does Restylane last?
Restylane  and Restylane L lasts between six to nine months and Restylane Lyft lasts up to one year. Restylane Kysse for lips lasts nine to twelve months, and Restylane Silk up to one year in duration.
How much is Restylane Lyft?
Restylane Lyft is more expensive than regular Restylane and tends to last longer, up to one year in duration. Restylane Lyft is a thicker hyaluronic acid filler than the original Restylane-L.
How much is Restylane for under eye injections?
Generally only one syringe of Restylane L is needed for under eye injections. Very deep tear troughs may require two syringes to correct under eye hollows. The cost of Restylane for under eye injections varies as this is an advanced injector technique, and should not be relegated to spas or inexperienced injectors.
How much is Restylane Kysse?
Restylane Kysse is the latest injection for lip enhancement in the Restylane family of dermal fillers. It is composed of hyaluronic acid and the price varies from $1,000 to $1500, depending on the skill and background of the treating injector. A board certified cosmetic dermatologist or plastic surgeon will be more expensive than a spa or clinic with a nurse injector.
How does Restylane work?
Restylane works by increasing the hyaluronic acid within the skin. This adds volume to the skin and the effect of this is a near instant improvement that reduces lines and wrinkles on the face.
Is Restylane just for the face?
Generally Restylane is used to treat facial lines and wrinkles. In addition, it is possible to use Restylane to create fuller lips (Restylane L, Restylane Silk and Restylane Kysse are all used), and to help shape facial contours (Restylane Lyft) on areas such as the cheeks and chin, and add volume to your hands.
How long before Restylane settles?
Typically, dermal filler injections, including those within the Restylane family, take between 1-2 weeks to settle. There may be a minimal amount of swelling at or near the sites of injection for up to two weeks following treatment, after which your final results will be observable. Patients enjoy that even immediately after the injections, they can see a noticeable improvement in the appearance and quality of their skin.
Can I combine Restylane with other cosmetic procedures?
Restylane treatments can be combined with other cosmetic treatments such as Botox or Dysport, and other dermal fillers.  Many patients combine dermal fillers with chemical peels or lasers such as Thermage, Fraxel laser or Clear+Brilliant laser. For many patients, combining treatments is a recommended course of action, especially for those looking for a more complete solution to facial wrinkles and lines.
For those patents who want to have laser treatments in combination with Restylane, it is important to discuss this first with Dr. Green, to get a proper treatment plan in place. The correct order for the procedures and spacing between appointments needs to be planned, to have the best cosmetic results.
Which is better Juvederm or Restylane?
Juvederm and Restylane are both hyaluronic acid fillers and both come in different thicknesses and can be used in various areas of the face, neck, or hands. Choosing the best dermal fillers, or layering different filler treatments is an art. Experienced cosmetic injectors, like Dr. Michele Green in NYC, will use a wide variety of dermal fillers, to achieve the best cosmetic results.
Can Restylane even out uneven lips?
Yes, Dr. Green often uses Restylane to even out asymmetry in your lips, not just to make lips plumper. Many patients are asymmetric, whether it be in their cheeks, lips, oral commissures, or under eye area. One of the benefits of Restylane and other dermal fillers, is that it can restore and correct facial asymmetries in a matter of minutes, after only a single treatment.
How much Restylane is used for lip injections?
Typically, Dr. Michele Green uses only a single syringe or less or lip injections. The goal is to enhance your natural lips and not distort their appearance. For a more dramatic appearance, two syringes may be injected into the lips.
Can Restylane be used to treat acne scars?
Treating acne scars with dermal fillers and cosmetic lasers is one of Dr. Green's specialties. Yes, Restylane is often utilized to treat acne scars and restore lost collagen and volume. By injecting Restylane directly into acne scars and combining it with subcision, Dr. Green has developed a unique technique to immediately improve acne scars and stimulate collagen production.
Do Restylane Injections hurt?
Restylane-L, and all of the other dermal injections which Dr. Green uses from the Restylane family of injectables, contain built-in local anesthesia (lidocaine) which makes the procedure more comfortable.  Dr. Green also applies a topical lidocaine cream for 30-45 minutes before every dermal injectable procedure to help with patient comfort.  There is a small sting to Restylane injections but it is not a painful procedure.
What should I expect during the procedure?
Restylane is injected into the skin using very fine needles. Treatment generally takes between fifteen to thirty minutes to carry out. It is always important to discuss your cosmetic history and medical expectations with your healthcare provider, such as Dr. Green, before your Restylane treatment.
Depending on the treatment area and the individual, there may be some minimal discomfort. Depending on the anatomic area where you are having the Restylane injectable,  your dermatologist may recommend some pain relief, such as a local anesthetic cream applied to the treatment area.
Post treatment side effects may include temporary bruising, swelling, and numbness. These side effects should resolve within a few days to weeks of the treatment.
Before & After 1 syringe of Restylane in the lips
Who should be performing Restylane injections?
Only a board certified dermatologist or plastic surgeon should be injecting dermal fillers.  It is important to review the qualifications and experience of your injector to ensure you have the optimal results with the fewest side effects.
Is Restylane safe?
Restylane is FDA approved and and entirely safe, when performed under the guidance of a skilled and trained board certified dermatologist, like Dr. Michele Green.
How soon until I see results from Restylane injections?
The results from Restylane dermal fillers are immediate. Immediately after your treatment, you will see an improvement in the wrinkles and lines in your face. There may be some initial swelling after your injections, and the full cosmetic results are evident after two weeks. Dr. Green also asks patients to return after injections, two weeks later, to assess the results, to see if additional product may be necessary.
How long does Restylane last?
The effects of Restylane injections generally last from six to nine months. Restylane will naturally disappear from the body over time. When the dermal fillers start to dissolve, it is possible to have another series of Restylane injections.
Each type of Restylane filler lasts a different period of time. While generally Restylane fillers lasts 6 to 9 months in duration, there are some patients which metabolize dermal fillers faster than others. The exact mechanism for this metabolism is unknown but it may have to do with how expressive someone is and how much they use their muscles of facial expression. In addition, the degree of sun damage that a patient accumulates can affect the longevity of the product. In patients who metabolize Restylane more quickly, more frequent follow-up visits may be necessary.
Who makes Restylane?
Restylane was created originally by Medicis and is now distributed through the Galderma Corporation, which is a subsidiary of the Nestle corporation.
What is Restylane made of?
Restylane is composed of non-animal-based hyaluronic acid. Hyaluronic acid is a substance that naturally occurs in the body, in the dermal layer, and helps provide volume to the skin.
Is Restylane a hyaluronic acid?
Yes, Restylane is composed of hyaluronic acid. Hyaluronic acid is a naturally occurring substance in the skin that provides it with a supple, youthful appearance. The effects of Restylane injections can be reversed through an injection of hyaluronidase. Hyaluronidase is an enzyme that effectively dissolves hyaluronic acid.
Does Restylane build collagen?
Yes, Restylane does in fact build the body's own collagen. Dr. Green has been using Restylane to treat wrinkles and acne scars for many years. Over time, with continued injection, Restylane does stimulate the production of new collagen.
Can Restylane be dissolved?
Yes, one of the benefits of having a hyaluronic acid dermal filler injected, is that if you are unhappy with the results, it can be dissolved with Hyaluronidase. Hyaluronidase is an enzyme that will quickly dissolve any hyaluronic acid filler injected. It may take more than one treatment of Hyaluronidase to dissolve the product, depending on how many syringes of dermal fillers were used and their thickness.
How long does Restylane lip filler last?
On average, Restylane lip filler lasts between 6-9 months. However, many patients observe that their cosmetic results last for a year or more. Many patients choose to engage with an annual maintenance treatment session to keep up the best results.
How to get started with Restylane today
The Restylane family of products, manufactured by Galderma, are some of the most popular hyaluronic acid dermal fillers available for replenishing volume, enhancing the contour of various facial features, and eliminating the appearance of fine lines and creases. If you are interested in facial rejuvenation treatment with HA dermal fillers, Dr. Green is here to help. Dr. Green is a board-certified cosmetic dermatologist who is internationally renowned for her holistic approach and 'less is more' philosophy when it comes to injectable fillers.
Dr. Green is consistently voted as one of the best dermatologists in New York City by Castle Connolly, New York Magazine, and Super Doctors, for her artistry and expertise with dermal fillers. When you consult with Dr. Green for your Restylane injections, she will work with you to develop a treatment plan that is personalized to meet your specific skin concerns and deliver your ideal long-lasting and natural-looking results. To schedule a consultation with Dr. Green at her private dermatology office in the Upper East Side neighborhood of Manhattan, contact us online to make an appointment or call 212 535 3088.