Dark circles and under-eye hollows can appear due to hyperpigmentation and volume loss as collagen production decreases, creating a tired, stressed-out appearance. Under-eye shadows are made more visible by a lack of volume in the under-eye area and can make some patients feel like they look older, causing them to look for a way to fill in hollows under the eyes. When restoring lost volume on the face, a dermal filler is one of the best treatment options. On June 5th, 2023, Galderma announced the US Food and Drug Administration's approval of a new Restylane filler designed specifically for use under the eye: Restylane Eyelight.
Restylane Eyelight is the first FDA-approved hyaluronic acid dermal filler approved specifically for treating under-eye hollows, filling in the grooves under the eyes for smooth, natural-looking results. Using cross-linking NASHA gel technology, Restylane Eyelight boosts volume when injected into the tear trough area, erasing under-eye bags and dark shadows created by a lack of volume under the eye. When performed by a healthcare professional, such as board-certified dermatologist Dr. Michele Green, the treatment is quick and painless, providing patients with long-lasting results without the need for any downtime. Clinical studies also showed that patients were extremely satisfied with their results even one year after the initial hyaluronic acid filler injection. Restylane Eyelight will become available to qualified injectors like Dr. Green within the next few months.
Expert, board-certified dermatologist Dr. Michele Green has treated patients in her Upper East Side New York City office for over 25 years. Experienced in a myriad of cosmetic and medical treatments, Dr. Green provides patients with many dermal filler treatment options, including the Restylane and Juvederm families of filler, Radiesse, and Belotero. When it comes to injecting any kind of dermal filler, Dr. Green opts for a less-is-more approach, creating a smooth, bright, naturally youthful appearance for patients.
What is Restylane Eyelight?
On June 5th, 2023, Restylane Eyelight was announced as the newest member of the Restylane family of dermal fillers and Skinboosters to be approved by the US Food and Drug Administration (FDA). The hyaluronic acid-based dermal filler uses crosslinking and new NASHA technology to fill in under-eye hollows to erase the appearance of dark circles under the eyes caused by volume loss. Restylane Eyelight is uniquely approved for injection in the tear trough area under the eyes, as it is firm enough to restore lost volume under the eyes for long-lasting, natural-looking results.
What is Restylane eye filler used for?
Restylane Eyelight is designed and approved specifically for injection into the tear trough to fill in under-eye hollows and erase the appearance of under-eye shadows. Dark circles and shadows under the eyes can make people feel self-conscious, especially if they always hear people ask them if they are tired or stressed or always see themselves in photos and videos on social media. These under-eye shadows can be caused by coloration, hyperpigmentation, or volume loss. As we age, the production of the structural protein collagen decreases, which can result in the appearance of wrinkles, higher skin laxity, and volume loss. When this volume loss occurs under the eyes, it can result in under-eye hollows, which cast shadows under the eyes, causing them to look discolored. When under-eye hollows cause dark circles under the eyes, Restylane Eyelight is the best solution, as the hyaluronic acid filler helps to restore lost volume for smooth, firm skin in the treatment area.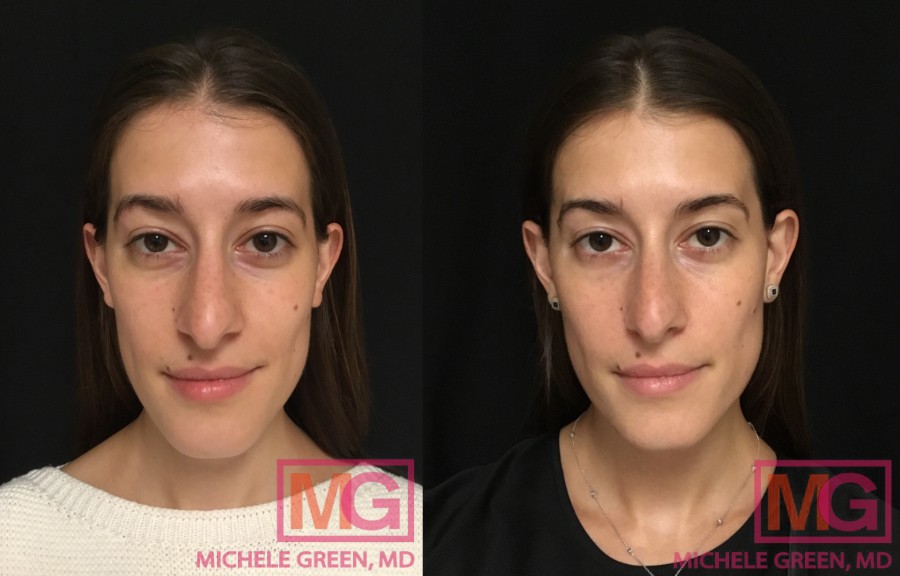 How does Restylane tear trough treatment work?
The entire Restylane family of fillers, including Restylane Eyelight, are hyaluronic acid fillers, meaning the active ingredient in the injectable gel is hyaluronic acid, a naturally occurring substance in the body that helps to keep the skin plump and hydrated. The Restylane Eyelight filler is treated with NASHA cross-linking technology, which keeps the gel firm and in place at the injection site. When injected into the treatment area, the hyaluronic acid filler immediately replaces lost volume, filling in under-eye hollows, erasing fine lines and wrinkles, and hydrating the skin. While the treatment is very long-lasting, the body will eventually break down the hyaluronic acid gel, causing the effects of the treatment to fade. However, the procedure can be repeated approximately once a year to maintain the results.
Restylane Eyelight technique
When beginning any form of dermal filler treatment, the first step is to schedule a consultation appointment with Dr. Michele Green, who will examine the treatment area and decide about the treatment or series of treatments that best meet your aesthetic goals. Suppose Restylane Eyelight is the optimal solution for you. In that case, Dr. Green will start the treatment process by marking the injection site and potentially applying a topical anesthetic to decrease any discomfort during the injections. Some injectors may use a blunt cannula for dermal fillers, but Dr. Green often prefers a fine needle for precision. The treatment itself is quick and straightforward and requires no downtime following the procedure, meaning patients can immediately return to their regularly scheduled activities. There are no adverse events associated with the treatment, though common; mild side effects can include swelling, bruising, redness, itchiness, tenderness, and lumps under the skin. These side effects are temporary and should be resolved within several days of receiving the injections. To minimize the potential for bruising and swelling, Dr. Green recommends avoiding blood thinners in the days leading up to the treatment.
What is Restylane Eyelight lidocaine?
The Restylane family of hyaluronic acid dermal fillers all contain the anesthetic lidocaine within the injectable solution, which helps numb the injection site and increase patient comfort during the procedure. Most patients find that no additional anesthetic is needed when the dermal filler contains lidocaine. However, Dr. Green may still apply a topical anesthetic to the treatment area to increase comfort during the procedure.
How long does Restylane last under the eyes?
Restylane Eyelight is a long-lasting hyaluronic acid filler that fills under-eye hollows to erase signs of dark shadows caused by volume loss. After clinical trials performed as a part of the FDA-approval process, researchers found that one year after receiving the Restylane Eyelight injections, 84% of patients were still satisfied with the results. The injectable filler can have results that last up to 18 months following the procedure, and patients can return to Dr. Green's office approximately once a year to receive a touch-up for continued results.
Restylane Eyelight reviews
To receive FDA approval, a treatment or product has to be shown to be safe and effective in clinical studies. Restylane Eyelight was reviewed in Phase 3, a double-blind, multi-center clinical study, after which the researchers asked patients to rate their satisfaction with the product. After 3 months, 87% of study participants observed a reduction in under-eye hollows, and 92% of patients reported feeling satisfied with the results at that time. After 1 year, 84% of patients still reported feeling satisfied with the results of the dermal filler treatment, and 93% of patients reported that they would like to receive the treatment again to maintain the results. Most patients who received the Restylane Eyelight dermal filler were pleased with the treatment results and were still experiencing positive and noticeable effects after one year.
Which Restylane is best for under the eyes?
Produced by the company Galderma, the Restylane portfolio of dermal fillers is extensive and offers different fillers that work best for different areas of the face and body. Restylane Eyelight was designed specifically for use under the eyes and is the best treatment option for under-eye shadows created by volume loss. If you are experiencing additional signs of the natural aging process, you may be interested in a liquid facelift, which uses dermal fillers to create a more naturally youthful appearance. The additional members of the Restylane family of dermal fillers are as follows:
Restylane Defyne – Created with the XpresHan technology, Restylane Defyne is best used for deep wrinkles along the nasolabial folds and around the mouth and for correcting mild to moderate chin recession. Restylane Defyne has a thicker gel than Restylane Refyne, making it ideal for deeper wrinkles and lasting up to a year.
Restylane Refyne – Restylane Refyne also uses the cross-linking XpresHan technology to correct mild to moderate laugh lines around the mouth, marionette lines extending down the chin, and overall facial wrinkles. With a thinner, more flexible gel, Restylane Refyne is best for erasing moderate lines and wrinkles while allowing for a full range of expressions. The results of Restylane Refyne can last for up to a year.
Restylane Lyft – With a large particle size and stiff gel, Restylane Lyft is best used to restore lost volume to the cheekbones and mid-face, reducing the appearance of facial hollows and contouring the cheeks. Restylane Lyft can last up to a year and can be used for hand rejuvenation, adding volume to the hands for a more youthful look.
Restylane Kysse – Crosslinked with BDDE, hyaluronic acid filler Restylane Kysse is best used for injections into and around the lips to add natural-looking fullness, promote symmetry, change the lip contour, and erase fine lines around the mouth. The flexible filler integrates into the lips, allowing patients to have pillowy, full, nicely contoured lips while maintaining full expressive capabilities.
What is Galderma?
Established in 1981, Galderma is a company dedicated to studying and producing dermatological products. With the announcement of the FDA approval of Restylane Eyelight, Galderma continues to add to its growing portfolio of Restylane fillers. One of the most used dermal fillers worldwide, more than 65 million Restylane treatments have been performed worldwide to date. The company continues to release and research new products, all dedicated to use on the skin.
How to get started with Restylane Eyelight tear trough filler
On June 5th, 2023, the company Galderma announced the FDA approval of their newest member of the Restylane family of dermal fillers: Restylane Eyelight, which was approved for use under the eyes. Patients experiencing under-eye hollows that make them tired or stressed can turn to this new dermal filler to replace lost volume for a smooth, naturally bright, youthful appearance. Restylane Eyelight will become available to experienced injectors, such as Dr. Michele Green, within the next few months.
Dr. Michele Green is an internationally renowned board-certified cosmetic dermatologist with over two and a half decades of experience providing some of the world's most discerning men and women with the best non-invasive treatment options available. For her dedication her patients and expertise, she is consistently identified as one of NYC's best dermatologists by Castle Connolly, New York Magazine, Super Doctors, and The New York Times. When you consult with Dr. Green at her private dermatology office in Manhattan's Upper East Side, she will work with you to develop a customized treatment plan for rejuvenation that best suits your needs and goals. To get started with the latest innovations in cosmetic dermatology, call the NYC-based office at 212-535-3088 or contact us online today to schedule a consultation with Dr. Green and see if Restylane Eyelight is the best cosmetic treatment for you.