One of the most popular trends in Dr. Michele Green's private NYC dermatology office is lip enhancement. Our lips are one of the most important parts of the body and often act as a focal point for the face. For this reason, patients often seek fuller lips or wish to enhance their lip plump, and create a more youthful appearance. Patients who have experienced age-related volume loss, or perhaps have naturally thin lips or a gummy smile can benefit from lip augmentation with the help of lip fillers. Botox lip flip and dermal fillers will also help treat lip lines from aging, sun damage, or smoking. Lip fillers and the lip flip can help boost confidence and create a poutier lip look without the need for invasive plastic surgery or downtime.
Lip Fillers are the most common non-invasive injectable technique for adding lip volume. Most lip fillers take advantage of hyaluronic acid, a natural substance produced in our bodies, to create a fuller lip. Hyaluronic acid dermal filler injections are FDA-approved to stimulate new collagen production at the injection site, which in turn provides additional volume and precise contouring of the lips. Popular hyaluronic acid lip fillers include such dermal filers as Restylane Kysse, Restylane® Silk, Juvederm Volbella, Juvederm® Ultra, and Belotero Balance.
One of the most popular lip injection techniques in Dr. Michele Green's boutique, Upper East Side Manhattan dermatology office, is the Botox lip flip. Botox lip flips use Botox – a neuromodulator – to relax the muscles around the edge of the lips. By releasing tension in the mouth area, the Botox lip flip treatment can reduce the appearance of vertical lip lines and curve the top lip upward and the lower lip downward as a means to create fuller lips. It's an excellent option for patients who have a gummy smile or for those seeking lip augmentation without having dermal fillers injected.
If you're frustrated by the appearance of thinner lips or are ready to have fuller, luscious lips, board-certified cosmetic dermatologist Dr. Michele Green is here to help. She is known for her special aesthetics artistry and injection techniques that effortlessly enhance and create beautiful, fuller lips, without any downtime. Dr. Green is consistently voted as one of the best cosmetic injections and dermatologists in NYC and is an expert in cosmetic procedures such as Fraxel laser, Thermage, dermal fillers, skincare, Botox®, chemical peels, and non-invasive body contouring. Dr. Green's "less is more" philosophy to cosmetic injectables will help rejuvenate and enhance your natural beauty, without the recovery time of traditional plastic surgery.
What is a Botox lip flip procedure?
The Botox lip flip is a non-invasive lip enhancement procedure that relies on Botox injections. Botox is a neuromodulator that is composed of Botulinum toxin type A. This toxin can disrupt nerve signals to muscles at or near the injection site. Botox is FDA-approved for the treatment of fine lines and dynamic wrinkles along the forehead, glabella, and 'crow's feet around the eyes. In addition, Botox can be used to treat wrinkles on the neck and lips. By "freezing" the nerve signals to the muscles, the muscles are forced to relax, which in turn can reduce the appearance and overuse of dynamic wrinkles.
For the Botox lip flip, Botox injections are applied to the area just outside the lips, which causes the muscles of the lips to relax. This in turn leads to a "flip" of the lip that curves the upper lip upward and the lower lip downward, providing a more luscious pout without adding additional volume. The Botox lip flip primarily affects the orbicularis oris muscle, which is the muscle that surrounds the lips. By relaxing tension in this muscle, the lip flip treatment can create the effect of fuller lips without any downtime.
The lip flip is a great alternative to dermal fillers since it is a more subtle change and does not alter or enlarge the shape of your lips. It may look more natural than other lip augmentation treatments. There is no volume added, but it typically does not last as long as other typical lip enhancement procedures like dermal filler injections of Restylane and Juvederm. Other alternative neurotoxins for the lip flip include other types of botulinum toxins including Dysport (abobotulinumtoxinA), Xeomin (incobotulinumtoxinA), and Jeauveau (prabotulinumtoxinA).
Who is a good candidate for the Botox lip flip procedure?
A good candidate for the Botox lip flip procedure is a patient over 21 years of age who wants fuller lips with a natural-looking appearance. If you have a gummy smile, the Botox lip flip treatment is an excellent option since the lip flip can relax the very muscle that causes a gummy smile. Contraindications for Botox injections are a history of a neuromuscular disorder. You are also advised to not get a lip flip if you have an active oral infection such as cold sores (herpes outbreak) or if you are currently pregnant. Additionally, patients who are interested in the Botox lip flip should not have a medical history of adverse reactions to botulinum toxin. When you work with Dr. Green, she'll be able to discuss your medical history, as well as your aesthetic needs and goals, to determine the best lip enhancement treatment plan for you.
What is the procedure for the Botox lip flip?
Getting started with a Botox lip flip is both simple and convenient. First, you'll meet with Dr. Green for an initial consultation where you'll discuss your aesthetic desires, and she'll also be able to assess your current lip shape and medical history to determine which treatments are right for you. From there, the appointment for the Botox lip flip is quite simple with the injection process itself taking around 5 minutes. During the treatment, you may feel a mild amount of tenderness, but this should dissipate quickly. Before the treatment, it's best to avoid alcohol and blood thinners so that the procedure does not cause unnecessary swelling or bruising.
After your Botox lip flip procedure, you'll be able to resume normal activity, such as eating and drinking. Over the next few days, Dr. Green recommends patients avoid activities like smoking, massaging or rubbing the lips, kissing, or sleeping with lips pressed against a pillow, as these can all add pressure to the lips and thus, negatively affect the results of the treatment. Though some lip fullness will be apparent just a few days after treatment, the majority of patients enjoy full results of the Botox lip flip injections two weeks after injection. From that point on, lip enhancement with the Botox lip flip can be repeated every 4 months to maintain these results.
Where do you inject Botox for a lip flip?
To achieve the Botox lip flip, the injector injects Botox in small amounts into a few key areas around the lips. Typically, the Botox injections are placed right near the cupid's bow above the upper lip and around the corners of the mouth. Botox is also injected along the vermillion border, or along the edges of the mouth to relax precise areas of the orbicularis oris muscle. Once the orbicularis oris muscle is relaxed, the upper lips and lower lips protrude more and give the appearance of beautiful, natural-looking lips with a more voluminous pout.
How long does it take for a Botox lip flip to show?
The full cosmetic results of the Botox lip flip procedure are present in two weeks time. Once the Botox is injected into the orbicularis oris muscles surrounding the mouth, it gradually starts relaxing the muscle and causing the upper lip to appear larger. The maximum results are typically presented two weeks after the procedure.
How long does a Botox lip flip last?
The Botox lip flip is considered a temporary treatment but typically lasts three to four months after injection. Gradually, the botulinum toxin gets absorbed into the body and the effects begin to wear off after 3-4 months. Most patients get touch-up treatments every three to four months to maintain the best cosmetic results.
How much is a Botox lip flip?
The cost of the Botox lip flip will depend on several factors like the number of units you will need to achieve your desired result, the geographic location, and the medical expertise of your healthcare provider. A nurse injector in a Medspa will typically be less expensive than a board-certified cosmetic dermatologist but is generally less qualified and experienced. As such, it is always recommended to seek treatment from an expert, board-certified dermatologist, such as Dr. Green, in order to ensure the best results and to reduce the risk of side effects. The Botox lip flip is typically less expensive than dermal lip fillers like Juvederm and Restylane, as Botox lip flip typically only uses fewer units of Botox. As such, the Botox lip flip is a natural-looking, cost-effective way to achieve a perfect pout.
How many units of Botox for lip flip?
In general, only about 4-8 units of Botox are needed for the Botox lip flip. This means that patients can enjoy rejuvenating lip enhancement with a small amount of Botox formulation. The number of units required for lip flip may vary depending on the brand of botulinum toxin type A being administered. For example, brand name Botox formulation typically requires only 4-8 units, whereas Dysport (a similarly formulated neuromodulator) may require more units.
Before and after – 1 syringe Juvederm Ultra Plus to lips and Botox to upper lip area
What are the side effects of a Botox lip flip procedure?
The Botox lip flip is a simple and quick procedure that requires the injection of Botox into the areas just surrounding the mouth, which paralyzes and relaxes the orbicularis oris muscle. It is currently an off-label treatment since Botox is not yet FDA-approved for injection into this particular area. This procedure has minimal side effects which include mild swelling or bruising that typically resolves within 24-48 hours. In rare cases, Botox injections around the lip area may cause lip asymmetry, but this is an uncommon side effect.
It is best to consult an experienced board-certified dermatologist, like Dr. Michele Green for your cosmetic Botox injections. Medical spas, wellness centers, and "Botox parties" may offer less expensive Botox injections, but serious side effects of Botox can arise with an inexperienced injector. An inexperienced injector can inject too much Botox or inject into the wrong areas causing difficulty speaking and breathing. If you experienced any of these symptoms after any Botox treatment, you should contact a medical professional immediately. Dr. Green is an expert injector that uses a "less-is-more" approach to provide artful, natural-looking, subtle enhancement every time. When you work with Dr. Green, you can rest assured that your safety and satisfaction are her top priority.
Can you reverse a Botox lip flip?
No, you cannot reverse a Botox lip flip. Once you get injected, you will have to wait three for the Botox injections to naturally wear off. As a result, it is of utmost importance to find an experienced board-certified dermatologist, like Dr. Michele Green, who can safely inject in the precise areas needed to bring about the best cosmetic results.
Does a Botox lip flip hurt?
Many patients worry about comfort during injectable treatments and worry that non-invasive injectable cosmetic procedures may be painful. However, these injectable treatments are incredibly mild, and the Botox lip flip is pain-free. Most patients do not need to apply topical numbing cream before the injection. There are typically no side effects from a Botox lip flip compared to hyaluronic acid dermal fillers like Restylane and Juvederm, which may cause which can cause swelling and bruising.
Can you combine lip fillers with a Botox lip flip?
Yes! The use of both lip fillers and a Botox lip flip for even more lush and voluminous lips has soared in popularity. Many patients opt to use the Botox lip flip for their upper lip to enhance the shape while getting dermal fillers for their lower lip to extend the results. Some patients also opt to have a small amount of lip filler added to the cupid's bow, for fuller-looking lips while maintaining a heart shape in the center of the lips. Be sure to discuss what your desired look is with Dr. Green to see which option will provide you with the best cosmetic results.
Botox lip flip versus a surgical lip lift
Botox lip flip treatment is an entirely non-invasive cosmetic procedure that can enhance a patient's pout without the need for cosmetic surgery or downtime. Botox lip flip results are very different from a surgical lip lift. A surgical lip lift is an invasive procedure, performed by plastic surgeons, where an incision is made above the upper lip, typically under the nose, and a small flap of skin is removed. The remaining skin is sutured, creating a pull on the upper lip that has a lifting effect on the lip itself. This procedure is much less popular than the Botox lip flip, as the results are permanent, with significant downtime. There are also potential surgical complications from a surgical lip lift such as redness, keloid formation, and scarring. The Botox lip flip treatment offers patients flexible lip enhancement without the risk of scarring or any downtime.
Can you kiss after a Botox lip flip?
For the first day after treatment, we advise against kissing and anything that could potentially put pressure on the lips. In addition to kissing, activities to avoid can include, smoking, massaging the treatment area, rubbing your lips, sleeping face down with your lips on the pillow. Any additional pressure might cause the injected Botox to migrate which can negatively impact the lip shape.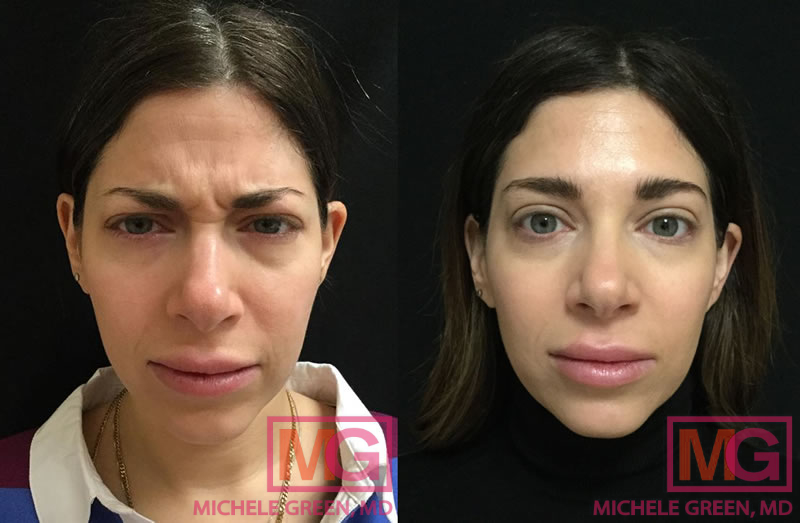 Botox lip flip and social media
With social media platforms like Tiktok and Instagram, cosmetic procedures such as the Botox lip flip are becoming more and more well known. Social media has become an outlet for people to discuss and normalize the practice of receiving cosmetic procedures, such as Botox or dermal fillers, in order to achieve their ideal appearance. With celebrities and influencers sharing their beauty secrets, cosmetic practices become de-mystified and much more accessible. Just be sure to always do your research about a procedure and find an expert, board-certified dermatologist for the best results.
Do Botox lip flips work?
Yes! The Botox lip flip, when offered by an experience injector, like Dr. Green, is a highly effective way to improve your lips and achieve fuller lips without altering the natural shape of your lips. Patients who find that their natural lip disappears when they smile, as well as patients who have a naturally gummy smile, tend to achieve the most satisfactory results with Botox lip flip as opposed to conventional lip fillers. In addition, Botox lip flip can be enhanced by dermal fillers, as they are complementary treatments. For example, some patients opt to receive Botox lip flip treatment in the upper lip, with a small amount of lip filler added to the cupid's bow, to enhance fullness while maintaining a clear heart shape to the center of the lips.
How do I get started with a Botox lip flip today?
Dr. Michele S. Green is an expert cosmetic dermatologist, who was among the first doctors in NYC to administer Botox® injections to her patients. With over 25 years of experience in dermal fillers and cosmetic injections, her "less is more" approach to facial rejuvenation leads to the most beautiful and natural-looking cosmetic results. Dr. Green is consistently voted one of the best dermatologists in NYC by Castle Connolly, New York Magazine, Super Doctors, and the New York Times and will develop a customized cosmetic treatment plan that best fits your needs.
If you're interested in a non-invasive cosmetic approach which can improve the look of a thin lip or enhance lip volume, without any downtime, the Botox lip flip or dermal fillers may be right for you. To find out more about the Botox lip flip or any other cosmetic procedures like lip augmentation, cosmetic injectables, Botox, Juvederm, Restylane, Kybella injections, laser treatments, laser hair removal, Thermage, and the best skin care and anti-aging procedures, please call our NYC office today at 212-535-3088 or contact us online to schedule a consultation with Dr. Green.