Dr. Michele Green is thrilled to provide the innovative Fraxel laser to her private patients, in her New York City dermatology practice. The Fraxel laser offers state of the art skin resurfacing treatment with minimal associated discomfort and downtime. Fraxel® laser treatment is a non-invasive cosmetic procedure that enables patients to achieve long-lasting cosmetic results with significant improvement in the overall appearance of your complexion. There is minimal downtime associated with the Fraxel laser, unlike traditional laser skin resurfacing procedures. Fraxel laser skin resurfacing is an FDA-approved fractional laser technology that restores uneven skin tone, hyperpigmentation and texture to reveal clear, beautiful skin.
The Fraxel® Dual laser can be used to treat the skin in essentially any area of the body, and is commonly used to rejuvenate the appearance of the face, neck, décolletage, back, hands, arms, and legs. The Fraxel Dual laser operates on two different wavelengths of light, which gives it the unique ability to target a myriad of skin conditions. Fraxel is designed to treat overall pigmentation, brown spots, sun spots, sun damage, fine lines, wrinkles, stretch marks, skin texture, enlarged pore size, acne scarring, and surgical scars. Dr. Green refers to the Fraxel laser as "the magic eraser" due to the amazing results that she achieves with Fraxel laser treatment for skin rejuvenation in her private Upper East Side practice.
Dr. Michele Green is a board-certified cosmetic dermatologist with over 25 years of experience providing her patients from around the globe with the best non-invasive procedures available. When it comes to rejuvenating the appearance, Dr. Green is internationally recognized and appreciated for using cutting-edge technology and innovative treatment techniques, as well as her holistic approach to treatment and her 'less is more' philosophy. She is consistently voted as one of NYC's best dermatologists by Castle Connolly, Super Doctors, and New York Magazine. When you consult with Dr. Green, you'll work with her to customize a treatment plan that is best-suited to addressing your specific skin needs and achieving your personal cosmetic goals.
What is Fraxel Laser?
There are a number of fractionated lasers on the market, but there is only one Fraxel laser. Many companies may refer to their laser devices as a "Fraxel" type laser but the original Fraxel, manufactured by Solta Medical, was the first fractionated laser of its kind and has its own unique technology. The technology behind Fraxel is revolutionary in that it can accurately treat thousands of microscopic areas of the skin with pinpoint laser precision. The controlled, targeted micro-injuries in the skin created by Fraxel induce the natural wound healing process of the skin, resulting in the production of new collagen. The precision of the Fraxel laser allows for minimal downtime or discomfort as well as enhances the observed cosmetic results. One of the greatest benefits associated with Fraxel laser treatment is that there are both immediate and long-term results. Within days of your treatment, both the skin tone and texture will be immediately improved. Over the course of the next months following your treatment session with Fraxel, you will see increased improvement in your skin rejuvenation as new collagen is formed over time. When treating acne scars, or wrinkles, multiple treatments are often required to achieve the optimal cosmetic results.
What does Fraxel Laser treat?
Fraxel laser is FDA-approved to treat the following skin conditions:
Acne Scars, especially atrophic scars, such as ice pick and boxcar scars.
Surgical scars, post-op scars, scars from injuries
Fine lines
Wrinkles
Enlarged pores
Sun spots, age spots and freckles
Uneven pigmentation and discoloration
Sun damage
Skin tone and texture
Perioral lines which are fine lines around the mouth
Periocular lines are fine lines around the eyes
Stretch marks
It is not however used for Melasma
Fraxel laser resurfacing
In the past, the laser skin resurfacing lasers available to patients were primarily ablative lasers, which are associated with an extremely long recovery time and a great amount of discomfort. Thanks to the innovative Fraxel laser treatment, patients can enjoy the skin-rejuvenating benefits of a laser resurfacing treatment without the discomfort or extensive downtime. The Fraxel technology employs microscopic columns that penetrate deep into the skin, only treating a fraction of the skin tissue at a time, which leaves the surrounding tissue unaffected. This fractionated technology promotes both faster and a more effective healing process. Fraxel laser was the first fractionated laser approved by the FDA for non-ablative laser skin resurfacing. The result of treatment with Fraxel laser is observable rejuvenation and the production of new skin with healthier skin cells. The Fraxel laser treatment will restore your skin's natural beauty by improving the skin's surface, and stimulating the production of new collagen and elastin. The result of this increased collagen stimulation is younger looking, more radiant skin.
35-44 year old female, Fraxel before and after (3 weeks)
How Does Fraxel® Laser Work?
The Fraxel® Dual laser is equipped with two distinct settings, or laser beams, which means that there are actually two lasers in one. The 1927 nm wavelength is a state-of–the-art Thulium laser which allows us to remove pigmentation, skin discoloration, age spots, and sun damage from the top layer of the skin quickly, evenly, and with almost no down time. This specific wavelength of energy targets specific chromophores, or colored elements within skin cells, to create a controlled, local thermal reaction to diminish pigmented spots. The Fraxel Dual is equipped with a Zimmer which allows cold air to be emitted at the same time as the laser, which is designed to minimize any discomfort.
The Erbium component of the Fraxel® Dual laser utilizes the 1550 nm wavelength to improve skin texture, fine lines, wrinkles, and acne scars. The Erbium technology focuses the energy in the deeper areas of the skin, stimulating new collagen production. The new collagen that is produced ultimately improves the appearance of fine lines, wrinkles, skin texture, acne scars, pore size, stretch marks, and surgical scars.
Fraxel Dual utilizes fractionated light energy that is delivered to the skin at in a precise and targeted manner. Fraxel creates microscopic injuries to the skin to stimulate the natural healing process, which allows for new collagen production. The fractionated energy is beneficial because the areas of the skin where the energy does not penetrate are unharmed, leading to faster recovery time than traditional skin resurfacing lasers.
How is the Fraxel Treatment Procedure Performed?
Typically, a patient will first consult with Dr. Michele Green to discuss the various skin conditions that they are seeking to correct from acne scars to rosacea, hyperpigmentation, fine lines and wrinkles, or stretch marks. Once it is determined that the Fraxel laser is the best course of treatment, the procedure may be performed on the same day or scheduled for a later date, depending on preference and time allowance. On the day of the treatment, a topical numbing cream is applied to the entire area for one hour before treatment. This step helps to eliminate any potential discomfort that could be experienced. The Fraxel Dual 1550/1927 treatment session takes approximately 15 minutes to complete when performing on the face. Larger areas of the body, such as legs and arms, may take up to 30 minutes or longer to perform.
Immediately after the procedure, your skin will feel warm as if it had a mild sunburn. Cold-water compresses will be applied to the skin after treatment and this can be repeated at home if necessary. Afterwards, patients can apply moisturizer but must practice strict sun avoidance.
Many patients choose to combine their Fraxel laser treatment with other skin rejuvenating procedures to achieve their ideal cosmetic results. For patients who struggle with facial redness or rosacea, the V-Beam laser can be performed at the same time as the Fraxel laser. V-Beam is a non-invasive laser treatment that operates on a wavelength which exclusively targets red pigment in the skin. V-Beam efficiently reduces the appearance of pigmented acne scars, broken capillaries, stretch marks, rosacea, and other forms of facial redness. In addition, cosmetic injectables such as Botox and Juvederm can easily be combined with the Fraxel Laser treatment to achieve your best cosmetic results.
Depending on your needs, whether it be overall sun damage, acne scars or wrinkles, Dr. Green can customize a treatment protocol just for you. We can use either the 100% Thulium laser to treat brown pigmentation or the 100% Erbium to treat primarily fine lines, wrinkles, scars, and textures. Dr. Green often uses a combined treatment with both Thulium and Erbium for more comprehensive results. The beauty of the Fraxel® Dual is that it can be tailor-made for each individual treatment for your unique needs.
Fraxel® delivers amazing results with almost no down time. Depending on the degree of pigmentation and the number of age spots, an area can be treated with as little as two or three treatments. The result is beautiful, luminous skin. Treating fine lines, scars, and wrinkles, generally requires four to five treatments at monthly intervals. The results are overall improvement in skin tone, texture, fine lines, and a healthier and younger-looking appearance.
How to care for skin after Fraxel laser treatment
After the Fraxel treatment, patients should use a mild cleanser and a gentle moisturizer, such as MGSKINLABS Gentle Cleanser and Absolute Recovery Anti-Wrinkle Cream. All skincare products should be non-irritating and non-comedogenic for the first week after the Fraxel treatment. Brands like Cetaphil, CeraVe, and Aveeno offer gentle over-the-counter products catered to sensitive skin. While the treated skin is sloughing off, avoid picking and scratching at the skin. Avoid products that can potentially irritate the skin, like retinol, Retin-A, hydroquinone, AHAs, BHAs, and exfoliating scrubs. You can resume your normal skincare regimen when the treated skin is fully healed. While your skin is healing, it is important to keep the treated area clean, so avoid smoking, excessive sweating, and swimming.
It is important to protect your skin from the sun after Fraxel laser treatment to prevent sun damage. Apply a broad-spectrum sunscreen with SPF 30 or higher and reapply every 90 minutes. Avoid direct sun exposure for at least 3 months after the laser treatment, and wear sun protective clothing such as a wide-brimmed hat if you are in the sun.
Fraxel Laser FAQs
Am I a candidate for Fraxel laser treatment?
The best candidates for Fraxel® laser resurfacing are individuals that are in good general health, mentally and physically, and have the desire to address specific skin concerns such as fine lines and wrinkles, freckles, age spots, stretch marks, pore size, or acne scarring. To be safely and effectively treated with Fraxel, patients should fall somewhere between the Fitzpatrick skin type I to type III skin tones. Patients with darker skin tones are at higher risk for developing unwanted side effects or undesirable cosmetic results if treated with the Fraxel laser treatment due to the interaction between the laser and the skin pigment. Dr. Green offers a number of excellent alternatives to Fraxel treatment for patients with pigmented skin that are safe, effective, and produce optimal cosmetic results. Targeted chemical peels and the eMatrix sublative rejuvenation laser treatment are just two examples of such treatments. It is always recommended that patients who are struggling with active acne breakouts that are moderate to severe first treat the acne. Once the breakouts are under control, other skin conditions may be effectively addressed with Fraxel laser treatment.
Should melasma be treated by the Fraxel laser?
No! Patients that have melasma should do their best to avoid having any laser skin resurfacing treatment, including treatment with the Fraxel laser. The reason is that laser treatment can actually worsen the appearance of hyperpigmentation associated with melasma. Melasma can still be treated in the case that a patient has been treated with a laser, though it is often much more challenging to diminish. It is best to treat melasma through topical treatments such as chemical peels, such as Cosmelan. If melasma is a skin concern that you would like to address, or if you are unsure whether the hyperpigmentation that you are experiencing is in fact melasma, consult with Dr. Michele Green in NYC. Dr. Green has over 25 years of experience treating patients from around the globe for a myriad of skin conditions, including melasma and other forms of hyperpigmentation. It is also important to maintain realistic expectations about the cosmetic results of any laser, including Fraxel.
How many Fraxel treatment sessions do you need?
When treating facial pigmentation, if you suffer from a great deal of sun damage and sun spots, it generally takes 3 Fraxel laser treatments, spaced one month apart, to achieve the best results. Since each Fraxel laser session treats approximately 25 to 40 percent of the area at a time, it makes sense that you will need multiple sessions to have the best cosmetic results.
For patients with fine lines, wrinkles, or acne scars, depending on the severity of the condition, generally five treatments are recommended, scheduled at least one month apart. While there is immediately improvement after the laser treatment, new collagen is formed for months after each Fraxel laser treatment, for continued rejuvenation.
28 year old female, Fraxel & 1 syringe of Juvederm on lips – 4 weeks
Does Fraxel treatment tighten the skin?
Fraxel is an excellent laser for improving skin tone and texture, reducing lines and wrinkles around the face, especially lines around the eyes and mouth.  It also improves the appearance of acne scars and surgical scars. Fraxel laser treats sun damage and sun spots. Fraxel does produce some skin tightening when new collagen is formed, using the 1550 setting. However, a true skin tightening laser, such as Thermage, is able to provide much greater skin tightening results. Thermage utilizes radiofrequency technology to tighten the skin, on the face and body, producing new collagen and providing a more youthful appearance. Many patients choose to combine both Thermage and Fraxel treatments into their treatment plan to maximize their rejuvenation results.
1 treatment of Fraxel – 2 weeks later
What are the side effects of Fraxel?
Fraxel is a non-ablative laser, so there are not the same risks factors that are involved with an ablative laser treatment. However, there is still the potential that laser treatment can result in side effects such as scarring, hyperpigmentation, and infection. If there is a history of acne breakouts, Dr. Green may prescribe an oral antibiotic to be used immediately after your laser treatment.  If there is a history of herpes simplex (cold sores), you may be advised to take Valtrex the day of the procedure in order to prevent an outbreak.
When you have your Fraxel laser treatment with a board-certified dermatologist, like Dr. Michele Green in NYC, the risk of experiencing unwanted side effects or poor results is extremely low. It is imperative to research the provider performing your laser resurfacing treatment before undergoing a procedure to get the best cosmetic results. Dr. Green is an internationally renowned expert in the field of dermatology with over 25 years of experience providing patients with optimal facial rejuvenation results and will help you determine which unique combination of non-invasive treatments will cater best to your situation.
It is very important to use proper sun protection after your Fraxel laser treatment. Dr. Green recommends using a sunscreen that has an SPF 30 or higher, which should be repeated when outside throughout the day. Use a gentle, non-comedogenic moisturizer after the Fraxel treatment, several times a day, such as MGSKINLABS, Inc Recovery Cream and avoiding the sun, to prevent any skin damage from occurring.
Although Fraxel is approved for the treatment of melasma, Dr. Green does not recommend the Fraxel laser for patients suffering with melasma. Patients of lighter skin types, skin types I to III , can be safely treated with the Fraxel laser. Patients with darker skin types, greater than type III, should avoid being treated with the Fraxel laser.
What should I expect during treatment?
One hour before your treatment with Fraxel, a topical anesthetic is applied to the skin to eliminate any potential that may be experienced during the procedure itself. After the numbing cream has been on the treatment area for about one hour, the cream will be removed and your skin will be sterilized. Throughout the duration of the treatment, you'll wear protective goggles for your eyes. The laser energy is delivered in passes, which are repeated in passes until the appropriate level of correction is achieved. You will feel a little stinging or heat during your treatment. Your appointment length will vary depending on how large the treatment area is as well as the level of correction needed.
What should I expect after Fraxel treatment?
If you are having the Fraxel laser for acne scars alone, the 1550 nm setting is used, and you will only have some redness and swelling for 48 hours. Proper skin care, which consists of moisturizer and sunscreen is important post-treatment.
When Fraxel laser treatment is designed for hyperpigmentation and sun spots, the 1927 nm wavelength is utilized and there are about 5 to 7 days of peeling. The first two days there is some redness like a sunburn, and by day 3 to 7, the skin peels off like rough sandpaper.  It is important to use lotion, and avoid sun exposure to your new skin.
Is is important not to use any hydroquinone, retinoids, or exfoliating products during this post-treatment period to avoid any skin damage. The best skin care products to use at this time are gentle cleansers and moisturizes, as well as a sunscreen of SPF 30 or higher. If you have any acne breakouts, you should contact Dr. Green and she may prescribe an oral antibiotic for you.
One of the great benefits of fractional laser resurfacing is that there is not any significant amount of down time, with either setting you choose. After Fraxel laser, you will still be able to do all of the normal things that you did before the laser.  It is only the day of the procedure when you will have some immediate discomfort after the numbing cream wears off, which dissipate after a few hours.
How soon can I see results from Fraxel?
Immediately after treatment, your skin will look red or pink. Over the next few days, this will fade to reveal smoother, more youthful looking skin with fewer age spots, freckles and acne scars. Several treatments are typically recommended for the most impressive results, and these should be spaced anywhere from four to six weeks apart.
How long do Fraxel results last?
The results of Fraxel last for at least one year for hyperpigmentation or sun spots. If you avoid the sun and do not get new sun damage, the positive effect of Fraxel can last for years. Some patients come periodically to have a touch-up with the Clear + Brilliant laser. The Clear + Brilliant laser is a "Mini Fraxel", favored by celebrities like Drew Barrymore, with no downtime whatsoever.
What is Fraxel laser good for?
Fraxel is an amazing skin resurfacing laser designed to address skin texture, dullness, sun damage (sun spots), age spots, brown spots, fine lines and wrinkles, and acne or surgical scars. This revolutionary laser will diminish the appearance of crow's feet and brown spots, improve stubborn acne scars, and create a rejuvenated, healthy-looking complexion. Fraxel laser can be used on various areas of the body. Popular treatment areas include face, neck, chest, hands, and arms. Fraxel treatment is also well known to effectively treat acne scars as the laser treatment will stimulate new collagen production.
Can Fraxel laser treat my acne scars?
Yes! Fraxel laser is amazing at treating many different types of acne scars.  It is best at treating atrophic acne scars, such as ice pick, rolling, and boxcar scars. It is not as successful at treating hypertrophic scars. Fraxel is also designed to treat light skin types and not patients who have acne scars with darker skin tones. Patients with acne scars often have low self esteem due to these scars and Fraxel can help treat these scars and improve their appearance.
Does Fraxel help with acne?
Fraxel is great for treating acne scars, whether they are atrophic scars or hyperpigmentation, but it is not recommended for treating acne breakouts. Fraxel is a great option for treating acne scars after the acne is under control.
There are numerous acne treatments available to get rid of all types of acne, whether they are comedones (whiteheads and blackheads), papules, pustules, cysts, or nodules. Prescription acne treatments include oral antibiotics (doxycycline, minocycline, tetracycline), topical antibiotics (erythromycin, clindamycin), spironolactone, and Accutane. In-office acne treatments include HydraFacials, acne surgery, VBeam, and photodynamic therapy.
There are various skincare products on the market that is specifically formulated to treat acne. Common acne-fighting ingredients include salicylic acid, glycolic acid, and benzoyl peroxide. If you are looking to finally get your acne under control, consult with Dr. Michele Green who will thoroughly assess your skin and medical history to create the best treatment protocol for you.
Is Fraxel painful?
No. Dr. Green prescribes a topical numbing cream to her patients that should be applied to the treatment area one hour before your Fraxel treatment to minimize any discomfort. Most patients describe feeling minor stinging or heat, with no pain associated with the procedure.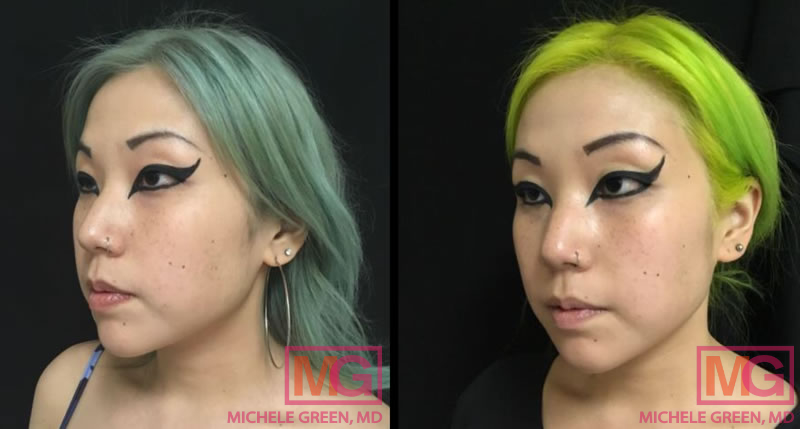 Are there different types of Fraxel lasers?
There are three types of Fraxel laser treatments currently available. The most popular type of Fraxel, which is typically found in a dermatologist's office, like Dr. Green, is the Fraxel dual laser. Fraxel Dual is the newest version of Fraxel lasers that combines the benefits of both of its predecessors, Fraxel Repair and Fraxel Restore. Fraxel Dual produces comparable results of ablative lasers with the gentler benefits of non-ablative lasers. Fraxel Dual is a nonablative laser that utilizes two different wavelengths: 1550 nm and 1927 nm. The 1550 nm wavelength Erbium is effective in treating acne scars, surgical scars, fine lines, pore size, and uneven skin texture. The Thulium 1927 nm works superficially, precisely targeting pigmented spots without affecting the surrounding skin. Due to its dual wavelength and fractionated laser technology, it is able to treat the skin in a non-ablative manner with little down time.
The Fraxel Re:pair is an ablative laser that uses fractional CO2 to rejuvenate the skin. Fraxel Repair delivers an intense wavelength of light, breaking up small columns in the outer layer of the skin to stimulate new collagen and elastin production. Fraxel Repair can be used to treat sunspots, uneven skin tone and texture, deep wrinkles, and scarring to produce a rejuvenating effect. Because Fraxel Repair is an ablative laser, there is significant downtime associated with the treatment, usually lasting about one week. This is a more aggressive laser that is suitable for skin with severe damage.
The Fraxel Re:store is a nonablative laser that uses the Erbium 1550 nm wavelength energy to heat the skin and stimulate collagen synthesis. It is more gentle alternative to Fraxel Re:pair, so it is effective in treating moderate damage on the skin, such as fine lines, pigmentation, and uneven texture. There is little downtime associated with Fraxel Restore, usually lasting 1-2 days.
Is Fraxel worth it?
Yes! Fraxel is an amazing cosmetic laser treatment. Many celebrities and actors have had Fraxel treatments to rejuvenate the skin to prepare for the high-definition cameras. Fraxel has proven results for sun damage, acne scars, fine lines, and sun spots. Commitment to the series of treatments yields outstanding results.
Should a dermatologist or MedSpa perform Fraxel laser resurfacing?
When considering having any cosmetic dermatology procedure on your face, it is best to consult a board-certified dermatologist who has the experience and skills to perform Fraxel laser treatment. A board-certified dermatologist or plastic surgeon will have advanced training in lasers and skin care that technicians at a spa do not have. Be sure to research your treating physician to ensure that they are certified in Fraxel and have years of experience in treating cosmetic patients with lasers.
How much does Fraxel laser cost?
Fraxel laser costs vary based on the area of the body treated and if multiple areas are being treated at the same time. Generally, prices also depend on the geographic area of the office or clinic. The price for Fraxel laser treatment varies if you are having an expert in Fraxel performing your laser treatment, or if you having a technician at a MedSpa or a clinic treat you. Fraxel laser is approximately $1500 per session for the face. In general, an experienced board-certified dermatologist or plastic surgeon will be more expensive than an uncertified technician, who is not trained by Solta to perform this laser.
Additional Fraxel & Laser Resurfacing FAQs
What is laser resurfacing?
Laser resurfacing is the process of using concentrated light energy to remove damaged cells from the outer layers of the skin. Ablative laser resurfacing provides a deeper level of correction, removing the epidermis (outermost layer of the skin) and tightening the dermis (sub-layer of the skin). Recovery time often takes a period of several weeks or more. Non-ablative laser resurfacing also removes sun-damaged skin cells but uses a shallower penetration of the epidermis. Because the intensity is less than an ablative laser, several sessions are typically required for best results. There is minimal downtime and recovery following non-ablative laser resurfacing.
Fraxel® has both ablative and non-ablative capabilities, both of which can improve skin tone and texture. Freckles, age spots or other pigmentation irregularities like acne scars can be effectively minimized with fractional laser resurfacing. Fine lines and wrinkles will become less noticeable, and even acne scars can be diminished.
How does laser resurfacing work?
Laser resurfacing uses microbeams of laser energy to create controlled damage in the target areas. This process simultaneously removes thin layers of damaged skin while promoting the natural healing processes of the body to create new, healthy tissue. The final result is skin that looks and feels smoother, more evenly pigmented, and younger. Because sun-damaged and pre-cancerous skin cells are removed during laser resurfacing, your skin's health can actually improves as well.
74 year old with AlexTrivantage & Fraxel
What is the difference between Fraxel laser treatment and other skin resurfacing lasers?
Fraxel laser uses nonablative, fractionated laser technology.  Other skin resurfacing lasers, in the past, used ablative technology. Ablative lasers create a wound which removes the thin outer layer of skin (epidermis) and heats the underlying skin (dermis). This ablation creates a controlled thermal injury to the skin. As the top layer of skin regrows, new collagen fibers are generated, and the treated skin becomes smoother. However, due to the thermal injury created with ablative lasers like carbon dioxide (CO2) lasers, there is significant down time involved as the skin takes time to heal. Nonablative lasers, like Fraxel laser, are able to stimulate new collagen and improve skin ton and texture with minimal recovery time because of the revolutionary fractionated laser technology.
What makes Fraxel® different?
Fraxel® is a nonablative fractionated laser that treats the target areas while leaving untreated skin untouched, promoting faster healing and less downtime. This less aggressive approach to laser skin resurfacing gives Dr. Green greater precision while minimizing the risk of complications. The minimal downtime is also convenient for patients with busy lives who are unable to set aside days to heal.
Which is better, Fraxel or CO2 laser?
Both Fraxel and CO2 laser can treat signs of aging, fine lines and wrinkles, acne scars, and sun spots or age spots. CO2 lasers emit energy with 10,600 nm wavelength that is absorbed by the water in the skin cells, leading to the removal of the superficial layer of the skin. This is called skin resurfacing. This controlled heat injury to the skin stimulates collagen synthesis in the deeper layer of the skin, resulting in smoother, tighter, and elastic skin. Ablative CO2 lasers are more aggressive than nonablative lasers, involving the vaporization of the skin tissue to produce more dramatic effects and improvements. Fractional CO2 lasers are milder with faster recovery time. It utilize a large number of microbeams that creates columns of ablation in the skin without damaging the surrounding skin. This minimizes risk of side effects because it is more targeted. Fraxel Dual uses fractionated light energy that is broken up into thousands of microscopic beams. Fraxel uses two different wavelengths to tackle specific needs: 1550 nm Erbium for fine lines, wrinkles, acne scars, and surgical scars, and Thulium 1927 nm for pigmentation. Fraxel creates controlled, microscopic injuries on the skin to promote healing and collagen production. Because of the fractionated technology, Fraxel treatment allows for rapid healing and has minimal side effects and short downtime.
The CO2 laser is a more traditional approach to skin resurfacing, where the entire top layer of the skin is sloughed off (ablative). This requires extensive downtime of about 2 weeks as your skin fully heals. The aggressive approach of the CO2 laser also contributes to increased risk of adverse side effects, like hyperpigmentation and hypopigmentation. Both lasers are not recommended for darker skin tones, including Asian skin and olive skin. It is up to your aesthetic goals, time available for downtime, and physician's discretion whether Fraxel or CO2 is recommended. Consult with expert, board-certified dermatologist Dr. Michele Green to learn more about the different skin resurfacing lasers and which one is right for you.
Can I combine Fraxel® with other facial rejuvenation procedures?
Yes! Most patients see a significant improvement in the texture and tone of their skin after just one treatment with Fraxel, however, it is not unusual to combine Fraxel® with additional cosmetic procedures to achieve ultimate skin rejuvenation. For example, laser resurfacing may be performed first, followed by a combination of Botox® to control dynamic wrinkles and dermal fillers like Restylane® and Juvederm® to diminish the appearance of deeper lines and replenish lost volume that naturally occurs with age. Microneedling with PRP is a popular treatment following Fraxel to maintain the best results. The idea of microneedling with PRP is similar to that of Fraxel, except it works more superficially to cause microinjuries to the skin and stimulate collagen synthesis. The VBeam laser, which uses a specific wavelength to target red pigment in the skin, can be performed prior to Fraxel to treat facial redness, broken blood vessels, and red acne scars. It's best to work closely with Dr. Green to determine the customized approach that will help meet your specific goals.
Thermage radiofrequency treatment is one of the most common procedures that patients combine with their Fraxel resurfacing treatment. Thermage effectively tightens the skin by heating the dermal layers with radiofrequency energy, resulting in the production of new collagen. There is no downtime associated with Thermage, making it so that patients can schedule a treatment session with ease. As another added bonus, patients can often enjoy the long-lasting cosmetic effects of Thermage for over a year in duration. The skin tightening effects of Thermage combined with the rejuvenating effects of Fraxel produce ideal cosmetic results.
How do I get started with Fraxel laser treatments today?
If you're frustrated with the appearance of an uneven skin tone or texture, spent too much time in the sun as a young adult, or want to minimize the early signs of aging that have appeared, Dr. Michele Green is here to help. Dr. Green has been utilizing state of the art skin resurfacing lasers to create a rejuvenated, healthy complexion in her private Upper East Side dermatology office for over 25 years. Whether your problem area is the face, neck, décolletage, hands, arms, or chest, Fraxel may be the perfect laser to restore young and healthy-looking skin. Dr. Green will carefully assess your skin and consider your aesthetic goals to create a customized treatment plan that is both safe and effective. From Fraxel, eMatrix, VBeam, and Thermage laser, Dr. Green will recommend a combination of treatments to achieve ultimate skin rejuvenation.
Dr. Michele Green is an internationally renown expert in cosmetic dermatology with over two and a half decades of experience in Botox, dermal fillers, skin rejuvenation, noninvasive body contouring, acne scars, and anti-aging. She practices the latest techniques at the forefront of skin care to give you the look that you deserve. Her expertise is emulated by consistently winning best dermatologist in New York City by Castle Connolly, New York Magazine, and Super Doctors. To learn more about Fraxel®, NYC patients can contact us online today or call 212-535-3088.