Acne is a very common problem and for some individuals it can be very difficult to resolve. There is not one simple solution to acne. It is important to understand the cause of the acne, whether it be genetic or hormonal. One treatment that we often suggest to our patients is a highly effective medication called Isotretinoin (Roaccutane) more commonly known by its older brand-name, Accutane.
Accutane treatment before and after photos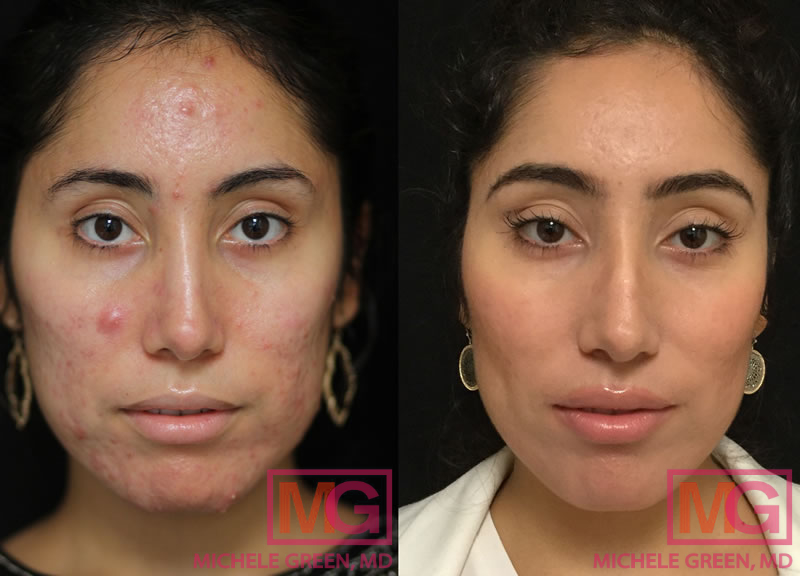 23 year old woman treated for acne with Accutane – 3 months
17 year old treated for acne with Accutane
View additional before and after photos
Accutane is a treatment that we recommend for patients when other treatment options have failed. Accutane has been proven to be highly effective in treating resistant cases of cystic acne. Accutane is a twenty week course of treatment and monthly bloodwork and check-ups are necessary to monitor against unwanted side effects.
What is Accutane?
Isotretinoin is a derivative of vitamin A and works by targeting a number of the causes of acne. The way Accutane works is that it shrinks your oil glands, which effectively reduces the amount of bacteria that lives in the acne on your skin. In addition, skin cell growth is slowed and inflammation within the skin is reduced. All of these factors help clear up acne in the skin. Isotretinoin needs to be taken daily for up to six months and Dr. Green will determine the correct dosage for you.
Using Accutane, Risks & Side Effects
Accutane is generally prescribed when other treatment options, such as oral antibiotics, oral spironolactone or oral contraceptives have failed.
Accutane works extremely well for over 95% of patients, however it needs to be monitored monthly by Dr. Green to avoid any possible side effects. Common side effects are dry eyes and joint pain.
Pregnant women or women looking to become pregnant must avoid this treatment since the medication can cause birth defects. All patients should stop alcohol consumption while on Accutane, and dietary fat intake should be limited too. One should also avoid taking vitamin A, any dietary supplements, protein shakes or energy bars, since Accutane is a Vitamin A derivative.
Your skin will be very sensitive during this treatment, which means sunscreen and sunblocks are important to use when outdoors, and you should avoid any additional skin treatments, including electrolysis and waxing during the treatment period.
If you are suffering with a severe case of acne and wish to discuss your options with Dr. Green then we recommend booking a consultation to discuss acne treatments that may work for you. Contact us online today or call 212-535-3088 if you're ready to learn more about treating acne with Accutane or to further discuss your options with Dr. Green.