Acne scars can be a frustrating and painful reminder of an acne breakout, and often the scars that are left can be more difficult to treat than the acne lesions themselves. Acne scars develop as a result of the inflammation surrounding an acne lesion causing damage to the encompassing skin tissue. There are a number of different types of acne scars which may develop, and no two patients with acne scars will scar in the same exact way. The effective and appropriate treatment of acne scars requires both expertise and experience since varying treatment methods may be better suited to resolving different types of scars. When you are looking for a permanent solution for your acne or acne scars, Dr. Michele Green in NYC is here to help.
Dr. Michele Green is an expert when it comes to healing acne and acne scar treatment. She utilizes the most innovative techniques and technologies in her boutique NYC dermatology office to help her patients achieve smooth, clear, lasting, beautiful complexion. As an internationally renowned dermatologist with over 25 years of experience treating thousands of patients, Dr. Green takes pride in customizing the care of each of them to cater to their unique, personal skincare needs and cosmetic goals. Fraxel® laser, eMatrix® laser, VBeam® laser, TCA Cross, chemical peels, subcision, Thermage®, BBL, and injectable dermal fillers are among some of the methods she often integrates into the individualized treatment plans of her patients to rejuvenate their skin and remove acne scars.
Dr. Green is especially sensitive to her patients who struggle with acne breakouts and acne scarring, and she is committed to providing the best cosmetic improvement and overall treatment for these patients. As an authority when it comes to minimally invasive cosmetic dermatology procedures and skin cancer, Dr. Green often uses a dermatologic surgery technique called subcision as a means to improve the cosmetic appearance of acne scars. Diminishing the appearance of acne scars and helping her patients to regain their self-esteem is a top priority, and Dr. Green often combines subcision with dermal fillers to provide them with the best cosmetic results. Dr. Green is consistently voted as one of the best dermatologists in Castle Connolly, The New York, Times, Super Doctors, and New York Magazine. Dr. Michele Green takes a unique approach to treating patients with acne scars and takes pride in the relationships that she builds with her patients.
What is Subcision for acne scars?
Subcision, also known as subcutaneous incisionless surgery, is a minor surgical procedure that can be used to treat depressed acne scars. Acne scars that are treated with subcision are typically rolling scars which are caused by fibrotic strands of tissue that tether the top layers of skin to the underlying tissue. These fibrotic strands form as part of the natural wound healing process of skin. The process is triggered by the inflammation and irritation associated with an acne lesion, which is part of what makes prompt and effective treatment of acne so important. During a subcision procedure, a nokor needle, cannula, or number 18 or 20 gauge hypodermic needle is used to puncture the skin surface. The sharp edge of the needle is then used to break up the fibrotic stands of tissue that are tethering the top layers of skin to the underlying tissue. Once the tether is broken and the fibrotic bands of scar tissue are released, the skin is encouraged to produce new collagen in the treated area and heal with a smoother, more even texture. Over the span of several months, new collagen is continually produced and a noticeable cosmetic improvement of the acne scars is seen.
How is Acne Scar Subcision performed?
Prior to treatment with subcision for acne scars, a formal consultation with Dr. Green will take place in her discreet dermatology office in New York City. During the consultation you will discuss your full medical and surgical history, your previous experience with acne scar treatment or dermal fillers, then identify your main areas of concern. With Dr. Green you will establish a customized treatment plan that is best-suited to your skin needs, cosmetic goals, and unique situation.
Photographs of the treatment area are always taken for your personal medical record and used to enhance your discussion with Dr. Green, together determining which acne scar treatment would be ideal for use to address and correct your specific concerns. If subcision or subcision with dermal fillers is the best treatment option for you, the procedure may be done the same day as your consultation with Dr. Green or scheduled for a later date, depending on your preferences and time allowance.
In order to prevent any bruising in the treatment area, Dr. Green recommends that one week before your scheduled treatment with subcision for acne scars that you stop taking any blood thinners and non-steroidal anti-inflammatory drugs (NSAIDS) such as Advil, Motrin, and Aleve. She also suggests that you refrain from taking any multivitamins, herbal supplements, or fish oil during the week prior to your procedure. This step helps to avoid bruising in the treatment area after the procedure is complete.
On the day of your treatment, a topical lidocaine cream is applied to clean skin one hour before the procedure to numb the treatment area and make the procedure as comfortable as possible for the patient. After an hour, the numbing cream is removed and the skin cleansed with alcohol to prepare for subcision. The depressed scars that are being treated are marked with a surgical pen and an overhead light is used to visualize depressions. Dr. Green will then subcise the acne scars (and if performing with filler, inject the dermal filler into the designated treatment areas) and evaluate treatment as she completes the procedure.
An 18 or 20 gauge needle is inserted into the skin, at an acute angel adjacent to the scar, with the bevel of the needle pointed upwards and parallel to the skin surface. The needle is moved back and forth through the dermis, via a horizontal fanning motion, to displace the scar tissue, and in turn promote collagen regrowth, which will aid the healing of the skin tissue. This regrowth is what reduces the appearance of depressions in the skin and helps "lift" the skin back into the correct place.

Which acne scar treatments can be combined with subcision?
Subcision acne scar treatment can be combined with a wide variety of other dermatological treatments in order to achieve the best results. When you have your initial consultation with Dr. Green, she will examine the treatment area and make a determination about the treatment or series of treatments that will work best for you. Some of the many options for procedures that can be paired with subcision are as follows:
Dermal fillers – One of the treatments that Dr. Green pairs with subcision most frequently are dermal fillers, such as Juvederm, Restylane, and Sculptra. Dermal fillers are an injectable treatment designed to restore lost volume, which makes them ideal for treating atrophic acne scars where a loss of collagen has led to a depression in the surface of the skin. Dermal filler treatment works by injecting the filler into the depressed scars, which instantly restores lost volume to the area and triggers the additional production of collagen, which leads to firmer, smoother skin.
Laser Treatment such as Fraxel and eMatrix – Dr. Green may recommend laser treatment along with acne scar subcision in order to improve the tone and texture of the skin at the treatment area. There are many laser treatment options available, including the Fraxel, Vivace, eMatrix, and Clear + Brilliant lasers, and at your consultation, Dr. Green will be able to determine the laser treatment that is right for you. The Fraxel laser works to eliminate the appearance of acne scars by creating a series of microscopic wounds using concentrated laser pulses. The wounds trigger the body's natural healing process to boost collagen production to improve the look of the scars over a series of 5-6 treatment sessions. The Vivace laser combines radiofrequency laser technology with microneedling to increase the production of collagen and improve the texture of the skin. The eMatrix laser and the Clear + Brilliant laser can be used on all skin types, including patients with darker skin, without the risk of hyperpigmentation. While the eMatrix uses bi-polar radiofrequency to improve skin tone and texture, the Clear + Brilliant laser acts like a mini-Fraxel laser with fractionated laser technology to boost collagen production and reduce pigmentation in the skin.
VBeam Laser – The VBeam laser is best used specifically for broken blood vessels and to eliminate redness that is present as a result of scarring. The VBeam laser uses a pulsed dye technology, a 595 nanometers wavelength, to treat blood vessels at the site of acne and surgical scars, reducing the redness in appearance. Once the blood vessels are eliminated, the appearance of the scar is improved. VBeam laser treatment can also help the skin to flatten at the treatment area. Several treatment sessions are needed to improve the appearance of acne scars.
TCA Cross – Trichloroacetic acid (TCA) cross is a chemical formula that is placed directly on atrophic acne scars in order to boost the production of collagen and elastin for firmer, smoother skin. The treatment works on ice pick scars, rolling acne scars, and boxcar scars in order to elevate the skin and eliminate the appearance of the scars. The treatment should not be used on patients with darker skin tones as there is a higher risk of hyperpigmentation.
Chemical peels – Chemical peels are also very useful in improving the tone and texture of the skin alongside subcision treatment for acne scars. There are many different kinds of chemical peels that use a variety of different forms of acid-based ingredients to exfoliate the surface of the skin to promote skin cell turnover and the production of collagen. Chemical peels range from superficial (or light) peels, medium depth peels, and deep chemical peels. To treat acne scars, Dr. Green will often opt for a superficial peel or a medium depth peel depending on the severity of the scarring.
Microneedling – Microneedling with Dermapen® or Eclipse is another treatment that improves the texture of the skin by creating micro-injuries, which boost the body's natural collagen and elastin production. Through the use of a handheld device with surgical-grade needles, microscopic wounds are created on the surface of the skin at the treatment area. Microneedling is often paired with Platelet Rich Plasma (PRP), which helps to increase the body's production of collagen for even better results and faster healing. A series of microneedling sessions are needed for the best cosmetic results.
Other options include IPL, Cosmelan, Mesopeel & Topical Skin Care.
Pre-Op Instructions for Subcision
Do not tan the skin for two weeks before the procedure.
Do not wax the skin for two weeks before Subcision.
Refrain from using retinoids, alpha hydroxy acid creams, or other exfoliating products for 3 days before the procedure.
Do not have any laser resurfacing treatments or chemical peels for two weeks before your procedure.
Post-op Instructions after Subcision
Pressure should be applied to the treatment areas immediately after the Subcision procedure with ice packs.
Topical antibiotics should be applied twice a day to the treated area.
Arnica can be taken orally to minimize bruising.
Refrain from exercise, saunas, steam rooms, and intense physical activity for two weeks after the procedure.
Return one month after the initial procedure for follow-up evaluation by Dr. Green and progress photographs of the treated area.
How long does Subcision take to heal?
Typically there is not much downtime required after having a subcision treatment. In general, the skin heals within approximately one week after subcision. If the subcision treatment was combined with the use of dermal fillers and there is additional bruising, it may take up to 10 days to completely recover from the procedure. It is perfectly okay to apply makeup during this time to camouflage any visible bruising. Additionally, the herbal supplement Arnica can be taken for several days prior to (as well as for several days after) the procedure in order to help prevent and treat any bruising.
What are the potential side effects of Subcision?
Patients can expect to see a mild amount of bruising or swelling after the treatment. However, in general there is little downtime associated with subcision. It typically takes approximately one week for the skin to completely heal from Subcision treatment. Some patients may develop a hematoma from the procedure due to bleeding.
Rare side effects include infection or worsening of acne lesions. Oral or topical antibiotics may be prescribed where indicated.
The development of hypertrophic scars is another possible side effect associated with Subcision treatment. The most common areas which are susceptible to this type of keloid scarring are the periorbital, glabella, and perioral areas. The first treatment session with subcision should be performed on a limited basis to gauge the patient's response to the procedure and prevent rare, negative side effects such as this.
Post-inflammatory hyperpigmentation (PIH) may occur though this side effect will resolve on its own. Strict sun avoidance should be maintained after the procedure in order to prevent exacerbation of post-inflammatory hyperpigmentation.
How many Subcision treatments are needed?
While just a single treatment with subcision can be effective for improving the appearance of acne scars, typically multiple treatment sessions are required to achieve the best results. Most patients with moderate acne scars require between three to six sessions of subcision and it is generally recommended that each treatment session is scheduled between four and six weeks apart. Considering the number of treatments required for best cosmetic results and the time required between each session, the treatment plan can take up to a year to fully complete. The good news is that the results that occur are permanent once the collagen in the skin has regrown.
Can Subcision be combined with dermal fillers?
Absolutely! Dr. Green often utilizes dermal fillers when treating acne scars with Subcision to provide her patients with the best long-term cosmetic results. The optimal choice of dermal filler used in conjunction with subcision is dependent upon the type or types of acne scars present. Dr. Green combines Juvederm, Restylane, or Sculptra filler products with the subcision procedures to effectively raise the depressed scars and fill in areas of lost volume, giving an instant improvement to atrophic and rolling scars. Not only does this technique offer an immediate improvement to the appearance of the scars, but shortly after treatment, the Subcision helps to boost the production of the body's natural collagen.
What are the contraindications to Subcision?
Currently on Accutane (Isotretinoin) or patients who have taken it in the past 12 months since this will lead to poor wound healing
Blood clotting disorder
Active herpetic infection
History of keloid scars
Active bacterial infection
History of silicone injections in the treatment area
Recent history of laser resurfacing treatment
Combining PRP with Subcision for acne scars
One of the most popular procedures that Dr. Green performs to enhance the positive results from a subcision treatment is Platelet Rich Plasma (PRP) with microneedling. In studies, Platelet Rich Plasma has been shown to improve the appearance of atrophic scars when combined with Subcision. The procedure for microneedling with platelet rich plasma entails drawing a sample of the patients own blood and spinning it in a centrifuge to separate the plasma from the red blood cells. The plasma is then directly applied to the skin during a microneedling treatment to maximize the benefits of the platelet rich growth factors. These growth factors encourage wound healing and new collagen formation. The PRP is able to better penetrate the skin and absorb through the creation of micro channels in the skin that are made by the microneedling treatment. This procedure allows the depressed scars to heal more quickly and leads to the improvement of the texture, tone, and overall appearance of your acne scars.
How much is Subcision for acne scars?
When patients ask, how much does Subcision cost, the answer is, it depends. The price for Subcision varies depending on a number of factors involved with the treatment. The experience level of the physician who is performing the procedure, the geographic location of the medical office where you are treated, and the severity of the acne scars requiring treatment will all influence the total cost of your treatment. Additionally, if any dermal fillers are utilized in tandem with the subcision procedure, the cost of the Juvederm, Restylane, or Sculptra products will be factored into the total treatment cost and will vary depending on how much of the dermal filler product is needed. It's important to choose a provider with adequate knowledge and experience and exceptional skill to perform your subcision treatment to ensure that you have outstanding cosmetic results. During your consultation with Dr. Green, it will be determined which type and what quantity of dermal fillers will best complement your subcision procedure and the total cost discussed.
Does Subcision work for acne scars?
Subcision is a very effective treatment method for improving acne scars. Alam, Omura and Kaminer published a seminal paper that demonstrated the positive impact of subcision for acne scars, highlighting the efficacy of the treatment technique especially for rolling scars. A number of other medical journals have since published additional papers featuring the improvement of acne scars produced by subcision in conjunction with other treatments for acne scars such as Microneedling with Platelet Rich Plasma and laser resurfacing treatments. A careful analysis of the type of acne scars, rolling scars, ice pick, or boxcar scars is important when it comes to determining the most appropriate treatment methods. Dr. Green will give you an honest assessment and advise you on the best combination of treatment options for your own individual acne scars.
Can Subcision make scars worse or cause scarring?
The majority of patients do not experience any scarring after having subcision for acne scars. However, there is a potential risk that the appearance of acne scars may not improve or may even worsen after having subcision. Five percent of patients develop keloid scars from subcision treatment. This rare effect typically occurs exclusively in patients who are prone to developing keloid scars, particularly around the mouth and eye areas. If you have a history of keloids, discuss this with Dr. Green during your consultation for treating acne scars.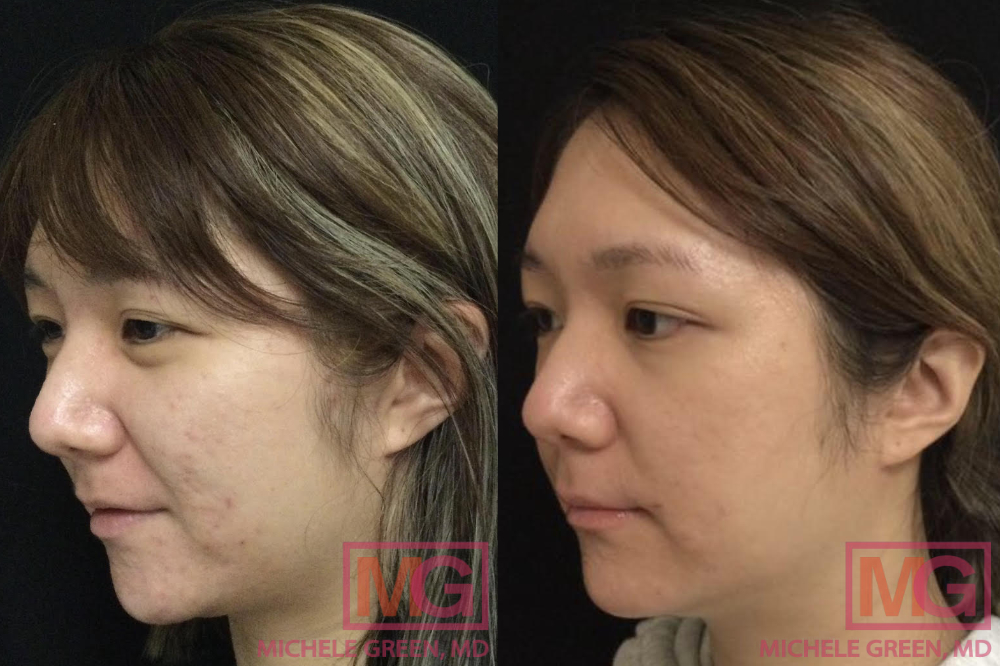 Is Subcision painful?
Patients will sometimes ask, does subcision hurt, and the answer is that the procedure is mostly painless. Before patients arrive at Dr. Green's office for the procedure, she will prescribe a topical numbing cream to the treatment area to reduce any potential discomfort of the treatment. The topical anesthetic will numb the area for the duration of the treatment and, as such, there is no pain involved during the procedure itself. In the days following the procedure, patients may experience some slight bruising or swelling.
Is Subcision permanent?
Subcision acne scar treatment is a permanent procedure designed to eliminate the appearance of depressed acne scars. The treatment works to induce the body's natural wound healing process, which in turn produces new collagen for a natural and permanent solution to acne scarring. While the long term effects of acne scar subcision have not yet been extensively studied, several small-scale studies have demonstrated the accessibility and longevity of the treatment, including a 2010 study published by the National Institute of Health. The International Journal of Research in Medical Sciences published research in 2016 demonstrating that out of three common acne scar treatments, subcision, CO2 fractional lasers, and derma rollers, subcision was the most successful at treating acne scars.
How does subcision work?
Subcision is a minor surgical procedure, which triggers the body's natural healing process to eliminate the appearance of depressed acne scars. The procedure is performed with a small needle that is inserted into the top layer of the skin parallel to the surface. The needle is then used to destroy the fibrous strands that are binding the upper layer of tissue to the lower layer, which serves to lift the scar and reverse the depressed appearance. At the same time, the breaking of the fibrous bands triggers the body to produce more collagen and elastin, which help to improve the structure and texture of the skin. Subcision for acne scars can also be combined with other treatment, such as dermal fillers, laser treatment, chemical peels, and microneedling.
Can subcision cause acne or make acne worse?
It is possible to experience a flareup of acne after undergoing subcision for acne scars. If you are prone to acne breakouts, it may be advised to take a course of oral or topical antibiotics in anticipation of your appointment in order to prevent a flareup. Consult with Dr. Green if you are acne-prone and interested in proceeding with subcision treatment for acne scars.
How long does it take to see results from Subcision?
The results of a Subcision treatment start to be evident immediately after the procedure is complete. While there may be some initial swelling in the treatment areas, this generally resolves within 1-2 weeks after the procedure. At that time, the full results of treatment may be observed. Shortly after a treatment, new collagen is generated. Collagen production continues to increase over the next few months, progressively improving the overall appearance of the acne scars. Additionally, each subsequent subcision procedure helps to contribute to new collagen production, enhancing the cosmetic results and providing a smooth, beautiful, healthy look and feel.
Combining other acne scar treatments with Subcision
Acne lesions don't cause scars in a uniform manner, and the majority of patients who struggle with acne scars will present with multiple types of acne scars including rolling scars, atrophic scars, boxcar scars, and icepick scars. While subcision for acne scars can be performed as a stand alone procedure, in order to completely diminish the appearance of varying types of acne scars, most patients require a combination treatment approach.
In the discreet dermatology office of Dr. Green, located in the Upper East Side of Manhattan, she often combines subcision for acne scars with a number of other scar revision procedures. Depending on the skin type, skin tone, and the types of acne scars of the patient, energy-based devices such as the eMatrix laser, Fraxel Dual laser, VBeam laser, Picosure, and Erbium lasers may be used to improve the texture and tone of the skin after subcision. Many of these lasers are an exceptional treatment option for patients of all different skin types and skin tones, including Asian, Hispanic, and African American skin. Dr. Green aptly selects the cosmetic laser treatments that are best-suited to each individual patient to provide best results.
For minimizing the appearance of ice pick scars, TCA Cross is considered to be the gold standard treatment. With this treatment technique, 50% to 100% trichloroacetic acid (TCA) is applied meticulously with a wooden applicator to each individual ice pick scar. The scars develop a frost from the TCA, then afterwards the treatment areas begin to scab over and start to heal. As a part of the natural healing process, new collagen production is induced, resulting in a smoother and firmer skin texture and an overall reduction in the appearance of the ice pick scar.
The VBeam laser is the ideal treatment for resolving any facial redness and minimizing the appearance of acne scars which are red in color. The Vbeam operates on a wavelength which only targets skin cells holding onto red pigment. The pigment absorbs the energy from the laser beam and is destroyed while surrounding skin is left untouched. Broken capillaries, areas of post inflammatory hyperpigmentation, stretch marks, rosacea, and acne scars can all be effectively diminished by using the Vbeam treatment. Additionally, the Vbeam has a built in Dynamic Cooling Device that works to cool the skin prior to emitting the laser pulse, making the procedure as comfortable as possible for the patient. As another great added bonus, there is no downtime involved, meaning one can carry on with their normal daily activities immediately following completion of the treatment. The VBeam laser is the gold standard when it comes to removing areas of visible redness from the face, surgical scars, and acne scars. After completing between 3 to 5 treatments of the VBeam laser, the redness is noticeably reduced to reveal a complexion which is more even-toned and clear.
Texture and redness are not the only potential visible signs associated with acne scars. Many patients who suffer from acne scars tend to experience hyperpigmentation or discolored skin as a result of having an acne breakout. There are varying forms of hyperpigmented spots that may develop secondary to acne, including post inflammatory hyperpigmentation (PIH). Spots of post-inflammatory hyperpigmentation may resolve on their own, though it can take weeks or months to completely diminish. There are, however, a number of skincare products and in-office procedures which can help to hasten the diminishment of these dark marks left behind after acne. Dr. Green often recommends a combination of specially formulated skincare products for lightening, such as hydroquinones, from her MGSKINLABS, Inc. line of products and chemical peels. Dr. Green has found that this combination of prescription skin care products and in-office chemical peels provides great results for reducing the areas of visible hyperpigmentation, ultimately evening out the discoloration and texture of skin.
For some patients, Dr. Green may choose to use the Fraxel laser to treat areas of unwanted skin pigmentation as well as remove brown spots, sun damage, acne scars, and wrinkles. Dr. Green often refers to the Fraxel as the "Magic Eraser" for its unique ability to address a host of varying skin concerns and she considers it to be the gold standard treatment for improving skin tone and texture. Fraxel works by creating controlled, microscopic wounds in the skin through the application of highly concentrated laser pulses. As the skin repairs these wounds, collagen production increases, new skin cells grow, and acne scars, fine lines and wrinkles, skin pigmentation, and damage from the sun begin to heal. Fraxel can be combined with other skin rejuvenating procedures and delivers phenomenal results with almost no downtime.
Subcision treatment can also be combined with dermal fillers such as Restylane, Juvederm, and Sculptra. Dr. Green loves the effect of combining subcision with dermal filler, since the filler can help to enhance the overall effects of the subcision procedure. The formation of acne scars tends to go hand-in-hand with lost volume and collagen in the affected area of skin. For her patients who undergo subcision, Dr. Green often recommends utilization of a dermal filler in order to help replace lost volume in the area of the scar. By replenishing the lost volume with dermal fillers, the skin is rejuvenated and the overall appearance of the acne scars is improved with long-lasting results. To learn more about subcision with dermal fillers, schedule a consultation with board-certified, expert cosmetic dermatologist, Dr. Michele Green.
VBeam and eMatrix for Acne Scars before and after
Is Subcision effective for acne scars?
The type of treatment approach that's best for you and your acne scars may be different than the approach that's best for someone else. This is because the efficacy of any given technique can vary depending on the type of acne scars present. When it comes to acne scars, every individual patient will form scars in a unique way, there's no "one size fits all" rule. In order to determine which cosmetic treatment will be most effective in the diminishment of acne scars, it's important to first understand which variety of acne scars are present. Subcision is a very effective treatment approach for the right type of acne scar. During your consultation, Dr. Green will evaluate the type(s) of acne scars which are present and customize a skin care and acne scar treatment program to rejuvenate your skin and improve the cosmetic appearance of your acne scars.
How can I get started with subcision for my acne scars today?
Acne breakouts and residual acne scars can lower one's self-esteem and make one self-conscious about their appearance. Oftentimes, it can be more challenging to remove acne scars than treating the acne breakout itself. There is a myriad of options available when it comes to the treatment of acne scars, each of which may be best suited to different kinds of acne scars. If you are bothered by the appearance of your acne scars and want to learn more about what treatment options will provide you with the best results, based on your skin type, skin tone, and the variety of acne scars you have, schedule a consultation with Dr. Michele Green. As a board-certified expert with over two decades of experience and a special interest in helping her patients with diminishing the appearance of their acne scars, Dr. Green is your guide to achieving smooth, clear, beautiful skin. Contact us online today or call 212-535-3088 to learn more about Dr. Green's unique method of subcision for textural acne scars as well as to discover which acne scar treatments would be best for you.