We know that there are many different types of acne. Pimples, pustules, whiteheads, blackheads, and cysts are all some of the familiar terms for varying forms of acne lesions. Once an acne breakout is finally resolved, the most common feeling that one experiences is a huge sense of relief. However, acne lesions, especially when the acne is inflammatory, can often leave behind acne scars that may be even more challenging to eliminate than the acne itself. Just as there are many different types of acne lesions, there is a number of different varieties of acne scars that exist, too. Boxcar scars, icepick scars, and rolling scars are the types of acne scars that cause a depressed area of skin tissue. Hypertrophic and keloid scars are raised scar tissues, and post inflammatory hyperpigmentation is a small patch of discolored skin that is left behind after acne has healed.
There are a number of different types of acne scars which may develop, and no two patients with acne scars will scar in the same exact way. That means that when it comes to the best cosmetic treatment of acne scars, one size definitely does not fit all! Depending on the type of acne scar and the skin type and skin tone of the patient, different treatment techniques may be more advantageous than others. The effective and appropriate treatment of acne scars requires both expertise and experience since varying treatment methods may be better suited to resolving different types of scars. When you are looking for a permanent solution for your acne or acne scars, Dr. Green is here to help.
There is a number of treatment options available designed to eliminate scarring that has resulted from a previous episode of acne, however, not all the treatments on the market are necessarily suitable for darker skin tones. For example, African American patients respond differently to laser treatments than those with lighter skin types. For this reason, it is so important to utilize the correct laser technologies for patients of varying skin tones. The goal is to prevent acne breakouts, and provide the best acne and acne scar treatment to avoid unwanted acne scarring. Since skin of color is prone to hyperpigmentation, careful laser selection and use of these lasers, is critical in producing safe and effective cosmetic results.
Dr. Michele Green is a world-renowned cosmetic dermatologist with expertise and experience treating patients of all skin types and skin tones. She uses the latest advancements in technology when it comes to cosmetic dermatology treatments for acne scars including various types of chemical peels, Cosmelan peels, microneedling with or without PRP, and laser skin resurfacing treatments. in order to find the best solution for your skin tone.  Patients with darker skin tones are much more susceptible to skin conditions such as hyperpigmentation and melasma, and need special laser treatments which are uniquely tailored to skin of color. When you consult with Dr. Green, you will have the opportunity to discover which treatment or combination of treatments is best suited to eliminating your acne scars to reveal a smooth, clear, beautiful complexion.
How to treat acne scars on dark skin tones
It is important that prior to treatment of acne scars, all active acne is resolved effectively. This will help prevent the development of new acne scars and provide the most optimal cosmetic results overall. This is especially important for patients with darker skin tones, who may be more prone to conditions such as post inflammatory hyperpigmentation and keloid scarring. There are some cosmetic procedures that are designed to minimize the appearance of acne scars by causing controlled trauma to the skin, stimulating the natural wound healing process of the skin and causing an increased amount of collagen production. These procedures can sometimes result in the formation of keloid scars in patients who have an increased propensity for keloids. If you have a history of keloid scars, it is essential that you discuss this with your dermatologist before undergoing any cosmetic procedures for treatment of acne scars. If acne scars are present on the skin in the form of keloid scars, Dr. Green is able to shrink the scar tissue by injecting them with a small amount of steroids.
Dr. Green is a revered cosmetic dermatologist with over 25 years of experience treating patients with acne and acne scars of all varying skin tones and skin types. For her patients with darker skin tones who are seeking a solution to the appearance of stubborn acne scars, Dr. Green may recommend treatments such as subcision in tandem with dermal fillers, trichloroacetic acid chemical peels, Cosmelan depigmenting peels, eMatrix Sublative laser treatment, or microneedling treatments. The most appropriate cosmetic treatments will vary depending on the types of acne scars that are present on the skin, and Dr. Green always customizes the treatment plans of her patients to be best suited to them personally. Below is a guide that discusses some of Dr. Green's preferred treatment methods for minimizing the appearance of acne scars in patients with dark skin.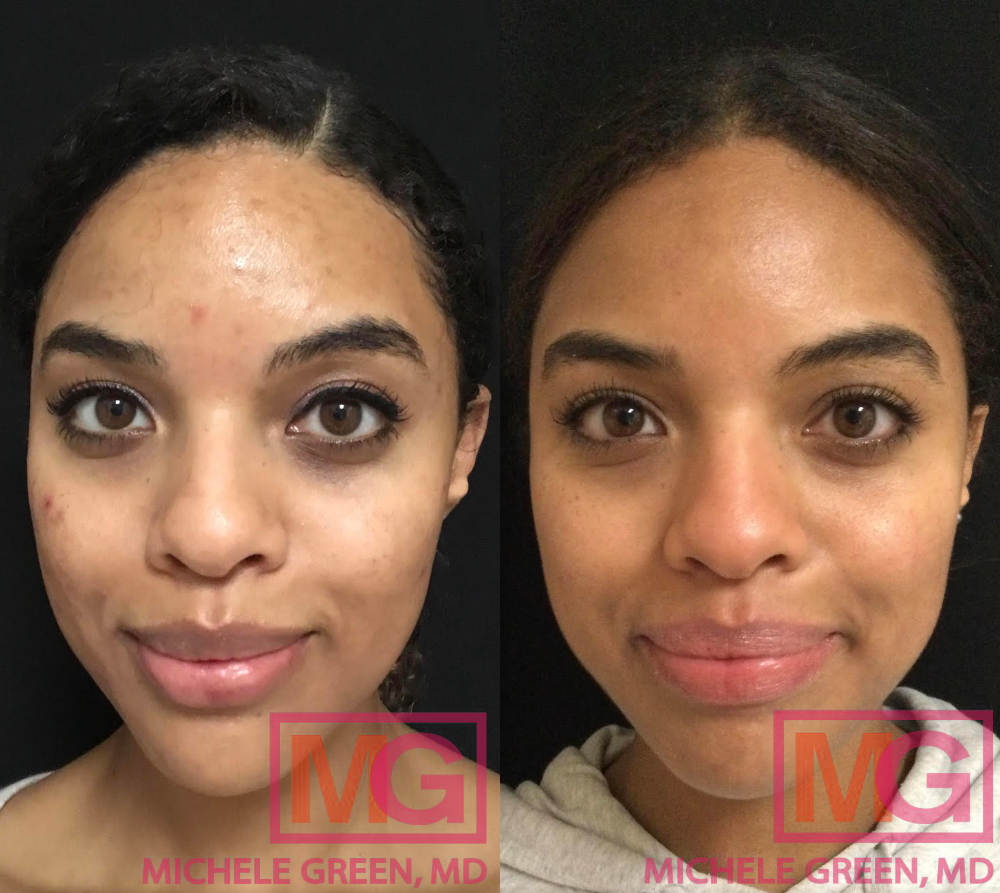 Acne & dark spot treatment – 5 months
Is laser treatment safe for darker skin tones
As the technological advancements in laser treatments are progressively developed in the world of cosmetic dermatology, laser skin resurfacing treatments have become one of the most popular methods for the removal of acne scars. While non-invasive laser skin resurfacing treatments can provide phenomenal results for many patients with little downtime, it is important to consider the safety and efficacy of a laser in relation to the skin tone of a patient. Melanin, the component of skin responsible for skin pigment, can also absorb heat from the laser. This means that if a laser treatment is done on a patient with dark skin with too much energy or with settings too high, that the treatment can cause damage to the skin. The result can be hyperpigmentation, hypopigmentation, or even permanent scarring, meaning that skin of color can not be treated with the same types of lasers or the same settings as those that are used to treat skin that is white. This is why it is so important to select a provider with the expertise and experience to choose a laser and laser settings that will safely and effectively diminish acne scars without resulting in any damage. Dr. Green is a world-renowned expert in cosmetic dermatology and a provider that you can trust to deliver dramatically outstanding results without the danger of producing any unwanted side effects.
eMatrix Sublative Rejuvenation Laser treatment for acne scars
The eMatrix laser is a unique treatment modality that is revered for its ability to provide skin rejuvenation. Unlike many other fractional treatment systems that use an ablative laser to achieve skin resurfacing, the eMatrix laser utilizes bi-polar radio frequency energy to effectively heat the tissue below the skin surface while keeping the top layer of skin intact. By bypassing the epidermis and delivering heat to the dermal layer at a level deeper within the skin, this treatment method successfully minimizes the amount of downtime and reduces the number of potential complications that are associated with ablative resurfacing lasers, including hyperpigmentation. Each pulse of the eMatrix laser delivers radio frequency energy in the area of the electrode matrix, inducing a controlled skin injury to the treatment area. This ultimately activates fibroblasts in the skin to signal a wound healing response and produce new collagen. With a Sublative Rejuvenation treatment, this new collagen production creates smoother, brighter, tighter, more beautiful, younger-looking skin. Since sublative rejuvenation has only 48 hours of downtime, this laser treatment can be scheduled virtually anytime.
Due to its extraordinary capabilities, the eMatrix laser is an extremely popular option for acne scar treatment. Since the eMatrix delivers treatment via radiofrequency technology, it is an ideal treatment for patients of all skin tones. The technology of the eMatrix laser makes it "color blind", meaning that it can be used to safely treat all tones of skin whether dark or light. Over time, when new collagen is formed, smoothing out the texture of acne scars and providing a smoother complexion that is long lasting. Dr. Green recommends an average of five eMatrix laser treatments for atrophic scars, spaced approximately 4 to 6 weeks apart, for the best cosmetic results. The healing process generally takes 48 hours with almost no side effects except some minimal peeling, and redness.
Acne scar and hyperpigmentation treatment
What is post inflammatory hyperpigmentation?
Post inflammatory hyperpigmentation, or PIH, is a type of skin discoloration that commonly occurs after an inflammatory skin condition such as a rash, acne, or other wound. Patients with skin of color are much more prone to developing post inflammatory hyperpigmentation after experiencing an acne breakout. After a blemish subsides, patients often see a brown or black spot that affects the texture of the skin. For many, this mark is temporary: patients who see red spots or swelling are typically noticing post-inflammatory hyperpigmentation, which is a temporary mark caused by irritation from an acne infection on the surface of the skin. The skin reacts sensitively to the injury that is caused by excess oil production and bacteria, and thus creates a red, pink, tan or brown mark behind.
Post-Inflammatory hyperpigmentation (PIH) solely refers to the dark spots that may be left behind after an acne lesion, or other inflammatory skin condition, heals. The color of the dark spots associated with post-inflammatory hyperpigmentation can vary, appearing as brown, black, red, pink, or purple patches of skin depending on skin tone of the patient. During the natural healing process of the skin, there is potential that cells involved with healing the area are also contributing to the overproduction of melanin, leading to the development of hyperpigmented spots of skin. Post-inflammatory hyperpigmentation can often go away on its own, or be treated more quickly through the use of curated gels and in-office cosmetic treatments in order to help soothe the skin.
However, for some who suffer from dark spots due to acne, the dark spot can have either an atrophic or hypertrophic appearance. These acne scars can cause unwanted discoloration that, if not treated by an expert dermatologist, can be permanent. Particularly for patients who experience hypertrophic scars or keloids, working with a thoughtful medical professional such as Dr. Green can make all the difference in addressing acne scars without irritating the surrounding skin.
Chemical peels for acne scars
A chemical peel is a treatment method used to increase the rate of skin cell turnover to produce a smooth and even skin texture and tone. Chemical peels can also be used as a means to achieve a reduction in the appearance of acne scars. A chemical peel treatment entails the topical application of a peeling agent to remove the topmost layer of the dermis, helping to slough off dead skin cells as well as other imperfections from the skin, and allowing new, healthy skin cells underneath to make their way to the surface. Chemical peels work to treat unwanted hyperpigmentation, eliminate active acne lesions, and get rid of various types of acne scars.
Chemical peels are safe to use as treatment in all skin tones and for all types of scars. There are some formulations which are particularly beneficial for specific types of acne scars. For example, for patients who are looking to treat the appearance of dark patches associated with post-inflammatory hyperpigmentation, Dr. Green can combine a traditional chemical peel with various strength hydroquinone creams in order to brighten the skin. While undergoing chemical peel treatment, it's important that patients use a daily sunscreen of SPF 50 or higher in order to prevent damage to healthy new skin. For patients with darker skin tones, Dr. Green typically recommends using gentler chemical peel formulations, V-Beam or eMatrix laser treatment, dermal fillers, or microneedling, to treat acne scars.
Cosmelan Peel
One common aspect to acne scars is that of dark spots that remain on the surface of the skin after an acne breakout subsides. This discoloration can appear as small, flat red or brown marks on the skin, commonly referred to as post-inflammatory hyperpigmentation, or as red or darkened atrophic or hypertrophic scars. In the case of discoloration, Dr. Green typically recommends a combination of Cosmelan, chemical peels and retinoids and hydroquinone creams, to brighten and smooth the skin. It's good to note that the use of some intensive lasers can exacerbate issues of hyperpigmentation or melasma among patients with darker skin types, so Dr. Green recommends caution when engaging with laser resurfacing for dark spots. When you work with Dr. Green, she will make sure your treatment plan protects your skin from any additional unwanted pigmentation.
Cosmelan was initially developed to treat melasma, a skin condition characterized by patches of hyperpigmented skin. Dr. Green has expanded the use of Cosmelan to incorporate the treatment of acne scars, post-inflammatory hyperpigmentation (PIH), sun spots, and sun damage and discoloration on the face, chest, and body. The Cosmelan® peel is a professional-grade mask that is applied by board certified dermatologist Dr. Michele S. Green in her practice on the Upper East Side. The mask is left in place for a number of hours (depending on the degree of pigmentation and skin type). The cream is easily removed at home by the patient, with a neutral gentle facial cleanser, several hours later. Cosmelan will produce an initial "peeling" of the skin, which will leave the skin smooth and dramatically decrease the signs of facial pigmentation. Cosmelan is a simple and safe treatment with minimal down time. The patient returns three weeks later for a touch-up of Cosmelan in order to treat any residual pigmentation.
Dermal fillers for acne scars
As an authority when it comes to minimally invasive cosmetic dermatology procedures and skin cancer, Dr. Green often uses a technique called subcision as a means to improve the cosmetic appearance of acne scars. Diminishing the appearance of acne scars and helping her patients to regain their self-esteem is a top priority, and Dr. Green often combines subcision with dermal fillers to provide them with the best cosmetic results used in tandem with a procedure called subcision. Subcision, also known as subcutaneous incisionless surgery, is a minor surgical procedure that can be used to treat depressed acne scars. Acne scars that are treated with subcision are typically rolling scars which are caused by fibrotic strands of tissue that tether the top layers of skin to the underlying tissue. The optimal choice of dermal filler used in conjunction with subcision is dependent upon the type or types of acne scars present.
When performing subcision for acne scars, Dr. Green combines different dermal fillers, such as Juvederm®, Restylane®, or Sculptra®. By combining dermal fillers with subcision, Dr. Green effectively raises the depressed scars and replaces lost volume, giving an instant improvement to atrophic and rolling scars. Not only does this technique offer an immediate improvement to the appearance of the scars, but shortly after treatment, the subcision helps to boost the production of the body's natural collagen. The risk of keloid scars, though small, should be evaluated before having subcision with dermal fillers. The development of hypertrophic scars is a possible side effect associated with subcision treatment. The most common areas which are susceptible to this type of keloid scarring are the periorbital, glabella, and perioral areas. Dr. Green will assess both your skin type and type of acne scars before performing this procedure, to help avoid any unwanted side effects.
Microneedling for acne scars
Experts throughout the dermatology industry agree that microneedling is one of the best non-invasive methods to reduce the appearance of depressed post-acne scars, commonly referred to as ice pick, rolling and boxcar scars. Microneedling treatment, administered via small handheld devices, uses tiny needles along the surface of the skin to stimulate collagen and elastin production in the skin. Collagen and elastin are responsible for youthful, smooth looking skin, and thus can work to "fill in" depressed acne scars, as well as to get rid of fine lines and stretch marks. Microneedling is safe for all skin types and skin tones and, over time, successfully smooths the skin and reduces the appearance of scars and fine lines with minimal downtime post-treatment. Dr. Green often combines microneedling with Platelet Rich Plasma (PRP) to achieve the best cosmetic rejuvenation.
Microneedling with PRP – 5 months
Microdermabrasion
Microdermabrasion is a procedure that effectively removes the top layers of skin to eliminate fine lines and wrinkles while boosting collagen and elastin production within the skin. This is a safer choice than dermabrasion for darker skinned individuals. Dermabrasion is a more ablative treatment that entails complete removal of the top layers of skin and requires significantly more downtime. During a microdermabrasion treatment, a handheld tool with a diamond tip is used to physically remove the dead skin cells on the top layers of skin, resulting in a smoother skin texture and more even-colored complexion.
How to treat acne safely on darker skin types
Many people are eager to start treating their acne scars as soon as they appear. However, anyone who is struggling with active acne breakouts should address this concern first. It is preferable to completely resolve any active acne prior to starting acne scar treatment since any in-office treatment designed to resolve acne scars would be useless against an active inflammatory acne lesion. Any active acne can potentially lead to the creation of a new acne scar, and that is what we want to avoid! There is a myriad of treatment options available for resolving active acne and Dr. Green will work with you to determine which acne treatment is the best for you and your skin.
For patients with darker skin tones who are looking to resolve their acne scars, Dr. Green typically recommends using gentler chemical peel formulations, V-Beam or eMatrix laser treatment, dermal fillers, or microneedling, to treat acne scars. Dr. Green highly recommends the eMatrix laser to treat textural acne scars for patients with dark skin. The eMatrix™ laser is a gentle laser that is safe to use on all skin types without increasing a patient's risk of discoloration or hyperpigmentation. As it uses radiofrequency energy to heat the dermis, its process is not pigment-based, and it's able to safely stimulate new collagen formation. Over a series of five eMatrix laser sessions spaced about a month apart, patients can experience full acne scar removal and improved skin texture. Additionally, please keep in mind that one of the best things you can do for yourself if you are experiencing active acne is to refrain from popping your pimples! Trying to pop a pimple will result in an exacerbation of inflammation and potentially lead to post inflammatory hyperpigmentation. Instead, work with Dr. Green to clear up any active acne and create a personalized treatment plan to tackle the acne scars afterwards.
57 year old – Cosmelan for Melasma
Skincare for individuals with dark skin and acne or acne scars
Your skincare routine is important, no matter what your skin type, skin tone, and what kind of skin concerns you want to address. Carefully curating your skincare routine is a great method for tackling a number of different skin issues as well as providing nourishing, anti-aging, and protective benefits to your skin. If you are someone with dark skin and are struggling with active acne breakouts or are working to reduce the appearance of your acne scars, there are some skincare steps and ingredients that can help you see the results you want without seeing any that you don't want. Discussed below are some of Dr. Green's favorite skincare solutions for acne and acne scars.
Cleanser is typically the first step in any skincare routine. Especially for individuals who are acne-prone or who have struggled with acne in the past, looking for a cleanser with active ingredients is a great way to jump start your skincare regimen. An active ingredient is the component in the product that promises to deliver a certain effect, and which has been tested and proven to do so effectively. In a cleanser, look for ingredients such as salicylic acid and glycolic acid. These gentle exfoliating ingredients work by melting the sebum, dead skin cells, debris, and dirt that can become trapped within the pores of the skin, leading to the formation of acne. They also help to increase the rate of skin cell turnover, meaning that dead skin cells which are discolored and have a hyperpigmented appearance can be sloughed off more quickly than they usually would to reveal healthy and even-colored skin cells.
Vitamin C is a powerhouse of a skincare ingredient, working to boost collagen production within the skin as well as produce an overall brightening effect and provide antioxidant protection against harmful free radicals in the environment. Vitamin C is a phenomenal component to add to your skin care routine if you are someone who is struggling with acne scars that are either textural or pigmented. Dr. Green likes the Skinceuticals vitamin C serum, and she has also developed a Vita C serum from her MGSkinLabs, Inc. that boasts a high concentration of Vitamin C to provide maximum benefits.
Retinol and other topical retinoids (available either over the counter or by prescription in higher strength formulas) can help to increase the amount of collagen production that occurs within the skin to provide a smoother and more even-toned complexion overall. Topical retinoids are available in varying strengths and Dr. Green can help you choose the appropriate strength for your skin condition and goals. Be cautious about overuse of retinol and other retinoids, as they may cause skin irritation in individuals with more sensitive skin types.
Hydroquinone is a skin lightening agent that is not available over the counter but that can be prescribed by a board-certified dermatologist like Dr. Green. Hydroquinone is often used in tandem with chemical peels in order to effectively lighten dark marks on the skin, especially post inflammatory hyperpigmentation that can result after an acne breakout has healed.
Sunscreen is of course one of the most crucial components of skincare, look for a broad spectrum formula that offers protection against both UVA and UVB rays, and with an SPF of at least 30. Sunscreen should be used daily, no matter the weather conditions, your skin type, or your skin tone. The sun's rays can actually exacerbate the appearance of acne and acne scars and it is especially important for patients who struggle with these skin conditions!
Moisturizers are an integral part of a well-balance skin care regimen. Moisturizer helps to enhance and strengthen the natural protective barrier of the skin and provide essential hydration for optimal skin health. You can always opt for a moisturizer that is richer if you tend to struggle with dry skin, or choose a more lightweight option if you are acne-prone or have an oily skin type. Dr. Green can help you determine which skin care products would best benefit you and your unique skin condition. Other commonly used skin care products designed to target acne or acne scars often contain ingredients like azelaic acid, benzoyl peroxide, and alpha hydroxy acids, all which can easily be integrated into your skincare as part of your balanced wellness routine.
Are acne scars the same as hyperpigmentation?
Hyperpigmentation is a term that is used in dermatology to refer to areas of skin that are darker in appearance compared to the rest of the surrounding skin. Post Inflammatory Hyperpigmentation, a type of hyperpigmentation that occurs secondary to an inflammatory skin condition such as an acne breakout, is not considered to be a form of true acne scarring. Dark patches of hyperpigmented skin that are associated with post inflammatory hyperpigmentation tend to clear on their own, although this process typically takes several weeks and can even take months to fully resolve on its own. On the other hand, there is another category of dark patches of skin that are left behind after an acne lesion and are associated with an acne scar, these are considered to be patches of hyperpigmentation. The difference between a dark mark associated with post inflammatory hyperpigmentation and a hyperpigmented acne scar is whether or not there is damage to the follicle in the skin that creates a change in the skins texture. If you are looking for a solution to spots of hyperpigmented skin that have been left behind after an inflammatory acne breakout, Dr. Green can help you determine whether you have acne scars or post inflammatory hyperpigmentation, and help you resolve the appearance of dark marks and acne scars.
Cosmelan 3 and 6 weeks before and after
Do dark acne scars go away?
Dark marks that are left on the skin after acne breakouts and which are smooth against the surface of the skin, meaning that there is no textural difference between the hyperpigmented skin and surrounding skin, will typically resolve on their own with time. These dark marks in particular are associated with post inflammatory hyperpigmentation, a skin condition that results in excess melanin being produced and accumulated in areas of inflammation as part of the natural wound healing process of the skin. The excess melanin that is stored in these areas of the skin will lighten overtime as discolored and dead skin cells are naturally sloughed off to reveal healthier, even toned skin cells that are being produced by skin regularly. Although these dark marks will go away on their own, it can take a significant amount of time for them to completely resolve without any interference. If these hyperpigmented spots of skin are treated correctly and professionally, they may be diminished much more quickly than they would if left alone.
True acne scars are characterized by a textural abnormality in the skin, created by damage that is done to the follicle by inflammation. A dark mark that is atop the surface of a true acne scar may not resolve on its own and can require treatment in order to be reduced. It is considered more challenging to remove a true acne scar than it is to lighten areas of post inflammatory hyperpigmentation.
How to remove acne scars on dark skin
In order to remove acne dark spots or acne scars in darker skinned individuals, the first step is often to begin use of targeted, doctor-recommended skin care products. Curated skin care products with restorative ingredients such as retinol, hydroquinone, kojic acid, or alpha hydroxy acids, can help to brighten an acne-caused dark spot. In addition, in-office treatments are a popular method to reduce the appearance of both post-inflammatory hyperpigmentation and permanent acne scars.
When it comes to reducing discoloration of skin that is associated with a healed active acne lesion, Dr. Green often recommends to her patients traditional and enhanced Microneedling procedures, laser skin resurfacing, chemical peels, and steroid injections. In some cases, patients with atrophic scars can rely on dermal fillers (such as hyaluronic acid fillers) to restore collagen and volume to the skin, which in turn can reduce the appearance of indented scars. Patients who suffer with acne dark spots typically opt to build a treatment plan with Dr. Green that combines at-home and in-office treatments in order to quickly, safely, and effectively reduce the appearance of acne scars and related dark spots.
Acne and dark spot treatment – 7 months
Is laser acne scar removal safe?
Laser technology that is used for the treatment and removal of acne scars in the office of Dr. Michele Green is 100% safe. The lasers utilized have been approved by the FDA and are of medical grade, meaning that appropriate use of these advanced technologies is safe. Laser acne scar removal technology has been developed as a way to safely stimulate collagen production within the skin and to also remove the skin cells that have been damaged by inflammation to create acne scars. That said, the individual safety of a laser acne scar removal treatment depends on your skin tone and the specific laser being utilized. Some lasers, like the eMatrix sublative laser, are safe for use on all skin tones. Other laser treatments, such as Fraxel, are not suitable for all skin tones and it is essential that any laser treatment such as this is matched to the skin tone of the patient to ensure safety and prevent unwanted side effects. Dr. Green is a board-certified dermatologist with over two decades of expertise and knowledge surrounding laser acne scar removal treatments for patients of every skin type and skin tone.
Home treatments for acne scars
The most effective treatment for diminishment of acne scars tends to be a combination approach that incorporates both advanced in-office treatment technologies and specially formulated skin care products. While there is an abundance of acne scar treatment options available in a dermatologist's office, some patients prefer to include homeopathic remedies in their treatment plans. Most homeopathic remedies for reduction of acne scars include ingredients that have anti-inflammatory properties and are commonly associated with wound healing. Black seed oil is an example of an ingredient that is commonly used as a home treatment for acne scars that is effective due to its inherent anti-inflammatory properties. Aloe Vera is another natural ingredient that has been utilized in the process of wound healing for centuries. It has been found that Aloe Vera, thanks to its anti-inflammatory properties, can help to reduce scar tissue. One of the greatest things about using aloe Vera is that it is widely accessible, with countless aloe gels that are available over the counter and the option to grow a personal aloe plant at home. Yes! You can use your aloe leaves directly from the plant, just cut into a leaf and directly apply the gel to skin. If you are unsure about the efficacy and safety of a home treatment for acne scars, consult with Dr. Green regarding your cosmetic goals and your medical history. Dr. Green will help you construct a personalized treatment plan for eliminating your acne scars that perfectly suits your skin.
Before and after Chemical Peels (2 treatments)
How to get started with acne scar treatment
Acne scars can be a frustrating reminder of painful and annoying breakouts which are often even more difficult to resolve than the acne itself. Trying to determine which treatments are the best for your skin type and skin tone can feel overwhelming, and it's important to ensure that appropriate acne scar treatments are selected in order to prevent unwanted side effects such as hyperpigmentation or keloid scarring. Dr. Green is a board certified cosmetic dermatologist with over two decades of experience expertly treating patients of all different skin types and skin tones from around the world for their acne and acne scars, among various other skin conditions. She is consistently voted as one of the best dermatologists by New York Magazine, Castle Connolly, The New York Times, and Super Doctors. To schedule a consultation with Dr. Green and to find out more about how you can safely and effectively get rid of your acne scars once and for all, please call our New York City based dermatology office at 212-535-3088 or contact us online today.