A Mesopeel is a specially formulated chemical peel that can be used to address all types of hyperpigmentation on the face and body. A series of Mesopeels can effectively fade unwanted excess pigment and also works to control melanocyte activity. Melanocytes are the skin cells that are responsible for producing melanin, which is the component of the skin that gives it pigment. Mesopeels are designed to treat and fade the appearance of visible skin discoloration, dark spots, and photo aging, in a gentle yet efficient manner. Delicate areas of the body such as the inner thighs, groin, axillae, face, and under eyes may be impacted by hyperpigmentation but can not be treated with traditional chemical peels, which are far too irritating for use on the sensitive skin in these areas.
Mesopeels, through the process of chemoexfoliation, lead to an inflammatory reaction of the reticular dermis, and induces new collagen and elastin production. The treatment process also encourages the epidermis to renew at an increased rate, revealing smoother, softer, brighter skin that is more even in tone and texture. Dr. Green will work with you to customize your chemical peel and mesopeel treatment so that it perfectly caters to your needs and results in a healthier overall complexion that lasts.
Dr. Michele Green is an internationally renowned board-certified cosmetic dermatologist in New York City with over two and a half decades of experience providing patients from around the world with the best in non-invasive treatment options including Botox, dermal fillers, laser resurfacing treatments, chemical peels, and more. Dr. Green is an expert in chemical peels, Botox injections, dermal fillers, and cosmetic lasers, and one of the first NYC dermatologists to incorporate Mesopeels into her private New York City practice. When you work with Dr. Green, she takes the time to understand your specific skin concerns and customizes your treatment plan to cater to your individual needs and achieve your personal cosmetic goals.
What is a chemical peel?
A chemical peel is a non-invasive cosmetic procedure for anti aging, designed to provoke accelerated skin regeneration. A chemical peel is performed in a controlled manner through that application of various chemoexfoliation agents. The key to the best chemical peel is designing a protocol based on your skin type, tone, and skin care concert. Dr. Michele Green is an expert in chemical peels and has been performing the best chemical peels, or acid peels, to treat skin aging, hyperpigmentation, acne, acne scars, dyschromia, photo aging, superficial acne scars, and melasma for over 25 years in her private, boutique dermatology office, located in the Upper East Side neighborhood of Manhattan. The key to a successful chemical peel is understanding the nuances on various skin types and creating a customized treatment process for depigmenting the affected areas, that leaves the skin clear, rejuvenated, and bright. There are multiple types of chemical peels available in the office of Dr. Green, each of which offers its own unique skin benefits yet provides a rejuvenating effect to the skin.
What does Mesopeel treat?
A Mesopeel treats facial and bodily hyperpigmentation in all of the areas where skin is too sensitive to be treated with a traditional chemical peel. The Mesopeel can be applied to the axillae, inner thighs, groin, under eye area, and face. Usually, patients are recommended to have a series of mesopeels at an interval of 3-6 weeks apart to achieve optimal cosmetic results. The exact number of mesopeels that will be required for your treatment may depend on the area of the body that is being treated and the severity of the initial hyperpigmentation. There are different types of Mesopeels that can be used to target essentially any form of hyperpigmentation, and Dr. Green will work with you to determine which Mesopeel is right for you.
What is Mesoestetic?
Mesoestetic is the manufacturing company that makes Mesopeels, Cosmelan peel, as well as skincare products for at-home use including depigmenting creams, serums, and SPF. The Mesoestetic company is responsible for a number of innovative products and treatments that studies have proven to be safe and effective for treating an array of skin conditions including hyperpigmentation, acne, wrinkles and fine lines, and more. By pairing the in-office treatment methods with specially formulated skincare products for use at home helps patients achieve optimal cosmetic results that are particularly long-lasting. When you work with Dr. Michele Green in NYC, she will take the time to understand your individual skin concerns and customize the recommendations for procedures and products to help you achieve your cosmetic goals and look and feel your absolute best.
What is difference between Mesopeel and Chemical Peel?
A Mesopeel is a type of chemical peel that was carefully designed for use on areas of the body where skin is particularly sensitive and can not be treated with a traditional chemical peel. Mesopeels are just one of the types of chemical peels offered in the Upper East Side private office of board-certified cosmetic dermatologist, Dr. Michele Green.
A trichloroacetic acid, or TCA, peel is a type of chemical peel that is offered in varying strengths and depths to treat an array of skin conditions including acne breakouts, fine lines and wrinkles, hyperpigmentation, dullness, and sun damage. A TCA peel removes the surface layers of the epidermis, encouraging increased skin cell renewal to reveal a healthier, brighter, and smoother complexion. The TCA peel also helps to keep pores clear of sebum, dead skin cells, and debris to clear breakouts and prevent acne. Dr. Green will consult with you prior to your TCA chemical peel so that your treatment is perfectly catered to your skin needs.
Cosmelan is another variety of chemical peel that was initially designed specifically for the treatment of melasma. Melasma is a skin condition that is characterized by patches of brown or grey-brown skin that are darker in color than the rest of the surrounding skin, most commonly affecting the cheeks, forehead, and upper lip. Dr. Green has expanded the use of Cosmelan to encompass other forms of hyperpigmentation including post-inflammatory hyperpigmentation and sun damage. The Cosmelan chemical peel is applied as a mask by Dr. Green in her private dermatology office, and worn for up to several hours depending on the type and severity of the existing hyperpigmentation. The Cosmelan cream does increase the photosensitivity of skin, and it is often recommended to have the treatment in the fall or winter months to avoid causing skin irritation or damage.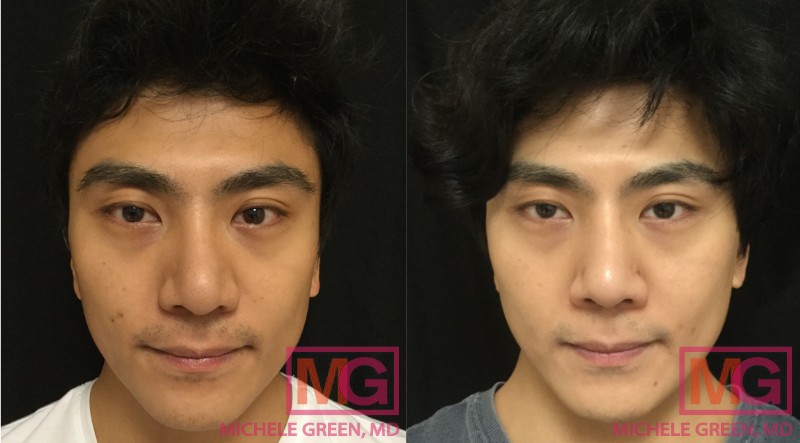 Post-summer mesoestetic chemical peel for hyperpigmentation and sun damage
After the summer, many of us realize that the damaging effects of the sun have caused new sun spots, solar lentigos, melasma, and ephelides. There are times that, despite our best efforts and sun protection, our skin becomes discolored and sun damaged. The Mesopeel system of chemical peels addresses these concerns and reverses the sun damage. Mesopeels are best when combined with topical depigmentation creams and chemical exfoliants. Mesospeels can address acne, skin blemishes, dyschromias, superficial lines and deep wrinkles.
Which areas can you treat with a Mesopeel?
Face
Arms
Chest
Buttock
Back
Axillae
Groin
Inner thighs
Periocular (around the under eyes)
What are the different types of Mesoesetic mesopeels?
Glycol acid 70% peel
Trichloroacetic acid 35%
Modified Jessner
Melanostop Trans3X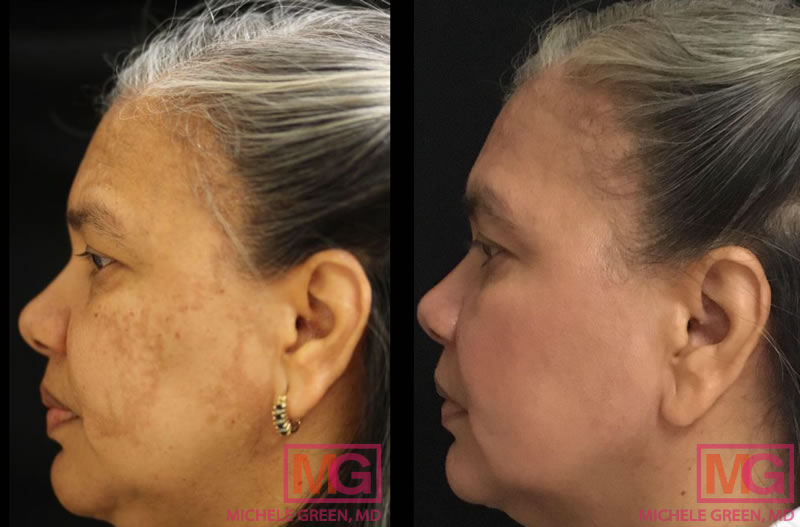 What is a Melanostop peel?
A Melanostop peel is specialist formulate to treat areas of hyperpigmentation on the body and facial melasma. This unique chemical peel is able to lighten dark spots on all skin types and skin tones, without irritation. With a series of Melanostop peels, dark areas of the face and body reduce and fade in size. These peels can also be used for the delicate skin around the eyes, axillae, inner thighs, groin, chest, back neck, buttocks, and face. Many patients suffer from pigmentation in these delicate areas or post-inflammatory hyperpigmentation from acne breakouts or irritation. The Melanostop Trans 3X peel is uniquely compounded to remove this pigmentation without any downtime or side effects.
What are the active ingredients in the melanostop trans 3X?
The Melanostop Mesopeel has four important active ingredients. It is composed of the following:
20% Azelaic
10% Resorcinol
6% Phytic
3% Tranexamic Acid
How long do you leave the Mesopeel on for?
Face:  10 minutes
Neck:  2 minutes
Body including axillae and groin area:  5-7 minutes

Other types of Mesoestetic Mesopeels
There are different types of Mesopeels, with different chemical bases, including Mesopeel TCA, Mesopeel Salicylic acid, Meosopeel Glycolic acid, Mesopeel Azelan, Mesopeel Lactic acid, and Mesopeel Mandelic acid. The following Mesopeels are designed to treat the various skin concerns:
Mesopeel Salicylic acid:  is a beta-hydroxy acid (BHA) which has a strong keratolytic, comedolytic, anti-inflammatory and anti-microbial effect. Mesopeel Salicylic acid treats acne, dilated open pores, both comedogenic and inflammatory acne, seborrehic dermatitis, sebaceous glands, reduces pore size and evens out skin tone.
Mesopeel Glycolic acid:  is one of the most popularly used alpha-hydroxy acids (AHA) which is an effective anti-aging treatment, improves skin tone, treats fine lines and wrinkles, photo aging, and improves the appearance of stretch marks and superficial to deep acne scars
Mesopeel Azelan acid:  treats rosacea and acne
Mesopeel Lactic acid:  is best used for hydration and to treat dull skin and increase the brightness of the skin.
Mesopeel Mandelic acid:  reduces pore size, sebaceous gland secretion, improves skin tone, reduces dyschromia and evens out pigmentation.
Mesopeel TCA:  TCA stimulates the activity of fibroblasts responsible for synthesizing the different macromolecules of the extracellular matrix (structural glycosaminoglycans and proteoglycans).
Mesopeel Melanoplus: A blend of depigmenting acids that is used to target lentigines, dark spots, and other areas of focal hyperpigmentation
What does the Mesopeel Melanostop treat?
The mesopeel Melanostop is indicated for the treatment of epidermal pigmented lesions, solar lentigos, ephelides, melasma, hyperpigmentation and similar dyschromias. One of the key ingredients in Mesopeel Melanostop Trans 3X is Phytic acid.  Phytic acid is a powerful copper chelating agent. Copper is an essential cofactor for activating tyrosinase, and so it has important depigmenting and antioxidant effects, will brighten skin discoloration, and even out skin tone. The keratolytic activity of the peel increases the exfoliation of the superficial layers of the stratum corneum by altering corneocyte adhesion. The Mesopeels stimulate cell regeneration, boosts glycosaminoglycan synthesis and helps improve skin quality, and increases collagen and elastin production. The Melanostop peel is uniquely formulated for the delicate axillae, groin, upper thighs, breast, chest, buttocks, or under eye area.
Mesopeel Periocular: to treat under eye dark circles and wrinkles around the eyes
A new chemical peel for treating the periorbital area is the Mesoepeel Periocular peel.  It is a unique chemical peel composed of azelaic acid, salicylic acid, lactic acid, resorcinol, citric acid, and phytic acid. This chemical peel is uniquely formulated to treat the periorbital area. It specifically aids in reducing the winkles in the eyelids (upper and lower) crow's feet, hyperpigmentation, skin laxity, under-eye circles, and loss of brightness. If you have tired looking eyes and want a non-surgical way to improve their appearance, Mesopeel Periocular is an amazing anti-aging chemical peel to accomplish your eye rejuvenation.
Can Mesopeels be combined with other cosmetic treatments?
Yes! Dr. Green regularly combines the gentle, yet effective Mesopeel treatments with other non-invasive cosmetic anti-aging treatments. Botox injections, V-beam laser treatments for redness, dermal fillers, and skin tightening lasers such as Thermage are among just a few of the types of complementary treatments that patients elect to undergo in addition to their Mesopeel treatment for hyperpigmentation. Many patients choose to schedule multiple cosmetic treatments at the same time to take advantage of the skin rejuvenating effects offered by different types of procedures. When you consult with Dr. Green, you will have the opportunity to discuss in depth regarding your specific skincare concerns and the cosmetic effects you'd like to achieve with your treatments. She will then make the appropriate recommendations for you to deliver optimal cosmetic results on a timeline that works best.
How do I get started with Mesopeels / Chemical Peels today?
A chemical peel is a great non-invasive resurfacing skin treatment for targeting various skin concerns such as wrinkles and fine lines, superficial acne scars, hyperpigmentation, and more. There are many different kinds of chemical peels, and several types that Dr. Green utilizes in her private dermatology office, located in the Upper East Side neighborhood of Manhattan. To get started with your facial rejuvenation treatments and understand which chemical peel is best suited to you, addressing your specific skin concerns, and achieving your personal cosmetic goals, schedule a consultation with Dr. Michele Green. Dr. Green is a board-certified cosmetic dermatologist with over twenty five years of experience and internationally appreciated expertise in non-invasive cosmetic treatments, including chemical peels.
If you are bothered by hyperpigmentation on the face or body and are looking for a solution that is painless, quick, and doesn't require any downtime whatsoever, the Mesopeel may be just the treatment for you. The Mesopeel was designed for depigmenting areas of the body where skin is too sensitive to treat with traditional chemical peels including the under eyes, neck, axillae, inner thighs, and groin. No matter what your skin concern, Dr. Green is here to help. In addition to providing the best in non-invasive depigmenting treatments, Dr. Green performs what is known as the "best Botox in Manhattan", cosmetic dermal fillers, laser skin resurfacing treatments, Thermage laser for skin tightening, microneedling, and PRP injections. To schedule a consultation with Dr. Green and learn more about Mesopeels and other non-invasive treatment options for pan-facial rejuvenation, contact us online today or call 212-535-3088, and get started with your customized treatment approach.