Laser Skin Resurfacing
Find out more about laser skin resurfacing with Fraxel, Juvederm, Restylane & VBeam.
Are you frustrated by the appearance of fine lines and wrinkles, enlarged pores, uneven skin texture, age spots, and/or acne scars? Blemishes on the skin, especially in highly visible areas such as the face, can make patients feel self-conscious. It can be challenging to try and conquer all of our skin concerns, particularly when we're unsure of which potential treatments would work best for our unique skin type, skin tone, and issue. Board-certified cosmetic dermatologist, Dr. Michele Green in NYC, has been advising patients on the best treatment options to suit their needs and treating patients with a wide variety of innovative procedures. When it comes to addressing blemishes, such as age spots, acne scars, fine lines and wrinkles, and uneven skin texture or tone, Dr. Green often turns to the unique power of laser skin resurfacing.
Laser skin resurfacing technology is an innovative approach toward the revitalization of the skin, helping to achieve a smoother, tighter, more radiant, and youthful overall skin tone and texture with minimal downtime. This non-invasive treatment option is used to target skin issues ranging from sun damage, age spots, fine lines, and acne scars, to deep wrinkles, enlarged pores, and hyperpigmentation. Dr. Green employs the best skin resurfacing laser treatments to encourage new collagen production in the skin and provide the ultimate results.
Dr. Michele Green is an expert in cosmetic dermatology and has over 25 years of experience in treating the skin concerns of thousands of patients from around the globe in her private New York City, Upper East Side office. Dr. Green combines the science of technology and the art of cosmetics to offer the very best in laser skin resurfacing treatments. She takes pride in the relationships that she establishes with her patients, and focuses on developing holistic, customized treatment protocols that are designed precisely for each individual's skin type and condition.
What is Laser Skin Resurfacing?
Laser skin resurfacing, also called photo-rejuvenation or a laser peel, is an outpatient cosmetic procedure that is best performed by a board-certified dermatologist or plastic surgeon, like Dr. Michele Green in Manhattan, New York. The results of laser skin resurfacing are tighter, firmer, smoother, and more youthful skin tone and texture, with a decrease in fine lines. The goal of laser skin resurfacing is to produce new collagen and reveal new healthy skin. Laser skin resurfacing has been a breakthrough for patients with acne scars, fine lines, sun damage, and hyperpigmentation. With minimal downtime, years of sun exposure and discoloration can be reversed. With gentler fractional lasers, such as the Fraxel laser, the top layers of skin can be resurfaced with minimum downtime and side effects.
Before and After Fraxel: 2 sessions 
How does Laser Skin Rejuvenation work?
Laser skin rejuvenation is a non-surgical treatment to provide smoother, tighter, more youthful-looking skin while improving the appearance of sunspots, acne scars, fine lines, and wrinkles. It can also be used to treat other blemishes, such as warts, scars, and birthmarks. Laser skin resurfacing works by damaging targeted skin cells in a controlled manner, creating microscopic injuries in the treatment areas while leaving the surrounding skin unharmed. The lasers will either target the outer or deeper layers of the skin depending on whether it is for superficial discoloration or deeper acne scars to reveal new healthy skin. There are two different kinds of laser resurfacing treatments: ablative and non-ablative lasers. Ablative lasers have a longer recovery time and involve essentially removing the outer layer of skin. Non-ablative lasers, use wavelengths of energy to heat the inner layer of the skin. During the natural healing process, which is triggered as a result of the micro-injuries created on the skin, new collagen fibers and new skin cells form in the treatment area. These results are impressive, removing extensive photodamage, including wrinkles, fine lines, age spots, and more without the need for cosmetic surgery. 
What is the Resurfacing Laser Procedure?
Before having treatment, Dr. Michele Green will review your medical history and evaluate your skin to determine whether you are a good candidate for laser skin resurfacing. If there is a history of herpes simplex, pre-treatment is necessary with oral antiviral medication. Patients with a history of cold sores or blisters in the area surrounding the mouth should disclose this information to Dr. Green before treatment, as laser resurfacing treatment can lead to a flare and need pre-treatment with an oral antiviral medication such as Valtrex. A careful review of skin type and tone is important as darker skin types need to be treated more gently to avoid hyperpigmentation.
A topical local anesthetic is applied one hour before the procedure to the treated area to minimize any discomfort from the laser. Oral or intravenous sedation is not necessary for these laser skin resurfacing treatments. You can expect some skin erythema, swelling, and scabs to form during the healing process, which can range anywhere from a few days to two weeks, depending on the type of laser used and the depth of treatment. The result of laser skin resurfacing is smoother, firmer, tighter, healthier, and more radiant skin. 
What is the aftercare for laser skin resurfacing?
There are two different types of laser skin resurfacing treatments, which require different amounts of recovery time and, as such, slightly different aftercare procedures. Ablative laser skin resurfacing involves the elimination of the top layer of skin, which means the downtime will be longer following the treatment. Before you leave Dr. Green's office after ablative laser resurfacing, she will apply ointment and a bandage to the treatment area to protect the skin from infection. In the first couple of days, the skin may feel warm, red, and itchy, and then in the days following, the skin may start to flake and peel. After one to two weeks, new skin will develop in the treatment area though it can take up to several months to see the full effects of the treatment. Patients are advised to avoid situations that may expose the treatment area to infection, including shared bodies of water.
The recovery time for non-ablative laser treatment is minimal and patients can generally return to their regularly scheduled activities immediately after treatment. There may be some swelling and redness at the treatment site for several hours post-treatment but these symptoms will resolve themselves quickly. After receiving either laser skin resurfacing treatment, patients must wear sun protection, such as a broad-spectrum sunscreen of SPF 30 or higher, to reduce the risk of further damage to the skin. Additionally, patients can prolong the effects of the treatment by caring for the skin with moisturizers and other skincare products.
Does Laser Skin Resurfacing Work?
Yes! Laser skin resurfacing procedures work extremely well to treat skin concerns such as fine lines, deep lines and wrinkles, acne scars, enlarged pores, age spots, sun spots, stretch marks, hyperpigmentation, and to help to promote overall healthy skin and even skin tone. Results may be seen after just a single laser skin resurfacing session. However, to optimize your results, you may want to plan two to three sessions for the treated area. You will discuss your expectations and desired treatment results with Dr. Green during your consultation where she will review the various laser treatments, chemical peels, and other skin rejuvenating treatments to address your specific concerns.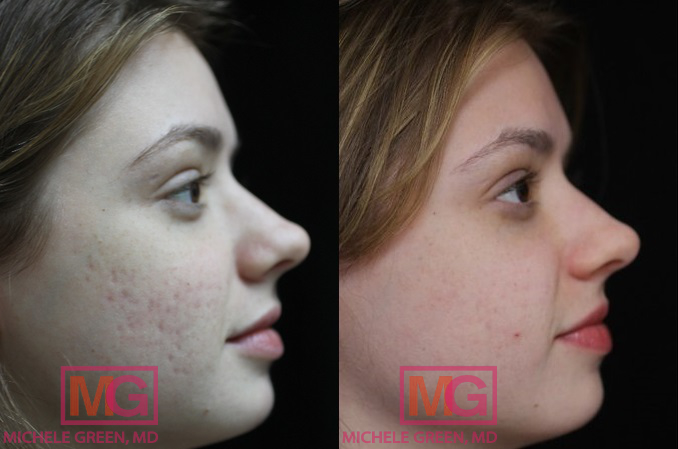 Female treated with Restylane, Vbeam and eMatrix
Types of Laser Treatments Available
Laser skin resurfacing treatments fall into one of two categories: ablative or non-ablative. Ablative lasers remove the outer layer of skin (epidermis) while heating the underlying dermis layer to stimulate collagen production. As the skin heals, the treated area appears smoother and tighter. Ablative lasers include carbon dioxide or CO2 lasers. Non-ablative lasers also stimulate collagen growth but have a gentler and less aggressive approach. These lasers often have little to no recovery time and include the VBeam laser, Intense Pulsed Light (IPL), Vivace, and eMatrix laser.
Ablative laser resurfacing
Ablative lasers work by effectively removing the top layer of skin. The erbium laser and the carbon dioxide laser (also known as a CO2 laser) are examples of ablative laser technology. CO2 laser resurfacing works best to treat skin concerns such as warts, deep wrinkles, and scars. During this procedure, a high-energy light beam is utilized to create controlled, micro-injuries in the skin. As the skin heals, new collagen is produced. This restores lost elasticity and results in firmer, younger-looking skin. The downtime associated with the CO2 procedure is generally one to two weeks in duration.
Carbon laser treatment for Acne Scars
Nonablative laser treatments 
The second classification of fractional laser technology is "non-ablative". These lasers work by heating the underlying layers of the skin, without damaging the surface of the skin. The VBeam laser, Fraxel Dual, and Intense Pulsed Light (IPL) are all classified as non-ablative laser technologies and are used to treat a myriad of skin issues. 
Fraxel® Dual laser – This laser is very flexible and can be used to treat a range of different skin conditions. The Fraxel Dual Laser operates on two different wavelengths. The 1550 wavelength can penetrate deeper layers of the skin and is used for treating fine lines, wrinkles, and acne scars. The 1927 wavelength penetrates the skin on a shallower level and is primarily used to treat problems with pigmentation and skin discoloration. The Fraxel laser can fine-tune skin rejuvenation treatment by targeting only a fraction of skin tissue at a time, leaving the surrounding skin intact. This fractionated method of skin resurfacing yields quick healing, allowing your skin to swiftly produce and remodel new collagen to reveal a more youthful complexion.
V-Beam® Laser – This laser is exceptional in its capacity to treat redness caused by an array of skin conditions, from acne to rosacea. The laser operates at a wavelength that exclusively targets skin cells holding onto red pigment, making it a highly effective option for treating facial redness, broken blood vessels, and spider veins. For patient comfort, there is a Dynamic Cooling Device (TM) (DCD) that cools the skin before emitting each laser pulse, protecting the skin and preventing post-treatment bruising. The laser treatment itself only takes a few minutes to complete and since there is no downtime, you can put makeup on or return to work promptly after the procedure. 
Intense Pulsed Light (IPL) –  IPL treatment is not a laser, but is a technology that utilizes lights of various wavelengths to treat similar concerns that are addressed by lasers. IPL penetrates the dermis of the skin without causing any harm to the top layer of the epidermis. These beams of light work, depending on the setting used, to improve rosacea, even out skin pigmentation, and perform hair removal and skin tightening. 
eMatrix Sublative Laser – The eMatrix is a unique laser system that uses bipolar radiofrequency energy to heat below the skin surface while keeping the top layer of skin intact. By bypassing the epidermis and delivering heat to the deeper dermal layer, it minimizes the problems associated with resurfacing lasers, including hyperpigmentation. Each pulse of the eMatrix laser delivers radiofrequency energy in the area of the electrode matrix, to induce skin injury and activate fibroblasts to signal a wound healing response and produce new collagen. The eMatrix laser improves the appearance of the skin by improving tone, texture, wrinkles, acne scarring, and stretch marks.
Vivace Laser – Vivace is a non-surgical treatment that combines two of the best modalities, microneedling and radiofrequency (RF) energy. RF heats the dermis to stimulate new elastin and collagen production. This stimulation, in turn, tightens the the skin and reduces skin laxity. Microneedling utilizes microneedles to activate the skin's natural wound healing process. This activation boosts collagen production, which improves the texture of the skin, improving the appearance of acne scars, minimizing pore size, and reducing fine lines and wrinkles.
Before and after Vbeam: 2 months
Side Effects of Laser Skin Resurfacing
The side effects of laser skin resurfacing can include:
redness

peeling

dryness

swelling

milia

acne breakouts

hypopigmentation

hyperpigmentation

scarring

bacterial infection

exacerbation of herpetic infection/cold sores
Ablative skin resurfacing lasers have a higher degree of potential side effects. These adverse side effects are minimized when seeking treatment at a skilled, board-certified dermatologist, such as Dr. Michele Green in NYC. It is always best to consult an expert in laser procedures, over a MedSpa with inexperienced providers. Non-ablative lasers, such as the V-Beam, IPL, Fraxel, Vivace, and Thermage lasers generally have little or no recovery time.
How much is laser skin resurfacing?
The cost for laser skin resurfacing treatment is dependent on several factors, including who performs the procedure, where the treatment is performed, and which laser is selected. The most recent statistics from 2019, as reported by the American Society of Plastic Surgeons, show the price of non-ablative laser treatments averaging at $1,201 and the cost of ablative laser treatments at $1,963. It's important to choose a physician, like Dr. Michele Green, who has vast experience with laser skin resurfacing, and who can accurately determine which laser treatment is best suited for your skin tone, skin type, and skin concern. 
Combining laser skin resurfacing with dermal fillers  
Laser skin resurfacing can be combined with other cosmetic procedures, such as Botox injections and dermal fillers, as an amazing alternative to a facelift or other plastic surgery. One of the most popular ways to customize and combine a laser skin rejuvenation treatment is by utilizing hyaluronic acid fillers, such as Juvederm or Restylane. Dermal fillers are injectables that are commonly used to reduce the appearance of fine lines and to boost volume in key areas, such as the lips, nasolabial area, jowls, or the midface. Hyaluronic acid is a naturally-occurring substance in the body that is used to stimulate collagen production. With hyaluronic acid dermal fillers, patients can target specific areas of the face to restore lost volume, smoothing out fine lines, wrinkles, and folds, and plumping the skin. 
Restylane and Juvederm can safely be used together during the same visit, and the combination of these treatments in different areas of the face can provide phenomenal results. Since Restylane and Juvederm are both hyaluronic acid fillers, they can often be used as complementary treatments. When it comes to developing a treatment plan that combines Restylane, Juvederm, and laser skin resurfacing, Dr. Green will carefully consider the different compositions of the fillers, and the desired outcome from your laser treatment, to provide the best skin rejuvenation results.
How long does it take to recover from laser skin resurfacing?
The recovery time from laser skin resurfacing is dependent on which lasers are being used and whether they are ablative or non-ablative. Non-ablative lasers like VBeam, IPL, and Vivace have no downtime. Ablative lasers, like the CO2 laser typically have a downtime of up to two weeks. Since the CO2 laser is a more aggressive laser, there are more potential side effects. During the healing process and in order to maintain the positive effect of your treatment, it is of the utmost importance that you apply sunscreen with an SPF 50 or higher daily.
How long does laser skin resurfacing last?
Results from your laser skin resurfacing treatment can last for many years. You can help maintain your results by limiting sun exposure and being sure to use a broad-spectrum sunscreen daily. The results from laser skin resurfacing, such as removing brown spots, sun spots, and pigmentation, can be permanent, provided you do not have new sun damage.
Is laser skin resurfacing permanent?
The results of laser skin resurfacing are permanent, provided you do not have new sun exposure or environmental damage. Of course, laser treatment will not prevent the aging process, but laser skin resurfacing can remove all of your current sun damage, sun spots, fine lines, and wrinkles, and leave you looking years younger.
Fraxel laser skin treatment, 3 sessions
How many laser resurfacing treatments are needed?
The number of treatments necessary for laser resurfacing treatments depends largely on the condition being treated and what type of laser is being used. Patients receiving treatment with an ablative laser typically only require one treatment session to accomplish the desired results. It can take several weeks for the skin to fully heal following ablative laser treatment but once the skin has healed, the effects of the treatment can remain visible for years. Sun avoidance and daily sun protections are essential to maintaining the cosmetic results of the laser resurfacing procedure.
Non-ablative laser treatments may require three to six treatment sessions depending on the dermatologic condition which is being addressed. The VBeam laser can effectively treat rosacea, red stretch marks, and general redness and generally requires five to six treatments, spaced one month apart. The eMatrix and Fraxel laser typically requires five treatments to help resurface the skin in patients with acne scars. The Fraxel laser usually requires three treatments, one month apart when used to remove sun damage and pigmentation. The number of treatment sessions is entirely dependent on the severity of your case and may take fewer or more than the typical number of treatment sessions. During your consultation with Dr. Green, she can help you make the best treatment plan.
Does laser skin resurfacing tighten skin?
The new skin that forms after having a laser skin resurfacing treatment is often tighter and firmer due to the new collagen fibers that are produced. Some laser skin resurfacing technology such as Fraxel may be designed to treat more pigmentation, wrinkles, or acne scarring, whereas other lasers such as Thermage may be designed solely for skin tightening. Many patients choose to combine treatments with Thermage and Fraxel to maximize the skin rejuvenation results.
Does laser skin resurfacing hurt?
No, fractionated laser skin resurfacing with Fraxel, Vivace or radiofrequency lasers with eMatrix or Thermage are not painful. Dr. Green will prescribe a topical, local anesthetic to be applied to the treatment area one hour before the procedure to help minimize any discomfort. Lasers, such as the VBeam laser, Thermage, or IPL do not require any numbing cream. Many patients compare the feeling of laser skin resurfacing treatment to the sensation of a rubber band snapping against the skin, which is very tolerable. However, CO2 laser resurfacing with an ablative laser, can be more painful and may require sedation.
Is laser skin resurfacing safe?
Laser skin resurfacing is safe provided that you are a good candidate for the procedure. Your provider must choose a laser that is safe to use on your skin color. Hypopigmentation (lightening skin pigment), hyperpigmentation (darkening skin pigment), scarring, and burning the skin are all possible side effects if the laser is not suitable for your skin tone. This is especially important for patients who have darker skin tones. This does not mean that you are not a good candidate for treatment with laser skin resurfacing if you have darker skin, but that extra precaution is needed in choosing the correct laser. Dr. Michele Green in NYC is an expert in treating patients with skin of color and is well versed in the different laser procedures.
What is CO2 laser skin resurfacing?
CO2 laser skin resurfacing is an ablative laser treatment procedure that removes layers of skin to treat such conditions as deep wrinkles, warts, sun spots, and scars. The CO2 laser works by removing outer layers of skin in the treatment area while heating the inner layer to stimulate the body's natural healing process and the production of collagen. The CO2 laser can be used to address skin conditions of varying depth and scope, with the use of a higher setting requiring more downtime following the procedure.
What is the best laser for skin rejuvenation?
No one laser is inherently better than others, rather different lasers serve different functions, and, therefore, it is important to determine the type of laser that works best for you. When you have your initial consultation with Dr. Green, she will assess the treatment area and you will discuss your aesthetic needs and goals. Taking those into account, Dr. Green will recommend the laser treatment best suited to address your condition and goals.
Is laser skin resurfacing worth it?
Yes! Laser skin resurfacing is worth it since it is one of the most effective ways to remove sun damage and age spots, promote new collagen, produce new healthy skin cells, and rejuvenate the skin. This non-surgical procedure works wonders in eliminating the appearance of a variety of blemishes and creases without the need for any significant recovery time. The result is tighter, smoother, more youthful-looking skin with effects that can last for years after as few as one treatment session.
How do I get started with laser skin resurfacing today?
If you are concerned with the texture, pigmentation, or condition of your skin, Dr. Michele Green is here to help. There are many laser resurfacing skin treatments that Dr. Green performs from Fraxel to eMatrix to VBeam. Dr. Michele Green in NYC is an expert in cosmetic laser skin resurfacing and can find the best laser treatment for your skin tone and your skin concerns. With clients based around the world including Europe & Asia and across the country from San Francisco to NYC, she is consistently voted as one of the best dermatologists in New York by New York Magazine, Castle Connolly, and Super Doctors. If you are experiencing unwanted hyperpigmentation, texture, and scars, and are looking for the best laser skin resurfacing treatment in New York, please call our office at 212-535-3088 or contact us online to develop your customized laser skin resurfacing treatment plan with Dr. Green today.