Once of the most popular treatments among patients in recent years has been that of lip augmentation. From celebrities, to women-on-the-go, to those who notice the appearing of aging on the lips, the transformation from thin lips to a luscious pout has become synonymous with a healthy, youthful appearance. Dr. Michele Green is known as the "lip queen" and does some of the most beautiful lip injections in New York. From Botox, to Restylane injections and Juvederm, Dr. Green will help customize the best lip fillers for you to have the best cosmetic results.
One of the most popular treatments for lip enhancement is that of hyaluronic acid lip injections. Hyaluronic acid dermal fillers use a natural substance, hyaluronic acid, to boost collagen in the body, and in turn creating natural-looking lip fullness. Dermal fillers are also used to reduce the appearance of fine lines and wrinkles both directly on the lips and in the surrounding lip area. Brands like Restylane and Juvederm have developed wonderful families of hyaluronic acid fillers to target different areas of the face, and Restylane offers several plumping lip fillers that also offer treatment for vertical lip lines and "smile lines" or nasolabial folds. These injectables are an incredible innovation in the world of dermatology as they require little to no downtime, and offer similar results when compared to plastic surgery for the lips, or other invasive procedures that a plastic surgeon might offer.
If you're interested in improving your lip fillers or reducing signs of aging on the lips, board-certified dermatologist Dr. Michele Green is here to help. Dr. Green is an expert in cosmetic lip injections, Botox, Restylane, Juvederm, and other dermal fillers. She is frequently recognized as one of the best injectors in New York by Castle Connolly and New York Magazine. If you are interested in lip augmentation and want the best cosmetic results, its time to consult with Dr. Green in her NYC private dermatology office.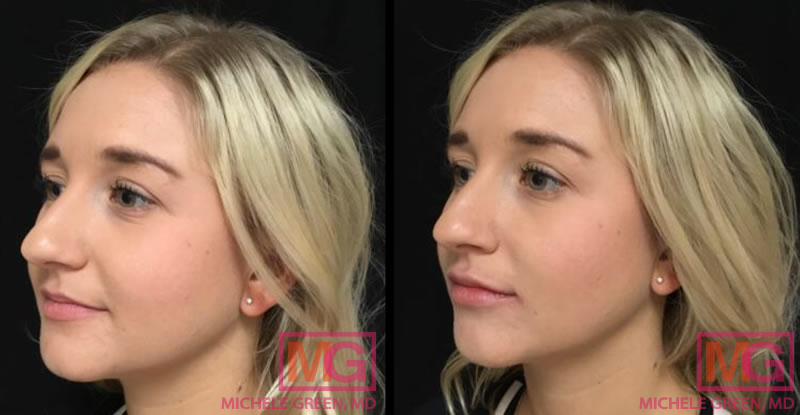 Restylane 1 syringe lips before and after
What is Restylane Dermal Filler?
Restylane dermal fillers, from the pharmaceutical giant Galderma, are a family of hyaluronic acid fillers that create volume to enhance facial contouring. Dermal filler is an injectable that boosts collagen production within the dermis to restore volume loss and reduce the appearance of fine lines and wrinkles. Through the use of hyaluronic acid, collagen production is ignited surrounding the injection site, which in turn helps to improve the volume and elasticity of of the skin. Restylane products are approved by the Food and Drug Administration (FDA), and use hyaluronic acid formulations that can be used as tailored treatments for a variety of areas of the face. The Restylane product family includes Restylane-L, Restylane Lyft, Restylane Kysse, Restylane Silk, Restylane Defyne, and Restylane Refyne.
Is Restylane good for lips?
Restylane filler injections are an excellent way to improve the appearance of the lips without the need for invasive procedures or recovery time. Restylane lip fillers are able to instantly plump the lips and for natural-looking volume enhancement, and have long-lasting results.
Which Restylane is best for Lips?
When it comes to the lips, Restylane Kysse, Restylane Silk, and Restylane-L can all be used to provide body and fullness to the lip area. Restylane Kysse is a top option for long-lasting lip augmentation, and is successful in reducing the appearance of vertical lip lines. Restylane Silk is a popular option for those seeking extremely natural, younger-looking lip enhancement, as is an excellent option for those seeking to reduce the appearance of "smoker's lines" around the mouth. Lastly, Restylane Lyft, Defyne and Refyne are formulated to target folds and wrinkles around the mouth, helping to reduce the appearance of moderate and severe "smile lines" or "laugh lines" (nasolabial folds).
Restylane Kysse
Restylane Kysse is the newest lip filler in the line of Restylane products, and it's specifically formulated to treat and correct upper lip lines, also known as perioral lines. The composition of Restylane Kysse is able to enhance and hydrate the lips, which in turn helps to create a luscious, hydrated pout. Additionally, Restylane Kysse offers long-lasting results, offering patients up to a full year of lip fullness. As a result of its natural-looking lip enhancement and increased longevity when compared to other lip fillers, Restylane Kysse has become one of the most popular lip injectables on the market. It currently holds a 94% "worth it" rating amongst cosmetic treatment patients on RealSelf.
How long does Restylane Kysse last in the lips?
The results of Restylane Kysse are apparent almost immediately after treatment, and this increased volume in the lips last up to a year with most patients.
Restylane Silk for lips
Restylane Silk is a targeted filler treatment for both the lips and the fine lines around the lip area, and in fact was the first FDA-approved treatment designed for this purpose. Restylane Silk's formulation relies on a unique, small particle size, which is able to create precise lip shaping, as well as smooth the lines surrounding the mouth. Due to its targeted treatment of perioral lines, Restylane Silk is a popular option in order to create natural-looking lip rejuvenation, with a subtle increase in size and lip fullness.
How long does Restylane Silk last in the lips?
Restylane Silk typically lasts in lips for 9 to 12 months or more, and results are apparent right after the filler injection. At the 9 month mark, most patients begin to see the hyaluronic acid filler's volume gradually dissipate, so many patients will opt for a "touch up" treatment semi-annually to maintain their desired results.
Restylane Defyne and Refyne
Restylane Defyne and Restylane Refyne use a similar formulation that relies on XpresHAn technology, which is a patented cross-linking design that allows the hyaluronic acid particles to seamlessly cross-link with the skin's cells, in turn creating incredibly natural results. The XpresHAn technology allows for greater flexibility in correcting and smoothing out facial lines and wrinkles, which is why both Restylane Defyne and Restylane Refyne target smile lines and laugh lines. Typically, Restylane Defyne is used on patients who have severe or deep smile lines and folds around the mouth, whereas Restylane Refyne is tailored towards those who have more moderate fine lines and folds in the lip area.
How long does Restylane Refyne and Defyne last in lips?
Due to their unique formulation Restylane Refyne and Restylane Defyne are not used as lip fillers, but used to treat the smile lines or nasolabial folds.  These two dermal fillers typically last up to one year in the majority of patients.
How does Restylane lip filler treatment work?
The process for Restylane lip filler treatment is simple and easy. First, you'll meet with Dr. Green for an initial consultation where you'll discuss your medical history and goals for your treatment. Dr. Green will carefully assess the treatment area and help you to create a customized skin care and cosmetic treatment plan. Then, if Restylane lip filler is determined to be the best option for you, you'll work with Dr. Green to determine the exact look you'd like for your lips. Dr. Green is an artful dermal filler injector who uses a "less is more" approach to any injectable in order to provide the best, natural-looking results. As Dr. Green says in her interview with Glamour, "You really, really don't want [your lips] to be overfilled, and it's easier to have too little than too much."
When it comes your Restylane lip filler procedure, many Restylane formulations include lidocaine to help numb the injection site during the treatment, but a topical numbing cream will be applied to prevent any further discomfort. After about 30 minutes, Dr. Green will inject Restylane directly into the targeted lip area, and you can continue with your normal daily activity as soon as you leave the office.
How long does it take for Restylane to settle in lips?
For most patients, results from Restylane treatment will be apparent immediately after treatment, and any swelling that occurs will dissipate over the next few days. For most patients, optimal results are visible after around 14 days, and you can assume that the look of your lips will remain consistent over the next six months to one year.
How long are lips swollen after Restylane?
After treatment, side effects are usually minimal and mild, but may include some redness or swelling at or near the injection site. The majority of patients see any initial swelling or redness disappear over the first few days post-treatment, and rarely will additional swelling last longer than 14 days. In some cases, patients may see bruising, which is a risk to any injectable treatment. For this reason, Dr. Green recommends avoiding blood thinners, aspirin or ibuprofen before your treatment, as these can lead to an increased risk of a bruise developing after treatment.
In rare cases, patients may experience more serious side effects due to injection into a blood vessel, but this is much more likely to occur with an inexperienced injector. For this reason, it is vital that you work with a board-certified medical professional for all of your injectable treatments, as opposed to a medical spa injector or aesthetician.
Before and after Restylane in lips – 1 injection
How much Restylane for lips is needed?
The amount of Restylane for lips varies widely depending on the current condition of the lips, as well as the needs and aesthetic goals of each patient. However, for the majority of patients, 1-2 vials of Restylane will suffice for lip augmentation, as well as to reduce the appearance of aging on the lips. When you work with Dr. Green, she'll be able to carefully tailor a treatment plan for you that will lead you to both look and feel like your best self.
Which is better for lips: Juvederm or Restylane?
Both Juvederm and Restylane are excellent dermal filler brands designed to create high-quality, natural-looking volume on the face. When it comes to the lips, Juvederm lip formulas like Juvederm Volbella XC, Juvederm Ultra XC, and Juvederm Ultra Plus XC are often compared to Restylane lip filler options. Juvederm, from Allergan (the makers of Botox), tends to last longer than the majority of Restylane fillers, though of course Restylane's most recent lip-filler formulation for Restylane Kysse competes with Juvederm lip fillers in terms of longevity.
At the end of the day, there is no single "best" dermal filler. Typically, the choice between Juvederm and Restylane is dependent on the particular aesthetic look that a patient wants, as well as the previous experience Dr. Green has had with each different lip filler formulation. Dr. Green is an expert in dermal filler injections, and was one of the first doctors in NYC to perfect the use of both Juvederm and Restylane fillers. Her vast knowledge and artful lip augmentation has made her the "go-to doctor" for beautiful lips.
How do I get started with lip fillers today?
If you're frustrated by the appearance of thin lips or wrinkles in the lip area, Restylane for lips may be just what you're looking for. With over 25 years of experience in cosmetic injections with Botox, Juvederm, and Restylane injections, Dr. Green will provide you with the best cosmetic results. Dr. Michele Green is an expert in dermal fillers, skin care, anti-aging, and laser skin treatments. Contact our New York office today to develop your custom lip enhancement treatment plan.
To find out if Restylane is right for you, contact us online at our NYC based office or call 212 535 3088.