Dr. Michele Green has been using cutting-edge laser technology, like the Vbeam laser, to target sun damage, rosacea, and broken blood vessels and other skin issues, at her NYC Upper East side office for over two decades. The Vbeam laser is considered the gold standard for treating broken capillaries, facial rosacea, acne scars, facial veins, port wine stains, leg veins, spider veins, and facial redness. Manufactured by Candela, the Vbeam laser is the best pulsed dye laser (PDL) of its kind. The Vbeam laser's unique cooling technology allows it to treat all of these dermatology conditions, without any down time or discomfort. Dr. Green delivers outstanding treatments with the Vbeam laser and will restore your skin's luster and clarity. 
Whether you are suffering from rosacea, unsightly leg veins, acne scars, or any other type of vascular or red lesion, the Vbeam laser can safely and effectively remove the red blood vessels and restore your skin to a clear complexion. The Vbeam laser generally takes a series of treatments, and there is no recovery time after each session. The proper skin care, sunscreens, cleansers, and lotions, are all essential for treating rosacea and preventing its recurrence. Acne scars, leg veins, and stretch marks can all be treated safety and effectively with the Vbeam laser. If pigmented lesions are of concern, the Vbeam laser can be used at the same time as other treatments, such as Clear and Brilliant or Fraxel laser.
Dr. Michele Green is an expert in cosmetic dermatology and has over 25 years of experience in cosmetic lasers, the best skin care, and injectables. As an internationally renown cosmetic dermatologist, Dr. Green will help create the ideal protocol for your skin type and cosmetic issue. Dr. Green treats patients of all ages and skin tones, and will match the best treatment with your dermatologic issue. If you are suffering from unwanted spider veins, facial redness, acne/rosacea, or acne scars, Dr. Green is here to help.
What is a pulsed dye laser?
Lasers are used in dermatology to help treat various skin issues from sun spots, pigmentation, to acne scars, rosacea and spider veins. Lasers are able to emit high-intensity single wave lengths of coherent light energy. Depending on the wavelength, pulse width, and energy used (Joules), this energy will help treat the various dermatologic skin conditions. A dye laser is a laser which utilizes an organic dye mixed in a solvent as the lasing medium. Pulsed dye lasers produce visible light at a wavelength of 585 or 595 nm. The principle of this laser works by that of selective thermolysis. The laser's energy is absorbed by the chromophores in the skin. In the pulsed dye laser, the main chromophore targeted is the hemoglobin in blood or blood vessels.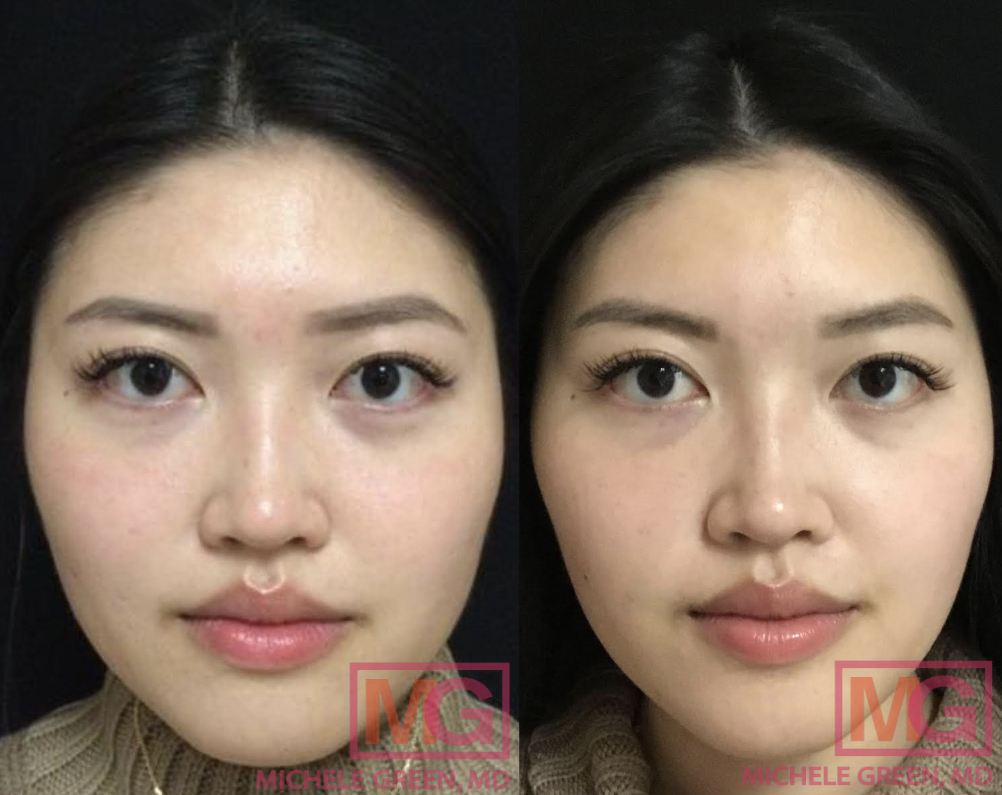 Which dermatology conditions does the Vbeam laser treat?
Facial rosacea
Acne redness
Facial flushing
Acne scars     
Capillaries
Facial veins
Poikiloderma
Spider veins
Leg veins
Cherry angiomas
Surgical Scars
Stretch marks (striae)
Birthmarks like Port Wine Stains, and other benign vascular lesions
Keloids
Hemangiomas
Wrinkles
Photo-aging
Post-injection (like from Juvederm injections) bruising
Telangiectasias
Warts (non-facial)
Rosacea
Rosacea is an extremely common dermatology condition, which affects more than 16 million individuals in the United States. Similar to acne, there is a cosmetic component of facial flushing, red papules and pustules, and skin sensitivity, which requires dermatologic treatment. Flare-ups of rosacea can be cyclical and are triggered by stress, heat, allergies, or hormones. The visible signs of rosacea are flushing, facial veins, redness, broken blood vessels, burning, sensitive skin, and dry rough scaly patches. The Vbeam laser is the best vascular laser to treat  facial rosacea, remove the redness, and target capillaries, and  blood vessels, leaving your skin clear and rejuvenated.
35-44 year old treated with VBeam
What is the Vbeam Pulsed Dye Laser?
The Vbeam laser is a pulsed dye laser, which utilizes a 595 nm wavelength of intense light to treat facial rosacea, heal broken blood vessels, acne scars and photo-damage, all without any discomfort or downtime. The micropulse technology allows Dr. Green to treat all of these cosmetic dermatologic conditions without any purpura or bruising. There is a Dynamic Cooling Device (TM) (DCD) which automatically adjusts cooling the skin before emitting the laser pulse, protecting the skin.  The DCD is released before the laser beam, which enables these treatments to be painless and prevents post-treatment bruising. The Vbeam laser treatment itself only takes a few minutes to complete. Since there is no downtime, you can put makeup on, or return to work, without any recovery time. Dr. Michele Green is an internationally renown expert in the Vbeam laser and is consistently voted as one of the best providers of this laser treatment in NYC.
How does Vbeam Laser treatment work?
You will arrange a consultation with Dr. Green to review your treatment options, to decide if the Vbeam laser is the best treatment for your skin condition. A good candidate is a patient who has had no recent sunburns or direct sun exposure (tan skin), and has type I to III fair or olive colored skin tone. Patients with darker skin tones, have an increased amount of melanin, may not the best candidates for the Vbeam laser. If the Vbeam is the best choice of lasers, a treatment plan will be discussed outlining the amount of treatments needed and the time interval in between sessions. 
Dr. Green performs all of the Vbeam laser treatments in the office herself. The Vbeam laser treatments are not performed by an assistant. Although the Vbeam is relatively painless, there are some patients who are sensitive to the laser.  In these cases, Dr. Green offers numbing cream for those patients to apply to the treated area for 30 minutes before your Vbeam treatment. Special eyewear is given to the patient to protect your eyes from the laser during your Vbeam treatment. The V-beam laser feels like a rubber band snapping or a stinging against your skin. Some patients have some mild redness, swelling, or warmth, after the treatment. Minor bruising or swelling can occur as well, which generally resolves in one to two days. Patients are urged to wear sun screen and avoid the direct sunlight, saunas, and tanning salons, both before and after treatment.
2 months before and after – Vbeam
What is the number of treatments needed with the Vbeam laser for Rosacea?
The number of Vbeam treatments depends on the dermatologic condition being addressed, whether you are treating rosacea, leg veins, or stretch marks. Patients with severe rosacea will need more treatments than those with mild conditions. In general, five sessions spaced approximately one month apart are best. Many patients choose to have maintenance sessions scheduled 3 to 6 months apart for ongoing skin radiance.
Stretch marks and Vbeam laser treatment
Stretch marks can be treated effectively with the Vbeam laser. It is important to consult Dr. Green as soon as you notice stretch marks forming as they are much easier to treat when they are new and red. The Vbeam targets the red color in the stretch marks to minimize their appearance. However, if the stretch marks are older and are no longer red, they are much more difficult to treat. In these cases, the Fraxel laser or eMatrix laser would give better results.
Acne scars and Vbeam laser
Many patients are uncomfortable with their acne scars and seek treatment from Dr. Michele Green for these scars. There are a myriad of treatments from fractionated lasers with Fraxel laser and radiofrequency with the eMatrix laser. However, only the Vbeam laser can remove the redness from existing acne scars. This is one of the reasons that Dr. Green combines her signature acne scar laser package to include the essential Vbeam laser in your treatment plan. Many patients also have dermal fillers injected into their acne scars, such as Restylane, Juvederm, or Sculptra at the same time as their Vbeam treatments to best reverse the appearance of these acne scars.
Vbeam, 5 months – 4 sessions
Port Wine Stains and Vbeam laser treatment
The Vbeam laser is an extremely safe and effective laser and has been used to treat children with port wine stains since the 1980's. In fact, the Vbeam was one of the first lasers developed to treat patients and its design has been so outstanding, that little has changed over the years. A port-wine stain (nevus flammeus) is caused by a vascular anomaly in the skin from birth. The capillary malformation causes the area affected to be stained red with the appearance of port wine. Port wine stains continue to grow in the same proportion as your body grows. The most common location for a port wine stain is on the face, and as a child gets older, the lesion deepens in color to a deeper red or purplish color, sometimes with skin thickening or lumps. The Vbeam successfully treats port wine stains and diminishes its color and appearance after several sessions. If you suffer from a port wine stain, the Vbeam would be the best choice to remove this birthmark.
How long after Vbeam treatment will you see the results?
You will begin to see the results of the Vbeam laser treatment approximately 4 to 8 weeks after your first treatment. With each subsequent treatment, an additional 25 to 50% improvement in facial redness, rosacea, and telangiectasis, are observed. The cumulative results of the Vbeam laser treatment is why with each subsequent treatment your skin looks better and brighter.
How long does swelling last after Vbeam laser?
Some swelling and mild erythema can last for an hour or up to 48 hours after your Vbeam procedure. With the new Vbeam perfecta, there is very little swelling or redness after the procedure. Those patients who have very sensitive skin are more prone to having histamine release after the Vbeam laser treatment. Dr. Green often recommends to these patients taking an antihistamine such as Zyrtec or Claritin before your Vbeam treatment. The antihistamine will prevent the swelling from the Vbeam laser but not compromise the overall cosmetic results of your laser treatment.
4 sessions of VBeam – 2 months before and after
What are the side effects of Vbeam laser
The Vbeam is the one of the safest lasers on the market. There are very few side effects of the Vbeam laser. Most patients who have the Vbeam laser treatment have no down time. There may be some post-treatment redness, mild swelling or irritation. Some patients can have some bruising as well, which usually resolves in one to two weeks. If a patient is tan or has recently used self-tanners, they should wait until the tan is gone before having the Vbeam laser treatment to avoid a burn from the laser. The laser energy of the Vbeam will be confused by the tan in your skin, and attempt to treat this pigmentation with the laser energy. For this reason, Dr. Green will not treat your skin with the Vbeam laser if you are already tanned or have a sunburn. Other potential side effects of the Vbeam laser are hyperpigmentation. In general, lighter skin types may respond better to the Vbeam laser energy. Finally, some patients may experience a histamine reaction to the laser, which appears as welts at the treatment site. This reaction generally resolves in two days and can be mitigated by taking oral antihistamines.
Does the Vbeam laser hurt?
The Vbeam laser treatment is painless thanks to the cryogen associated with the laser treatment. Cryogen, which is a cool spray, is released with each pulse of the Vbeam laser. The cryogen cools the skin and makes the laser procedure very tolerable. If you are sensitive to procedures, you can apply a topical numbing cream one hour before your laser treatment.
What are the post-Vbeam instructions?
It is best to apply moisturize and sunblock after your Vbeam laser treatment. Dr. Green recommends using MGSKINLABS, Inc. Vitamin C Serum immediately after your treatment and two times a day continuously. The Vitamin C serum is a powerful antioxidant and will help diminish both the redness and pigmentation in your skin, and aid if the positive results of your Vbeam laser treatment. Sun avoidance and sunscreen use is important to prevent increased redness in the skin and worsening of the underlying condition. Dr. Green advises patients not to use saunas or steam rooms for 48 hours after the Vbeam laser treatment as this can aggravate the skin and cause unwanted swelling.
8 months before and after VBeam
Can you exercise after Vbeam laser treatment?
While you can exercise after your Vbeam laser treatment, it is best to avoid exercises which require an excessive amount of heat or sweating, such as hot yoga, after your treatment, as the heat can exacerbate your underlying condition and cause excess swelling.
How much does Vbeam laser cost?
The cost of the Vbeam laser depends on the area of treatment and who is performing the Vbeam laser treatment. An experienced board certified dermatologist will be more expensive than a spa or uncertified technician. Dr. Green performs all of the Vbeam laser treatments herself, in her NYC office, with over 20 years of experience with Vbeam laser treatments.
How often can you get Vbeam treatment?
The Vbeam laser treatment can be performed once a month for facial redness or acne scars, and on the body for stretch mark and other skin conditions.
Is the Vbeam laser safe?
The Vbeam laser treatment is entirely safe and painless. The Vbeam laser is a non ablative laser which treats only the targeted blood vessels, redness, and areas of hyperpigmentation. The surrounding skin remains unaffected the the Vbeam laser treatment and has no recovery time.
Does the Vbeam laser tighten the skin?
The Vbeam laser produces new collagen but doesn't specifically tighten the skin. If you are interested in skin tightening lasers, the Thermage laser is the gold standard for skin tightening.
Does the Vbeam laser stimulate collagen?
The Vbeam laser does stimulate collagen production while reducing broken blood vessels, pore size, wrinkle reduction, acne scars, and improving the texture of your skin.
What is the difference between the Vbeam and IPL?
The Vbeam laser treats blood vessels on the face and body, of different calibers and depths. The IPL treats overall facial redness but does not target specific blood vessels.
Can Vbeam Treatment be combined with other treatments?
Many patients combine the Vbeam treatment with other procedures such as HydraFacials, chemical peels, microneedling, Fraxel and eMatrix. Many patients choose to treat their sun spots, freckles, or age spots at the same time as having the Vbeam laser treatment. Since the Vbeam is such a gentle laser, it can be combined with other procedures such as Botox or Dysport, and dermal fillers of Juvederm, Sculptra, and Restylane. It is extremely popular at Dr. Green's office to combine these treatments during the same visit to have the best cosmetic results. 
Vbeam Perfecta
The Vbeam Perfecta is the next generation Vbeam laser and treats all of the same indications as the original Vbeam laser. In addition, it treats pigmented lesions as freckles, sun spots, discoloration, and other benign pigmentation. Dr. Green uses this latest generation Vbeam Perfecta as it is an even more advanced system at treating facial telangiectasis and rosacea than the classic Vbeam laser. The Vbeam Prima is quite similar to the Vbeam Perfecta.
VBeam 1 month before and after
Vbeam laser treatment and skin care
Maintaining proper skin care is essential when treating your skin for facial rosacea, sun damage, or facial discoloration. While the Vbeam laser can successfully treat blood vessels and sun damage, proper skin care products and sun avoidance are necessary both to maintain the results from your laser and prevent new sun damage. The Vbeam pulsed dye laser is the gold standard in laser rejuvenation. However, it is essential to use sunscreen with an SPF 30 or higher on a daily basis in addition of your laser treatments. In addition to sun avoidance, Dr. Green also recommends reducing alcohol intake and cigarette smoking, as they age the skin and contribute to facial blood vessels and rosacea.
Why choose Dr. Michele Green for your Vbeam laser treatment?
If you suffer from rosacea, spider veins, scars, skin discoloration and want the best cosmetic results, Dr. Michele Green has custom designed procedures created for your specific skin care needs. Dr. Green has been practicing dermatology at her Upper East Side NYC office for over 25 years. She has been consistently voted as one of the best dermatologists by Castle Connolly, New York Magazine, Super Doctors and The New York Times. As an international expert in treating acne, and acne scars, she will help bring you the most beautiful, clear skin. Please email us today or call us at 212 535 3088 if you are ready to have Dr. Green help you with the ultimate in skin rejuvenation.