Dr. Michele S. Green in New York City is at the forefront of skin rejuvenation and was one first physicians in New York to utilize the eMatrix™ Sublative Rejuvenation system. eMatrix is an FDA approved treatment that gently resurfaces the skin over several treatments. eMatrix is a unique laser in that it allows for skin resurfacing of all skin types and tones, without any unwanted side effects of hyperpigmentation or discoloration. eMatrix improves the appearance of the skin by improving tone, texture, wrinkles, acne scarring and stretch marks. Dr. Green is an expert in NYC in minimally invasive cosmetic procedures and has embraced the eMatrix for laser resurfacing due to its superior results and minimal downtime.
What Is Sublative Rejuvenation?
eMatrix™ is a unique treatment modality that surpasses existing technologies in skin rejuvenation. Unlike other fractional systems which use laser light through ablation, the eMatrix™ uses bi-polar radio frequency energy to heat below the skin surface while keeping the top layer of skin intact. By bypassing the epidermis and delivering heat to the deeper dermal layer, it minimizes the problems associated with resurfacing lasers, including hyperpigmentation. Each pulse of the eMatrix laser delivers radio frequency energy in the area of the electrode matrix, to induce skin injury, and activates fibroblasts to signal a wound healing response and produce new collagen. With Sublative Rejuvenation, this new collagen production creates smoother, brighter, tighter, more beautiful, younger-looking skin. Since sublative rejuvenation has only 48 hours of downtime, this laser treatment can be scheduled virtually anytime.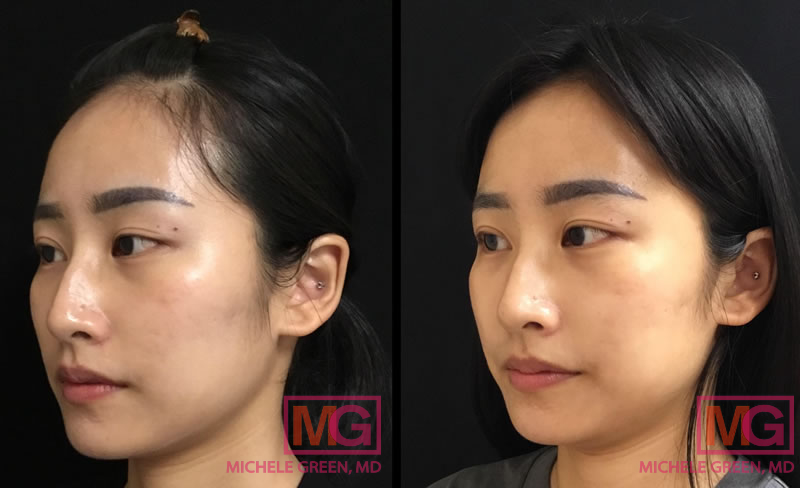 23 year old female, eMatrix – 2 weeks
Skin resurfacing
Traditional laser resurfacing uses light based energy and heats up the top layer of the skin. It is this heat, which is directly applied to the epidermis, which can cause a considerable amount of recovery time and potential side effects. With the eMatrix laser, the bulk of the energy is delivered under the top layer of the skin, below the surface of the skin, to the dermis. This key difference in the delivery of energy makes the eMatrix a much less aggressive treatment with a faster recovery. There is also minimal risk of skin discoloration or post-inflammatory hyperpigmentation, which is a common problem ablative lasers. The eMatrix sublative rejuvenation treatment also stimulates cell growth, which is a more natural approach to treatment for your skin.
Acne scarring and eMatrix laser
The eMatrix laser is the ideal laser for treating acne scars. Unlike other laser skin resurfacing lasers, Sublative Rejuvenation uses fractionated bi-polar frequency to penetrate through the skin, beneath the surface, to maximize the amount of collagen and elastin produced. After your treatment, new collagen and elastin are formed, which improves textural irregularities, and treats acne scars. Sublative rejuvenation works from the inside out by stimulating cell regrowth. Since eMatrix uses rf energy (radiofrequency), the eMatrix laser can use a considerable amount of heat, to remodel your acne scars, without worrying about hyperpigmentation which surrounds traditional ablative resurfacing. Over the next several months, more collagen is produced, skin laxity is improved, healthy skin cells restored, and acne scars improved.
Can eMatrix be combined with other cosmetic treatments?
eMatrix laser skin resurfacing can be combined with other cosmetic procedures such as Botox and dermal fillers, such as Juvederm or Restylane. In fact, Dr. Green often combines different modalities for the best cosmetic results. She combines eMatrix with chemical peels, Vbeam laser, Intense Pulsed Light (IPL), Platelet Rich Plasma (PRP), and skin tightening lasers such as Thermage. Dr. Green will design a unique treatment protocol, based on your now individual skin condition and concerns.
What does eMatrix Sublative Rejuvenation Treat?
Fine lines
Pigmentation
Acne scars
Minimizes pore size
Sun damage
Perioral wrinkles (wrinkles around the eyes)
Stretch marks
Surgical scars
Chicken pox scars
Tightens the skin
Reduces the appearance of moderate wrinkles
Superficial skin lesions
Skin laxity
Skin texture
How do I prepare for my eMatrix treatment?
The preparation for your eMatrix treatment is simple. You should avoid being tan or having direct sun exposure for one week before your treatment. You would arrive at the office of Dr. Michele Green one hour before your procedure. A topical numbing cream is applied to the treatment area and is removed before your eMatrix treatment session. The settings for your eMatrix laser treatment are customized for you. The procedure will take approximately 20 minutes, depending on the treated area. You will leave the office with some redness and feel like you got a mild "sunburn". Over the course of the next 48 hours, your skin will peel and exfoliate in the area treated.  Strict sun avoidance for the next week is important as well as avoidance of any skin care products which would exfoliate your skin such as Retinols or alpha-hydroxyacids. A moisturizer and sunscreen is all that is needed as aftercare for your treatment. The healthy skin, around the areas which were unaffected by the eMatrix, accelerates the healing process and rapidly restores a beautiful complexion.
How Many Treatments Do I Need?
Most patients will need three to five treatment sessions, each spaced from four to six weeks apart, to have optimal cosmetic results. Patients will see results after the first treatment and these results will continue to improve for up to one year post treatment, as new collagen is produced in the treatment area. Some patients choose to have annual maintenance treatments to continue to retain these rejuvenated skin results.
Is eMatrix laser treatment painful?
Patients come in to see Dr. Green 30 minutes earlier to have a topical anesthetic applied to the treatment area. The eMatrix laser procedure is entirely painless. The treatments lasts about 20 minutes, depending on the size of the treatment area. If you are having stretch marks or larger areas of the body treated, it may take between 30 to 45 minutes for your session. Immediately after the laser treatment there will be some redness followed by exfoliation of the skin for the next two days post-treatment.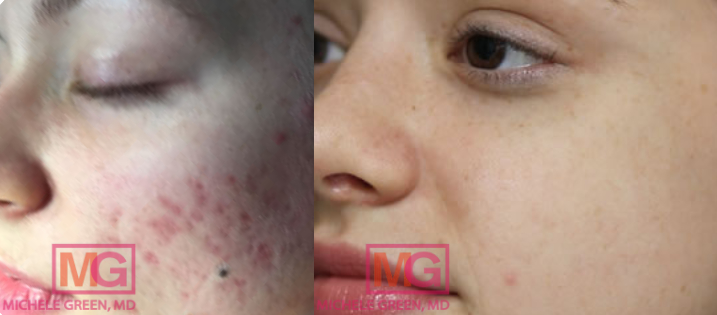 23 year old female eMatrix & Restylane for Acne
Are there any contraindications for the eMatrix laser?
You should not have eMatrix Sublative Rejuvenation if you are pregnant. In addition, if you are currently taking Accutane, or finished it within less than six months, you are not a candidate for eMatrix. Patients need to be off Accutane for six months before they can start their eMatrix treatments. In addition, patients with a pacemaker, metal implants, or internal defibrillators should defer from this treatment. Patients who have had dermal fillers should ideally wait two weeks after their cosmetic injections to have the eMatrix treatment.
eMatrix 5 months 4 sessions
Does the eMatrix laser treat the eye area?
The eMatrix laser has a special smaller tip to treat the delicate under eye area. Three treatment sessions, spaced one month apart, will improve the wrinkles under you're eyes, as well as Crow's feet. There is minimal downtime so you can return to work immediately after your laser treatment. New collagen is stimulated, and the skin around the eyes is rejuvenated in just a few minutes.
Am I a good candidate for eMatrix™ Sublative Rejuvenation?
eMatrix laser technology was designed for patients of all skin types, including darker skin tones. Traditional fractional lasers cannot be performed on patients with darker skin color. The eMatrix™ can effectively and safely be used on all patients including Asian, Mediterranean, Latin American and African American skin. Patients see overall improvement in fine lines, winkles, texture, tone, acne scars, dark spots, and overall luminosity for all skin types. The eMatrix™ Sublative Rejuvenation system is the only effective technology to treat deep scars and acne scars in all skin types, stretch marks, moderate wrinkles, and sun damage in all skin tones, including skin of color.
What kind of results can I expect from the eMatrix?
Within a week after treatment, patients immediately see an improvement in both tone and texture. Over the next weeks, you will see an improvement in fine lines, wrinkles and skin textural irregularities. After a series of eMatrix treatments, you will see continued reduction in acne scars, with the skin brighter,  tighter, and rejuvenated.
32 year old female – eMatrix for Acne
The first step is to call the office at 212-535-3088 or contact us online and schedule an in-person consultation with Dr. Green to see if eMatrix is the best treatment for you.