Anti-aging treatments are among the most popular treatments performed at the Upper East Side NYC dermatology office of Dr. Michele Green. Whether it be removing fine lines and wrinkles, sun spots, treating dull or sagging skin, dark under-eye circles, or replacing lost facial volume, skin rejuvenation is the ultimate cosmetic goal. As we age, the amount of collagen in our skin decreases with each successive decade, leaving us with a myriad of cosmetic issues that need to be corrected.
These skin concerns can cause us to appear prematurely aged, or make us look much older than we really feel. To correct signs of aging or to stop them in their tracks, Dr. Green offers the best anti-aging treatments, from her MGSKINLABs skincare line to Botox injections and dermal fillers, chemical peels to exfoliate the skin, microneedling to improve skin tone and skin texture, Aquagold, resurfacing lasers such as Fraxel, and skin tightening lasers such as Vivace and Thermage. Most patients do not want to undergo invasive plastic surgery. Luckily, anti-aging treatments can be safely and effectively performed with non-invasive procedures, leading you to look younger, and refreshed, with little discomfort or downtime.
Whether you're searching for a solution to diminish signs of aging such as fine lines or age spots, or simply hoping to prevent the visible signs of aging, Dr. Green is here to help. In the Upper East Side neighborhood of NYC, Dr. Michele Green is equipped with the most innovative anti-aging treatments and can help you create a customized treatment plan that caters to your unique skin concerns and cosmetic goals. Whether you are concerned with skin elasticity, sun exposure, discoloration, hyperpigmentation, wrinkles, or volume loss, Dr. Green can help rejuvenate your skin and reverse the visible signs of aging. With over 25 years of experience in cosmetic dermatology in NYC, Dr. Green has been consistently voted as one of the best dermatologists in New York by Castle Connolly, The New York Times, Super Doctors ad New York Magazine. If you are interested in he best anti-aging treatments available, Dr. Green is here to help.
How to prevent aging skin in your 20s
It may seem like it's too early to start taking anti-aging skincare seriously when we're in our 20s, but this couldn't be further from the truth! The skincare habits that we develop in our 20s set the foundation for the future of our skin, and it's never too early to start taking proper care of our skin.
Setting up a well-thought-out skincare routine is a great place to start in terms of preventing skin aging when in your 20s, and you may even consider having some noninvasive cosmetic procedures to help prevent signs of aging before they show up. There are a number of preventative skin care tips which can help to slow the aging process of the skin and keep us looking younger for longer. The first and most important rule: always wear sunscreen! Sun damage can cause the skin to look incredibly prematurely aged and is easily avoidable by correctly protecting the skin from the sun.
The HydraFacial is a medical-grade hydra-dermabrasion device that consists of a three-part regimen designed to detox your skin, provide skin resurfacing, exfoliate dead skin cells, and intensely hydrate and rejuvenate your skin. HydraFacial is an all-around rejuvenation treatment that treats a number of specific skin concerns and is suitable for all different skin types. For those looking for visible skin refinement and rejuvenation, HydraFacial might just be the solution you're looking for to achieve healthier and brighter skin. By cleansing, exfoliating, and moisturizing the skin, you will see an immediate improvement, with absolutely no downtime. One of the greatest benefits of Hydrafacial is that it can be customized to target specific skin concerns through the addition of boosters.
Preventative Botox! The idea behind preventative Botox is that by having treatment before any forehead wrinkles or frown lines become permanently apparent, their development is actually halted altogether. Preventative Botox has gained an immense amount of recent attention and interest thanks to social media. Influencers on varying platforms have a powerful impact on trends in beauty, skincare, and wellness, and now more than ever before are opening up about the cosmetic procedures that they're having done. This new wave of embracing preventative skincare as a part of self-care is encouraging more people to add preventative Botox to their anti-aging regimen for facial wrinkles and folds. More young men and women alike are now seeking out treatment with preventative Botox due to phenomenal results, essentially zero downtime, and ease of having the procedure.
Botox & Restylane in Nasolabial area
How to prevent aging skin in your 30s
Once we turn 30, collagen production slows. Collagen is the protein found in the skin that provides structural support and produces a firm, supple, and youthful appearance. Choosing cosmetic procedures that can help promote collagen production in the skin while in our 30s is a great anti-aging treatment strategy and can help us naturally look (and feel) younger for longer.
Chemical Peels can be used to treat a number of different cosmetic concerns including skin discoloration, dullness, fine lines and wrinkles, and uneven skin tone or skin texture. A chemical peel is a type of skin resurfacing treatment that uses a chemical solution that is applied to the skin to remove the outer layers of dead skin. Chemical peels, through chemical exfoliation, stimulate cell turnover correcting skin discoloration, unclogging the pores, and giving the skin a vibrant glow. Chemical peels remove the outermost layers of the skin. Depending on the strength and type of chemical peel, the depth of the peel and effect can be controlled. This controlled injury to the skin is what facilities the peeling of the skin, and improvement in the texture of the skin, treating acne, acne scars, sun damage, lines, wrinkles, and hyperpigmentation. Having chemical peels is a great way to keep skin looking refreshed and rejuvenated throughout our 30s.
Microneedling, also known as collagen induction therapy, is a simple, painless way to reduce the appearance of many signs of aging such as sun damage, sun spots, melasma, and hyperpigmentation, as well as stretch marks, fine lines, and wrinkles. Microneedling can even temporarily reduce the appearance of cellulite. As microneedling reduces pore size and improves the tone and texture of the skin, it's able to treat acne marks and acne scarring with virtually no downtime. Dr. Green often combines Platelet Rich Plasma (PRP) with collagen induction therapy to increase collagen production. PRP utilizes the patient's individual growth factors which are derived from their own plasma. Through microneedling, micro-injuries are created in the skin, and PRP and other anti-aging serums can be used to boost the effects of the procedure itself. Since we start to lose our collagen beginning in our 30s, collagen induction therapy is a great procedure to incorporate into anti-aging treatment in this decade.
Juvederm Voluma – 3 weeks
Anti-aging skin care products
The visible signs of aging begin to appear even in your 20s as our skin's collagen production decreases. Aging is inevitable but there are steps that we can take to slow down the skin's aging process. Sunscreen is the most important step in an anti-aging skincare routine. The sun's ultraviolet rays can penetrate the skin in the deepest layers and cause changes in DNA at the cellular level. UV rays not only contribute to skin cancer but also cause the visible signs of aging, including brown spots, wrinkles, fine lines, loss of elasticity, and uneven skin tone or texture. Sunscreens should contain SPF of at least 30 for adequate protection and should be reapplied every 90 minutes and after sweating or getting out of the water. UV rays are able to reflect off of surfaces like water, sand, snow, and pavement. The reflection actually makes the UV rays stronger, so it is crucial to provide adequate sun protection with sunscreen and clothing. UV rays can penetrate through clouds, so a cloudy day does not mean you are free from applying sunscreen and wearing protective clothing.
Other skincare products can be beneficial in minimizing the appearance of aging skin. Retinols, vitamin C, Alpha hydroxy acids (AHAs), and Beta hydroxyacids (BHAs) are some of the most popular ingredients in anti-aging skincare products. Retinol, a topical vitamin A derivative, stimulates skin cell turnover and increases collagen synthesis to reduce fine lines and wrinkles. Vitamin C is an antioxidant that protects the skin against sun damage by neutralizing free radicals caused by UV radiation. It also promotes skin cell regeneration and collagen production to improve the texture and tone of the skin. AHAs and BHAs are chemical exfoliants that gently break down bonds between dead skin cells and healthy skin cells to reveal a healthy, brighter complexion. These anti-aging ingredients smooth fine lines and improve both skin tone and texture.
Anti-aging treatments
There are various cosmetic, anti-aging treatments available today to help preserve our skin, including treating wrinkles, fine lines, age spots, and skin laxity. Botox injections are the most popular anti-aging procedure in the world today. Botox is a neuromodulator that temporarily paralyzes injected muscle to prevent repeated muscle movement which contribute to the formation of dynamic wrinkles. Hyaluronic acid fillers, such as Restylane, Juvederm, Belotero and Sculptra are some of the most popular injectables which treat the visible signs of aging by replacing lost collagen and restoring lost volume. Cosmetic lasers such as the Fraxel laser, Thermage, VBeam, and Clear + Brilliant can treat age spots, skin laxity, rosacea, acne scars, hyperpigmentation, and uneven skin texture. An experienced board-certified dermatologist like Dr. Michele Green can help you navigate through the vast anti-aging treatment options to create the best treatment plan that works for your specific cosmetic needs.
What is the best anti-aging treatment?
The best anti-aging treatment of all is a customized combination treatment approach, determined by a board-certified dermatologist, like Dr. Green, who has the expertise and experience to select the cosmetic treatments best suited to you and your unique skin situation. Unfortunately, there is not a single anti-aging treatment that has the capacity to address all of the skin concerns associated with growing older. To minimize and manage fine lines and wrinkles, skin laxity, dullness, uneven skin texture and tone, and facial volume loss, several different treatment methods are needed. During your consultation with Dr. Michele Green, you will have the opportunity to discuss your cosmetic goals and establish a treatment plan that is customized to best serve your antiaging needs.
What is the best anti-aging laser treatment?
Fraxel is an FDA-approved laser resurfacing treatment that is considered to be a gold standard treatment when it comes to anti-aging. Often referred to by Dr. Green as the "magic eraser," Fraxel has a unique ability to improve both skin texture and skin tone. The Fraxel Dual laser is able to target a wide array of skin concerns, varying from hyperpigmentation and age spots to fine lines and textural irregularities, due to the utilization of two different wavelengths. Fraxel uses fractional laser technology to create targeted microscopic injuries beneath the surface of the skin. This technique induces the natural wound healing process of the skin, promoting increased production of collagen and elastin. There is a minimal amount of recovery time involved with having a Fraxel procedure, and the most common side effect is mild facial redness and swelling for several days after the procedure.
Before and after: Sculptra & Voluma
Dermal Fillers & Injectables for Anti-aging 
Botox, derived from botulinum toxin A, is used to target frown lines, crow's feet, and other fine lines that appear as a result of repeated facial expressions. Botox is the number one cosmetic treatment in the United States because of its incredible ability to smooth out dynamic wrinkles without any downtime. Dr. Green was one of the first physicians in Manhattan to integrate cosmetic Botox injections into the anti-aging treatment plans of her patients, and she is recognized as one of the best injectors in New York. Her philosophy when it comes to cosmetic injectables is to take a "less is more" approach, enhancing the natural beauty of each patient to leave them looking and feeling like the best version of themselves. Dr. Green also provides "Baby Botox" and preventative Botox, which have become increasingly popular with patients of all ages to help prevent fine lines and wrinkles from forming in the first place. Dr. Green's unique technique for Botox treatments will leave you younger-looking after just a single visit to her boutique private New York office.
Hyaluronic acid dermal fillers are used to provide facial volume restoration, improve facial contouring, and smooth out fine lines and wrinkles that are a result of collagen breakdown within the skin. Dr. Green often uses dermal fillers in conjunction with cosmetic Botox injections to provide her patients with total facial rejuvenation. The popularity of cosmetic dermal fillers continues to soar, with statistical increases in use being reported year after year by the American Society of Plastic Surgeons. Dr. Green is an expert when it comes to cosmetic injectables and can help you select the dermal fillers which are best suited to you in order to deliver phenomenal results.
Sculptra is a filler that is composed of poly-L-lactic acid. This filler is unique in that it stimulates collagen production within the skin, helping to restore lost facial volume. Sculptra gradually produces more volume and is an ideal tool for volumizing and contouring the face as part of treatment for pan-facial rejuvenation of the face.  For the best anti-aging treatment, Dr. Green will often combine one or more dermal fillers with Botox, In her New York office, to achieve the best cosmetic results.
What is the best anti-aging facial treatment?
The best anti-aging facial treatment depends on your specific aesthetic goals and the condition of your skin. If your concerns include forehead wrinkles, glabellar lines, and crow's feet, then Botox may be the best treatment for you. Botox is a neuromodulator that is injected into a targeted muscle to temporarily paralyze it. This prevents repeated muscle movements which contribute to dynamic wrinkles. If you are bothered by skin laxity, jowls, and sagging skin, Thermage can stimulate your own collagen production to tighten and lift the loose skin through radiofrequency (RF) energy. If you are developing deep nasolabial folds, volume loss in your cheeks, chin, or temple hollows, then dermal fillers like Restylane, Juvederm, and Sculptra may be best anti-aging treatment for you. If you want to remove age spots and sun spots, hyperpigmentation or discoloration, the Fraxel laser or chemical peels might be the best treatments for you. There are many treatment options for facial anti-aging, so it is best to seek guidance from an internationally recognized dermatologist, like Dr. Michele Green in NYC, to create a safe and effective treatment plan customized for your anti-aging skin goals.
What is the best anti-aging lip treatment?
As we age, collagen is lost from the lips and around the mouth, resulting in thinness and fine lines/wrinkles that contribute to an aged appearance. By using a combination of different hyaluronic acid dermal fillers, volume can be restored to the lips themselves and fine lines around the mouth can be smoothed out. Hyaluronic acid fillers are a unique type of filler in that uses a naturally-occurring substance in the body, hyaluronic acid, to stimulate targeted collagen production at or near the injection site, which in turn can create smooth, natural-looking volume on the lips. Patients typically see results right after their procedure, which continue to improve over the course of several days, and can enjoy their luscious pout for six months to a full year, as the body slowly metabolizes the hyaluronic acid over time. Additionally, hyaluronic acid injections are completely dissolvable, thanks to the naturally-occurring enzyme hyaluronidase. Safe, simple, and reversible? Truly a dream cosmetic procedure.
Our patients have been able to enjoy natural-looking, revitalized lips thanks to the artful hand of board-certified dermatologist Dr. Michele Green. Dr. Green is an expert in cosmetic injectable treatments and has been working with hyaluronic acid dermal fillers for lip enhancement since its inception. Her skilled hand and natural approach to cosmetic injections have made her one of the most sought-after cosmetic dermatologists, both in New York and abroad.
What is the best anti-aging eye treatment?
The ideal anti-aging eye treatment for each patient will vary depending on the anatomy of the eye area and the factors which are contributing to an aged appearance. There are patients who present with dark circles due to the presence of tear troughs and those who simply have increased pigment in the undereye area. Dr. Green will work with you to establish an anti-aging treatment plan that addresses the specific factors which contribute to the appearance of an aged eye area. Depending on
Microneedling, also known as "collagen induction therapy," is a skin rejuvenation treatment that can be used to target skin concerns such as dark circles, fine lines and wrinkles, and puffiness in the undereye area. Microneedling® is done with a tool called a Micropen that has tiny surgical-grade needles embedded in the tip. These needles are used to create microscopic wounds on the surface layer of the skin (the epidermis). Through the natural wound-healing process of the skin, these micro-injuries are repaired as new, healthier skin cells grow, and new collagen and elastin are produced. This helps to plump and firm skin, diminish signs of aging, and minimize the overall appearance of dark circles. To treat the delicate and sensitive skin around the under eyes, Dr. Green performs treatment at a more shallow depth than what is typically used for the rest of the face.
Oftentimes, the primary cause of dark undereye circles is the natural loss of collagen that happens in the face during the aging process. As we age, our skin can lose its fullness or sag, leading to thin or translucent skin under the lower eyelid. Additionally, some patients naturally have a more hollow appearance under the eyes, which can give off the appearance of dark circles due to shadows under the eye. Dermal fillers are designed to restore collagen production and volume to the treatment area and can be injected into the tear trough area (under the eyes) to restore lost volume and help to reduce the appearance of darker pigment under the eyes.
A Mesopeel is a chemical peel that is designed to rejuvenate the skin under the eyes with absolutely no downtime. The Mesopeel is able to remove discoloration by sloughing dead skin cells off of the top layer of the dermis, revealing healthy new skin underneath. The Mesopeel Periocular is a popular in-office treatment to treat under-eye circles and wrinkles in the eye area. The peel itself is composed of azelaic acid, citric acid, lactic acid, phytic acid, resorcinol, and salicylic acid which all combine to reduce fine lines and wrinkles, hyperpigmentation, and discoloration under the eyes. It's a non-invasive chemical peel that requires no downtime and can lead to excellent, all-over eye rejuvenation, and it is safe to treat all skin tones.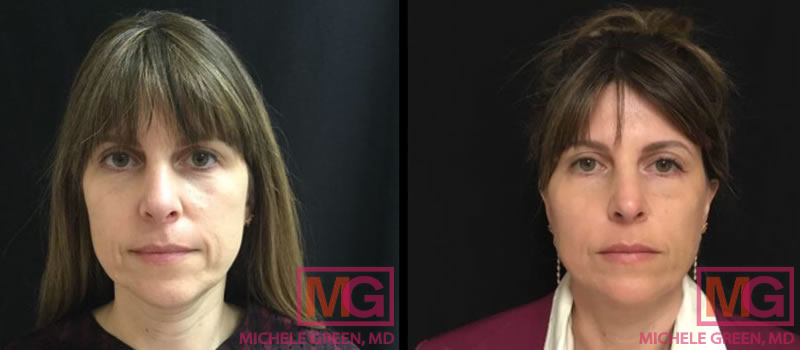 30-39 year old, Thermage (lower face & neck), with Voluma & Restylane Lyft
What is the best way to get rid of jowls?
A common characteristic of the aging process is the loss of elasticity of the skin, which can lead to the appearance of excess skin along the chin, jawline, and neck. The appearance of jowls can be frustrating for patients who seek effective treatments for facial rejuvenation. Thankfully, the world of dermatology has developed a variety of non-invasive cosmetic procedures, including laser treatments, skin tightening treatments, injectables, and microneedling treatments that can all work to improve the appearance of jowls without the need for invasive cosmetic surgeries that a plastic surgeon might offer. Thermage is a skin tightening cosmetic procedure that can be used to firm and tighten skin to achieve skin rejuvenation without the need for a facelift.
Thermage is a revolutionary skin tightening treatment that uses radiofrequency energy to heat the epidermis, dermis, and subcutaneous layers of the skin. This in turn helps to boost elastin and collagen production deep within the layers of the skin in order to smooth skin texture, reduce the appearance of fine lines, and tighten the skin. Thermage is an excellent option for patients who have skin laxity along the jawline, as it can help to tighten sagging jowls and rejuvenate the skin, with results that continue to improve for 2-4 months post-treatment.
What is the most effective anti-aging treatment?
There are various cosmetic treatments available for anti-aging, and the efficacy of each depends on your specific skin type and aesthetic goals. For example, ideal candidates for Fraxel are those with type I to II skin tone with lighter complexion. Therefore, darker skin tones should avoid Fraxel and consider other treatment options like chemical peels. Additionally, someone with fine lines may see significant results after Fraxel laser treatments, while others with deeper wrinkles may need dermal fillers like Restylane or Juvederm to restore lost volume and/or neuromodulators like Botox to prevent repeated muscle movement that causes dynamic wrinkles. Someone experiencing sun damage, sun spots, and age spots may require Fraxel or AlexTrivantage lasers, or a combination of both to reveal a healthy and even complexion. In order to maintain the health of your skin and effectively treat signs of aging, it is highly advised to consult with an experienced dermatologist like Dr. Green to create the most effective anti-aging treatment plan.
What is an anti-aging facial?
Anti-aging facials are non-invasive treatments that address signs of aging to create brighter and youthful skin. It often entails a cocktail of active ingredients that help to restore volume, improve elasticity, deliver hydration, and exfoliate dead skin cells and dirt to improve skin health.
A HydraFacial is a medical-grade facial that is suited for all skin types to produce anti-aging benefits. A HydraFacial consists of three steps: cleanse & peel, extract & hydrate, and fuse & protect. Its benefits are similar to microdermabrasion; instead of using micro-crystals for exfoliation, HydraFacial uses a Vortex-Fusion technology in its handpiece and spiral tip to remove oil, dirt, and debris while simultaneously delivering potent nutrient and antioxidant serums to the skin. HydraFacial can soften the appearance of fine lines and wrinkles, increase elasticity and firmness, create an even tone, improve skin texture, and clean out oily and congested skin.
The HydraFacial experience can be customized to address specific skin concerns and boost anti-aging benefits using a variety of HydraFacial Boosters. The Britenol booster contains Alpha Arbutin, a naturally occurring skin brightener, along with vitamin C, a powerful antioxidant to lighten hyperpigmentation (sun spots and age spots) and create a brighter complexion. The Dermabuilder booster contains a blend of peptides to boost collagen production in the skin to restore elasticity, improve skin tone, and diminish signs of aging. The ReGen GF booster is great for textural concerns, as it stimulates the production of collagen and elastin using a unique peptide complex. By increasing collagen synthesis, fine lines and wrinkles are diminished and a smoother, more youthful complexion is revealed.
Best Anti-Aging Skin Care
In an anti-aging skincare routine, there are a number of essential skincare products that everyone should incorporate. The active ingredients that you want to be included in the formulas of your products will vary depending slightly depending on your skin type.
Sunscreen is potentially the most important component of any skincare routine, particularly in terms of preventing signs of aging that are related to sun damage. According to the American Academy of Dermatology, your sunscreen should have an SPF of at least 30 and provide broad spectrum coverage, protecting skin from both UVA and UVB rays. Dr. Green stands by this recommendation and suggests that sunscreens be layered. If you burn easily or have a history of skin cancer, it is best to limit sun exposure altogether.
Dr. Green's Vitamin C serum for anti aging is an antioxidant skincare ingredient that helps treat a myriad of skin concerns associated with the aging process. Vitamin C is an essential component in the body's production of collagen and elastin.  Topical Vitamin C can help rejuvenate aging and photo-damaged skin. Vitamin C fights free radicals and environmental pollutants which damage the skin.  Vitamin C helps improve dark spots, brown spots, skin texture, tone, fine lines, and wrinkles. Vitamin C serum is also effective at treating the redness of rosacea and decreasing the appearance of blood vessels on the face. Dr. Green's Vitamin C serum is the most popular product in her MGSKINLABs, Inc line of products.
Hydrating moisturizers are a must for anti-aging skin care! The most popular moisturizer in Dr. Green's office is the Absolute Recovery Anti-wrinkle cream. With a combination of anti-aging ingredients and rich emollients, this anti-aging moisturizer helps soothe damaged skin and improves the appearance of your skin. Hydra Repair is the ideal hyaluronic acid serum. In stimulating collagen production, it is the ideal anti-aging serum, making your skin appear younger-looking.
Retinols, Retinoids, tretinoin, and other retinol are derived from vitamin A and are used topically to improve the rate of skin cell turnover.  Retin-A is a prescription-based Vitamin A product that reverses the signs of aging and sun damage. Retinoids improve the appearance of fine lines and wrinkles and even out pigmentation, tone, and texture.
Retinoids stimulate collagen and elastin production and decrease the appearance of pore size.  Retinoids also stimulate fibroblasts, which are the cells responsible for keeping your skin firm and younger looking. Retin-A is only available as a prescription from a dermatologist, like Dr. Green. It's important to be under the care of a dermatologist when starting treatment with retinoids because certain side effects like peeling, redness, and photosensitivity should be monitored.
Many patients prefer retinol over Retin-A to avoid the irritating side effects of Retin-A. Retinols also increase skin cell turnover, improve skin tone and texture, treat brown spots, improve collagen production, and stimulate blood flow to the skin. Dr. Green's Antioxidant Infusion contains a powerful balance of antioxidants and retinol, which she recommends to her patients for use at nighttime, to stimulate collagen production and help create beautiful skin.
Exfoliate your skin on a regular basis to keep your complexion healthy and radiant. The skin on the face is particularly delicate and sensitive compared to the rest of the body, so refrain from exfoliating with any harsh scrubs or physical tools such as loofahs. Instead, opt for chemical exfoliants like glycolic acid or hydroxy acids. This kind of gentle exfoliant will effectively remove the top layers of dead skin cells and debris
Botox & Juvederm before and after
What does an anti-aging cream do?
The goal of anti-aging cream is to hydrate the skin to give a plumping effect, which softens the appearance of fine lines and wrinkles. Many anti-aging creams contain additional active ingredients such as retinol, vitamin C, and hyaluronic acid to deliver both hydration and anti-aging benefits. Anti-aging creams will not stop or reverse aging, but they can definitely improve the appearance of the skin temporarily. With age, our skin loses its ability to retain moisture, leading to dullness. Anti-aging creams work to plump up the skin to restore a brighter and youthful complexion.
Are anti-aging creams effective?
Yes! Anti-aging creams are effective in increasing moisture in the skin and therefore diminishing the appearance of fine lines and wrinkles. The efficacy of anti-aging creams depends on the active ingredients within them. For example, retinol has been proven to reduce fine lines and wrinkles by stimulating collagen synthesis. Collagen is the protein that supports the skin's structure, and we lose collagen in our skin as we age. Therefore, retinoids and retinol in anti-aging creams can be very effective in treating and preventing premature aging. Antioxidants like vitamin C and vitamin E in anti-aging creams are great for protecting the skin from free radical damage caused by the sun (although you should wear sunscreen daily for adequate protection). Anti-aging creams containing ceramides may be beneficial in locking in moisture. Ceramides are fatty acids that are naturally found in the top layer of the skin to protect from environmental stressors and prevent dehydration. Hyaluronic acid is another hydrating ingredient, as it is a humectant that pulls moisture from the environment to hydrate and rejuvenate the skin. By creating a plumping effect, the appearance of fine lines and wrinkles is temporarily diminished.
Do anti-aging eye creams work?
Anti-aging eye creams work to hydrate the delicate area under and around the eyes where the skin is thinner and more prone to fine lines and wrinkles. Fine lines and deeper creases form around the eyes due to loss of collagen with age, sun damage, smoking, or repetitive muscle movements such as squinting, smiling or frowning. By bringing moisture into the area, the skin is plumped and the appearance of lines and wrinkles are softened.
Eye creams generally contain similar ingredients as facial moisturizers. The consistency of eye creams tends to be thicker and has mild active ingredients to tailor to the delicate skin around the eyes. Essential ingredients in anti-aging eye creams are similar to those in anti-aging facial creams. Retinol works to stimulate skin cell turnover and promote collagen synthesis to address wrinkles, skin laxity, and healthy skin. Products with retinol should be used only at nighttime, followed by sunscreen during the day as retinol makes your skin photosensitive. Vitamin C is another anti-aging ingredient that protects the skin from free radical damage and stimulates collagen production. Hyaluronic acid, a compound that is naturally made in our bodies, is a hydrating ingredient that plumps the skin by pulling water from the environment and locking it into the superficial layer of the skin.
Anti-Aging Skincare Ingredients FAQ
Are retinoids anti-aging?
Yes! Retinoids have been clinically proven to have anti-aging effects on the skin, and it is a gold standard anti-aging ingredient. Retinoids are a form of vitamin A that was originally used for treating acne. Researchers later discovered its benefits in fading pigmentation and increasing the rate of skin cell turnover. Retinoids works as the skin converts it into retinoic acid, the active form of retinoids. Retinoids stimulate collagen synthesis and the production of new blood vessels in the skin. Collagen is the protein in our skin that is responsible for giving it structure and retinoids increase their production. As we age, our skin loses collagen, leading to skin laxity, wrinkles, and dullness. The increased blood vessels in the skin help to improve skin color and create a rejuvenated look.
Retinoids is an umbrella term that includes prescription retinoids and OTC retinol.Retinol is a type of retinoid, but it is an over-the-counter version so it contains lower concentrations of prescription Retin-A but is less irritating and very effective. Retinol is a common ingredient in anti-aging skincare products and works well to diminish fine lines, wrinkles, and hyperpigmentation. Retinol is gentler on the skin because it comes in ester forms that require more steps to convert into active retinoic acid.
When incorporating retinoids in your anti-aging skincare routine, it is important to use them at nighttime and be diligent with applying sunscreen during the day. Retinol makes your skin more sensitive to the sun's harmful UV rays, and UV radiation affects the skin negatively as it increases the visible signs of aging. Retinoids can sometimes be irritating to those individuals who don't have sensitive skin. Therefore, it is best to slowly introduce it into your skincare routine and gradually increase the frequency of usage.
Is vitamin E anti-aging?
Anecdotal evidence has shown that topical vitamin E can improve signs of aging. Vitamin E is an antioxidant with anti-inflammatory properties to protect the skin from free radical damage caused by the sun, pollution, and smoking. Free radicals cause the breakdown of collagen and elastin in the skin, leading to signs of aging. Antioxidants like vitamin E helps to neutralize free radicals to avoid collagen and elastin damage. Vitamin E can also diminish hyperpigmentation that may be caused by hormonal changes or overexposure to the sun. There are studies that showed improvement in hyperpigmentation with topical vitamin E, and its efficacy was improved when paired with vitamin C. Vitamin E also promotes blood circulation, improving the structure and firmness of the skin.
Is hyaluronic acid anti-aging?
Hyaluronic acid is a polysaccharide or a sugar molecule that naturally exists in the body's connective tissues to provide cushion and lubrication. Hyaluronic acid is a humectant, which means it can bind more than a thousand times its weight in water. Our body loses its ability to store hyaluronic acid with age, which leads to volume loss in the face and a skeletal look. By using hyaluronic acid in skincare products, your skin receives intense hydration and a plumping and vibrant effect. Hyaluronic acid, when applied topically, can then temporarily soften the appearance of fine lines and wrinkles, but it will not permanently reverse signs of aging.
Popular dermal fillers such as Restylane, Juvederm, and Belotero are composed of hyaluronic acid. Not only do dermal fillers immediately restore volume in susceptible areas like cheeks and lips, but they can also be injected into nasolabial lines and oral commissures to soften deep wrinkles. Hyaluronic acid fillers, when injected into the skin, can also stimulate collagen synthesis to promote firm and healthy-looking skin.
Is argan oil anti-aging?
Argan oil is derived from argan trees native to Morocco. Argan oil has an abundance of vitamin E, so it contains antioxidative properties that protect the skin from free radical damage caused by the sun and the environment. Argan oil is also very moisturizing; when applied topically, the skin is hydrated and plumped to diminish fine lines and wrinkles. A recent study has shown an increased elasticity of the skin in postmenopausal women after using oral and cosmetic argan oil. Moroccan women have been using argan oil for a long time for moisture, anti-aging, and sun protection.
Is collagen anti-aging?
Although the loss of collagen is the main culprit for signs of aging such as skin laxity, fine lines, and wrinkles, applying collagen topically through skincare products dies not stimulate collagen synthesis. Collagen molecules are too large to penetrate the superficial layer of the skin, so they will not reach the deeper dermal layers where collagen and elastin reside.
Oral collagen supplements have grown in popularity for their anti-aging claims. When collagen is ingested, the body breaks it down into amino acids or building blocks of proteins to stimulate the body to produce collagen. Current research shows that the presence of peptides containing amino acids essential in collagen, such as proline, glycine, and hydroxyproline, helps maintain the amount of collagen in the skin. Studies have shown that collagen supplements may reduce wrinkles, reverse skin aging, and rejuvenate the skin, leading to improved skin hydration and elasticity. However, the mechanism of action, side effects, and the longevity of the results have not been thoroughly researched.
Is Differin Gel anti-aging?
Yes! Differin gel can be used for anti-aging. Differin Gel is the first FDA-approved over-the-counter topical retinoid that is used to treat and prevent acne breakouts. Differin gel is composed of adapalene, which is a retinoid derived from vitamin A. The anti-inflammatory property of adapalene helps reduce inflamed acne lesions. Adapalene also stimulates skin cell turnover and naturally exfoliates to remove sebum and dirt buildup in clogged pores. The increased rate of skin cell turnover can have anti-aging effects, but retinol and prescription retinoids work better in stimulating collagen synthesis and reversing signs of aging. However, adapalene is a more stable compound and will not break down when exposed to UV rays. It is also known to be less irritating and more well-tolerated than retinol and retinoids. In general, choose Differin Gel for acne and retinol or prescription retinoids for anti-aging.
Is glycolic acid anti-aging?
Yes. Glycolic acid is a type of alpha-hydroxy acid (AHA) that is commonly used in skincare products. AHAs are one type of chemical exfoliants that gently break the bond between dead skin cells and healthy ones. Glycolic acid molecules are the smallest of the AHAs, which allows them to absorb deep into the skin. By stimulating skin cell turnover, the dead skin cells are sloughed off to make way for new, healthy skin cells to flourish. Because of the exfoliating properties, glycolic acid can help reduce hyperpigmentation and address dullness. Not only does it have exfoliating effects, but glycolic acid also stimulates collagen production. Collagen is a protein in the dermis layer of the skin that is responsible for skin structure. Collagen synthesis slows with age, so the goal of any anti-aging ingredients and treatments is to produce more collagen.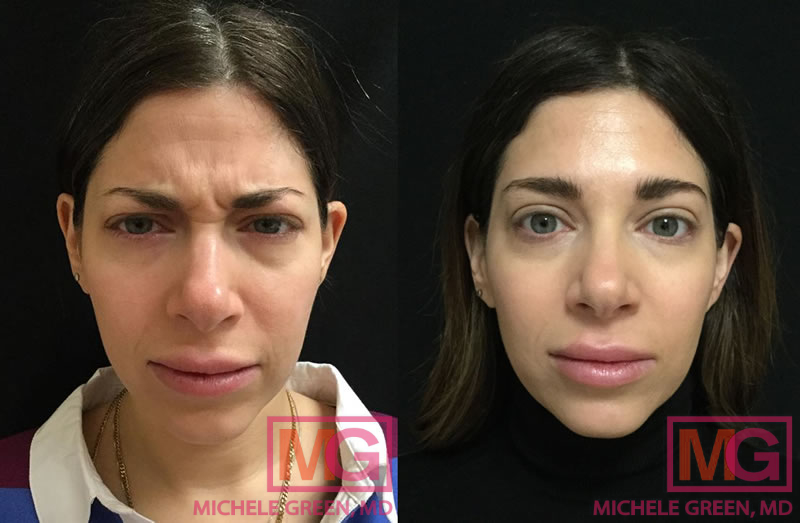 Is salicylic acid anti-aging?
Yes, salicylic has anti-aging effects on the skin. Salicylic acid is a type of beta-hydroxy acid (BHA) and is commonly used in acne-fighting skincare products. BHAs are oil-soluble ingredients that penetrate deep into the pores for a deep cleanse. BHAs like salicylic acid a type of chemical exfoliant that removes the superficial layer of dead skin cells, sebum buildup, and dirt to reveal healthy, glowing skin. By stimulating skin cell turnover, the appearance of fine lines is softened and the overall complexion is brightened.
Will aging be cured?
The world of cosmetic dermatology is always advancing. New technology and treatment techniques allow us to achieve younger-looking skin without the need for plastic surgery or extensive downtime. Aging is not a disease that needs to be cured, but we can drastically slow down skin aging with simple, noninvasive cosmetic procedures. Consulting with Dr. Green is the best way to determine which cosmetic procedures are best suited to you and your unique skin care goals, needs, and concerns.
Does light therapy work for anti-aging?
LED light therapy can be used to target a number of skin conditions, and since they don't contain any ultraviolet rays of light, they are completely safe to use on the skin. The wavelength of LED light utilized differs depending on the desired target of treatment. LED light treatment can boost circulation to the treatment area and even reduce bacteria associated with acne formation. When it comes to providing anti-aging effects, LED actually light therapy actually stimulates natural collagen production within the skin. This results in an overall more youthful appearance and a bright, smooth, healthy, and beautiful complexion. Maintenance is required to keep up with the benefits of LED light therapy. Since HydraFacial uses LED light therapy, Dr. Green recommends many of her patients have HydraFacial treatment on a regular basis to keep skin health optimal and reap the benefits of the treatment.
How to get started with anti-aging treatment
If you are looking for an anti-aging treatment regimen and are unable to afford the downtime and cost that comes with plastic surgery, Dr. Green is here to help. Dr. Michele Green offers the best, modern anti-aging treatments and wrinkle prevention, from skincare to injectables and laser treatments. Dr. Green is an expert in anti-aging and will carefully listen to your concerns to create a customized anti-aging treatment protocol for you. With over two decades of experience in anti-aging treatments, including the best Botox, laser treatments, and dermal fillers in NYC, it is no wonder that she is consistently voted as one of the best dermatologists in NYC.
There are a myriad of ways to halt the aging process and bring back younger, healthier-looking skin. Microneedling, chemical peels, laser treatments, Aquagold, and cosmetic injectables are just a few of the ways that Dr. Green can help rejuvenate your skin. Please call the office today at 212-535-3088 or contact us online for more information and to schedule your consultation to determine which combination of anti-aging treatments and skincare products will help you to look and feel your best.