In the world of cosmetic dermatology, laser technology has offered treatment for a variety of different skin conditions, from the signs of aging to facial pigmentation and discoloration to tattoo removal. Though there are a variety of non-invasive laser treatment options available, one of the most popular for revitalizing the skin and removing unwanted tattoos is the Picosure® Laser. The Picosure laser is best known for its ability to treat pigment in all skin types, induce new collagen, and treat tattoos, sun spots, wrinkles, and induce new collagen production.
The Picosure laser is an innovative device which can treat the skin with three different wavelengths – 532nm, 755nm, and 1064 nm wavelengths. These different wavelengths allow for the careful treatment of a variety of different pigments. Due to this flexibility, Picosure laser treatments can help to reduce the appearance of brown spots or other pigmentation, improve the look of fine lines and wrinkles, and remove all different colored tattoos in their entirety.
If you're frustrated by the appearance of age spots, sun spots, wrinkles, hyperpigmentation or discoloration on your skin, or are looking to remove an unwanted tattoo, NYC-based, board-certified dermatologist Dr. Michele Green is here to help. Dr. Green offers a range of laser skin treatments, for skin tightening, sun damage, laser hair, redness, rosacea, acne, stretch marks and cellulite. For over 25 years, she has been consistently voted as one of the best dermatologists in New York by Castle Connolly, New York Magazine and Super Doctors. Whether your skin is showing the visible signs of aging, due to genetics, sun damage, wrinkling, or acne scars, Dr. Green can reverse these changes easily with a combination of the best skincare and laser treatments with little or no downtime.
What is the Picosure Laser?
Picosure laser treatments were initially designed to help with tattoo removal, but are now commonly used to treat a range of different issues including fine lines, wrinkles, pigmentation, freckles, dark spots, and overall anti-aging skin revitalization. Picosure is an FDA-approved laser and utilizes ultra-short pulse energy bursts to provide effective skin rejuvenation. It is suitable for all skin types and is routinely used to remove wrinkles, improve skin texture, treat acne scars, and remove sun spots and unwanted pigmentation. Picosure can handle tattoos of all different ink colors, including tattoo pigment that is difficult to treat, such as orange and yellow.
How does the Picosure Laser work?
The Picosure laser relies on a photothermal impact in trillionths of a second. Additionally, the Picosure's picosecond technology tailors the pulse duration of the laser into short bursts in order to spare the skin from high thermal damage. With Picosure's picosecond laser pulse duration, patients can safely experience skin correction in fewer treatments. The Picosure laser it able to target melanin in order to treat a range of unwanted pigmentation and pigmentary conditions, and has customizable treatments to address 2-6mm, 8mm, and 10mm spot sizes. Once the targeted melanin is destroyed, the body is able to naturally eliminate the pigmentation cells.
The Picosure laser also contains unique Focus Lens Array technology is designed to create microscopic, photomechanical reactions along the surface of the skin. This essentially converts the laser energy into gentle pressure waves which activate skin cell signaling and stimulate the body's natural healing process. This cell signaling to the dermis increases collagen and elastin in the skin, helping to reduce the appearance of fine lines, wrinkles and, in some cases, acne scarring.  The breakthrough of Picosure Focus Lens Array technology enables skin revitalization without the need for downtime.
Picosure Laser Treatment for Skin Rejuvenation
Though the Picosure laser was initially designed for Tattoo removal, it has since been FDA-approved for overall skin rejuvenation. The Picosure laser is an excellent option for patients who looking to eliminate unwanted pigmentation, such as age spots, sun spots, or brown spots. Additionally, its ability to ignite new elastin and collagen production within the dermis can help to create a more youthful appearance by reducing the appearance of fine lines and wrinkles. Through this new collagen production, the texture of your entire skin is rejuvenated with almost no recovery time.
Alex Trivantage laser for tattoo removal, 8 treatments
Picosure Laser Treatment for Tattoo Removal
As the Picosure Laser was initially developed and approved for laser tattoo removal, it's an excellent tattoo removal option. The Picosure's 532nm, 755nm, and 1064 nm wavelengths can help to remove a wide variety of tattoo inks. The 532nm wavelength is effective in removing warm colors such as red, orange and yellow, and the 755nm wavelength easily removes black, blue, and green ink colors. The 1064nm wavelength delivery is an excellent option in removing black ink on patients with darker skin types. Additionally, the boost mode on the Picosure laser safely and effectively treats recalcitrant tattoos through the use of a shortened pulse width.
Dr. Green offers a variety of non-invasive laser tattoo removal treatment options, including the AlexTrivantage laser.
Can Picosure completely remove tattoos?
Picosure is able to effectively, safely, and permanently remove tattoos from the surface of the skin for a wide variety of patients. Picosure Laser Treatments can be applied to most areas of the body, and patients typically find that unwanted pigment and tattoo ink can be fully removed in a series of 3-6 treatment sessions, spaced 4 to 8 weeks apart, depending on the tattoo and your skin tone. Once all of the treatments have been performed, the tattoo will be permanently removed from the body.
What is Picosure Laser Treatment process?
The process for Picosure Laser Treatment is simple and convenient. First, you'll meet with Dr. Green for an initial consultation where you can discuss your medical history, current skin condition, and individual needs and goals. If Picosure laser treatment is determined to be the right option for you, you'll engage in a scheduled treatment sessions, tailored to meet your cosmetic objectives.
The Picosure Laser treatment is a quick and safe procedure that requires no downtime. Most patients feel minimal discomfort throughout the procedure itself but Dr. Green may apply a topical numbing cream in order to further decrease the potential discomfort. During a Picosure laser session, Dr. Green will use a handheld device to apply the Picosure laser energy to the treatment area, which in turn will remove unwanted pigment in as little as 20 to 30 minutes. The sensation typically feels like a warming of the skin – akin to being out in the sun too long – and as though a rubber band is being snapped against the skin. The slight warming feeling will disappear soon after the treatment has finished though patients may experience redness or irritation on the surface of the skin for several hours.
Does Picosure Laser hurt?
The Picosure laser treatment with Focus Lens Array technology is considered to be a pain-free treatment. Most patients find that discomfort is quite minimal during treatment – if there is any discomfort at all. However, a topical numbing cream can be applied to further limit any potential discomfort during the treatment.
What to Expect after Picosure
Both before and after Picosure laser treatment, it is imperative that you avoid direct sun exposure and tanning beds, and wear high-SPF sunscreen daily, in order to protect healthy skin. As Picosure laser treatment targets melanin in the skin, sun protection is of the utmost importance. After treatment, skin may feel slightly "sunburned", and mild redness may appear on the treatment site. However, these effects should subside quickly and patients can resume normal activity immediately post-treatment, though we recommend patients avoid strenuous activity for a few days.
Are there any side effects to Picosure Laser Treatment?
Picosure Laser Treatment is considered a non-invasive laser treatment with minimal side effects. Patients may experience redness or tenderness on the skin which should subside shortly after a treatment session. Additionally, patients are advised to avoid direct sunlight after treatment, as this may damage healthy skin in the treatment area, leading to hyperpigmentation.
Picosure Laser treatment FAQs:
What does Picosure laser do?
Picosure laser treatment is an innovative procedure that is able to address many different ailments for complete skin rejuvenation. The treatment may be best known for its ability to remove unwanted tattoo pigmentation and with three different wavelengths of light energy, Picosure lasers can eliminate any color on all skin types. In addition to tattoo removal, Picosure lasers can remove other forms of hyperpigmentation, including sun spots, age spots, birthmarks, and freckles. Acne scars can also be eliminated with the treatment for a clear and bright look to the skin. To remove the areas of pigmentation, the Picosure laser uses varying wavelengths of light to target the melanin or pigmentation in the skin, destroying it. In addition to addressing areas of hyperpigmentation, Picosure lasers can also help with skin tightening and the elimination of fine lines and wrinkles. Patients will see the optimal results after 2-6 treatments.
Does Picosure tighten skin?
While Picosure laser treatment is well known the elimination of hyperpigmentation and tattoo removal, the treatment can also be used to decrease the appearance of fine lines and wrinkles by tightening the skin. When the Picosure Focus Lens Array is applied to the treatment area, the wavelengths of light react with the epidermis, which is the surface of the skin, to send a message to the inner layer of skin, known as the dermis. As a result, the body increases production of the proteins known as collagen and elastin. Collagen and elastin are naturally occurring proteins in the body with a number of functions, among them giving structure to the skin for a smooth, firm, youthful look. As a result of the natural aging process, the production of collagen and elastin decreases in the body, which can contribute to the appearance of fine lines and wrinkles and the development of lax skin. When collagen and elastin production are triggered by the Picosure laser, the structure of the skin improves, tightening the skin and reducing the appearance of fine lines and wrinkles.
How long between Picosure treatments?
The length of time between Picosure treatments depends on the purpose of the treatment, you particular aesthetic goals and needs, as well as the size and scope of the treatment area. Most patients will require between three and six treatments for optimal results spaced four to eight weeks apart. When you have you initial consultation with Dr. Green, she will be able to assess the treatment area and provide you with a more concrete estimate of your treatment plan and session schedule.
How long to see results from Picosure tattoo removal?
Picosure laser treatment for tattoo removal works to break up the pigmentation cells below the surface of the skin. For optimal results, patients will typically need between three and six sessions spaced four to eight weeks apart. The results of the treatment will typically become available two to three weeks following each session and will improve gradually after each treatment. The results will continue to improve after each session until the pigmentation from the tattoo has been erased. After the treatment procedure, the pigmentation from the tattoo will be permanently removed.
Can Picosure make melasma worse?
As the Picosure Laser targets melanin in the skin, Dr. Green recommends that patients with melasma do not engage with Picosure Laser treatments. However, Dr. Green is an expert in treating patients with melasma, and offers safe and effective skin care, chemical peels, and Cosmelan in-office alternatives to reduce the appearance of melasma on the skin. Learn more about treatment for melasma.
How much is Picosure Laser Treatment?
The answer to how much does Picosure cost varies widely depending on the size and skin condition of the area being treated. In general, however, the cost of laser tattoo removal for Picosure Laser Treatment session, depends on the size and intricacy of the tattoo. Typically, the cost a Picosure Laser spot treatment for pigmentation or skin rejuvenation will be comparable to that of a large laser tattoo removal treatment session.
Is Picosure worth it?
Picosure is a safe and effective treatment with many purposes, including tattoo removal, elimination of hyperpigmentation, and facial rejuvenation by reducing the appearance of fine lines and wrinkles. When it comes to tattoo removal, the procedure is permanent and highly effective with results visible after only three to six sessions, depending on the size and color of the tattoo. With the three different wavelength frequencies, Picosure treatment can target a vast array of colors for tattoo removal including red, orange, and yellow, which are typically much more difficult to remove. Unlike some other kinds of lasers, Picosure can be used for patients of all skin types including patients with dark skin types. While some lasers can be harmful to patients with dark skin, Picosure lasers at 1064nm are very safe and effective to remove tattoos and hyperpigmentation for patients with skin types IV-VI.
Other laser skin treatment options
Other popular aesthetic laser options to treat a similar range of skin conditions include both Thermage and the BBL Broadband Laser for skin tightening. For those individuals looking to treat unwanted pigment issues, non-surgical options include the Fraxel® laser for scars, pigmentation and laser resurfacing or the AlexTrivantage laser to help remove all colored tattoos, sun spots and pigmented lesions. Other options for improving the tone and texture of the skin include Intense Pulsed Light (IPL) therapy and the VBeam laser for redness and rosacea.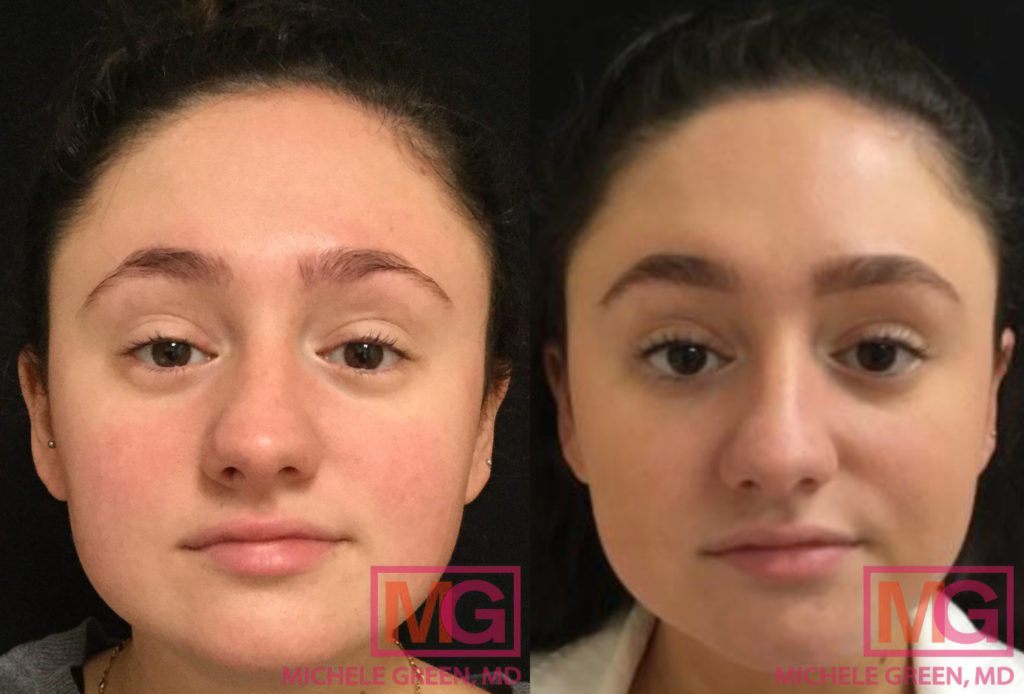 Before & After: 5 VBeam treatments for Rosacea
Acne scar treatments and Picosure Laser
Last but not least, for those patients who are suffering from acne scars, there are a range of procedures available that also include laser treatments, such as the Fraxel Dual, eMatrix laser, Clear + Brilliant, V-Beam laser, chemical peels, TCA Cross, Aquagold microneedling, and dermal fillers. Additionally, for patients seeking skin rejuvenation for fine lines and wrinkles, Dr. Green offers a variety of injectable cosmetic treatment options, such as Botox and popular hyaluronic acid fillers like Juvederm, Restylane, and Sculptra. These injectable treatments can often be combined with laser treatments in order to optimize skin rejuvenation.
Downtime after each treatment varies, as do the number of treatment sessions. However, for the most part, this laser treatments requires very little recovery time and have minimal side effects. Depending on what is being treated, optimal results may require more than one treatment session. To find out whether any of these treatment types are suitable for you, you can discuss your concerns with Dr. Green and formulate a treatment plan through a virtual or in-person consultation.
How to get started with Picosure treatment
If you are seeking help in removing unwanted pigmentation, sun damage, or facial discoloration, the Picosure laser may be the best treatment for you. Not only does it treat sun spots, age spots, fine lines, and wrinkles, but it produces new collagen stimulation and provides an all over more youthful appearance. Dr. Michele Green is a expert in cosmetic skin rejuvenation, in her private and discreet NYC dermatology office. With the best skin care, cutting edge lasers, dermal fillers, Botox, Juvederm, and cosmetic treatments, Dr. Green will help you get beautiful, clear skin, without any discoloration. To find out more about Picosure and other laser treatment options – please call us at 212 535 3088 or contact us online to schedule a consultation with Dr. Green in NYC today.