Trends in beauty, wellness, and skincare are constantly evolving. Keeping up with the daily must-have skincare products and procedures can sometimes feel overwhelming! Something that luckily never changes is the importance of having facial treatments. Regular exfoliation, extractions, and replenishment of essential skin hydration during a facial can help you to stay looking and feeling your absolute best. Dr. Michele Green in NYC is an internationally renowned cosmetic dermatologist and expert when it comes to the best in skincare and non-invasive facial treatments. If you're in need of a quick and painless way to rejuvenate your skin, without any downtime, a facial treatment with Dr. Green may be the best facial treatment for you.
Skin care is an essential component of self-care, too. Unless there's an issue that arises, however, you may not think about your skin care too often. The skin is the body's largest organ and acts as a protective barrier – often the first line of defense against potential infection, environmental toxins, and harsh ultraviolet rays from the sun. By keeping your skin in good health, you're not only taking care of your appearance, but you're also helping your skin do it's best job. Having the right facial treatment is one of the greatest ways to promote optimal skin health as well as enhance the look and feel of your skin. Your facial treatment approach will be customized by Dr. Green to perfectly address your unique skin concerns and cosmetic goals.
Dr. Michele Green in NYC has over 25 years of experience providing the best facial treatments, including HydraFacial, Oxygen facials, chemical peels, microdermabrasions, Botox and Juvederm injections, and laser resurfacing facial treatments, for some of the most discerning men and women from around the globe. Her dedication to her patients and to her practice is well-reflected by the fact that she is consistently voted as one of the best physicians in New York by New York Magazine, Super Doctors, and Castle Connolly. Dr. Green has the expertise and experience to advise the perfect combination of facial treatments for patients with various skin concerns of every age, skin tone, skin type. Entrusting Dr. Green to provide your skincare treatments guarantees that you will achieve a rejuvenated appearance, protecting and restoring skin health while preventing future skin damage and revealing a healthy glow.
What is the purpose of a facial treatment?
A facial treatment is an excellent way to achieve softer, brighter, smoother skin. The right facial can transform your skin by clearing pores, reducing the appearance of fine lines and wrinkles, minimizing dark spots and hyperpigmentation, and eliminating puffiness. By stimulating blood circulation and providing essential skin hydration, a facial treatment is an ideal non-invasive option for achieving healthier, more radiant, and youthful looking skin in a short amount of time. One of the greatest advantages of facial treatments is that there are many different varieties offered in the private dermatology office of Dr. Michele Green in NYC. The purpose of each facial treatment available varies slightly, meaning that when you consult with Dr. Green, you are able to choose a facial that is best-suited to addressing your particular concerns and for achieving your personal cosmetic goals.
Which facial is best for face?
Your skin is unique, and so is the combination of routines and techniques that you should exercise to keep it looking its very best. Your skin's specific needs may change over time, and may even vary from season to season. Consulting with an expert cosmetic dermatologist, like Dr. Green, will help you choose the best mix of products and treatments which will provide you with the best skin care designed for you. From selecting the right cleansers, moisturizers, and sunscreens, to utilizing the most cutting-edge anti-aging technology available, Dr. Michele Green can help you formulate a plan to take care of your skin and keep it looking healthy and more youthful for years to come. During your consultation with board-certified cosmetic dermatologist Dr. Green, you'll have the opportunity to discuss your specific skin concerns and goals. Some of the most common facial treatments performed in Dr. Green's office include the HydraFacial, Oxygen facial, chemical peels, and laser resurfacing facial treatments. Consulting with Dr. Green is the most effective and efficient way to determine which facial treatment option would be the best facial for you.
The HydraFacial Signature facial treatment
A HydraFacial is a medical grade hydradermabrasion treatment. The innovative vortex technology of the HydraFacial makes it one of the most powerful facial treatments available! Although the HydraFacial is powerful, thanks to the gentle nature of the treatment, even patients with the most sensitive skin can enjoy a HydraFacial treatment without any skin irritation. The first step involved in the three-step HydraFacial treatment is deep cleansing. Dead skin cells and debris are removed as the skin is smoothly resurfaced. A light chemical peel of glycolic and salicylic acid then exfoliates the skin and unclogs the pores with gentle suction technology, while skin is simultaneously being intensely hydrated. Finally, antioxidants and peptides are infused into the skin. This final step helps to protect skin from free radicals in the environment as well as provide a healthy and beautiful glow.
The customizable nature of the HydraFacial treatment allows for a variety of restorative and nourishing benefits to be delivered within a single procedure. Unlike some other traditional facial treatment methods such as dermabrasion or microneedling, which can sometimes be tough on sensitive skin, the Hydrafacial provides the skin with a means to a more even tone and texture as well as a radiant glow. The HydraFacial can be used to treat patients of nearly all age groups, complexions, and skin types, making it a superb facial treatment option for everyone!
HydraFacial treatments are perfect for anyone who is looking for a way to refresh and rejuvenate their skin. Additionally, a HydraFacial treatment can help those who are struggling with acne, clogged pores, hyperpigmentation, fine lines, sun damage, or dry and dull skin. A HydraFacial will leave your skin radiant, clean, and smooth after just a single thirty minute treatment.
More patients than ever are taking advantage of the unique benefits of the Hydrafacial, since HydraFacials are also an excellent way to treat acne and clean the clogged pores and congestion that result from wearing a mask. Due to the heat and occlusion associated with wearing a mask, the skin can become congested and prone to acne breakouts. HydraFacials are the ideal way to clean and refresh your skin from the increased sweat and sebum of wearing a mask.
What add-ons can be included in the Hydrafacial treatment?
The boosters that can be added to the HydraFacial can make it a custom facial treatment, and allow it to be able to cater to the individual needs of each patient. For issues with dullness and hyperpigmentation, the Britenol booster is ideal, as it is formulated to help target dark spots and produce a brightening effect. Britenol also helps treat sunspots and sun damage. Britenol contains Alpha Arbutin and Vitamin C, which is a powerful antioxidant and helps to even out the skin tone.
For anti-aging benefits and overall skin refinement, the Dermabuilder booster can be used to help boost collagen production in the skin. Dermabuilder contains a blend of peptides, which are fragments of protein and act as the building blocks of skin. When collagen production is boosted within the skin, it can help restore skin health and elastin, leading to the improvement of skin tone and the diminishment of the signs of aging. Connective Tissue Growth Factor (CTGF) can also help with anti-aging. Again, these proteins can help boost collagen production which in turn helps the skin look younger.
Rozatrol is a booster that contains Rosa Canina Extract and Lactose, which is a milk protein. These ingredients help to minimize the appearance of pores and soothe skin inflammation, respectively. Rozatrol booster can be used to detoxify skin and provide it with ample hydration, strengthening the overall skin barrier. Rozatrol also helps to diminish any visible facial redness and is commonly used with patients who have rosacea.
For textural concerns, ReGen GF boosts the production of collagen and elastin in the skin through a uniquely engineered peptide complex. Collagen and elastin are proteins that provide the skin with structural support. By increasing the rate of collagen synthesis in the skin, the ReGen GF booster can help to diminish the appearance of fine lines and wrinkles and reveal a smoother, clearer, more youthful overall complexion.
LED light therapy can be incorporated into your HydraFacial treatment, too. There are two LED light options available. Blue LED can be used to eliminate any acne-causing bacteria from the surface of the skin, helping to reduce and control breakouts. A red LED light is also available, and helps to increase blood circulation in the treatment area, improving the overall health of skin. Depending on your particular needs, your facialist may select one LED light or the other, or use a combination.
A lymphatic facial massage booster is another way to customize the HydraFacial treatment. The lymphatic system in the body is responsible for draining waste and toxins from other body systems. The massage helps the body to reduce puffiness by improving lymphatic drainage.
One of the greatest benefits associated with the HydraFacial treatment is that it produces consistent results each time, for patients of every skin tone, skin type, and age, whether the treatment is performed by an aesthetician at a day spa in San Francisco or a cosmetic dermatologist in New York City. However, physicians are able to offer higher strength chemical peels as part of the HydraFacial experience than an esthetician can. When you consult with Dr. Green in her boutique dermatology office in the Upper East Side neighborhood of Manhattan, you'll have the opportunity to discover which HydraFacial booster treatments are best-suited to you and your skin.
Microneedling before and after
What is an Oxygen Facial?
In her discreet NYC dermatology office, Dr. Green offers the innovative Oxygen Facial treatment. Thanks to the revolutionary use of the pure oxygen molecule, the ECHO2Plus™ Oxygen Treatment System is uniquely suited for providing the purification, nourishment, and rejuvenation of every single skin cell. This patented facial treatment system is among the first to offer both corrective and preventative skin care.
Oxygen Facials help to improve the appearance of age spots, rosacea, hyperpigmentation, and fine lines. Oxygen facials can also be used to treat dry and dull skin, facial hyperpigmentation caused by sun damage, free radical damage, and damage as a result of exposure to environmental pollutants. The result is clear, smooth, beautiful skin and a more youthful complexion overall.
How does an Oxygen Facial Work?
The ECHO2Plus™ Treatment System combines vitamins C, A, and E with over 80 other minerals, enzymes, amino acids, and (most importantly) pure oxygen gas to deliver facial revitalization. ECHO is an acronym for the four steps of the oxygen facial: exfoliation, cleansing, hydration and oxygenation.
Step 1: Exfoliation
The exfoliation step of the Oxygen Facial removes the buildup of dead skin cells and debris from the surface of the skin that accumulates on a daily basis. Exfoliation is an essential part of deeply cleansing the facial skin. Exfoliating can also temporarily reduce the tri-level barrier function of skin cells, allowing for maximum nutrient absorption in later steps of the Oxygen Facial.
Step 2: Cleansing
During the cleansing stage of the Oxygen Facial, the ECHO2Plus™ Skin Cleanser is applied to skin using a careful and sterile technique. The application method utilized assures that the newly exposed, sensitive skin cells are not irritated, and that the helpful bacteria that is naturally present on the skin is preserved. This step of the Oxygen Facial provides skin with a deeper clean than a traditional cleanser can.
Step 3: Hydration
The Hydration step of the Oxygen Facial acts as a powerful moisturizer, providing a nourishing skin treatment for new surface skin cells. The ECHO2Plus™ process of "Osmotic Hydration" is the only one of its kind to use specially formulated enzymes and mineral solutions to help draw moisture to the skin surface, intensely hydrating the skin cells.
Step 4: Oxygenation
The final step of the Oxygen Facial is the oxygenation portion.  This step is uniquely and exclusively a part of the ECHO2Plus™ Skin Care Treatment System. Oxygen, in conjunction with vitamins and minerals, is propelled onto the skin to nourish and revitalize the skin cells. Oxygen is an excellent nutrient for collagen and elastin. Collagen and elastin are proteins in the skin which provide it with suppleness and a firm foundation. The body uses oxygen and other nutrients to increase collagen production and reinforce elastin fibers. The result is an enhanced elasticity of the skin, preventing sagging and reducing signs of aging for a more youthful, smooth appearance.
Do facials help with acne? Do facials remove blackheads?
Dealing with an acne breakout can be frustrating, and it can be hard to resist the urge to pop a stubborn pimple! Popping and squeezing acne lesions, however, can lead to worsening inflammation and permanent scarring. In her NYC office, Dr. Green offers a facial treatment for acne-prone skin that will diminish pesky blemishes without damaging or scarring the skin. The acne facial is a comprehensive treatment that works for a variety of different skin types to minimize the appearance of acne. It begins with a surface cleansing of the skin and a light glycolic acid treatment, exfoliating the skin and also helping to reduce the appearance of acne scars. This step is then followed by treatment with the manual extraction of any pimples. Next, a soothing and purifying mask is applied to the face. The final step in the facial is the application of oxygen, allowing for a natural moisturizing process that rejuvenates skin cells. The acne facial clears up acne, reduces blackheads, lightens any dark blemishes, and leaves the skin glowing.
This type of facial should be repeated at monthly intervals until the skin is clear, and should be thought of as an integral component of an acne care facial treatment program to prevent future breakouts. Dr. Green has great success with acne facials for patients with troubled complexions. She supplements the procedures with recommendations for an at-home regimen from MGSkinLabs, including acne-fighting ingredients such as glycolic and salicylic acids found in the Pore Minimizing Cleanser, acne spot treatment, and retexturizing pads. This combination makes for healthy, radiant skin with long-term results and a blemish-free complexion.
Do facials help with wrinkles?
Yes! There are anti-aging facial treatments available that boost new collagen production in the skin and provide essential hydration. Collagen is a protein in the skin that contributes to a supple and youthful appearance and provides it a with a firm foundation. The result is an overall firming effect and a reduction in the appearance of fine lines and wrinkles. It's even better to start having facial treatments before the onset of premature wrinkles, which often occur due to sun exposure. Chemical peels, laser skin resurfacing facial treatments, and even a HydraFacial can be used to diminish the appearance of wrinkles and fine lines. With so many facial treatment options out there, it can feel somewhat overwhelming to attempt to determine which is right for you and your skin. Luckily, medical professionals, like board-certified dermatologist Dr. Michele Green, are here to help. Consulting with Dr. Green is the easiest and fastest way to develop a facial treatment plan to address your skin concerns, including wrinkles. Often, Dr. Green recommends a combination treatment approach for her patients who are interested in anti-aging options, combining the best in-office procedures with specially formulated skincare solutions from her MGSKINLABS, Inc. line of products.
The MGSKINLABS, Inc. Essential Antioxidant Infusion is a unique blend of vitamin A, C, and E, that is designed to stimulate new collagen production. The serum provides a gentle exfoliation of skin to reveal new, healthy skin cells and a smoother, clearer complexion. Patients observe a reduction in the appearance of their fine lines and wrinkles as well as improved skin elasticity.
The Absolute Recovery Cream is a moisturizer packed with essential fatty acids and blended with rose extract and gingko biloba. This nourishing cream helps to reinforce the natural protective barrier of skin, providing an overall lifting and firming effect while restoring necessary hydration to skin. The result is enhanced youthfulness, suppleness, and radiance.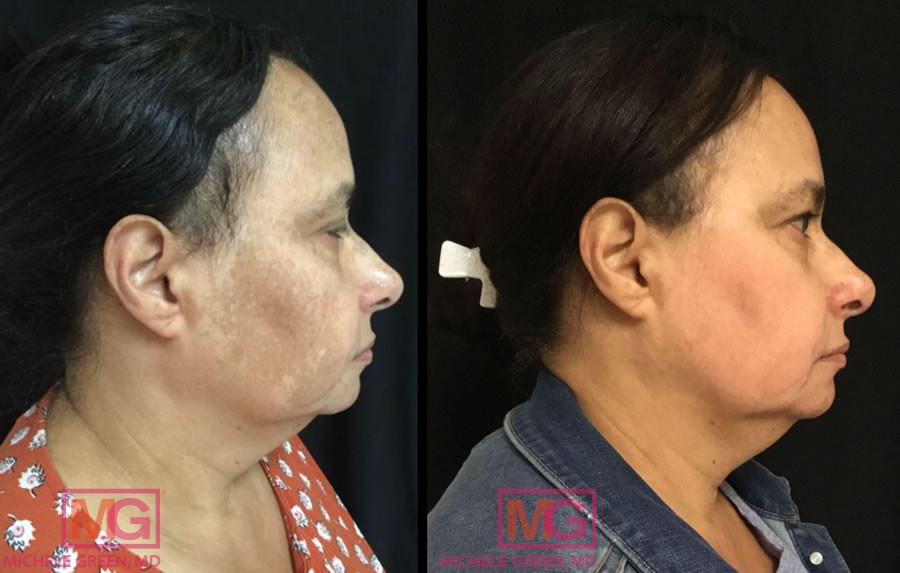 Chemical Peels and Cosmelan before and after
Do facials work? Does a facial really help?
It can be tempting to schedule a facial treatment straight from Groupon's website after browsing the discount deals, but you will probably be left wondering if it will actually work for your skin and may even be concerned as to whether you'll be left with any complications following treatment. For this reason, when patients are preparing to have a facial treatment for the first time, many express similar concerns. Most are worried that their facial won't deliver the results that they want or that they may be left with worse skin. Day spas are not generally regulated when it comes to facial treatments, meaning that the protocol for various facial treatments between these spas can vary. This may lead to inconsistent results and use of inappropriate techniques by aestheticians. Rather than booking a facial treatment based on the discounts you might get, invest in having a facial with an expert who understands the complexities of your skin and can provide you with a facial that really helps. Your best bet for having a facial treatment that truly works is by scheduling an appointment with a board-certified cosmetic dermatologist. When you have a facial treatment with Dr. Michele Green in NYC, you can guarantee that it will provide exactly what your skin needs, leaving you looking and feeling like the very best version of yourself. Whether you have dull and dry skin, wrinkles and fine lines, an uneven skin tone, or acne, Dr. Green can help you select a facial treatment that works perfectly for you. A proper consultation is important to avoid unwanted complications with any facial treatment, and a thorough understanding of your medical and cosmetic history as well as any previous treatments you've had should be discussed, which is exactly what you get from Dr. Green in New York.
Do facials hurt?
On the contrary! Facial treatments are a relaxing part of any skincare and wellness routine. The majority of patients appreciate that for the time during a facial they are able to disconnect from their mobile devices and focus on their wellbeing, leaving the office feeling refreshed and looking rejuvenated. There may be some mild discomfort during the extraction portion of a facial treatment, depending on the type of facial that you are having. A good facialist will use appropriate extraction techniques, minimizing discomfort for the patient and clearing the pores without risking scarring. If you do experience any severe pain or discomfort following a facial treatment, let the facialist know. If signs of skin irritation persist, including extreme redness, swelling, breakout, or pain consult with a dermatologist who can recommend best treatment protocol. In order to avoid such complications, it's best to have your facial treatment with a board-certified cosmetic dermatologist who will understand your skin type and provide you with treatment options best-suited to meeting your needs and resolving your irritation.
Are facials good for your skin?
Having regular facial treatments is an excellent way to keep your skin healthy and radiant. Most people tend to assume that facials are only good for your skin during summer months, when skin is oilier and pores more congested. However, having facial treatments on a regular basis all year round is the best way to maintain the many benefits offered by a facial. Hydration is essential for skin health, and is often depleted during colder winter months. Hydrating facials in the winter can help keep the skin looking and feeling youthful, supple, and rejuvenated rather than dry, itchy, and irritated. The best approach to having a successful facial treatment is by consulting with a board-certified dermatologist, like Dr. Green in NYC. Dr. Green has over 25 years of experience providing facial treatments to patients from around the world with different skin tones, skin types, and primary skin concerns. Meeting with a skincare expert like Dr. Green for your facial treatments will guarantee that you get the optimal results, rather than suffer from unwanted side effects after having a facial treatment with an aesthetician found on Groupon who really did more harm than good!
Before and After VBeam treatment
How often should you have a facial?
Consistency with your skincare routine is what helps to keep your skin looking and feeling refreshed and revitalized. The same is true for facials! Scheduling a facial treatment regularly every three to four weeks will help maintain the best results and keep your skin's health and appearance flourishing. Your skin has a regular cycle of cell turnover that is approximately four weeks in duration, where the skin is producing new cells and shedding dead skin cells. This means that the effects of a facial treatment typically expire after about a month. Meanwhile, having facial treatments too often within a skin cell turnover cycle can lead to skin irritation and sensitivity. Patients struggling with active acne breakouts may benefit by having a facial treatment every two weeks, though the frequency should be determined by a board-certified dermatologist overseeing treatment. When active breakouts have resolved, patients can return to having facials once a month. It is also beneficial to regularly meet with a facialist to determine the changing needs of your skin, since they can vary from season to season and as a result of the natural aging process. During your consultation with Dr. Michele Green in NYC, you will be able to develop a treatment plan and timeline that works best for you and your skin.
Are facials safe during pregnancy?
The options for facial treatments are much more limited during pregnancy. Laser resurfacing facial treatments, exfoliating treatments, chemical peels, and microcurrent technologies should not be used during facial treatments for pregnant individuals. Other more intensive treatments, like microneedling and microdermabrasion, should also be avoided while pregnant. During pregnancy, skin is especially sensitive and facials may be more likely to cause skin irritation. Additionally, there has not been sufficient studies done demonstrating the safety of facial treatments involving pregnant subjects. Topical ingredients can be absorbed by the skin and enter the bloodstream, where they may affect a developing fetus.
A deep cleansing facial treatment should be safe for patients during pregnancy, though this should always be confirmed with a medical professional such as board-certified dermatologist Dr. Michele Green in New York City, before having a treatment. Enzyme peels are usually considered as a safe treatment modality for pregnant women, too. An enzyme peel is a kind of facial treatment that is designed to remove dead skin cells from the epidermis through enzymatic breakdown. The enzymes used in this type of peel are usually derived from sources like vegetables and fruits, meaning that they are gentle and safe for individuals who are either breastfeeding or pregnant. Again, it is advised to always check with a medical professional prior to having any facial treatment.
How much is a facial treatment?
The total cost of having a facial treatment is ultimately going to depend on the type of facial selected and the add-ons to be included in the treatment. Laser resurfacing facial treatments are typically more costly than cleansing and exfoliating facial treatments are. Other factors that may influence the final cost of your facial treatment include the geographic location of the office in which you are treated and the experience level of your facialist. When facial treatments are performed by an aesthetician, the cost is usually lower than when performed by a medical professional like a board-certified dermatologist. However, day spas are not usually regulated, meaning that facial treatment protocol and results can vary widely between spas. Dermatologists also have access to serums, peels, and treatments with higher strength than what is available in a spa setting. When you consult with Dr. Green in her private dermatology office located in the Upper East Side neighborhood of Manhattan, you'll have the opportunity to discuss with her in-depth regarding your specific skin concerns and personal aesthetic goals. During your consultation, she will recommend the ideal facial treatment options for you and you will be able to determine the precise cost of your treatment.
What can a facial do for your face?
A facial treatment can boost collagen production, remove dead skin cells, reduce the appearance of fine lines, hyperpigmentation, and enlarged pores, and enhance skin hydration. There exist a number of types of facials that can serve different purposes and help patients to achieve various cosmetic goals. No matter what your specific skin concern may be, there is likely a facial treatment that can be used to help resolve it, improving both the look and feel of skin. Dr. Michele Green in NYC is an internationally renowned cosmetic dermatologist with over 25 years of experience providing some of the most discerning men and women from around the globe with the best facial treatments available in Manhattan. When you choose to work with Dr. Green for your facial treatments, you will discover just what a facial treatment can do for your face! Dr. Green customizes the facial treatment plans of each individual patient so that it best suits their unique needs. During your consultation with Dr. Green, you will be able to learn which facial treatment is best suited to your particular skin needs and cosmetic goals.
What is dermaplaning?
Dermaplaning is a kind of facial treatment that entails the removal of dead skin cells, debris, and vellus hair with a scalpel-like tool. This quick and easy manual exfoliation facial treatment is beneficial for skin because it enhances skin radiance, induces new collagen production, and produces immediate cosmetic results. Since the topmost surface layers of the skin are removed, dermaplaning is also a great treatment for keeping the pores clear and preventing acne breakouts. There is no downtime associated with the treatment, and patients can enjoy smoother, brighter skin immediately after the procedure is finished. During your consultation with Dr. Green, you'll have the opportunity to discuss various facial treatment options and determine whether dermaplaning is right for you.
What is microdermabrasion?
A Microdermabrasion facial treatment is a simple and effective way to keep skin feeling and looking refreshed and smooth. During a microdermabrasion treatment, a fine crystal or diamond tip is used to essentially buff and polish the skin, gently exfoliating the skin to remove dead skin cells and reveal new, healthy skin cells. Dr. Green may recommend a microdermabrasion treatment, among other rejuvenating facial treatments, in order to effectively rid the surface of the skin from dead, dry skin cells that lead to a dull complexion. The result is a glowing, radiant complexion that's unveiled from underneath and a stimulation of collagen and elastin production in the skin. A Microdermabrasion treatment may be particularly well-suited to any individual who is following a skincare regimen that incorporates retinoid products, as well as to those who are struggling with the appearance of acne breakouts, fine lines and wrinkles, or melasma. After your initial consultation with Dr. Green, she will design a uniquely tailored, customized approach to your facial treatment, depending upon your skin type and specific skincare needs.
What is a laser resurfacing facial treatment?
Laser skin resurfacing facial treatments, also referred to as photo-rejuvenation treatments or laser peels, are non-invasive facial treatment options that can be used to target a wide array of skin issues. Laser facial treatments have the potential to correct skin concerns such as sun damage, age spots, superficial fine lines and deep facial wrinkles, acne scars, enlarged pores, irregular skin texture, and hyperpigmentation. The ultimate goal of a laser skin resurfacing facial treatment is to induce new collagen production in the skin and to reveal new, healthy skin cells. Laser skin resurfacing facial treatments make it possible to reverse years of sun exposure, discoloration, and skin aging, with almost no downtime involved. You should, however, stop waxing and the use of any exfoliative agents in advance of your laser skin resurfacing facial treatment to avoid experiencing any skin irritation.
Clear + Brilliant utilizes a fractionated laser technology, designed to create millions of tiny, microscopic wounds in the skin in order to stimulate collagen formation, resulting in new, younger, and healthier looking skin with no downtime. One of the greatest advantages of the Clear and Brilliant facial treatment is its ability to enhance the permeability of skin. Immediately upon completing the treatment with the Clear and Brilliant laser, Dr. Green applies select serums and antioxidants to the skin. This step helps to maximize the benefits of the facial treatment, since increased skin permeability means that it is more receptive to phenomenal skincare ingredients. To enhance the process of facial rejuvenation following treatment with Clear and Brilliant laser, Dr. Green loves to use her incredibly popular Vitamin C serum from her line of skincare products, MGSkinLabs, Inc.
The Clear and Brilliant laser facial treatment is a gentle, yet effective skin resurfacing treatment that is ideal for use in all skin types. Not only does the Clear + Brilliant treatment improve the appearance of enlarged pores, hyperpigmentation, fine lines, and acne scars, but it improves the overall surface of the skin. Since there is absolutely no downtime involved with the Clear and Brilliant laser laser, it can be combined with other cosmetic facial treatments, such as the Vbeam laser, during the same office visit. Dr. Green will help you determine which combination of innovative, non-invasive facial treatments will address your specific skin care needs and provide you with the best cosmetic results.
The Fraxel Dual laser is a non-ablative, FDA-approved, skin resurfacing facial treatment that utilizes a fractional laser technology. But what does the term "fractional" actually mean? The term "fractional" refers to the fact that just a precise fraction of the skin is being targeted and treated during a treatment session. This advanced technology allows for Fraxel to be used in addressing a wide range of cosmetic skin concerns. A Fraxel laser treatment can be used to improve the overall appearance of pigmentation, dark spots, sun damage, fine lines and deeper wrinkles, stretch marks, skin texture and the appearance of enlarged pores, acne scarring, and even surgical scars. Since the Fraxel laser is non-ablative, it is able to treat and change the deeper layers of the skin while leaving the surface of the skin undamaged- meaning there's almost no downtime involved.
The Vbeam is considered the gold standard facial treatment for treating the appearance of broken capillaries, facial rosacea, acne scars, facial veins, port wine stains, spider veins, stretch marks, facial redness, and more. Manufactured by Candela, the pulsed dye Vbeam laser helps to restore skin luster and clarity while diminishing any signs of redness. The laser operates on a wavelength which only targets the skin cells holding onto any red pigment, ensuring that the surrounding skin is left untouched. The result of treatment with the Vbeam laser is a complexion which is less red, brighter, with improved and even skin tone.

Before & After: Source – Clear + Brilliant
What is a Chemical Peel?
A chemical peel is a type of skin resurfacing facial treatment that uses a chemical solution to remove the outer layers of dead skin. Dr. Green often combines chemical peel facials with other cosmetic procedures to effectively treat wrinkles, uneven skin tone, and skin texture by stimulating skin cell turnover. As a result, chemical peels are able to correct skin discoloration, unclog pores, and give the skin a healthy and vibrant glow. There are different strengths and types of chemical peels that will determine how deep the peel will penetrate the skin and its subsequent effects. This controlled injury to the skin is what facilitates the peeling of the skin, and allows for improvements in skin texture, acne, acne scars, sun damage, lines, wrinkles, and pigmentation. The best way to ensure ideal results from a chemical peel, and avoid unwanted side effects such as hyperpigmentation, hypopigmentation, and scarring, is to seek treatment by a board-certified cosmetic dermatologist, like Dr. Michele Green in NYC.
Are facials worth it?
Facial treatments are an important part of self care, skincare, and wellness. Having the right facial treatment is always worth it! To ensure that you get the most from your facial treatment experience, it is recommended that you have your treatment with a board certified dermatologist. A medical professional has the expertise and extensive experience to select and customize your facial treatments so that it best caters to the particular skin concerns you have and helps you to achieve your goals. The best facial for you will not only improve the appearance of your skin, but will also enhance the health of your skin. Patients love the effects of the facial treatments that are offered in the boutique dermatology office of Dr. Michele Green, located in the Upper East Side neighborhood of Manhattan. Each facial treatment performed by Dr. Green is personalized to the unique needs of individual patients, and it is absolutely worth it!
How to get a facial treatment in NYC
If you are interested in improving the overall health and appearance of your skin, schedule a consultation with Dr. Michele Green in New York City. Dr. Green is a board-certified cosmetic dermatologist with over 25 years of experience providing the best facial treatments Manhattan has to offer. She is recognized and appreciated around the world for her holistic approach to facial rejuvenation treatments, and her dedication to her patients and practice is well-reflected by the fact that she is consistently voted as one of New York's best physicians by Castle Connolly, Super Doctors, and New York Magazine. No matter what your skin concerns are, whether it be rosacea, acne, fine lines and wrinkles, hyperpigmentation, dullness, or dry skin, Dr. Green will customize your facial treatment plan to give you the best results so that you look and feel your absolute best. To learn more about how a facial treatment can benefit you and schedule a consultation with internationally renowned dermatologist, Dr. Michele Green, contact us online or call our NYC office at 212-535-3088