In the world of cosmetic dermatology, there is one technology that truly seems too good to be true. Laser resurfacing is an innovative, non-invasive treatment that truly revitalizes the skin, eliminates unwanted pigmentation, and reduces the appearance of fine lines and wrinkles, all with one laser device. There are a variety of different non-invasive, restorative laser treatments, but one of the most popular is that of the Fraxel® laser.
The Fraxel laser is a fractional laser that is able to make tiny micro-injuries to the skin. This in turn ignites the body's natural healing processes, boosting collagen production and creating healthy, glowing skin. Fractional lasers are able to take the intensity of a laser and "fractionate" it, which allows the laser to pinpoint specific treatment areas on the surface of the skin. Additionally, the Fraxel laser offers non-ablative treatment, which helps to preserve the epidermis, essentially eliminating the need for downtime. The Fraxel laser is an amazing option for patients seeking skin resurfacing treatment in order to reduce the appearance of sun damage, age spots, brown spots, acne scars, as well as all-over skin rejuvenation.
Recently, more minimally invasive fractional lasers have been FDA-approved to treat more mild to moderate sun spots, acne scarring, and dark spots. The Clear + Brilliant laser, often referred to as "Baby Fraxel" or "Micro-Fraxel", is an amazing tool from the makers of the original Fraxel for skin rejuvenation, helping to even out skin tone and pigment inconsistencies while boosting new collagen production. Additionally, Clear + Brilliant laser treatments can help to smooth fine lines and wrinkles, and can help with skin permeability, allowing it to be combined with intensive serums and antioxidants to wondrous effect.
If you're frustrated by the appearance of uneven skin tone, discoloration, or are seeking anti-aging treatments with zero downtime, board-certified dermatologist Dr. Michele Green is here to help. With over two decades as a leading expert in cosmetic dermatology in her discreet, private, NYC office, Dr. Green was one of the first dermatologists in New York to perform the Fraxel laser. As an expert in treating melasma, sun damage, age spots, sun spots, fine lines, and acne scars, Dr. Green utilizes the best skin care, laser treatments, and skin resurfacing treatments, to produce new collagen and the ultimate in beautiful skin rejuvenation.
What is Fraxel Laser Treatment?
Fraxel laser treatment is often used to refer to a variety of non-invasive fractionated lasers, but there is only one official Fraxel laser brand. Dr. Green relies on the Fraxel Dual laser for her traditional Fraxel Laser treatments. Before Fraxel, skin resurfacing lasers were ablative, meaning that they caused harsher injury to the skin's surface, which meant that the process required ample recovery time. With Fraxel repair technology, the fractional laser energy is able to penetrate deep into the skin while only treating a fraction of skin cells at a time, which leaves surrounding tissue unaffected by the treatment. This means that Fraxel Dual–as well as the Clear + Brilliant laser–promote a faster and more effective healing process than older laser resurfacing technology.
The original Fraxel laser was the first FDA-approved non-ablative fractionated laser, and the Fraxel Dual offers two different wavelengths to rejuvenate the skin and eliminate dark spots due to sun exposure or the aging process. The Fraxel Dual's 1927 wavelength is able to remove pigment inconsistencies, discoloration, age spots, and sun spots from the epidermis. Meanwhile, the Fraxel Dual's 1550 wavelength works to boost new collagen production, reducing the appearance of fine lines, wrinkles, acne scars, and surgical scars.
37 yr old female – Fraxel 1 Treatment after 2 weeks 
What is Baby Fraxel?
Baby Fraxel refers to another laser from the makers of the original Fraxel, the Clear + Brilliant Laser. The Clear + Brilliant laser has similar results to the Fraxel dual laser, but provides an even more gentle skin resurfacing experience, providing results in just minutes. Clear + Brilliant is an FDA-approved skin resurfacing laser to reduce the appearance of aging and sun damage on the skin, as well as even out skin texture. Additionally, Clear + Brilliant has an additional handpiece, Permea, that relies on a 1927nm wavelength in order to target melanin concentration in the skin cells, which allows it to treat hyperpigmentation, sun spots, and melasma safely and effectively. Permea is safe to use on all skin types and skin tones, and is effective in treating more difficult pigmentation conditions such as melasma.
What is a Fraxel Procedure?
The process for a Fraxel procedure is both simple and convenient. First, you'll meet with Dr. Green to discuss your medical history, current skin condition, and individual needs and goals. From there, Dr. Green will work with you to develop a custom treatment plan that's best for your skin type.  For a Fraxel laser treatment session, a topical numbing cream (anesthetic) is applied to the treatment area an hour prior to the procedure. The Fraxel Dual procedure itself takes only around fifteen minutes for the entire face. When it comes to treating stretch marks or pigmentation elsewhere on the body, the procedure takes about 30-45 minutes in total.
The Fraxel Dual laser procedure can also be combined with other skin rejuvenation techniques, including cosmetic injectables such as Botox or hyaluronic acid fillers like Juvederm and Restylane, as well as other laser resurfacing techniques. The V-Beam laser, for example, is a complementary procedure with Fraxel Dual for patients who are struggling with facial rosacea or redness.
After the procedure, most patients describe a sensation in the skin akin to a mild sunburn, and patients are provided ice packs and cold water post-treatment to mitigate any potential discomfort. Additionally, it is imperative that patients protect themselves from sun exposure post-treatment, using a high-SPF sunscreen to lessen the risk of further sun damage or hyperpigmentation.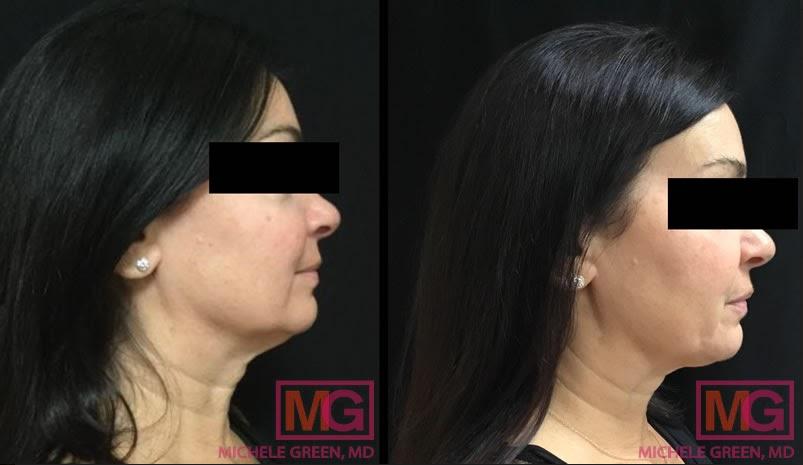 40-49 year old female: Fraxel with Botox and Kybella – 3 months
What is a Baby Fraxel Procedure?
A Baby Fraxel procedure is quite similar to a Fraxel Dual procedure, lasting around fifteen minutes and requiring no downtime. After the Clear + Brilliant laser is applied to a treatment area, patients often experience a "sandpaper" like quality to the skin, which is not visibly noticeable. This texture indicates that effective "micro-peeling" response of the skin and, once this rough skin flakes off, new, younger-looking skin is revealed. Clear + Brilliant laser procedures are also complementary with the use of the V-Beam laser, as well as injectables like dermal fillers and Botox, and is often combined with the application of antioxidant serums post-treatment, like Dr. Green's Vita-C serum, to accelerate the healing process stimulated by the Clear + Brilliant laser procedure.
How long does a Fraxel Procedure take?
The Fraxel Dual or Baby Fraxel (Clear + Brilliant) laser procedures themselves take only around fifteen minutes for a full facial rejuvenation treatment, or 30 minutes for a larger area of the body. For patients who engage with Fraxel treatments for pigmentation or discoloration, typically 3 treatment sessions are required to achieve the best end result. In general, skin rejuvenation treatments are repeated about once a month for a series of 5 treatments in order for patients to gain optimal results.
What is the difference between Baby Fraxel and Fraxel Laser Treatment?
Both Fraxel and Baby Fraxel laser treatments are safe and effective skin resurfacing treatments that require zero downtime, unlike ablative lasers or more invasive procedures that a plastic surgeon might offer. However, because the Clear + Brilliant (Baby Fraxel) laser is more gentle, it can safely be used on a wider variety of skin types, and can also be used to treat melasma and hyperpigmentation safely and effectively. In contrast, the Fraxel Dual laser, due to its targeting of melanin in the skin, is not an effective treatment for melasma. Additionally, the Clear + Brilliant laser is a "color blind" laser, as it targets water in the skin, rather than pigment.
Are there any side effects to Baby Fraxel or Traditional Fraxel?
Both the Fraxel Dual and Clear + Brilliant lasers are non-ablative lasers, meaning that they don't have the same risks of a more intensive ablative laser. Nevertheless, Fraxel Dual does have a slight risk of scarring, hyperpigmentation, or infection. These risks are more common with patients experiencing active acne breakouts or cold sores. For this reason, Fraxel Dual and Clear + Brilliant Lasers are contraindicated for patients with active acne lesions, cold sores, sensitivity to UV light, photosensitive autoimmune diseases (i.e. Lupus or Scleroderma), propensity to keloids, current or recent isotretinoin treatment, or open wounds.
Additionally, though Fraxel Dual is FDA-approved in the treatment of melasma, Dr. Green does not recommend that patients with melasma engage in Fraxel Dual treatment. Too many times, Dr. Green has had to treat patients who have experienced improper laser skin resurfacing techniques for their skin types from other medical professionals, which has then exacerbated the appearance of melasma or hyperpigmentation. Additionally though the Clear + Brilliant laser is safe to use on patients seeking melasma treatment, Dr. Green finds that Melasma is more effectively treated with alternative in-office treatments, such as chemical peels, mesopeels, or the Cosmelan peel.
What Skincare Habits can enhance Fraxel Treatment?
After both Fraxel Dual and Baby Fraxel procedures, proper skincare routines are a must in order to gain the best possible results. Dr. Green typically recommends a daily high-SPF sunscreen or moisturizer in order to avoid any potential sun damage, and customizes a skincare routine for each of her patients in order to help boost the natural healing processes stimulated by laser resurfacing. Recommended skincare products include Vitamin-C infused products, such as Dr. Green's MGSKINLABS Vita-C-Serum, to help boost the nutrients within the skin.
Additionally, after any fractionated laser treatment, it is best to avoid the use of hydroquinones, retinoids, or exfoliating products in order to prevent damage or irritation to the development of new skin cells. If you are develop active acne breakouts, Dr. Green can prescribe a topical antibiotic to treat these acne lesions.
How much does Fraxel cost?
The cost of Fraxel laser treatment varies widely depending on the severity of skin damage being treated, as well as the size of the treatment area. In general, Fraxel laser treatments cost around $1500 for a full facial rejuvenation session when offered by an experienced board-certified medical professional. Clear + Brilliant laser treatments cost between $500-700 for a full facial skin resurfacing treatment. In order to ensure the safety and efficacy of a fractionated laser treatment, it is imperative that you work with a board-certified medical professional that is trained and certified by Solta medical, the creators of both the Fraxel Dual and Clear + Brilliant lasers.
If you're seeking skin rejuvenation that can help to reduce the appearance of sun damage, dark spots, and fine lines and wrinkles, Fraxel or Clear+ Brilliant laser skin resurfacing may be right for you. With over 25 years of experience in treating hyperpigmentation, acne scars, sun spots, down spots, and skin resurfacing for all skin tones, Dr. Green is consistently voted one of the best dermatologists in New York. Whether it be Botox injections, acne or acne scar treatments, chemical peels, Fraxel laser, skin tightening, or CoolSculpting, Dr. Green is an internationally renowned expert in her field. Please contact us online today to create your custom skin rejuvenation treatment plan with Dr. Green, or call 212-535-3088