Have you been working on slimming down your "dad bod", yet struggling with stubborn fat? Does it seem like diet and exercise have gotten you as close as they can to your ideal results? Are your clothes fitting a bit more tightly than they used to? Luckily, if you've answered yes to any of these questions, Dr. Michele Green in NYC offers an innovative, non-invasive cosmetic procedure- Coolsculpting, that can help you achieve your goals with zero discomfort or downtime involved whatsoever.
Despite our best efforts to maintain a healthy diet and daily exercise, stubborn fat deposits remain especially in the flanks, abdomen, chin, and chest for males. Although you may have reached your goal weight, the remaining stubborn fat can be bothersome every time you look in the mirror, and you may opt to wear the looser shirt although it's not your favorite. Until now, the solution to male body contouring has been invasive plastic surgery procedures like liposuction, which can be painful, risky, and requires a lot of downtime. However, in the last decade, CoolSculpting has become a revolutionary name in non-surgical fat removal. Approved by the FDA in 2010, CoolSculpting utilizes unique cryolipolysis technology designed to remove stubborn fat in problem areas of the body, achieving a chiseled look with more defined muscles.
Dr. Michele Green is an internationally renowned cosmetic dermatologist with over 25 years of experience as a leader in the field, including in non-invasive fat reduction treatments. Dr. Green was one of the first providers in New York City to introduce CoolSculpting in her discreet Upper East Side office and has helped thousands of discerning patients from around the globe, both men and women, achieve their body contouring goals for over twelve years. For her dedication to her patients and to her practice, she is consistently voted as one of New York's best physicians. Dr. Green works with each of her patients to thoroughly understand their specific skin concerns and aesthetic goals, customizing the treatment plans for each individual and their needs. If you are frustrated by stubborn fat that will not resolve with diet and exercise, do not worry, Dr. Green is here to help.
Body Contouring with CoolSculpting
CoolSculpting is an innovative body sculpting tool from ZELTIQ Aesthetics, now acquired by Allergan, that was discovered by two Harvard medical professionals who observed a fat freezing phenomenon when children ate popsicles: the cold of the popsicle along a child's cheek would give the child a dimple, signifying a reduction in fat cells in the frozen area. The doctors soon realized that the process of freezing targeted fat bulges, also known as cryolipolysis, could be applied to patients who sought to eliminate unwanted fat. Thus, the original CoolSculpting applicator was born, and a variety of adaptable CoolSculpting applicators were developed shortly after for fat reduction treatment in a variety of stubborn areas, from upper arms, lower abdomen, to love handles and beyond.
The CoolSculpting procedure is unique in that it's a non-invasive fat reduction procedure that requires little to no downtime. Its innovative non-surgical fat reduction technology makes it an excellent alternative to plastic surgery to eliminate excess fat, and it has become a leading treatment for male patients who lead a healthy lifestyle, but who want to reduce the appearance of fat deposits. With each CoolSculpting procedure, up to 25% of fat cells in the treated area are reduced. CoolSculpting uses patented cooling technology to deliver controlled cooling to only the fat cells, ensuring no harm occurs to the skin or surrounding tissue. The treated fat cells are gradually eliminated through the body's lymphatic system, eliminating the risk of developing skin laxity and achieving a sculpted, lean physique. Now with the development of CoolSculpting Elite, two areas can be treated at the same time to reduce the duration of the treatment session.
How does CoolSculpting treatment work?
The process of cryolipolysis is simple. An applicator is applied to the treatment area which targets fat cells with cold temperatures. Cryolipolysis is founded on the understanding that fat cells freeze at higher temperatures than other cells, meaning that a CoolSculpting applicator can freeze only excess fat on the target area, without affecting the surrounding skin cells. Unwanted fat in the treatment area is frozen, which kills the fat cells. Then, over time, targeted fat cells are broken down, and the dead cells are gradually metabolized and excreted by the body, permanently eliminating excess fat.
The CoolSculpting process is simple and noninvasive. Before the procedure, Dr. Green will carefully assess your body and aesthetic goals to develop a personalized treatment plan. Dr. Green will make an honest assessment of the treatment area and discuss your desired outcome, and photos of the target areas will be taken in order to track the progress. For your CoolSculpting procedure, you will be able to schedule a time at your convenience to come into the office. Typically, each treatment area lasts between 35 to 75 minutes, and treatment areas can be broken up into multiple CoolSculpting sessions that work with your schedule. The benefits of CoolSculpting include that it requires zero downtime, meaning you can return to work or the gym immediately after your treatment. The accessibility of this treatment allows you to tailor your CoolSculpting treatment sessions to coincide with your busy schedule.
The CoolSculpting procedure is pain-free, though some patients experience a sensation of pinching or tugging for the first five minutes, while the skin acclimates to the "freezing" of the applicator. After about ten minutes, the treatment area becomes numb, and this numbness can last a few weeks which is normal and expected. After treatment, some patients experience tenderness as the treatment area "thaws". Occasionally, patients will experience side effects such as bruising, redness, or swelling, but these side effects are temporary and will dissipate over the next few days. Most patients find the process to be somewhat relaxing, and will bring an iPad or a book to enjoy while the treatment is taking place.
Over the course of the next few months, your maximized CoolSculpting results will appear, and you'll experience visibly notable, permanent fat removal in the treated area. If needed, an additional treatment can be performed on the same area at least one month after the initial treatment session.
How much can you lose with CoolSculpting?
CoolSculpting® is FDA-approved to eliminate excess stubborn fat in nine different treatment areas: the abdomen, flanks, banana roll (between the buttocks and outer thigh), inner thighs, outer thighs, bra fat, upper arms, back, the submental area (typically for double chin). With each CoolSculpting treatment, up to 25% of stubborn fat cells are eliminated from the treated area. It's important to note that CoolSculpting is not a weight loss treatment or a replacement for weight loss: CoolSculpting is used to lose inches, not pounds. Therefore, any fat cell reduction that occurs from CoolSculpting can be compromised by weight fluctuation. However, if you lead a healthy lifestyle and are dealing with stubborn fat, you are the perfect candidate for CoolSculpting treatment.
Does CoolSculpting work on men's belly fat?
Generally, men demonstrate the most visible change in weight gain and weight loss in their abdomen and, over time, these weight changes can lead to the appearance of fat bulges on the stomach, around the hips, or on the chest. This unwanted fat can leave male patients feeling self-conscious about their bodies, perpetuating a cycle of baggy clothing and weight gain, when in fact these areas of excess fat are entirely treatable through CoolSculpting.
CoolSculpting can eliminate unwanted belly fat in any patient, sometimes through a single treatment. Though CoolSculpting is not designed to be a replacement for weight loss, it can be an excellent option for those who have attempted weight loss but are left with stubborn fat on their stomachs and other areas.
Can you have CoolSculpting for male breast reduction?
For many male patients, fat deposits on the chest cause insecurity and negative impact self-esteem. The development of excess tissue on the chest area is commonly known as gynecomastia. In severe cases of gynecomastia, patients experience a buildup of glandular tissue, which is similar to a woman's breast. However, the majority of male patients dealing with enlarged breasts do not typically have true gynecomastia. Rather, they are more likely to have pseudogynecomastia, where fatty tissue, or a combination of fatty and glandular tissues, has built up along the chest.
CoolSculpting can be a great option to reduce the appearance of male breasts. CoolSculpting uses the process of cryolipolysis to freeze targeted stubborn fat cells which are then gradually eliminated from the body through the lymphatic system. With little to no downtime and the simplicity of the procedure, CoolSculpting can help reduce the appearance of fat deposits on the chest. At your consultation with Dr. Green, she will assess the treatment areas as well as your overall health to determine if you are a good candidate for CoolSculpting. If you are frustrated by the appearance of male breasts despite reaching your desired weight and practicing healthy diet and exercise, CoolSculpting may be the perfect option for you.
Does CoolSculpting work on men's jawline?
CoolSculpting is an incredibly popular treatment for helping men sharpen their jawline, and is designed to target stubborn fat under the chin (double chin). CoolSculpting can also be combined with other body sculpting treatments in order to rejuvenate the neck and jawline. As Dr. Green describes in her interview with Forbes magazine, "Many men are bothered by the appearance of their necks. I rely on the 'trifecta' of Thermage/CoolSculpting/Kybella to treat the neck area. Thermage produces new collagen and tightens the skin through radiofrequency (RF) heat, and CoolSculpting and Kybella permanently treat the fat under the neck to give a more youthful appearance with little to no downtime. Men are also coming in for CoolSculpting for other areas of the body such as the abdomen, and flanks and CoolSculpting has become one of the most popular treatments in my office."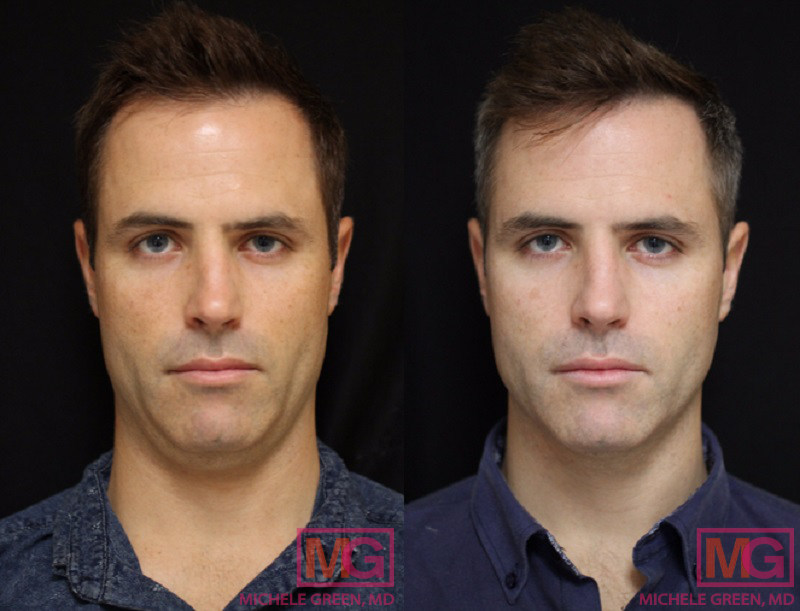 Does CoolSculpting work on men's love handles?
CoolSculpting treatment is effective and safe as a fat removal treatment for the flanks or love handles. Men often are left feeling uncomfortable when they face stubborn fat around the waistband of their jeans, becoming frustrated with the appearance of love handles although the jeans still fit. Don't worry, CoolSculpting is an entirely effective fat reduction treatment that will leave your hips feeling sculpted and renewed.
CoolSculpting can also be an invigorating and motivating experience for patients. Once stubborn fat is eliminated, patients are often even more motivated to continue a healthy lifestyle and to sculpt their bodies naturally–it can provide a whole new perspective about the skin you're in.
Is there CoolSculpting for Gynecomastia (man boobs)?
Gynecomastia, also referred to as "man boobs" or "moobs," is an incredibly common condition typically found in male patients, where increased estrogen and decreased testosterone lead to a swelling of the breast tissue. This condition is found amongst 30% of male patients, and is quite common in adolescent males while puberty is contributing to hormone changes. As men age, this condition can recur due to additional hormone shifts. This can leave patients feeling self-conscious about their appearance, and studies have shown that gynecomastia can increase a male patient's risk of depression and/or anxiety.
Gynecomastia can be caused by a variety of other conditions, including alcohol and drug abuse, hyperthyroidism, malnutrition, and failure of the kidneys or liver. Due to this, It's important to work with a board-certified medical professional when considering CoolSculpting for gynecomastia, so that they can determine any underlying causes of the swollen tissue aside from hormone changes. However, as the majority of cases of gynecomastia are caused by hormone changes, CoolSculpting for gynecomastia is quite common and effective when done with an expert in CoolSculpting like Dr. Michele Green.
Does CoolSculpting work on men's chest?
Stubborn fat deposits on men's chest can cause self-esteem issues and even depression or anxiety. The development of fat deposits on men's chest is extremely common, also known as gynecomastia or pseudogynecomastia. Despite your efforts in bench pressing to work your pectoral muscles, you may be frustrated with fat deposits that remain on the chest and hide the pecs. CoolSculpting offers patients the option to treat stubborn fat along the chest without the need for an invasive surgical procedure or recovery period, which can be an easy and wonderful way to boost self-esteem. Though some patients may require male breast reduction surgery, most male patients are good candidates for CoolSculpting when it comes to sculpting the chest area.
Is there CoolSculpting for men's abs?
CoolSculpting is an easy, quick, and non-invasive fat reduction treatment that can be performed on the abdomen area to eliminate excess stubborn fat and reveal those abs that you worked hard for. CoolSculpting will not create abs, as abs are achieved through building the abdominal muscles via exercises like sit-ups and Russian twists; however, CoolSculpting will bring definition to and reveal existing abs by reducing stubborn fat deposits that may be hiding them. By reducing up to 25% of stubborn fat cells on the abdomen with a single treatment, CoolSculpting offers the option to eliminate unwanted fat without invasive surgical procedures like liposuction.
Does CoolSculpting permanently remove fat?
CoolSculpting was developed as a way to permanently eliminate fat cells, which means that, amazingly, CoolSculpting results are permanent, provided the treated patient does not have any large fluctuation in weight post-treatment. CoolSculpting permanently reduces the number of fat cells in the treated area by up to 25%. However, the results of CoolSculpting must be maintained with healthy diet and daily exercise. If you gain weight after the procedure, the remaining fat cells that are present will expand and negate the positive effects of your CoolSculpting treatment. Typically, a patient will not see results immediately after the treatment, as the effectiveness of CoolSculpting treatment continues for several weeks after the initial procedure. After 3-4 months post-procedure, Dr. Green will meet with you to discuss your CoolSculpting results, and if there are remaining fat cells that you would like to address, a second treatment can be added. Each CoolSculpting procedure will target unwanted fat in a designated area, and treatment can be repeated in the same area within 1-4 months after your initial treatment.
CoolSculpting vs. Liposuction
CoolSculpting and Liposuction are both fat reduction treatments, but the difference between the two is vast. The primary distinction is that liposuction is an invasive cosmetic procedure offered by plastic surgeons, which requires considerable recovery time. Liposuction involves general anesthesia and a sudden removal of fat using a cannula which often contributes to developing skin laxity. Further, liposuction procedures redistribute fat, rather than eliminating it, which often leads to a return of fat cells after a few month's time. CoolSculpting, on the other hand, is a non-invasive method of fat cell reduction, which relies on fat freezing technology called cryolipolysis. CoolSculpting is the first FDA-approved non-surgical treatment for stubborn fat on various areas of the body. There is almost no downtime from CoolSculpting, no skin laxity formation, and minimal side effects from the procedure because CoolSculpting allows the fat cells to be gradually eliminated through the body's lymphatic system.
Although the effects of liposuction can be noticed immediately after the procedure, there is significant recovery time you must endure. It can take about one week before you can return to work, and up to six weeks before you can resume activities like exercising. Furthermore, after liposuction, it takes time for your skin to retract and for swelling to subside depending on how much fat was removed. Therefore, it can take up to three months to see the final result after liposuction.
The effect of CoolSculpting is also noticed about three months after the treatment, although some people may start to notice it only one month post-treatment. However, there is no downtime, pain, anesthesia, or incisions with CoolSculpting and you can resume normal daily activities like working and exercising immediately after the treatment. Additionally, because the treated fat cells are gradually eliminated from the body, there is no risk of developing skin laxity with CoolSculpting.
Because liposuction is a surgical procedure, its price is likely significantly higher than CoolSculpting. Liposuction requires an experienced surgeon, the surgical team, and anesthesiologist. On the other hand, CoolSculpting can be performed by a licensed and trained medical professional using the FDA-approved CoolSculpting machine.
Why choose CoolSculpting over plastic surgery?
CoolSculpting is a noninvasive approach to eliminating fat bulges on the body, which requires zero downtime, needles, or anesthesia. Plastic surgery is invasive and has high risks with a long recovery time; it simply cannot provide the comfort and flexibility that CoolSculpting provides. CoolSculpting is so easy that most of our patients read a book, continue work on their laptop, attend virtual work meetings, or take a nap during their treatment session. Plus, CoolSculpting is designed to target fat cells and metabolize them within the body, something that plastic surgery cannot achieve. Because plastic surgery requires anesthesia, a plastic surgeon, and a surgical team, the cost of plastic surgery is significantly higher than the cost of CoolSculpting treatments.
How do I get started with CoolSculpting today?
When researching CoolSculpting treatment options, many patients will consider a medical spa or "MedSpa" for their treatment, but it's important to know exactly who you will be working with when it comes to your personalized CoolSculpting treatment. A med spa may have flashy testimonials or offer a free consultation and specials to entice new patients, but oftentimes these consultations are not supervised or performed by an experienced medical professional. Occasionally, there won't even be medical professional in the same building during a CoolSculpting treatment, which can have damaging effects on a patient's CoolSculpting results.
CoolSculpting can occasionally have side effects such as tenderness or nerve pain; therefore, because of its permanent results, it's imperative that you work with a board-certified medical professional for your CoolSculpting treatment. Dr. Green is an expert in non-invasive body contouring procedures, skincare, and modern, state-of-the-art medical and cosmetic lasers and procedures. Dr. Green was one of the first dermatologists to use all of the CoolSculpting applicators in New York City and has over a decade of experience in CoolSculpting.
Dr. Michele Green is an expert board-certified dermatologist with over 25 years of experience in non-invasive cosmetic treatments including Botox, dermal fillers like Juvederm, Restylane, and Sculptra, anti-aging laser treatments like Thermage, and non-surgical body contouring with CoolSculpting. If you are frustrated by stubborn fat despite healthy diet and exercise or want to achieve a chiseled, masculine physique, Dr. Green is here to help. If you are interested in CoolSculpting treatment to get rid of unwanted fat and experience a whole new level of body contouring, Dr. Green will work with you to find the best treatment plan that's right for you. To learn more about CoolSculpting pricing and CoolSculpting in NYC, please contact us online today or call 212-535-3088.