Korean Skin Care & Laser Treatments
Korean skin care, technology, and dermatology clinics, have long been on the cutting edge. Beauty trends such as Fraxel Laser for pigmentation and Thermage for skin tightening have been extremely popular.  Maintaining beautiful younger looking skin with techniques such as Aquagold for microneedling to skin whitening are some of the most sought after procedures and the expertise of Dr. Michele Green.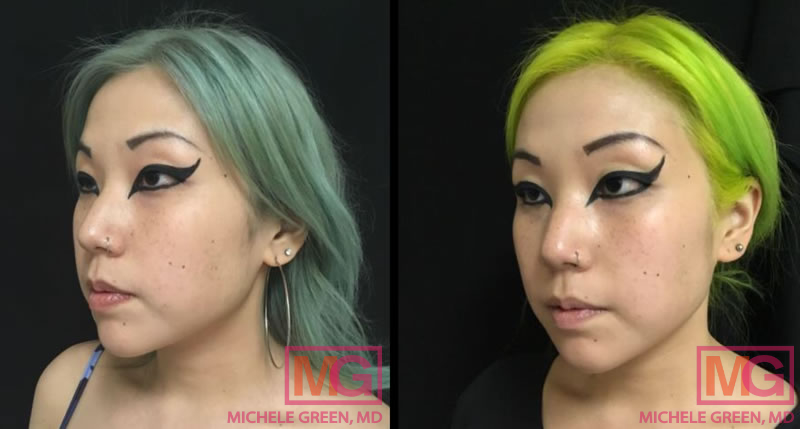 25-34 year old woman, Fraxel before and after – 2 weeks
With years of experience in treating Asian skin, she utilizes such cutting edge lasers such as the Yag laser for hair removal to the Alex-trivantage for treating sun spots, to help her patients achieve flawless skin.
Good skin starts with a daily skin care routine.  There are many excellent Korean skin care products. Some of the best new Korean skin care products incorporate kale, Vitamin B and C, hyaluronic acid, watermelon, and hibiscus flower extracts (a natural flower of Korea that has skin exfoliating properties).  It is most important to start with a good face cleanser, exfoliant or toner, followed by rejuvenating serums, retinoids and moisturizers.
Sunscreen is essential in being the final product that Dr. Green recommends using on your skin, especially for Korean women and Asian skin in general, which is prone to discoloration and hyperpigmentation. Dr. Green advises using a chemical free sunblock of SPF 30 or higher.
Hyperpigmentation & Korean Skin
Hyperpigmentation is a common problem for Korean women and Asian skin.  Hyperpigmentation is caused by an excess of melanin in the skin.  Since Asian skin contains more melanin than Caucasian skin, it is more prone to skin discoloration and pigmentation.  Asian skin is generally considered type III or IV and must be treated much more delicately than lighter skin types. Dr. Green's patients want clear even skin with no pigment irregularities, no freckles, lentigines, or melasma.  For melasma patients, Dr. Michele Green prefers Cosmelan and low energy 1064 nm Q-switched Nd:YAG laser of the Alex-Trivantage for treating discrete sun spots.  Fraxel laser may be used on low settings for overall skin rejuvenation but careful precautions to avoid hyperpigmentation must be maintained. In addition, Dr. Green compounds triple whitening agents with Hydroquinone and Retinoids under her MGSKINLABs line of products. Combining hydroquinones with chemical peels is also an extremely effective way of reducing pigmentation, skin whitening, and creating a clear and even skin tone.
Popular Injectables in Seoul & South Korea
Cosmetic injectables from Botox to Juvederm have long been popular in Seoul and other parts of Korea. Juvederm Volite and other injectables are extremely popular and continuing to grow.  Two of the most popular injectable procedures include Juvederm in the forehead for a brow lift and Botox in the masseter muscle for facial slimming for a more feminine shape.
Board certified Dermatologist Dr. Michele Green specializes in Asian Skin treatment including many Korean skin care patients. From fine lines and anti aging to dermal fillers and more, contact us online to book an appointment or call 212-535-3088