Korean Skin Care & Laser Treatments
When it comes to skincare, it can feel difficult to know what products to use and what regimen to follow to get glowing, clear, glass skin, which is why many people are turning to the globally trending Korean beauty skincare routine. The Korean skincare routine is a ten-step regimen (that can be simplified to as few as five steps) with skincare products that contain natural, nourishing ingredients that work to hydrate, brighten, and smooth the skin. As we age, the production of the structural protein collagen decreases, which can lead to the development of fine lines and wrinkles on the face. Dry skin can prevail, dark spots can form blemishes on the skin's surface, and even in adulthood, acne breakouts can occur. The Korean skincare routine can help patients to achieve an even skin tone and hydrated, glowy skin for overall anti-aging results.
The 10-step Korean skincare routine, which involves the double cleanse, exfoliation, use of toner, hyaluronic acid-based hydration, treatments for blemishes and dark spots, sheet mask or lip sleeping mask, moisturizer, and sunscreen, can be adjusted for any skin type, including oily skin, dry skin, and sensitive skin. Products can contain many natural ingredients that leave the skin feeling hydrated and refreshed. With so many K-beauty products available on the market, it can be difficult to know which will work most effectively in your skincare routine. It is best to consult an expert dermatologist such as Dr. Michele Green.
Experienced, board-certified dermatologist, Dr. Michele Green, has been expertly treating patients in her Upper East Side New York City office for more than 25 years. A master at cosmetic and medical skincare treatments, Dr. Green is highly adept at creating unique, effective skincare plans for each patient. With her proprietary line of skincare products, MGSKINLABs, Dr. Green can provide patients with recommendations for the highest quality creams, lotions, and serums. Well-known for high patient satisfaction, Dr. Green has been voted one of the best healthcare providers in New York City by such publications as Castle Connolly, Super Doctors, and New York Magazine.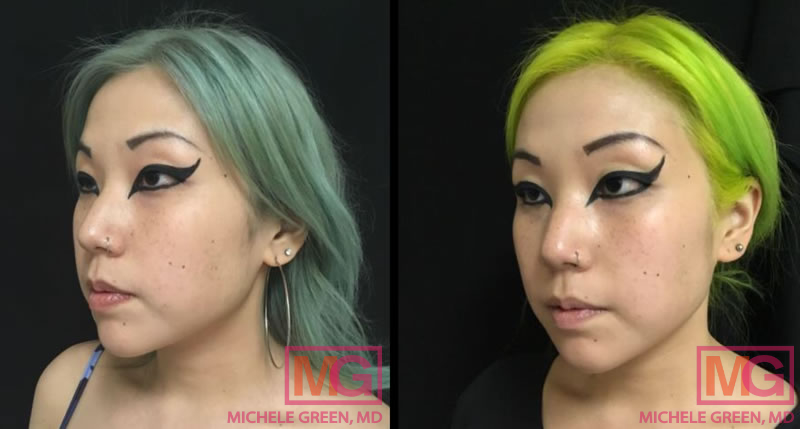 What is Korean Skincare?
Around the world, more and more attention is being paid to the Korean skincare routine and K-beauty products as a way to provide patients with smooth, clear, bright, glowy skin. The Korean skincare regimen involves a 10-step process of cleaning the skin of debris such as makeup, sunscreen, excess oils, and dead skin cells, infusing the skin with antioxidants, vitamin C serums, and hyaluronic acid, treating skincare concerns such as acne blemishes, fine lines, and dark spots, applying a face mask, moisturizing, and repeated application of sunscreen throughout the day. Many Korean skincare products are available online and can be used in this skincare process. However, the 10-step regimen does not require patients to use beauty products directly from Korea.
How to have a Korean Skincare routine
The standard Korean skincare routine comprises a 10-step process for cleaning the skin, treating skin conditions, moisturizing, and protecting the skin from harmful UV rays. The Korean skincare regimen helps create hydrated, smooth, bright, and clear skin. While ten steps may feel like a lot, the process can be easily followed throughout the day, with the bulk of product applications happening in the morning and night. While the 10-step process can be shortened to five or seven steps, the full treatment regimen is as follows:
1. Cleanser – oil-based
The first step in the Korean skincare routine is using an oil-based cleanser to remove makeup, sunscreen, and a build-up of sebum – or oil – on the skin. The oil-based cleanser, which contains ingredients such as macadamia oil, jojoba oil, and grape seed oil, is the first step in the double cleanse that is foundational to the K-beauty skincare routine. Both in the morning and at night, a cleansing oil should be gently applied to the skin, followed by warm water to help the product emulsify on the skin before being rinsed off.
2. Cleanser – water-based
The second step in the double cleanses is to use a water-based cleanser with active ingredients such as green tea extract, rice extract, and pearl extract to remove dirt and sweat from the skin's surface. The water-based cleanser is essential for removing the skin impurities that were missed by the oil-based cleanser to help prevent breakouts and clear the pores. Following the oil-based cleanser, the water-based cleanser should be applied when the face is damp, massaged into the skin, and then rinsed off with warm water.
3. Exfoliating
Exfoliation of the skin should be performed one to two times a week to help remove dead skin cells from the face, promoting skin cell turnover and clearing the pores. Two types of exfoliation can be performed: chemical exfoliation and physical exfoliation. Chemical exfoliation involves the application of a solution containing such ingredients as lactic acid or glycolic acid, which causes a reaction with the dead skin cells and debris, causing them to slough off the skin, leaving the skin bright and clear. Physical exfoliation involves the application of an abrasive ingredient, such as biodegradable beads or sugar. Physical exfoliation is highly effective but is more likely to cause skin irritation, so consult your dermatologist on which method would be best for you, especially if you have sensitive skin.
4. Toner
Typically containing ingredients such as aloe, citric acid, and licorice, the toner step is important to remove any residual cleanser on the skin and prepare the skin barrier for the moisturizing step. Toner helps to balance the skin's pH levels and allows for better absorption of moisturizing products, such as hyaluronic acid. Toner should be applied by gently patting the product into the skin following the cleanser step.
5. Essence for Skin Hydration
Application of essence, such as the Cosrx Advanced Snail Mucin Power Essence, helps to hydrate the skin and improve skin cell turnover. The Essence is typically lightweight and helps to provide patients with bright, evenly textured, hydrated skin. It can be applied in the morning and lightly placed on the skin's surface.
6. Treatment with Boosters, Serums, and Ampoules
The treatment step allows patients to address specific skin conditions such as acne breakouts, blemishes, dark spots, dry skin, or oily skin. In this step, a wide variety of products are available depending on your need. For acne-prone skin, look for products containing ingredients such as retinol, propolis extract, and niacinamide, such as the Beauty of Joseon Glow Serum. When addressing dark spots or hyperpigmentation, a Vita C serum containing Centella Asiatica (Cica), green tea extract, and hyaluronic acid can be an effective and non-irritating solution. When addressing specific skin conditions, it is best to consult with a board-certified dermatologist, such as Dr. Green, to know what product will work best for you.
7. Sheet Mask
One of the most well-known steps of the Korean skincare routine is the sheet mask – a hydrating mask that is left on the face for 20-30 minutes to allow the absorption of nutrients and moisture. Sheet masks can be made with various ingredients, including green tea extract and rose; many are available on the market. It is important to apply the sheet mask to a clean, clear face so that the revitalizing ingredients can absorb fully into the skin with prolonged contact with the mask. A sheet mask is best performed in the evening following the double cleanse, toner, and treatment steps.
8. Eye Cream
The skin under the eyes is often thin and delicate and can show early signs of aging with fine lines and dark circles. The application of eye cream under the eyes can help with the firming of the delicate skin and works to prevent fine lines, such as crow's feet, and hyperpigmentation. It is best to look for eye creams that contain hydrating ingredients such as ginseng, honey, and ceramides, and eye creams should be gently applied by tapping the treatment area rather than rubbing.
9. Moisturizer
To seal in moisture and keep the skin smooth and hydrated, moisturize the skin's surface every morning and evening as the second to last step of the 10-step process. Moisturizers containing hydrating ingredients such as hyaluronic acid, green tea extra, Centella Asiatica, snail mucin, and bamboo, help to keep the keep from drying out overnight and throughout the day, which helps to smooth the skin and prevent the development of wrinkles. There are many different forms of moisturizers, including creams, gels, and serums, and depending on your skin type and local environment, the best form of moisturizer can change. You can consult with Dr. Green in her NYC office for advice on what kind of moisturizer to choose.
10. Sunscreen
The last step of the Korean skincare routine, and the most important for long-term skin protection, is applying a sunscreen of SPF 30 or SPF 50. Patients should always be advised to put on sunscreen at the beginning of the day to protect the skin from UV rays, which can lead to sunspots and even skin cancer. You can look for a Korean sunscreen, such as the Beauty of Joseon Rice + Probiotics SPF 50 sunscreen, or opt for any sunscreen that contains ingredients such as titanium dioxide or zinc oxide.
Does Korean skincare work?
The 10-step Korean skincare routine can effectively keep the skin clean, clear, hydrated, and protected from the sun while treating specific skin conditions such as acne, dry skin, and hyperpigmentation. There can be a lot of variation within the routine to find the set of products that will work best for you, regardless of whether you have dry skin, oily skin, combination skin, or sensitive skin. When navigating the many different products available, it is best to consult with an experienced dermatologist, such as Dr. Green, who can examine your skin and recommend the products that will be most effective for your specific skin type.
What do Koreans use for their skin?
Many K-beauty skincare products are available on the market that can be purchased online and shipped to the United States from Korea. Some of the most prevalent Korean beauty product brands include Amorepacific, Belif, Beauty of Joseon, Cosrx, Dr. Jart, Laneige, and Missha. These companies produce products from all steps of the 10-step process, including cleansing oils, water-based cleansers, toners, exfoliation products, serums, creams, ampoules, moisturizers, and sunscreens. Many beauty products from Korea contain natural, plant-based ingredients, including green tea extract, rose, honey, bamboo, snail mucin, and cucumber.
What are the most common beauty products brands from Korea?
Beauty of Joseon
A skincare company based in Korea, Beauty of Joseon has all types of skin care products to be used in the 10-step Korean Skincare routine. Two of the most popular products are:
The Beauty of Joseon Glow Serum – A serum created specifically for patients who struggle with acne breakouts, the Beauty of Joseon Glow Serum is created with propolis extract and niacinamides to heal irritated skin.
The Beauty of Joseon Relief Sun SPF 50 – This sunscreen protects the skin from harmful UVA and UVB rays of the sun and moisturizes the skin throughout the day. Created with rice extract (30% concentration), niacinamide, and ginseng, this sunscreen provides patients with glass skin.
Cosrx
A Korean skincare company founded in 2013, Cosrx ships skincare supplies to more than 140 countries worldwide. Two of the most highly recommended products are:
Cosrx Advanced Snail Mucin Power Essence – This serum reduces the appearance of dark spots, hydrates the skin, and improves skin texture and tone.
Cosrx AHA 2 BHA 2 Blemish Treatment Serum – A new product from Cosrx, the Blemish treatment serum should be used in the treatment step of the Korean skincare routine to address the appearance of acne blemishes, clearing the pores and removing excess sebum from the skin.
Dr. Jart
One of the most highly regarded Dr. Jart products is the Dr. Jart Tiger Grass Sleepair Intense Mask, which is made with Centella Asiatica and designed to soothe and moisturize the skin. Good for any skin type, the mask can be applied at nighttime and worn while you sleep for intense hydration and repairs.
Missha
A highly recommended product from the K-beauty product company Missha is also a nighttime mask: the Missha Time Revolution Night Repair Ampoule 5x. This serum is created with different probiotics to improve the appearance of fine lines and wrinkles, firm the skin, and improve skin texture.
Laneige
Korean-based beauty product company Laneige also provides patients with high-quality sheet masks, including the Laneige Water Sleep Mask, which is designed to be placed on the face before bed and left throughout the night. The mask is created with a probiotic-derived Complex and is designed to thoroughly moisturize the skin to brighten the skin and improve texture. Laneige also has the Laneige Lip Sleeping Mask designed specifically to be placed on the lips and left on while you sleep for smooth, hydrated lips. The product contains vitamin C, coconut oil, and shea.
Where to buy Korean skincare products
If you want to buy from any of these Korean beauty product companies, their products are all available online through their websites and can be shipped worldwide. Many Korean products use plant-based natural ingredients, which makes them coveted globally. However, you need not use all Korean beauty products to follow the 10-step skincare routine. For recommendations on the skincare products that will be best for your skin, schedule a consultation with dermatologist Dr. Michele Green.
Frequently Asked Questions about Korean Skincare
Why do Koreans have good skin?
For many in Korea, a skincare routine is important to maintain clear, bright, youthful-looking skin. The 10-step Korean skincare routine has been trending globally, and K-beauty skincare products are becoming increasingly popular. By engaging in the 10-step routine, those following the trend of Korean skincare are investing in products and practices that help to clean, moisturize, and protect the skin, creating glowy, smooth skin.
Why is Korean skin shiny?
Many patients wonder how Korean skincare leads to shiny, glass skin, and the answer is by finding the combination of skincare products that will work best for your skin. The Korean skincare routine involves the thorough cleansing of the skin with cleansing oil, water-based cleanser, exfoliant, and toner before applying hydrating moisturizers, serums, sheet masks, and treatments for specific skin concerns such as blemishes and hyperpigmentation. By following the specific order of cleansing, treating, hydrating, and applying sunscreen, those practicing Korean skincare will often experience soft, shiny skin.
Why does Korean skin glow?
Each person is unique in their skincare journey, which is why a wide range of products are available for all skin types, including dry skin, oily skin, and sensitive skin, to create a glowing look. When beginning the Korean skincare routine, it is best to begin by adding one new product at a time to assess how each product reacts to the skin. Allow a couple of days for your skin to adjust to any new products before adding another new one, as new products can cause the skin to break out for a couple of days before the sebum in production in the skin evens out.
How to get the Korean skin color
The 10-step Korean skincare routine is an excellent way to maintain clear, bright, evenly toned skin, but some people may feel intimidated by the idea of 10 steps and products to use every day. For those people, smooth, firm, youthful-looking skin can still be achieved by easing into the regimen with the 5-step process. The first step of the five-step process is still the double cleanse – first with the oil-based cleanser and then with the water-based cleanser, to cleanse the skin of makeup, sunscreen, dirt, oil, and sweat. After thoroughly cleaning the skin, patients can apply a physical or chemical exfoliate 1-2 times a week to clear the pores and remove dead skin cells from the skin, promoting increased skin cell turnover and reducing the risk of breakouts. Next, patients can choose from a wide range of sheet masks that work to infuse antioxidants and moisture into the skin to hydrate the face and reduce signs of the natural aging process. The fourth step is treating specific skin conditions, such as hyperpigmentation and acne, with serums and patches. And finally, patients can moisturize and apply sunscreen of at least SPF 30 before going outside. Even this five-step process can help all patients achieve youthful, evenly textured skin.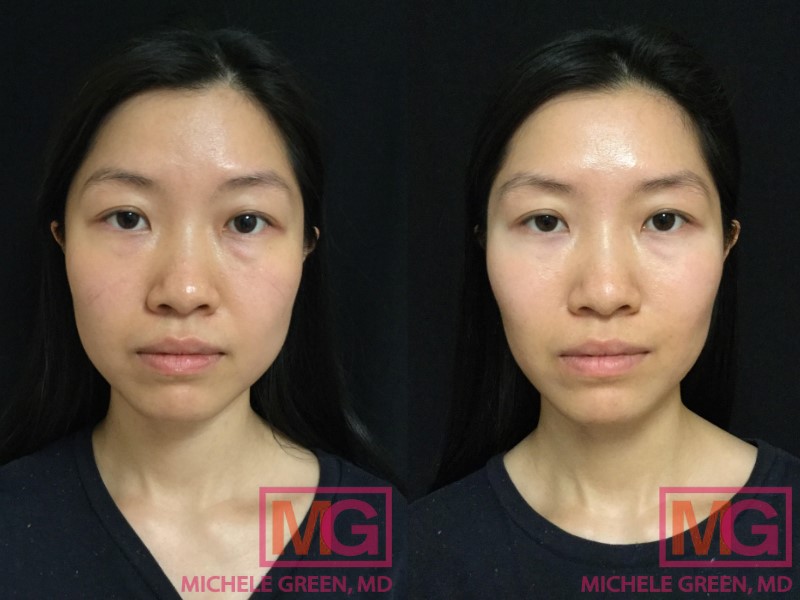 How does K-Beauty treat hyperpigmentation?
Hyperpigmentation is a common problem for Korean women and Asian skin.  Hyperpigmentation is caused by an excess of melanin in the skin.  Since Asian skin contains more melanin than Caucasian skin, it is more prone to skin discoloration and pigmentation.  Asian skin is generally considered type III or IV and must be treated more delicately than lighter skin types. Chemical peels, skin-lightening creams for dark spots, and laser treatments are all ways to improve hyperpigmentation.
How to treat acne-prone skin with BHA
BHA, or beta-hydroxy acid, is a category of acid ingredients that can be used in products that are specifically designed to treat acne breakouts or acne-prone skin. Products with BHA may have ingredients such as salicylic acid, which works specifically to control the production of the natural oil, known as sebum, on the skin. One BHA serum that is popular in Korean skincare is the Cosrx AHA 2 BHA 2 Blemish Treatment Serum, designed for acne-prone skin to treat acne spots on the face. The serum contains BHA salicylic acid and alpha hydroxy acid (AHA), glycolic acid, to help unclog the pores.
What to do for Korean skin
Patients with any skin type can follow the Korean skincare routine to improve the look and feel of the skin. The 10-step Korean skincare process helps to reduce the appearance of dark spots, fine lines, and wrinkles, improve skin texture, and clear the pores for bright, dewy skin. To find out which skincare products will work best for your skin, you can schedule an initial consultation with Dr. Green, who will examine your skin and recommend your ideal treatment plan.
Is Korean skin care worth it?
The Korean skincare routine is a highly effective way to reverse signs of the natural aging process and keep the skin looking clear, smooth, and naturally youthful. Following the full skincare regime requires commitment and dedication, but many patients feel that the results make the time and care for the skin fully worth it. If you are just starting with Korean skincare, it is best to add one product at a time and let the skin adjust for several days before adding the next product. This way, you can determine which products work best for your skin.
How to get started with good skincare today
There are a lot of options out there when it comes to creating a good skincare routine. The 10-step Korean skincare routine recommends the use of an oil-based cleanser, water-based cleanser, exfoliant, toner, serum for specific skin conditions, sheet masks, eye cream, moisturizer, and sunscreen without necessarily specifying which product is best in each category. If you are struggling to determine how to care for your skin, expert board-certified dermatologist Dr. Michele Green can advise on the best beauty products to use based on your skin type. With her proprietary MGSKINLABs, Dr. Green knows the highest quality skincare products regardless of whether you have dry skin, oily skin, sensitive skin, or acne-prone skin.
Dr. Michele Green is an internationally renowned board-certified cosmetic dermatologist with over two and a half decades of experience providing the best non-invasive treatment options and specially formulated skincare to some of the world's most discerning men and women. She is consistently identified as one of New York City's best dermatologists by Castle Connolly, New York Magazine, The New York Times, and Super Doctors for her dedication to her patients and expertise. When you consult with Dr. Green at her private dermatology office in Manhattan's Upper East Side neighborhood, she will work with you to develop a customized skincare routine that caters best to your skin type and specific concerns. To get started, please call 212-535-3088 or email our New York City-based office today to schedule a consultation with Dr. Michele Green and improve your skincare routine.