What Causes A Double Chin?
A "double chin", also referred to as submental fat, is a condition in which an excess amount of fat is located under your chin. Many patients are concerned with the appearance of a double chin. The various FDA approved treatments for submental fat have recently been in the medical news. With the abundance of selfies taken and Instagram photos, sagging jawlines and having excess skin laxity are of even a greater concern and there is so much discussion about the various treatment options.
There are many different causes of a "double chin," from diet to genetics. For many patients, having a "double chin" is a result of poor diet and lack of exercise, and without weight loss, the area just grows more prominent. A poor diet leads to an excess amount of fat, and for many patients, this fat presents itself under the chin. For some patients, the excess fat under the jawline is not a result of poor dieting, but is a result of genetics. Some people are just more prone to developing fat under the chin area. Some people also have excess skin elasticity in the neck and jowls, and fat cells accumulates in this submental area. Still other patients have had excessive fat loss due to crash diets and now suffer from skin laxity in the submental region.
How Do You Treat A Double Chin?
One of the most common questions that patients ask is "how to treat the double chin?" There are two popular non-surgical methods to treat the "double chin" and one surgical way. The main surgical procedure for treating chin fat in the submental area is liposuction. A plastic surgeon typically uses liposuction to remove the excess submental fat under the chin. This is a painful procedure which must be performed in a surgical suite under anesthesia and is associated with a great deal of bruising and swelling and at least one week of "down time." Nowadays, most patients want a non-surgical way to treat this submental fat and skin laxity. The most popular non-surgical ways to treat the neck for both the "double chin", jawline, and excess fat is a combination of FDA approved Coolsculpting, FDA approved Kybella injections, and the Thermage FLX with new radiofrequency technology to tighten the skin.
What is the Coolmini for Coolsculpting to Treat Submental Fat?
Fat cells typically increase in certain areas, such as under the chin and the goal is to destroy the fat. Coolsculpting is an amazing method of decreasing a fat bulge and "freezing" a fat area on the body, especially for the "double chin". Coolsculpting has a unique applicator, called the CoolMini, which is used primarily for the submental fat area. Typically, two treatments may be needed for an area which has an excessive amount of submental fat. There is no down time for the CoolMini. However, immediately after the procedure there may be some mild swelling and localized numbness. The fat cells are frozen and over time these fat cells are broken down and the fat is excreted from the body. It generally takes 4 months to see the full results of Coolsculpting in any area of the body treated.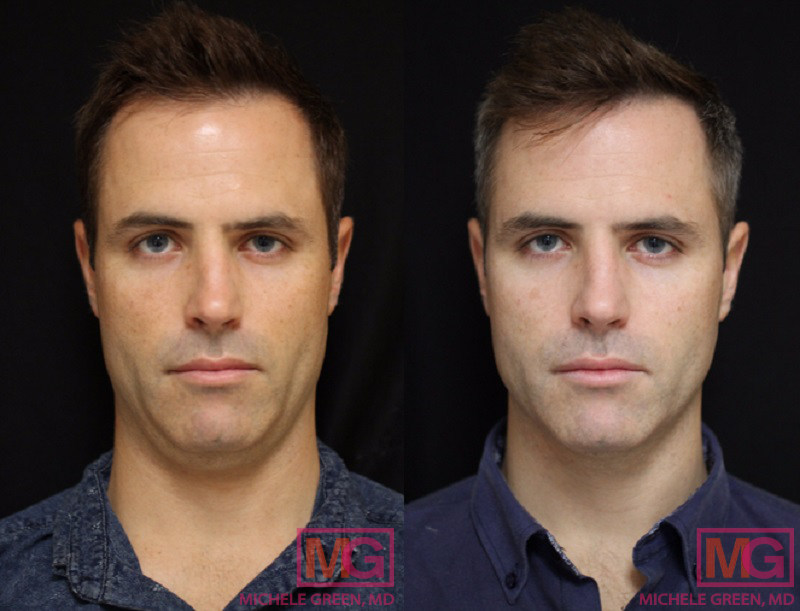 Before & After photo: CoolMini Chin area
How does Kybella Work for Treating the Double Chin?
Another very popular procedure for eliminating fat and treating the "double chin" is Kybella. Both plastic surgeons and dermatologists are trained to inject Kybella. Kybella is deoxycholic acid which is injected under the chin, to the area of submental fat. Deoxycholic acid appears naturally in your gut and dissolves the body fat that is there. A purified version of deoxycholic acid was developed by Kythera and later bought by Allergan, and named Kybella. It typically takes 3 to 4 treatments of Kybella, spaced approximately one month apart, to dissolve the fat in the submental area and permanently treat the "double chin."
The side effects of Kybella injections typically include localized swelling and some bruising which can last several days. Some patients need a combination of the CoolMini to "de-bulk" the fat under the chin, followed by Kybella injections to decrease the remainder of the fat and tighten the skin, in the submental area, overalll.
Combining Thermage with Kybella and Coolsculpting to treat the Double Chin
Skin tightening is also very important in reducing the appearance of the jowls and "double chin." Thermage FLX with its premiere technology in radiofrequency technology is amazing at tightening this area of the face. Thermage FLX produces new collagen in the neck area and tightens the jowls and neck, making surgical treatment of this area unnecessary. Thermage FLX is best for mild to moderate skin laxity of the jowls and lower jaw. Thermage will heat the underling dermis to the facial muscles and tighten neck and any area of the body treated. Thermage FLX is the number one most popular skin tightening laser currently in Asia. With this skin tightening technology, a sharper jawline can be created and there is no down time whatsoever.
The results are typically seen for skin tightening in four to six months. The best combination for the jawline to treat the "double chin" is Thermage FLX combined with Kybella for any submental fat. This way, both fat cells and loose skin are treated at the same time. Careful reminder to avoid excess weight gain is important since those fat cells can recur in the submental area and the "double chin" could recur after treatment.
What Other Ways Can You Help Improve a Double Chin?
In addition to Coolsculpting, Kybella, and Thermage, there are also skincare and facial exercises which can promote tightening the neck and create a more sculpted jaw line. Achieving a beautiful jaw line need not be achieved only through a plastic surgeon. Exercises using your facial and neck muscles such as head tilts with lip puckering and neck extensions have been shown to improve both your posture and your jawline. Poor posture alone can contribute to a sagging neck line as well. Chewing gum can even help strengthen the jawline as well and improve the appearance of the "double chin". Incorporating green tea as a part of a healthy diet can help you lose weight faster. Green tea is full of powerful antioxidants that increase your metabolic rate and cause you to burn more calories. Skin care products such as topical Vitamin C, and Retinols will also tighten and renew the neck area and help improve the appearance of loose skin. Through these skin creams and neck exercises, you can improve neck sagging and have a more beautiful jawline.
If you are interested in treating your double chin, please consult an expert, like Dr. Michele Green by contacting us online or calling 212 535 3088. A board certified cosmetic dermatologist, Dr. Green was one of the first physicians in NYC to offer Kybella to her Upper East Side New York patients.