What is Brilliant Distinctions? Program, Points & How It Works
Brilliant Distinctions program® is a point system loyalty rewards program through Allergan, Inc. which rewards patients with bonus savings and special offers for using Allergan products. Your treating physician, Dr. Michele Green, who is a platinum level Allergan provider, enters your qualifying treatment into the brilliant distinctions provider platform. Allergan then rewards you with points which can be used towards future treatments such as Botox Cosmetic®, Juvederm®, Coolsculpting® and Kybella®, Natrelle (TM), Latisse (TM), and SkinMedica(TM) products.
Brilliant Distinctions is a unique consumer loyalty program as it offers bonus points towards many popular aesthetic treatments and skin care products. The points can be seen and tracked through their mobile app and redeemed for instant savings towards your cosmetic qualifying Allergan treatments and products. Since patients have a choice of cosmetic products and procedures, they can use those points towards a variety of future treatments within the Allergan portfolio.
How does Brilliant Distinctions work?
Step 1
Your treating physician, Dr. Michele Green, will help you join Brilliant Distinctions (BD) once you download the app on your computer or mobile device and open a brilliant distinctions account via brilliantdistinctionsprogram.com.
Step 2
To become a brilliant distinctions member and earn points, you will first have a "qualifying treatment" such as a Coolsculpting procedure, Kybella injections, Botox, or Juvederm filler injections.
Step 3
Dr. Green's office then enters your treatment procedure or product purchase into the Brilliant Distinction Provider Portal.
Step 4
Members of the BD programs start earning points with every Allergan treatment that they have in the office and these brilliant distinctions points convert into rewards for your next treatment.
Step 5
As a member, you can then redeemed your points on your next treatment and your treating physician, Dr. Green, enters the reward code into the system during your visit to reduce the cost of your next Allergan treatment. You can also shop for SkinMedica products on line at the brilliant distinctions mall.
How do Brilliant Distinctions members earn points?
The Brilliant Distinctions program has different membership tiers, depending on the amount of various cosmetic procedures you have in the office. There are also various promotions, special offers, instant rebates, and bonus points, offered by the Brilliant Distinction rewards program. Members redeem their points at the physician's office. There are three levels of points:
Level 1:
Earn 100 points for each $150 spent on Latisse, SkinMedica, or Juvederm Volbella XC (0.55 ml syringe).
Level 2:
Earn 200 points for Botox, Juvederm XC (per syringe), or Coolsculpting (per cycle).
Level 3:
Earn 300 or more points of Juvederm Vollure XC, Juvederm Voluma XC, or Juvederm Volbella XC, per syringe.
Earn 500 points for Kybella,  Natrelle for breast augmentation, or Revolve.
How do Brilliant Distinctions points work?
Members can use their points to create a reward, which can be redeemed in the future for treatments or for products. Every 100 points is equal to $10 in rewards. Members can check their rewards through the app and print or email their rewards when they go to the office for the next procedure. Through the membership dashboard, members can view their points, purchase history and recent transactions, track their tier progress, and find a physician to treat them.
When a patient visits the BrilliantDistinctionsProgram.com website, they need to enter the required demographic and personal information. Once you select your treating physician, you will receive treatment reminders and be able to keep track of your rewards activity. It is important to know that by accepting Allergan's terms in Brilliant Distinction, you are directing Allergan, Inc. to disclose personal information including internet tracking data to third parties, similar to Facebook, Linkedin, or other social media sites.
How long do Brilliant Distinctions points last?
There are silver, gold, and diamond memberships, based on the amount of treatments. With both the silver and gold memberships, the rewards points expire nine months after you earn Brilliant Distinction points. You will be sent an email reminding you of the date of expiration. The benefit of the diamond membership is that you can accumulate points which never expire. There is no limit on how many points a Brilliant Distinctions member can accumulate, but the points reset at the beginning of each calendar year. There is a maximum number of cosmetic Juvederm dermal fillers and Coolsculpting treatment cycles which one can have in a single treatment and per calendar year, which can accumulate towards earning points.
Which injections or products are included in Brilliant Distinctions?
Latisse® is a prescription lash serum manufactured by Allergan. It is the only FDA approved product which contains the active ingredient, bimatoprost, that is clinically proven to stimulate eyelash growth. Latisse keeps the eyelashes from falling out prematurely, keeping them healthy by extending the life of the hair follicles.
Botox is the most popular neuromodulator used in the United States. Botox injections are FDA approved to relax and treat fine lines and wrinkles around the glabella, forehead, and crow's feet. Dr. Green also commonly uses it for the masseter muscle to slim the face, for the neck to treat wrinkles and neck cords, and in the axillae to reduce sweating (axillary hyperhydrosis).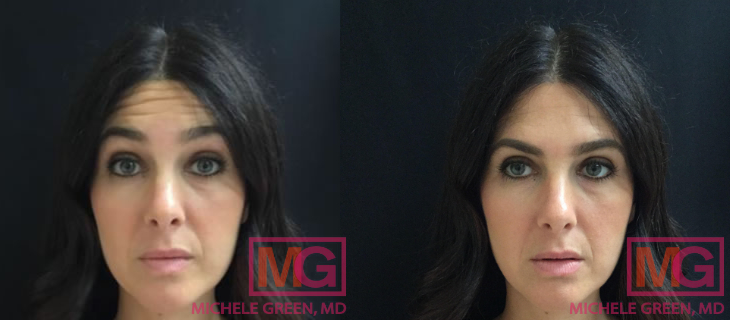 As you age, your face begins to lose collagen, bone, and fat, especially around the tear trough (under the eyes), the mid-cheek area, perioral or lips, temples,  lower face, and jowls. Dr. Green typically injects a wide range of hylauronic acid fillers to enhance and replace this lost volume in the various areas of the face. Juvederm Ultraplus XC®, Juvederm Voluma ®, Juvederm Volbella® and other dermal fillers are all used to re-volumize the face and reduce facial lines. These fillers are indicated for injection into the dermal layer of skin for correction of moderate to severe facial folds and wrinkles, such as nasolabial folds (smile lines), cheek augmentation and correction of age-related midface contour deficiencies in patients. For example, Juvederm Voluma ® is a hyaluronic acid gel, an injectable treatment, specifically designed to add volume to the cheeks.
Natrelle breast implants for breast augmentation are also a part of the Brilliant Distinctions program. Your treating physician will register you, just the same way that one is registered for Juvederm injectables, Botox, or Kybella injections.
It is important to take note that with any cosmetic treatment, from Kybella, Botox, or Juvederm injections, there are always a possibility of side effects or allergic reactions. The most common side effect is bruising at the injection site. There is important safety information provided with each cosmetic procedure listed on the Allergan site. It is important to disclose to Dr. Green if you are planning to have any chemical peels or laser treatments after your cosmetic injections. It is always best to plan these procedures around your injectables and of course use the proper sunscreen protection if you are having laser treatments or chemical peels.
Can I refer a friend to Brilliant Distinctions?
Yes, with Brilliant Distinctions, members can refer up to 5 fires and receive up to 1,000 bonus points each calendar year, when a new friend joins. However, the points earned through referring friends to the BD program do not count towards tier advancement.
Other ways to earn Brilliant Distinctions points
Members can earn 20 points per video with a medium of 60 point per annual 12 months by viewing Allergan BD educational videos. However, watching videos do not count towards tier enhancement.
How do I get started with Brilliant Distinctions?
If you are interested in having Botox, Juvderm, or Kybella injections, or a Coolsculpting procedure, at the time of the procedure, Dr. Green's office will help you join Brilliant Distinctions. You can designate Dr. Green as your treating physician and enjoy added rewards and specials for your favorite cosmetic injectables. For more information, call Dr. Green' office at 212-535-3088 or contact us online.