What is The Cost of Kybella?
Kybella for the Double Chin
The neck is one of the areas of the body which most of us tend to feel self-conscious about. With an ever greater presence of social media, Instagram, and Facebook, patients are more concerned than ever with their profiles and presence of a double chin. Even with a healthy diet and exercise, many of us develop a double chin. Both men and women care about this cosmetic issue and are looking for solutions to tighten and reduce the submental fat in this chin area. The good news is that there is an effective cosmetic procedure which is performed by Dr. Green, an expert NYC cosmetic dermatologist, which does not require incisions or invasive plastic surgery. This treatment is called Kybella® and can be used to reduce submental fullness and excess fat and around the chin area permanently. Kybella is an injectable, by Allergan, which has been proven in clinical trials to be safe and effective in reducing the fat in the chin area after a series of injections. Clinical studies have showed that the fat reduction with Kybella treatment is permanent. Kybella injections have become an extremely popular non-surgical dermatology option, since most patients want to avoid plastic surgery procedures, whenever possible. Dr. Green was one of the first injectors of Kybella in her private boutique NYC dermatology practice and considers it a mainstay of neck rejuvenation.

How does Kybella work?
Kybella injections, for the non-surgical treatment of submental fat, was FDA approved in 2015. The active ingredient in Kybella is a naturally occurring enzyme, deoxycholic acid, which is present in our bodies and destroys fat cells. This same substance has been purified and is the basis for Kybella injections to permanently destroy fat cells in the submental area, or excess fat in other areas of the body, such as the knees, stomach fat, back, and bra fat. Kybella was first designed to dissolve the chin fat in your double chin and permanently contour your jawline. Kybella also provides some skin tightening effect as well, as the fat gradually dissipates, the neck tissue tightens, and skin laxity improves. If there is an excess amount of skin laxity in the neck and jowl area, a neck lift may be indicated.
What is the process of Kybella treatment?
The process of Kybella injections is straightforward. A consultation with Dr. Green is the first step to see if you are a good candidate for Kybella treatment. Pre-injection photos are taken of the treatment area and the number of treatment sessions and cost of Kybella are reviewed at that time. Dr. Green will review all of the side effects and any downtime associated with the procedure. In addition, since Kybella is an injectable, it is advised to discontinue any blood thinners, aspirin, motrin, fish oil, or multivitamins, for one week before your treatment to avoid bruising.
Dr. Green will mark the area which needs treatment with a grid. Your Kybella injections will be spaced at four mm intervals between markings. The amount of Kybella injections needed depends predominantly on the size of the treatment area. After your treatment, ice will be applied to the injected area to reduce the amount of swelling. Swelling from Kybella is an expected part of the injection process and a common side effect. You can also learn more about Kybella on our main Kybella Treatment page.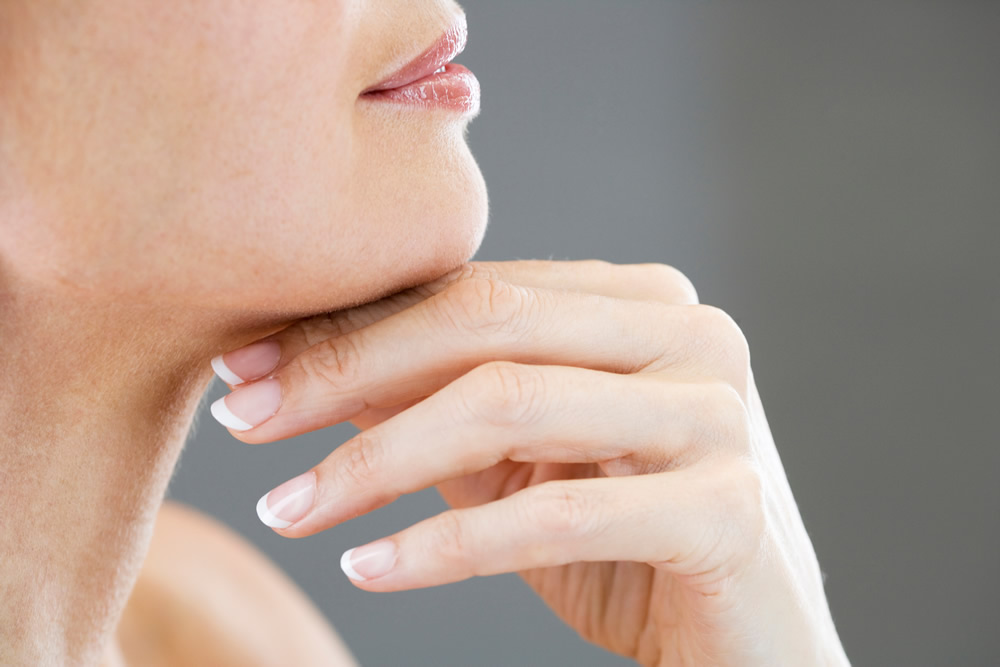 How Much Does Kybella Cost
The cost of Kybella is based on two key factors. The first is the amount of submental fat in the area that is being treated, and the second factor is the desired results that you would like to achieve in terms of neck contouring. A further consideration is how large an area is being treated by Kybella, since larger parts of the body, such as the abdomen require more Kybella injections than smaller areas of fat, such as knee fat or bra fat. Men generally have a larger area of fat than women and require more Kybella injections, which would create an additional cost.
Ultimately, based on these factors, Dr. Green will create a unique treatment plan, designed specially for you. When you visit Dr. Green's office for your initial consultation, she will determine if you are a good candidate for the procedure.  Kybella is manufactured in discreet vials for injection. As a general guide, the average price for each Kybella treatment costs between $1200 and $1,800. The cost for Kybella may vary based on the size of submental fat or fat bulge in the area which needs treatment. A larger area of fat will cost more to treat and require more treatment sessions than a smaller area of fat.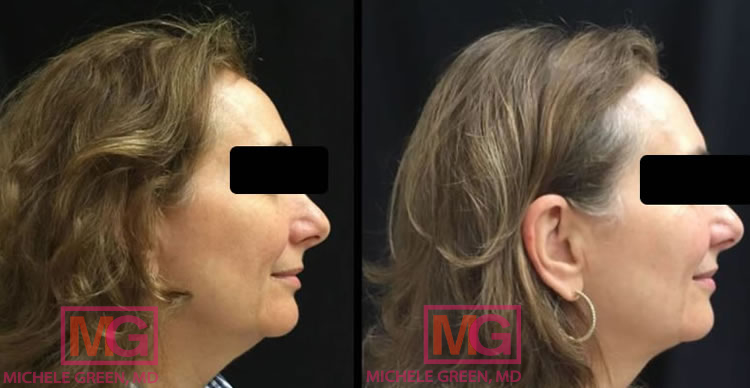 How much does Kybella cost for chin fat?
When it comes to the number of treatments sessions necessary, typically you may require three to four Kybella treatment sessions. However, depending on the size of the treatment area, and the amount of fat which needs to be reduced, Dr. Green may recommend additional treatment sessions to ensure that you are happy with the final results. For some individuals with very minor chin fat which needs to be addressed, only two treatment sessions of Kybella may be required.
Each treatment session needs to be scheduled at least one month apart. Since each treatment session of Kybella requires further injections, the full cost of Kybella encompasses all of the Kybella treatments and will occur over several months time. Each treatment of Kybella costs on average $1500. The average cost for the complete treatment with Kybella over four sessions is $6,000.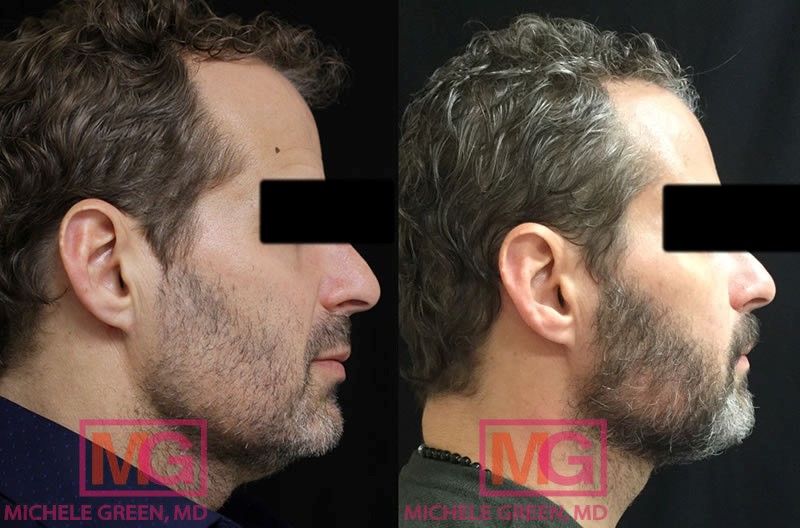 Cost of Kybella for the Jowls
As with other Kybella treatments the number of vials of Kybella needed for jowl treatment is based on the amount of submental fat in the treatment area. The size of the neck is also a factor in determining how many Kybella vials will be required. Typically, as s a guide, most patients will require three or four Kybella treatments in this area which will need to be spaced out four to six weeks apart.
Kybella Costs for Stomach Fat
When it comes to stomach fat and the 'love handles", this type of fat can be hard to reduce through diet and exercise alone. The good news is that there are now a number of treatments available which can tackle this troublesome issue, including Kybella. If the abdominal area is a larger bulge, Dr. Green typically recommends complementary treatments such as CoolSculpting to treat stubborn stomach fat. Coolsculpting for the abdomen would be more cost effective than Kybella as you will need at least three Kybella treatment sessions at a minimum to treat a larger area. Large areas of the body require a significant larger number of Kybella injections, and the cost for Kybella can be quite high. If you're interested in treating your stomach fat issues with Kybella, Dr. Green can discuss the procedure with you to help you make an informed decision and to get the correct treatment for your individual case.
Kybella Costs for Bra Fat Reduction
Bra fat reduction using Kybella, also known as "brabella" is another popular treatment. Kybella can also be used to treat armpit fat and can be quite effective when used in this area. When you put on a bra and see rolls of fat, both over and under the bra band, these fat bulges are caused by excess fat compressed by the bra. It is exactly this type of fat bulge which Kybella can address. For most patients, you will need two to four vials of Kybella for the fat area to be effectively treated and  approximately three or four total treatment sessions.
Cost of Knee Fat Reduction Using Kybella
A further use of Kybella is to reduce fat that is located at the top of the knees. Often Kybella can be used in this area and combined with other treatments such as Thermage to get even better fat reduction and skin tightening results. You may only need one to two vials of Kybella on the knee area to treat this area. Since there may be a smaller amount of fat in the areas above the knees, Kybella injections are highly effective in this treatment area.
Kybella Facts & Side Effects
Typically, when it comes to common side effects from Kybella, there can be some numbness, swelling and bruising in and around the treatment area and injection site. In addition, there can be some areas of hardness at the site of injection. Thanks to Kybella injections, treating the double chin can be accomplished without the need for a plastic surgeon and invasive liposuction.
Kybella is a permanent solution to treat the double chin and can help to provide a slimmer and contoured appearance in your jawline. However, if you do not maintain your weight, through diet and exercise, your double chin can return as your body will accumulate additional excess fat in this area. There is little downtime, other than swelling, with Kybella but as reviewed, it is best to avoid blood thinners for one week before having any cosmetic injections, including Kybella injections.  Dr. Green will provide you will all the information you need for both pre and post care. Kybella treatment can also be complemented  with other cosmetic procedures such as Botox, Juvederm and Coolsculpting – including CoolMini for the chin area.
How do I get started with Kybella injections in NYC?
If you're frustrated with the appearance of fat around your jawline or have issues with your double chin there's finally a solution which can help. Dr. Michele Green is an expert in minimally invasive cosmetic procedures, including Botox, Juvederm, lip fillers, Fraxel laser, Thermage, and cosmetic skin care. To find out more about Dr. Green's services, please contact our NYC based office today or call 212-535-3088 to learn more about Kybella and other cosmetic treatments which may be best for you.