A new injectable treatment to erase fine lines and wrinkles on the face has entered the market and has many asking: is DAXI the new Botox? DaxibotulinumtoxinA, known simply by the name DAXI, is a neuromodulator created by the company Revance Therapeutics, Inc. Similarly to other neuromodulators in the botulinum toxin type A family, such as Botox, Xeomin, and Dysport, DAXI is an injectable treatment designed to smooth fine lines and wrinkles. Specifically, DAXI is on track to receive FDA approval for treating glabellar lines, which are also known as forehead lines or "11's." In addition to DAXI's treatment of glabellar lines, the injectable treatment is currently being evaluated for the treatment of wrinkles in the entire upper face, including crow's feet, and for medical conditions such as cervical dystonia and adult upper limb spasticity.
This new product is unique among the other neuromdulators on the market in that it contains a proprietary peptide, which contributes to DAXI's longevity. Where most other botulinum toxin type A treatment results last for 3-4 months, DAXI results have a median duration of 6 months with patients returning to baseline levels of wrinkles after approximately 28 weeks. Thus, the formation of DAXI with the proprietary stabilizing protein has the potential to more than double the amount of time that effects of the treatment are visible from other injectable treatments on the market. With its ability to erase severe glabellar lines and long-lasting results, providers are eager to add DAXI to the roster of available injectable neuromodulators.
Expert, board-certified cosmetic dermatologist, Dr. Michele Green, is always on the cutting edge of anti-aging, injectables, and skin care treatments. Dr. Green was one of the first dermatologists in NYC to use Botox in her private, Upper East Side dermatology office. A platinum Allergan provider of Juvederm, Restylane, and other dermal fillers, Dr. Green has been consistently voted as one of the best dermatologists New York City office for more than 25 years. A leader in non-invasive cosmetic procedures, her "less is more" philosophy will give you beautiful, naturally looking cosmetic results.
Daxi vs Botox injections
Currently, the most popular botulinum toxin type A injectable treatment available is Botox. Botox, manufactured by the company Allergan, has been FDA approved to treat cosmetic concerns, such as forehead lines, frown lines, and crow's feet, and medical conditions, such as blepharospasm, cervical dystonia, upper lip spasticity, chronic migraines, and hyperhidrosis. The two neuromodulators are similar in the way they function: when the botulinum toxin is injected into the treatment area, it works by "freezing" the muscle, causing it to relax. When treating aesthetic concerns, this freezing of the muscle helps to erase signs of dynamic wrinkles that are caused by muscle contractions.
Botox and DAXI differ in several key ways, however. While both products contain the key ingredient of a form of botulinum toxin type A, DAXI contains a proprietary peptide excipient, which changes how the product functions and can be stored. Most notably, the effects of DAXI remain visible for twice as long as the effects of Botox with DAXI's results lasting for up to six months compared to the results of Botox, which are visible for 3-4 months. This is significant in that patients will only need to receive DAXI treatment twice a year in order to maintain a smooth, wrinkle-free face, compared with Botox, which may require 3-4 treatments a year for a continued youthful look. Additionally, DAXI has a very high response rate with clinical trials showing that up to 97.5% of patients responded to the DAXI treatment. This is higher than all of DAXI's competitors, including Botox.
Revance Therapeutics
Revance Therapeutics, Inc is a new aesthetic company, based in Silicon Valley, who is at the forefront of new innovations in neuromodulators for the aesthetic market.  Revance has created an advanced neuromodulator product, DaxibotulinumtoxinA (DAXI) for cosmetic and medical indications. They have developed a new longer lasting neurotoxin, which will be a strong competitor to Botox. DAXI has been showed in clinical trials to last much longer than Botox, lasting for nearly six months in duration.  DAXI received approval for its Biological License Application on February 6, 2020 to treat glabella (frown) lines and Revance has since been working with the FDA to seek full approval of the treatment. Since neuromodulators are most common noninvasive cosmetic procedure performed in the United States, with 2.6 million total facial injectable procedures performed in 2018 alone, this two billion dollar industry is incredibly competitive.
How does DAXI compare to Botox and other neurotoxins?
There are several other neurotoxin injectable treatments on the market presently, including Botox, Dysport, Xeomin, and Jeuveau. These botulinum toxin type A procedures are the most popular minimally invasive procedures that are performed in the United States, with almost 7.5 million botulinum toxin type A treatments performed in 2018 alone. While each product serves a similar function, each one has unique features that are important to take into account when considering your options.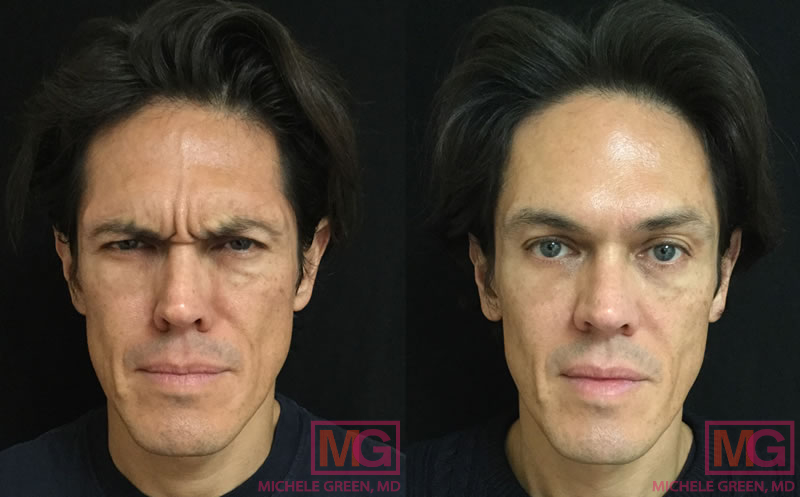 40-49 year old male, Dysport
The key advantage of DAXI over Botox, which is manufactured by Allergan, is its long-lasting neuromodulator capability. Almost three decades ago, onabotulinumtoxinA (Botox) was FDA approved for the glabella area. Botox has been extremely popular and it is currently the number one injectable in the United States. However, one of the main complaints with Botox is its short duration of therapeutic effect. The cosmetic effect of Botox typically lasts 3 to 4 months in duration and then dissipates. Patients are extremely interested in a new neuromodulator whose effects would last for a longer period of time. With DAXI lasting twice as long, up to six months, patients would only need to come twice a year for wrinkle injections.
Dysport, also known as abobotulinumtoxinA, is manufactured by the company Galderma and has been FDA approved in the United States since 2009. The treatment is best used for patients with moderate to severe wrinkle severity around the forehead and eyes due to the diffusion of the product after injection. Compared to Botox, Dysport is a deeper injection that covers a wider area. While Dysport also shows results faster than Botox (three to five days after treatment as opposed to seven to fourteen for Botox), the treatment also lasts for only 3 to 4 months. As such, for longevity of treatment in the forehead area, DAXI will provide better results.
Xeomin, the neuromodulator known as incobotulinumtoxinA, is manufactured by the company Metz Aesthetics and has been FDA approved to treat frown lines, cervical dystonia, chronic drooling, and upper lip spasticity since 2009. It is similar to DAXI in that it does not contain a preservative in the injectable solution, meaning it is a purer form of the toxin. This means that the product can be stored at room temperature and results will take less time to begin showing themselves. Like Xeomin, the results of DAXI treatment typically take about three days to show themselves but the full effect of the procedure takes seven to fourteen days. Due to the fact that Xeomin does not contain the preservative protein, patients are less likely to develop anti-bodies against the injection, making it a very effective option for patients that no longer respond to Botox treatment.
The newest Botox alternative before DAXI entered the scene was prabotulinumtoxinA-xvfs, more commonly known as Jeuveau. Created by the company Evolus, Jeuveau differs from the other neuromodulators on the market with its use of a proprietary technology called "Hi-Pure." This is a process used during manufacturing to purify the protein, theoretically making the injection safer. Like Botox, Dysport, and Xeomin, effects of Jeuveau are visible for 3-4 months after treatment, and, as such, DAXI has greater longevity than Jeuveau as well.
Which areas of the face can be injected with Daxi?
DAXI is on track to be FDA approved to specifically treat the glabellar lines, which form on the forehead area of the face. When you frown or are concentrating on something, the muscle contracts to form vertical lines between the eyebrows. Revance is also looking to gain FDA approval for other areas of the upper face including horizontal forehead lines and crow's feet. An additional effective "off-label" use of the product would be for use on neck wrinkles for a non-surgical "neck lift."
Is Daxi FDA approved?
DaxibotulinumtoxinA for injection is a relatively new treatment to remove fine lines and wrinkles on the upper face. After several phases of clinical trials to test the effectiveness of the treatment, Revance submitted DAXI to the FDA for approval to treat glabellar lines. The FDA first approved Revance's Biological License Application (BLA) in February of 2020, saying that they would review the application and come to an approval decision in late 2020. Unfortunately, the Covid-19 pandemic hindered the FDA's ability to fully review the new product and had to delay their decision. In October of 2021, the FDA delayed the approval further, saying that there was an issue with Revance's manufacturing plant in California. Revance responded by calling for a Type A meeting with the FDA to resolve the issue and now expects full FDA approval of DAXI to treat glabellar lines by late 2022 (Sept 2022 update – this has now been approved as "Daxxify" and you can read more about it here).
While DAXI has not yet been fully approved by the FDA, clinical trials have demonstrated the functionality of the product and shown that DAXI treatment is just as safe – if not safer – than other neuromodulator injections on the market. As such, DAXI is available for treatment at this time.
Is Daxi Safe?
Yes! Clinical studies of DAXI have found that DAXI is just as – if not more – safe than other neuromodulators. The Phase three clinical trials of DAXI studied 2,691 subjects who had the procedure performed once with 882 of those individuals receiving second treatment and 568 receiving a third treatment (doi: 10.1097/DSS.0000000000002463). Of those individuals participating in this open-label study, only 17.8% experienced adverse events directly related to the treatment with most of those cases being mild side effects. DAXI side effects are similar to other neuromodulators in that common, mild side effects include bruising at or near the injection site, swelling, and redness. In the Phase three clinical trials, there were no serious adverse events related to the treatment.
When will Daxi launch?
Revance is currently in the process of receiving FDA approval for their product. While their Biological License Application was approved in February of 2020, there have been several delays in the FDA approval process, mainly relating to the Covid-19 pandemic. Revance predicts that official FDA approval will be given at the end of 2022 for DAXI to treat glabellar lines on the face. (Sept 2022 update – this has now been approved by the FDA and is named "Daxxify").
What other clinical indications will DAXI have?
Revance currently has 12 ongoing clinical trials using DAXI for the treatment of forehead lines, crow's feet, full upper cervical lines, cervical dystonia, plantar fasciitis and upper limb spasticity. Studies that have been published show that after 4 weeks, 73% of patients experienced significant improvement in their forehead lines, 97.5% of treatment patients experienced a response to the treatment, and 96% of patients reported being satisfied with the results. Research also demonstrated that the median duration of the effects of the treatment was 6 months – more than any other neuromodulator on the market – and that the median onset time was 3 days after the procedure was performed. Studies have also shown that fewer than 1% of patients develop any serious side effects, marking the treatment as both safe and effective.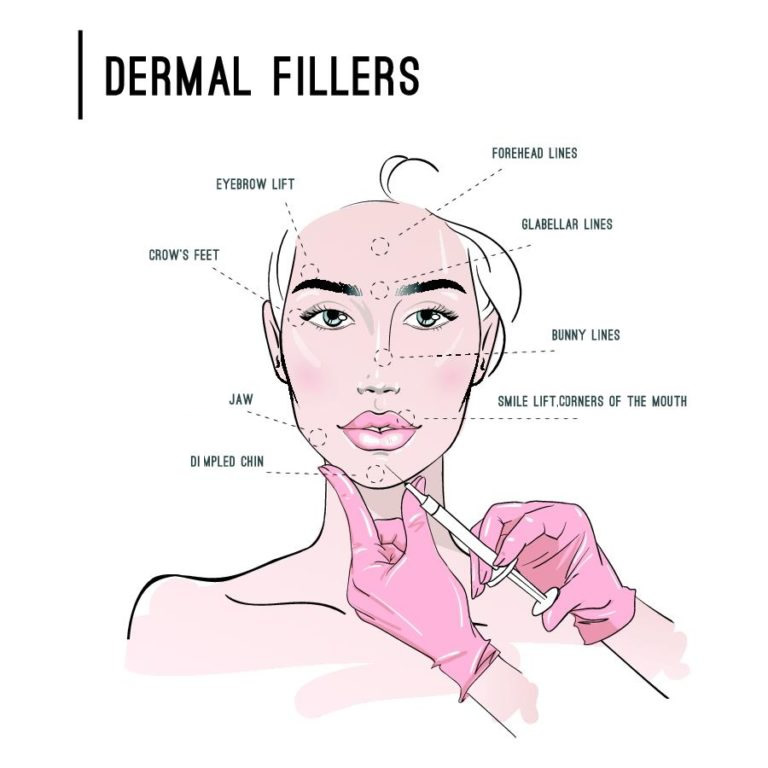 How long will Revance's DAXI last?
Research has shown that DAXI is the longest lasting neuromodulator on the market to date. Current studies of DAXI show 24-week duration in the glabella area, which is 8 weeks longer than the top competitors. It is not until after 28 weeks following the treatment that wrinkle severity returns to pre-injection levels. Similar longevity and results can be expected shortly for other areas of the face. These results imply that patients will only need to receive DAXI injections twice a year as opposed to more frequently with competing neuromodulators.
How do I get started with Daxi today?
With this brand-new, exciting product, DaxibotulinumtoxinA injections are soon to become a major competitor for Botox, Dysport, Xeomin, and Jeuveau. This new treatment, Daxxify / Daxi, will be available upon official launch at Dr. Michele Green's NYC dermatology office. Dr. Michele Green, based in New York City's Upper East Side, is an internationally renowned dermatologist in the field of cosmetic dermatology. With an expertise in minimally invasive cosmetic injections and lasers, please call today to consult with Dr. Green at 212-535-3088 or contact us online today to discover if Daxxify/Daxi is right for you.