Jeuveau – Evolus's New Competitor to Botox
Jeuveau™ is a cosmetic treatment that you might not have heard of yet, but will likely hear much more about in the coming months since there is quite a lot of buzz and excitement with the release of this new product. Jeuveau (also referred to as Newtox) has been designed with the ability to provide temporary improvement of moderate to severe glabellar lines (frown lines). With the recent US FDA (Food and Drug Administration) approval of Jeuveau in early 2019 there is now a new treatment that aims to become an alternative to Dysport, Xeomin and Botox cosmetic treatments. It is listed as the first aesthetic-only neurotoxin approved in the U.S and is planned to become available in Spring 2019.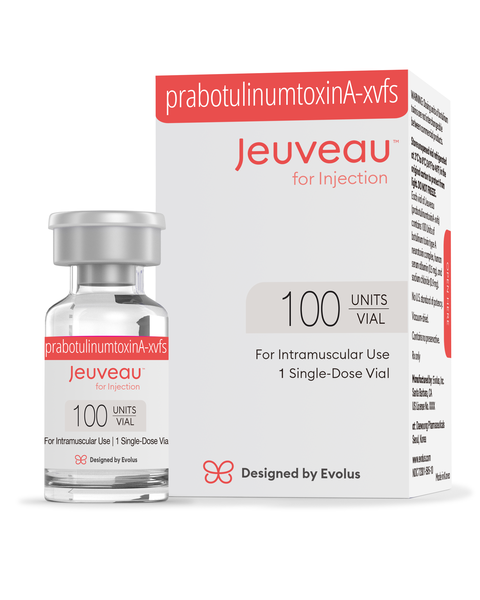 Jeuveau (prabotulinumtoxinA-xvfs) is made by a company called Evolus, inc. The treatment is based on a proprietary 900 kDa purified botulinum toxin type A formulation. A recent press release from Evolus stated that Jeuveau had over 2,100 patients enrolled in the European & Canadian phase III clinical trial study and the positive data obtained was conducive to the FDA approval of Jeuveau. David Moatazedi, President and Chief Executive Officer of Evolus, stated that "Evolus was the the first FDA approved neuro-toxin product to enter the market in a decade."
Who will Jeuveau be an ideal option for?
It is hoped that this product will provide a competitive choice to the current market leader, Botox by Allergan. Jeuveau will likely be suitable for most women and men, but individuals who are allergic or react negatively to other botulinum toxin products should avoid it. There are other potential side effects with the treatment, so you should discuss any medical issues that you have with Dr. Michele Green prior to undergoing any treatment.
For example, one should not use Jeuveau if under 18, or if allergic reactions / adverse effects have been experienced with any other botulinum toxin product such as rimabotulinumtoxinB (MYOBLOC®), onabotulinumtoxinA (BOTOX®/BOTOX® Cosmetic), abobotulinumtoxinA (DYSPORT®), or incobotulinumtoxinA (XEOMIN®), or if you have a skin infection at the planned injection site.
Like other products on the market, Jeuveau works by helping the muscles in the forehead to relax by reducing their ability to contract. This ultimately helps reduce the appearance of forehead lines and wrinkles. The length of time Jeuveau works is also comparable to other products on the market, lasting a few months and potentially up to six months. In most cases there is minimal downtime and patients can continue on with their day, making this a great option overall.
What will Jeuveau cost?
While pricing has not been finalized, many are projecting that it will be a slightly cheaper or similar cost option than Botox, and this will increase its competitive standpoint. If you're looking to find out more about Jeuveau™ contact us online today or call our NYC based offices at 212-535-3088 to learn more about how Board Certified Dermatologist Dr. Green can create a cosmetic treatment plan that's right for you.