Combining Botox With Other Cosmetic Treatments
Botox is a very popular and proven treatment to help reduce the appearance of fine lines and wrinkles in a number of different areas, predominately around the face. One of the great aspects of having Botox is that it is super quick, which means you will be in and out of the practice before you know it. This is the true definition of a lunchtime treatment!
However, for some individuals it might be more convenient to have additional treatments alongside Botox when you have dedicated the time to visit your dermatologist, especially if travel time is quite high or availability quite limited.
A question that we are frequently asked is what treatments can be done alongside Botox at the same time. The short answer is that there are a range of treatments available that can be combined and which work well together, however there are some procedures that should be avoided too.  Below are some of the more common combinations we are asked about.
Botox and Dermal Fillers such as Juvederm and Kybella
Juvederm® is a dermal filler that is commonly used to give extra volume to the lips. In addition to this, a similar product Juvederm Volbella is another FDA approved option for adding volume to the lips. Both are these are great complementary treatments that can be used alongside Botox. In fact Juvederm is one of the most common queries mentioned with Botox when it comes to people researching various treatments.
Juvederm is also great at smoothing out fine lines and wrinkles, in the cheeks and "smile lines," so if you're looking to have Botox in your forehead for treating "frown lines," then these two treatments can work really well together.
Find out more about Juvederm injections
It's a similar situation for other dermal fillers, depending on the areas an individual is looking to get treated. Belotero Balance® is a treatment that is great at helping to treat areas around the mouth, such as reducing the appearance of smile lines, marionette lines, and vertical lip lines. Again, if you have Botox in another area then Belotero Balance® and Botox can be complimentary.
Kybella is a treatment that is used to help reduce submental fat under the chin. Again, this is a treatment that can be carried out alongside Botox since these procedures are used to treat different areas of the facial region.
Other dermal fillers such as Radiesse, Sculptra and Restylane can be used to remove wrinkles and in some instances facial scars. Often these treatments are designed to be used in the same treatment areas that Botox is designed to be used in too, and since these treatments work in different ways, they can (depending on the individual situation) be used together for greater effect.
In other cases, the treatments are targeted at different areas. For example, when a dermal filler is used to treat some residual acne scarring, and Botox is used to treat forehead wrinkles, in these instances the treatments will also work well together. The best course of action is to discuss your needs and requirements with NYC based dermatologist Dr. Michele Green to see what is the best way forward in your own individual case.
Botox and CoolSculpting
CoolSculpting is a non-invasive treatment that is designed to reduce fat through the use of cryolipolysis, which some people refer to as 'fat freezing'. CoolSculpting is generally used in the abdomen, upper arms and neck regions so this treatment can work well alongside Botox since they are designed to treat completely different areas, and there isn't any cross over. CoolMini however, is a version of CoolSculpting that targets the neck and chin areas, and can often compliment Botox usage as we work on reducing fat and sculpting your facial contours, for example non-surgical jaw reduction.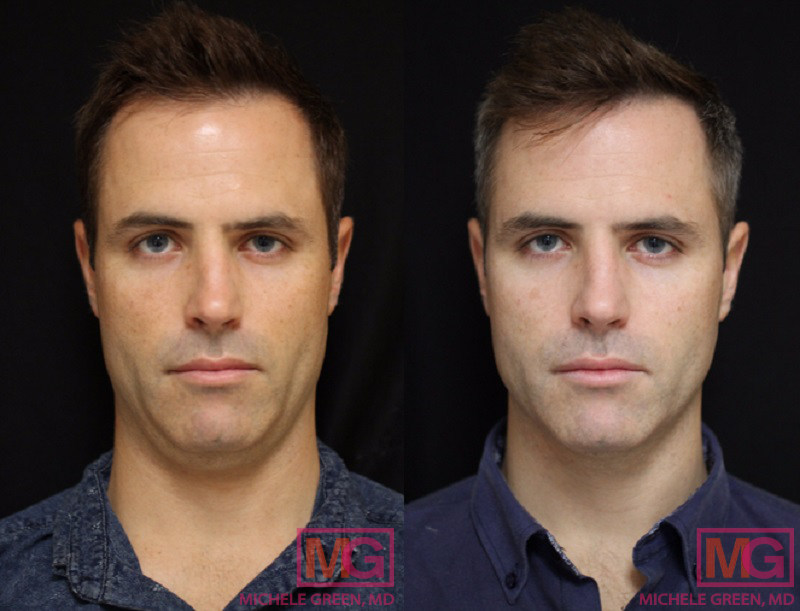 25-34 year old man treated with Botox and CoolMini
Botox with Chemical Peels and Microdermabrasion
In terms of combining Botox with chemical peels and microdermabrasion – one can have a chemical peel and Botox in the same day, but it depends on a case by case basis.  Lighter chemical peels are generally ok to have with Botox while for heavier peels, it is better to wait a few days after the Botox treatment is done before having a chemical peel or microdermabrasion to avoid irritation to the treatment areas. In all cases, it is best to confirm with Dr. Green. The Chemical Peel addresses the problems of pigment and skin textures, while the Botox part of the procedure improves dynamic lines.
Botox and Laser Treatments
We often get asked about Botox and various laser treatments.  One of the most popular combinations is the use of VBeam for treating redness or either Clear + Brilliant or Fraxel lasers for treating pigmentation.
With Dr. Green, laser treatments can be carried out to the same area that is treated with Botox, but again it is worth discussing all options with Dr. Green, as there is a small possibility of experiencing unwanted side effects with the Botox treatment. However, if the laser treatments are carried out in a different area to the Botox, then this is not a factor.
That said, if you are going to have Botox first, then you should wait at least a week for the skin to heal.  Conversely, if you decide to have Fraxel first, you can either opt to do the Botox injections then, or an alternate option is to do your injections 1 to 2 weeks later on your post-Fraxel check-up that Dr. Green performs on every patient.
Dr. Michele Green is a board-certified dermatologist based in New York City and an expert in a wide variety of cosmetic treatments and procedures. Find out more and contact us online or at 212 535 3088 to arrange an appointment.