A Sculptra Butt Lift is a nonsurgical option for patients that are interested in having buttock augmentation, commonly referred to as the Brazilian butt lift, without the need for invasive plastic surgery or a significant amount of recovery time. Sculptra is a type of dermal filler that is composed of a substance called poly-L-lactic acid. Once injected, Sculptra stimulates new collagen production in the treatment area. Collagen is a naturally occurring protein in the skin that provides it with enhanced structural support and a firm, smooth, tight texture. By inducing new collagen growth in the buttocks area, Sculptra injections can be used to enhance the roundness, firmness, size, and volume of the buttocks — all without any incisions or downtime required!
In recent years, the popularity of the non-surgical BBL has grown significantly. Celebrities and social media influencers alike have boasted that the Sculptra butt lift restores the shape and volume of the buttocks after being affected by aging, weight loss, pregnancy, or other circumstance. Additionally, Sculptra injections can easily be combined with other non-surgical body contouring procedures, such as CoolSculpting and Thermage, to help patients achieve their ideal body aesthetic results without the need for a plastic surgeon. If you are interested in a Sculptra butt lift for a rounder, firmer, perkier buttocks, Dr. Green is here to help.
Dr. Michele Green in New York City is an internationally renowned board-certified dermatologist and expert in skin care and non-surgical cosmetic treatments, including the Sculptra butt lift. She is consistently identified as one of the best physicians in NYC by Castle Connolly, Super Doctors, and New York Magazine for her dedication to her patients and expertise, 'less is more' philosophy, and holistic approach to rejuvenation treatments. When you consult with Dr. Green at her private, boutique dermatology office, located in the Upper East Side neighborhood of Manhattan, she will work with you to develop a personalized treatment approach that is catered to your unique needs and aesthetic goals.
What is Sculptra?
Sculptra is an FDA-approved liquid filler created by the pharmaceutical company Galderma. Its active ingredient is poly-L-lactic acid (PLLA), a safe, synthetic, and biocompatible material that is used as a collagen stimulator to correct depressions and surface irregularities in the skin. PLLA is biodegradable, which means it is gradually broken down and naturally removed from the body. By creating new collagen, Sculptra can restore facial volume, as well as volume in many areas of the body, including the buttocks and hips, arms, knees, and decolletage.
Sculptra was originally developed for patients suffering from lipodystrophy, or facial volume loss, secondary to HIV. Many individuals with HIV experienced facial fat loss that caused a hollowed or sunken appearance in the midface. Sculptra injections were so successful in volume restoration and facial rejuvenation in patients with HIV-associated lipoatrophy that Sculptra Aesthetic was approved by the FDA in 2004 for cosmetic use in patients with healthy immune systems.
How does Sculptra work for the buttocks?
A Sculptra butt lift is a great non-surgical option for achieving a fuller, rounder, plumper-looking butt. A surgical Brazilian Butt Lift (BBL) typically involves liposuction, fat transfer, a relatively significant amount of downtime, and a higher risk of encountering dangerous and unwanted side effects. Alternatively, Sculptra injections are simple and quick, offering patients a non-surgical solution for restoring volume, softening the appearance of folds and cellulite, and creating a rounder contour on the buttocks.
The main active ingredient in Sculptra is poly-L-lactic acid (PLLA), which stimulates the body's natural collagen synthesis. Collagen is the protein that provides structure and shape to the skin, which naturally depletes with age, leading to sagging skin. Because it takes time for collagen to build following treatment, the final results of Sculptra injections can be seen 4 to 6 weeks after the injections. Typically, multiple treatment sessions, spaced 4 to 6 weeks apart, are needed to achieve one's desired results. Sculptra can also be injected to treat hip dips or hollows on the hips for body contouring and enhancing the appearance of an hourglass figure body type. Sculptra injections can be customized to an individual's aesthetic goals, whether the patient prefers a more subtle lift and V-shaped buttock or a rounder "Kardashian" look.
What is the procedure for a Sculptra butt lift?
If you are looking for non-invasive body contouring options, the first step is an in-person consultation with board-certified dermatologist Dr. Michele Green in her private New York City office. Dr. Green will carefully assess your natural body type and contour, as well as your medical history and personal aesthetic goals to determine if a Sculptra butt lift is the best treatment option for you. If you are deemed a good candidate for the Sculptra butt lift, she will go over how many vials of Sculptra are needed to achieve the desired results, along with the number of estimated treatment sessions needed. Then you will schedule the Sculptra injections for a day that works best for you. In order to minimize bruising and swelling from the injections, Dr. Green recommends avoiding blood thinners, aspirin, fish oil, and vitamin E for at least one week. Alcohol should be avoided for 48 hours prior to injections, and Arnica, an all-natural herbal supplement, can be taken two days prior to the appointment to minimize bruising and facilitate healing.
Dr. Green will prescribe a topical anesthetic cream to be applied in a thick layer one hour before your appointment to minimize any potential discomfort from the injections. When you arrive at her office for your Sculptra BBL appointment, an assistant will thoroughly clean and sterilize the area to reduce any risk of infection. Dr. Green will then mark the areas where the Sculptra will be injected and have you lay comfortably on your stomach to begin treatment. Sculptra butt lift injections can take up to 30 minutes to complete, depending on the size of the area and how many vials are needed.
The most important after care instruction patients must adhere to following Sculptra injections is the "rule of 5s." All patients are advised to massage the treated area for five consecutive days, five times a day, for five minutes each time. Massaging the treatment area is crucial when it comes to preventing nodules from forming. The results from Sculptra will become evident around 4-6 weeks post-treatment, and it generally takes 3-4 treatments to achieve the desired results. Many patients return once a year to engage in a touch-up session to maintain their ideal Sculptra results.
Who is a good candidate for Sculptra butt lift?
A good candidate for the Sculptra butt lift is a healthy individual who is looking for a fuller, plumper, curvier, and rounder butt without the risk and downtime associated with traditional plastic surgery. A Sculptra BBL is also a great non-surgical option for someone with insufficient excess fat in other areas of the body who is not a candidate for a surgical BBL, which requires a fat transfer. Many patients who seek Sculptra butt lift treatments may also choose to have Sculptra hip dips to achieve an hourglass figure. The results of Sculptra injections are subtle and gradual, as it takes several weeks for Sculptra to build healthy tissue and collagen. A Sculptra butt lift produces long-lasting results, though they are not permanent. After Sculptra injections, patients can resume normal daily activities like working as long as the massages are done to the treatment area 5 times a day for 5 minutes for 5 days.
Sculptra is not recommended for patients who are pregnant or nursing, are allergic to lidocaine or have multiple allergies or a history of sensitivity to medications.
How to inject Sculptra into buttocks
Sculptra injection treatments include injecting poly-L-lactic acid into the dermal layers to stimulate the body's natural collagen production. Unlike popular hyaluronic acid dermal fillers like Juvederm and Restylane, Sculptra is made of poly-L-lactic acid that is not dissolvable. Sculptra is provided as a freeze-dried powder in vials, which must be reconstituted prior to injections. The reconstitution is important in preventing undesired side effects like nodule formation and should be performed in the recommended manner. Lidocaine is mixed into the Sculptra before the injections to minimize any pain or discomfort during the procedure. Additionally, Sculptra for the buttocks is not FDA-approved and is considered an "off-label" treatment. Therefore, it is very important to seek an experienced board-certified dermatologist like Dr. Green for Sculptra butt lift to ensure the risk of side effects is minimized and the best body contouring results are achieved.
How much Sculptra is needed for the buttocks?
The number of Sculptra vials needed for a Sculptra butt lift depends on the severity of skin laxity and hollows, as well as the individual's desired body contouring results. On average, 6 to 10 vials of Sculptra are needed per treatment session for the Sculptra butt lift, with more vials needed to treat hip dips as well. After each treatment session, Dr. Green has you return in 4-6 weeks to reevaluate the area and determine the number of Sculptra vials and injection sessions needed. During your initial consultation with Dr. Green, she will evaluate the buttocks area and provide you with an estimate of how many vials of Sculptra will be needed for achieving your desired results.
Is Sculptra better than a BBL?
Sculptra butt lift injections and Brazilian Butt Lift (BBL) surgery are different in many ways, and one is not inherently "better" than the other. Brazilian Butt Lift procedure is a surgical procedure performed by a plastic surgeon, where liposuction is performed to harvest fat from other areas of the body (i.e., abdomen and thighs) and then transferred to the buttocks. Liposuction is a cosmetic procedure where fat is sucked out using a cannula. Often, a Sculptra butt lift may be recommended when a patient does not have enough fat to be collected for a successful transfer. Many patients prefer Sculptra injections due to the ease and accessibility of having treatment, the natural-looking, long-lasting results, and the lack of downtime required. Patients interested in achieving a subtle lift and volume enhancement in the buttocks area may be perfect for a Sculptra butt lift, whereas individuals seeking more dramatic volume may prefer a traditional surgical butt lift. If you are interested in having a buttock augmentation, schedule a consultation with Dr. Michele Green in NYC. Dr. Green has over 25 years of experience as an expert in the field of cosmetic dermatology and will help you determine whether you are a good candidate for a Sculptra butt lift or a traditional surgical Brazilian butt lift.
What happens when Sculptra wears off?
Sculptra injections provide natural-looking, long-lasting results. Once the final results have been attained, patients can expect their non-surgical enhancement to last for up to two years. When the Sculptra treatment wears off, the rejuvenation results typically fade gradually on their own. Most patients choose to engage in regular maintenance treatment sessions of their Sculptra injections to keep up their ideal results and prevent the effects from wearing off.
How much is a Non-Surgical Butt Lift?
The total cost of a non-surgical butt lift with Sculptra injections will ultimately depend on a number of contributing factors, including the experience level of your injector, the geographic location of the office in which you have treatment, and the total number of vials needed to achieve your desired final results. Sculptra is typically priced per vial. Although treatment may be more inexpensive in a medspa setting or with a nurse injector, it is important to always consult with an experienced board-certified dermatolgist for your Sculptra injections in order to avoid potential unwanted side effects and guarantee ideal results.
Can Sculptra be combined with other cosmetic procedures?
Absolutely! Dr. Green often combines Sculptra injections with other non-surgical body contouring procedures in the treatment plans of her patients to help them achieve their desired aesthetic wihtout plastic surgery or extensive downtime.
CoolSculpting is a non-invasive fat reduction treatment that relies on cryolipolysis to permanently eliminate excess fat cells in a treatment area. This fat freezing treatment is FDA approved to treat nine different areas on the body including the submental area (under the chin), bra fat, upper arms, abdomen, love handles, inner and outer thighs, "banana roll" under the buttocks, and the fat above the knees. Many patients combine Sculptra injections in the buttocks area with CoolSculpting for the banana roll area beneath the buttocks to maximize their desired results and achieve the appearance of a rounder, perkier butt.
Thermage is a non-invasive skin-tightening procedure that relies on radiofrequency energy to stimulate new collagen growth in the treatment area. Thermage can be used to treat the face, neck, decolletage, arms, abdomen, buttocks, thighs, and legs to improve the appearance of cellulite and produce firmer, tighter, smoother skin. Patients often choose to have Thermage treatment on the thighs and buttocks to diminish the appearance of cellulite as a complementary treatment to their Sculptra butt lift procedure.
Velashape is a cosmetic procedure that uses a combination of technologies to contour the body and reduce cellulite that is non-responsive to a healthy diet and regular exercise. Velashape relies on a combination of heat, infrared light, radiofrequency technology, and suction to break up the bands under the surface of the skin and boost collagen production. As a result, the appearance of cellulite is decreased and patients can achieve smoother, firmer skin. Velashape typically requires 5-6 treatments for the best results.
When it comes to facial rejuvenation, Sculptra is an excellent treatment option, too! Sculptra injections can be used to replenish facial volume loss or correct the appearance of acne scars. Many patients that have Sculptra for facial rejuvenation choose to combine their treatment with Botox injections. Botox is an injectable neurotoxin that is considered the gold standard cosmetic treatment for dynamic wrinkles. Dynamic wrinkles are those that form due to repeated facial expressions and become etched into the skin over time. Combining Sculptra and Botox is an incredibly effective approach for achieving a smoother, firmer complexion and overall more youthful appearance.
When you consult with Dr. Michele Green at her private dermatology office, located in the Upper East Side of Manhattan, she will work with you to create a completely customized treatment plan that is best suited to your specific concerns and desired results.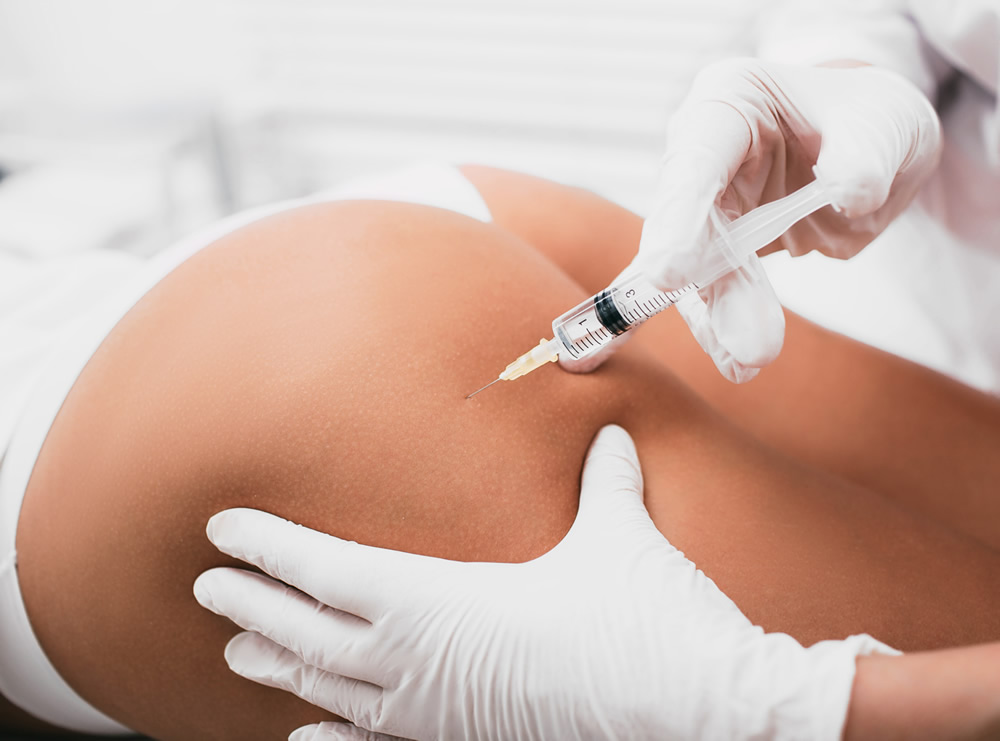 Can you get Sculptra after a BBL?
Yes! Sculptra injections can be used to further enhance volume, roundness, or firmness following a surgical BBL. It is important to consult with a board-certified medical professional regarding your Sculptra injections to ensure the safety and efficacy of treatment, and to avoid any potential unwanted side effects. If you have previously had a surgical Brazilian butt lift and are interested in Sculptra injections for further volume enhancement, schedule a consultation with Dr. Michele Green in NYC. Dr. Green is an expert injector with over 25 years of experience providing customized treatment plans for some of the most discerning men and women from around the world, and will work with you to achieve your desired results.
How do I get started with my Sculptra butt lift today?
Traditionally, invasive plastic surgery was the only way to achieve a firmer, rounder buttocks after losing volume and perkiness to the natural aging process, pregnancy, weight loss, or other circumstances. Thanks to the advent of dermal fillers, patients can enjoy the many benefits of a non-surgical option for a Brazilian butt lift. The ease of having injections, lack of downtime, natural-looking, long-lasting results, and customizability of treatment are among the many reasons Sculptra injections for a BBL have become so popular. If you are interested in a non-surgical butt lift, Dr. Michele Green is here to help.
Dr. Green is an internationally renowned expert in the field of cosmetic dermatology, with over 25 years of experience offering a host of the best non-surgical treatment options for rejuvenation at her private practice, located in the Upper East Side neighborhood of Manhattan. For her holisitc approach and 'less is more' philosophy when it comes to rejuvenation treatments, Dr. Green is consistently voted one of the best dermatologists in New York City by Super Doctors, Castle Connolly, The New York Times, and New York Magazine. To schedule a consultation with Dr. Green and learn more about non-surgical body contouring treatments, including Thermage, CoolSculpting, Velashape, and the Sculptra Butt lift, call the NYC-based office at 212-535-3088 or contact us online today.