Does CoolSculpting Leave Saggy Skin?
It's inevitable that as we go through life our bodies change, and weight gain may be a part of it. You might exercise regularly and maintain a healthy lifestyle, but still be stuck with some stubborn fat that just won't go away. If you're looking for something that can help you get rid of that stubborn excess fat without seeing a plastic surgeon, you may love the benefits of CoolSculpting treatment.
CoolSculpting is the gold standard for non-invasive fat reduction and is the most popular body contouring method in Dr. Green's New York office. The main reason that CoolSculpting treatment is so popular is that it has absolutely no downtime and achieves fat reduction in as little as 35 minutes. This FDA approved treatment has been used by thousands of patients for fat removal to treat the abdomen, double chin, arms, inner and outer thighs, and love handles, all from the privacy of Dr. Green's boutique New York office.
Dr. Michele Green is a board-certified, internationally renowned cosmetic dermatologist and one of the first providers in NYC to incorporate CoolSculpting treatments into her New York practice. For over 10 years, Dr. Green has been using CoolSculpting for body contouring to help thousands of patients achieve a leaner, tighter body. If you have an unwanted fat bulge that diet and exercise has not removed, CoolSculpting procedure may be the best cosmetic treatment for you.
What is CoolSculpting?
The CoolSculpting procedure, also known as cryolipolysis, is a noninvasive cosmetic body contouring treatment that helps to eliminate unwanted fat. During a CoolSculpting procedure, the fat cells of a targeted treatment area are eliminated, while leaving the surrounding skin and muscle tissue unharmed. A CoolSculpting applicator is attached to the patient and the treated area is exposed to cold temperatures, inducing fat cells to undergo apoptosis. This works because fat cells freeze at higher temperatures than surrounding tissue. In the following weeks post-treatment, you'll notice a gradual reduction in the amount of body fat present in the treated areas as damaged fat cells are drained by the body.
There are different sizes and shapes of the coolsculpting applicators available for targeting varying areas of body fat. During a consultation with Dr. Green, you'll identify your problem area(s) and the perfect applicator will be identified, ensuring the right fit for your body and maximizing fat reduction results. This body-contouring fat-reduction treatment is commonly used on the submental area (double chin), flanks (love handles), upper arms, inner and outer thighs, back, and abdomen (belly fat). CoolSculpting is not an alternative to exercise or a healthy diet, though it is a helpful way to get rid of stubborn body fat.
Will CoolSculpting get rid of belly fat?
CoolSculpting is an extremely popular option for patients who live a healthy lifestyle, are within their ideal weight range, and just can't seem to eliminate belly fat. CoolSculpting is safe to use on the abdomen, and can be used to "freeze" fat cells away from the stomach. Patients will be able to see results continue to improve for several weeks post-treatment, as the body continues to naturally metabolize the targeted fat cells, leaving a wonderfully contoured midriff.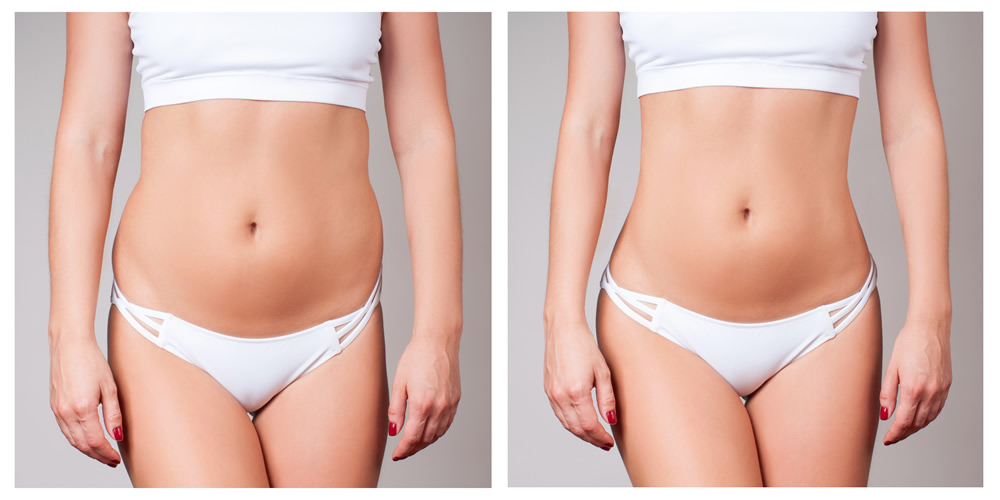 Am I a candidate for CoolSculpting?
The ideal candidate for a CoolSculpting treatment is within 20 pounds of their desired weight and is having difficulty with losing specific deposits of unwanted fat that are unresponsive to diet and exercise. CoolSculpting is not a weight loss device or a treatment for obesity. CoolSculpting treatments are designed to help you lose inches, not weight.
When will I see CoolSculpting results?
You won't see results immediately after your CoolSculpting treatment, but within weeks you'll notice a reduction in the amount of fat present in the treated area. The fat cells are gradually metabolized and drained out by the body's lymphatic system. Four months after your treatment is when you can expect to see the full results- a reduction of up to 25% of the body fat in the treated area.
How does CoolSculpting compare to cosmetic surgery?
CoolSculpting is an FDA approved fat reduction technique that is a fabulous alternative for liposuction. This noninvasive procedure helps achieve fat loss in stubborn areas with essentially zero downtime. Since the procedure requires no anesthesia or incisions, you can resume regular daily activities directly after a CoolSculpting treatment . Procedure times generally range from 35-75 minutes, meaning you can pop into your dermatologist's office for a fat-freezing treatment over your lunch break before going back to work.
45-54 year old male, CoolSculpting before and after
Coolsculpting vs. Liposuction
Liposuction is a type of cosmetic surgery that can cause skin laxity due to sudden fat removal. Results from liposuction are more immediate than CoolSculpting, though patients who undergo this cosmetic surgery generally have long recovery times and are left with a healthy amount of excess skin. With CoolSculpting, you don't have to worry about recovery time or being left with saggy skin like with plastic surgery. CoolSculpting is a gradual fat reduction treatment and a noninvasive alternative to liposuction that leaves treated areas slimmer without leaving behind excess skin.
Are there any Side Effects of CoolSculpting?
CoolSculpting is a safe, FDA-approved treatment for eliminating fat. During the first five minutes of a CoolSculpting fat-freezing treatment, patients may experience numbness, tingling, and mild discomfort. Afterwards, the area is "frozen," and the treatment is painless. Typically, side effects to CoolSculpting are incredibly mild. As CoolSculpting applies cold temperatures to the skin, patients may experience a mild stinging or aching sensation, akin to the skin warming up after spending a winter's day outdoors. This sensation should subside shortly after the treatment session. In rare cases, this sensation may last for up to two weeks, if the skin is more reactive to cold temperatures. Additionally, patients may experience redness, swelling or bruising near the application site, but these symptoms typically subside after a few days.
Does CoolSculpting leave loose skin?
Many patients wonder: does CoolSculpting leave excess skin after fat cells have been eliminated from a treatment area? Though CoolSculpting is not guaranteed to improve skin elasticity (skin tightness), CoolSculpting does not leave sagging skin. If your main concern is excess skin after dramatic weight loss, a cosmetic surgery such as a tummy tuck may be required. For patients who are worried about treating saggy skin after CoolSculpting, Dr. Green often develops a treatment plan that combines the power of CoolSculpting with Thermage, an innovative skin tightening treatment that reduces mild to moderate skin laxity.
Is CoolSculpting a permanent solution for unwanted fat?
The fat cells that are destroyed during a CoolSculpting treatment are gone forever. In the treatment areas, your unwanted fat will be permanently gone, given that you maintain a healthy lifestyle and don't gain additional weight after the procedure. Should a patient gain weight after CoolSculpting , the remaining fat cells in the treatment areas will expand, negating the positive effects of the CoolSculpting procedure.
Can I have other cosmetic procedures done if I do CoolSculpting?
CoolSculpting treatments can be combined with a number of other cosmetic treatments to help patients achieve their body goals. Microneedling, fillers, and radiofrequency laser technology are some of the procedures commonly used in tandem with Coolsculpting to help patients minimize the appearance of textural irregularities, stretchmarks, and scars in treated areas. If you plan to proceed with other cosmetic treatments while doing Coolsculpting, discuss with your Dermatologist to establish an individualized treatment schedule for safe and effective body contouring results.
Does CoolSculpting tighten loose skin? 
As we age, our bodies produce significantly less collagen, elastin, and hyaluronic acid. These components keep our skin firm and the loss of them contributes to skin laxity- loose skin. There is some speculation as to whether the cold temperatures used in fat-freezing technology of cryolipolysis are partially responsible for stimulating new collagen production in treated areas. However, there isn't significant evidence that the CoolSculpting treatment directly results in skin tightening.
Does CoolSculpting tighten loose skin on stomach?
Though CoolSculpting is designed to eliminate fat cells from a treatment area like the stomach, some patients do feel that the skin is firmer in a treatment area after a CoolSculpting procedure. This can help to enhance the CoolSculpting body contouring of an area such as the stomach. However, there is currently no statistical evidence of CoolSculpting improving skin laxity.
Does CoolSculpting tighten neck skin?
CoolSculpting is often used in combination with other body contouring tools in order to  reduce the appearance of double chin or skin laxity on the neck. Dr. Green often recommends a combination of CoolSculpting , Kybella injections and Thermage treatments in order to eliminate unwanted fat from the neck area, as well as to tighten and firm the skin in the neck area.
Thermage Skin Tightening Treatment
Thermage is the gold standard treatment for skin tightening moderately loose skin, even after weight loss. Thermage utilizes radiofrequency heat technology to reduce the appearance of cellulite and boost skin elasticity for tighter, firmer skin. Thermage is an FDA-approved treatment that is able to heat the deeper dermal layer of the skin via radiofrequency energy, which helps to stimulate collagen production that in turn firms and rejuvenates the skin. It's a wonderful option for patients who experience wrinkles, folds or sagging skin due to a loss in skin elasticity or weight loss. The Thermage FLX device is at the forefront of skin tightening technology in the world of dermatology, building upon previous Thermage devices to improve comfort, precision, and speed. Learn more about Thermage FLX Skin Tightening.
If you have a fat bulge that won't disappear, even after diet and exercise, or loose skin, Dr. Green is here to help. Dr. Michele Green is a NYC expert in noninvasive procedures, including Thermage, CoolSculpting, microneedling, body contouring, cosmetic laser treatments, Botox, and Juvederm injections. Dr. Green is an internationally renown cosmetic dermatologist, located on the Upper East Side of New York. With over two decades of experience in cosmetic dermatologic procedures, it is no wonder that she is consisted voted as one of the best dermatologists in New York. Please contact our office online today or call 212-535-3088 to develop your custom-tailored, noninvasive, cosmetic plan.