Will PRP Thicken My Hair?
For many of us, thinning hair and/or hair loss is a natural part of the aging process that can leave us feeling self-conscious about the way our hair looks and feels. According to the American Hair Loss Association, over 21 million women in the U.S. deal with hair loss, and over 65% of men experience hair loss by the time they reach age 35.
Traditionally, issues of hair loss and thinning hair are treated by oral medications like finasteride (Propecia), or topical treatments like minoxidil (Rogaine). Unfortunately, these treatments can lead to unpleasant side effects such as scalp irritation, weight gain, or unpleasant sexual side effects. However, recent innovation in the world of dermatology has led many patients seeking hair regrowth to Platelet-Rich Plasma (PRP) therapy.
PRP Treatment is designed to stimulate new hair growth, as well as encourage thicker hair that can allow patients to both look and feel like their best selves. PRP Therapy for hair restoration can be used as a stand-alone treatment, or be combined with other hair loss treatments, such as hair transplants, to help create lasting, healthy hair.
If you're frustrated by the appearance of thinning hair or hair loss, board-certified dermatologist Dr. Michele Green is here to help. Dr. Green is an internationally renowned expert in  NYC, in hair loss, PRP, and hair growth. As a leader in the field of cosmetic dermatology, she has always been interested in hair growth, both for men and women, and considers it an essential part of her practice. Voted one of the best doctors by Castle Connolly, New York Magazine, and the New York Times, Dr. Green continues to offer the best diagnosis and treatment available for you.
What is Platelet-Rich Plasma (PRP)?
Platelet-Rich Plasma (PRP) is a popular serum that uses the amazing growth factors of your own blood to help improve the health of skin cells and hair follicles. In order to create PRP, a sample of your own blood is placed in a centrifuge, which helps to separate helpful white blood cells and platelets out from red blood cells, creating a highly concentrated plasma that has three times the normal blood value of platelets.
PRP is used in a variety of health and wellness contexts, including to support wound healing during trauma or joint injury treatment. In recent years, PRP microneedling has become a popular treatment for facial skincare, as its wound healing properties can help stimulate collagen and elastin production in the skin, providing natural rejuvenation. PRP has a variety of cells and growth factors that, when injected into the stem cells are the root of a hair follicle, can improve the strength and health of hair. These growth factors include Platelet-Derived Growth Factor for blood vessel, cell, and skin formation, Epidermal Growth Factor for collagen and blood vessel development, and Fibroblast Growth Factor-2 for specialized cell growth, among others.
What is PRP Therapy?
Platelet-rich plasma therapy, or PRP therapy, is a non-surgical approach to hair growth and hair restoration. PRP hair restoration treatment uses targeted PRP injections into the scalp in order to improve the health of hair follicles and help to create new hair growth. PRP therapy for hair restoration has been shown to be effective for patients dealing with male pattern baldness (androgenic alopecia), female pattern hair loss (androgenetic alopecia), and unpredictable hair loss (alopecia aerata). Additionally, PRP therapy is an effective way to improve the thickness of hair, and also appears to help with those experiencing recession along the hairline (frontal hair loss).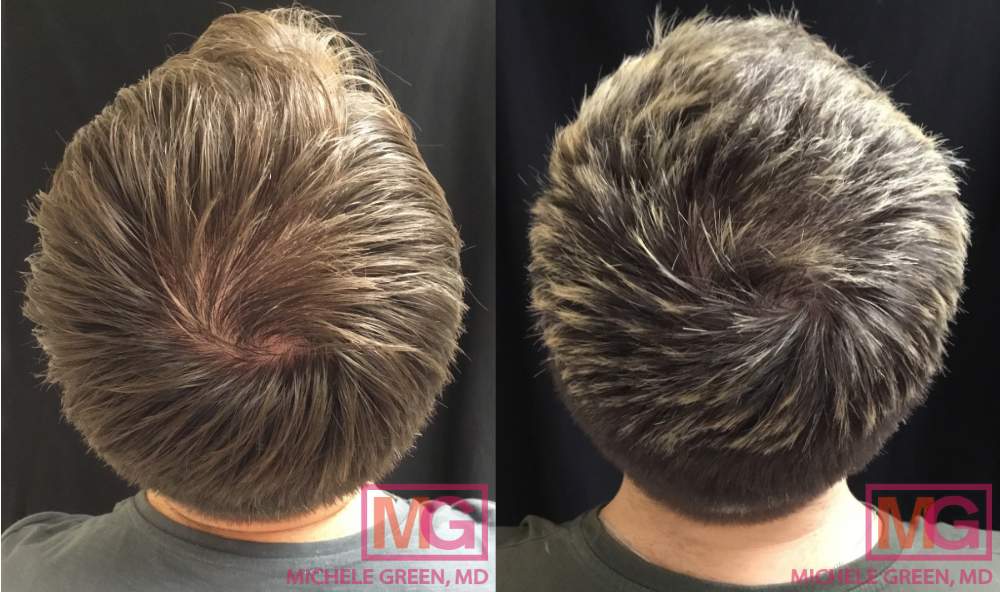 34 year old man, PRP treatment: 6 months
Through the use of PRP at targeted injection sites, Dr. Green is able to improve the overall health of the hair follicles, which in turn helps to trigger new growth during the hair's growth cycle. During PRP therapy, a standard blood draw takes place, and the blood is spun through a centrifuge to separate out the platelet-rich plasma, at which time the PRP injections are prepared. Prior to injection, Dr. Green applies a topical anesthetic to the scalp to minimize any potential discomfort. Typically, a single PRP therapy session takes about a half hour in total, with no downtime necessary.
Does PRP make hair thicker?
Patients who are experiencing thinning hair or hair loss are good candidates for PRP treatment, as PRP injections are able to nourish hair follicles and create new, healthy hair. PRP's exciting growth factors and nutrients help it to boost healthy hair growth during the natural hair growth cycle.
The natural hair growth cycle is defined by four main phases, known as the anagen, catagen, telogen, and exogen stages. Hair growth begins in the anagen stage, followed by a simple transitional phase, the catagen stage, that lasts a little over a week. Then, the hair lies dormant in the hair follicle for a few months in the telogen stage. Finally, the hair falls out in the exogen stage, which leaves space for the cycle to repeat. PRP injections can help support blood vessels surrounding the hair follicle, helping to create thicker hair in the anagen phase.
Can PRP make hair thicker for all types of hair loss?
PRP treatment is an exciting form of hair restoration that can help to improve the look and health of hair for a variety of different hair loss types. Typically, patients who receive three treatments over the course of a few months benefit from improved hair growth that improves thinning hair and reverses the signs of hair loss. PRP hair restoration treatment is particularly useful for those who experience androgenetic or androgenic alopecia.
Many patients consider PRP hair treatment to be an excellent preventative treatment as well for early signs of thinning hair or hair loss. Akin to dermal fillers, Botox, or CoolSculpting, PRP treatment for hair loss can help to prevent further signs of aging from developing. PRP hair restoration can prevent an increase in hair loss or thinning hair, improve the health of the treatment area, and oftentimes reverse the signs of hair loss. The majority of patients opt to continue maintenance PRP sessions after an initial treatment process in order to maintain and boost the development of healthy new hair growth.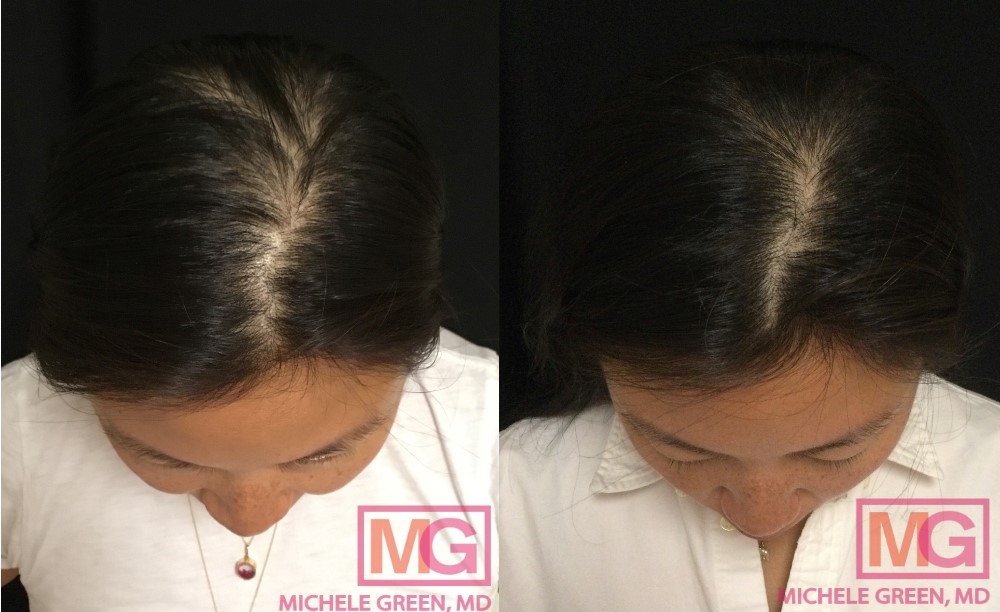 35 year old woman, PRP treatment: 2 months
Though PRP is a highly effective treatment for hair restoration, it is not a one-size-fits-all treatment for hair loss, and there is currently no full cure for androgenetic alopecia or alopecia areata. In particular, patients who have been diagnosed with lupus, thyroid disease, or other underlying conditions that cause hair loss are less likely to benefit from PRP treatment. Additionally, those with anemia are unable to benefit from PRP therapy. 
How does PRP thicken thin hair?
PRP therapy is able to use your own blood to kick-start cell regeneration and cell growth at or near the injection site. Additionally, PRP is able to support the healthy development of blood vessels, which in turn determine the health of a hair follicle. Then, during the anagen stage of the natural hair growth cycle, the newly nourished hair follicles are able to develop healthier, thicker hairs that reduce the signs of hair loss and create a healthy head of hair. PRP injections are determined based on the areas of hair loss and aesthetic goals of each patient, and Dr. Green tailors treatment to stimulate maximum hair growth as well as hair health.
How do PRP Injections improve hair growth?
PRP injections are designed to improve hair growth over the course of an average of three sessions spanning a period of 3-4 months. As PRP provides helpful growth factors at its injection site, it's able to ignite cell growth, support blood vessels in the scalp, and nurture hair follicles. Through this process, hair follicles are able to produce healthy hairs during the anagen stage of the natural hair growth cycle.
Typical PRP thickness from hair restoration
In general, patients who undergo three PRP treatment sessions for hair restoration over the span of 3-4 months can expect to see improved hair thickness and improved hair count. According to a study on PRP therapy published by the National Institutes of Health, PRP injections were able to increase hair density and create hair restoration satisfaction in over 70% of PRP therapy recipients. Additional studies have also measured an increase in hair count from an average of 71 active hair follicles to an average of 93 hair follicles in a single follicular unit.
Does PRP thicken skin?
PRP is often used as a cosmetic facial treatment as its stimulating growth factors are able to ignite collagen and elastin production within the skin, helping to restore healthy, younger-looking skin. PRP is also often used by patients looking to improve skin texture and tone. When it comes to PRP injections for hair loss, injections into the scalp can help to revitalize the skin cells on the scalp, with the direct result of improving the health of hair follicles and thus, healthy new hair growth.
PRP Treatment Success Rate for Hair Restoration
PRP treatment for hair restoration is an incredibly popular treatment, with promising results that Dr. Green has witnessed first-hand. According to studies from the National Institutes of Health, Karger, and Dr. Green herself, most outcome measures indicate positive results after several treatment sessions. Thought PRP hair treatment is not recommended for all patients, it is an innovative approach to hair restoration that has a high success rate amongst patients looking to improve the health of their hair follicles and stimulate new hair growth. For more information, you can check out our blog about the effectiveness of PRP hair treatment, facts and figures.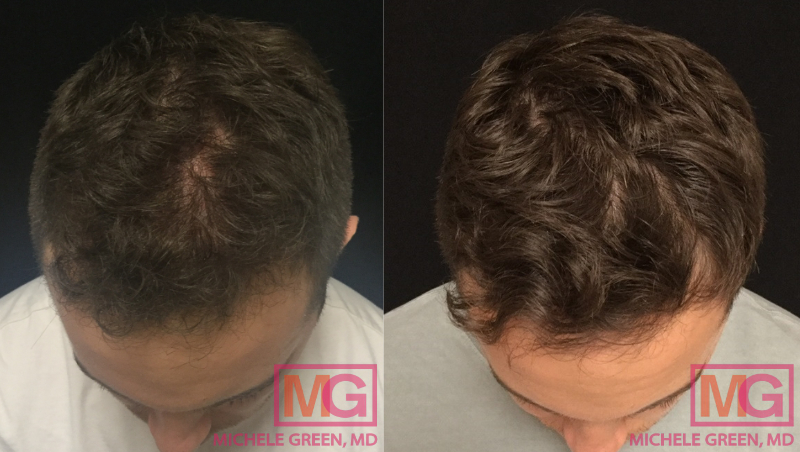 26 year old man, PRP treatment: 6 months
If you're frustrated by the look of thinning hair or hair loss, PRP hair restoration treatment may be right for you. Contact the office of Dr. Michele Green online or via phone at 212-535-3088 to develop your custom treatment plan. With over 25 years of experience in cosmetic dermatology, hair loss, and cutting edge treatments, Dr. Green will help diagnose and treat your hair loss today.