Hollywood celebrity Kylie Jenner helped to popularize lip fillers after having Juvederm injections to create her fuller lips and famous pout. Ever since, the demand for lip augmentation with hyaluronic acid fillers has skyrocketed. A-Listers like Chrissy Teigen, Katy Perry, Nicole Kidman, and Anna Faris have all joined in to reveal their ultimate celebrity secret: Juvederm lip fillers. Dr. Michele Green in New York City, an internationally renowned leader in the field of cosmetic dermatology, is the "go to doctor" for beautiful lips. Dr. Green is an expert in skincare, dermal fillers, and non-invasive cosmetic treatments, and was one of the first dermatologists in NYC to perfect the use of Juvederm fillers.
A person's lips are arguably the most impactful feature when it comes to making a first impression. As we age, the lips naturally thin, frown lines develop, and other fine lines surround the lips, and this can drastically change our control over that very first smile. Lip augmentation with dermal filler injections allows NYC-based cosmetic dermatologist, Dr. Michele Green, to provide her patients with natural-looking, subtle improvement or a completely new look and luscious lips. Patients enjoy fuller lips, more defined lips, and a whole new dimension to their "look".
Dr. Green is an internationally recognized and appreciated expert in the field of cosmetic dermatology with over 25 years of experience providing her patients from around the globe with their ideal results. She is consistently voted as one of New York's best physicians by Super Doctors, Castle Connolly, and New York Magazine for her holistic approach and 'less is more' philosophy when it comes to facial rejuvenation treatments. As an expert injector, Dr. Green creates a customized treatment approach for each of her patients depending on their unique skin needs and aesthetic goals.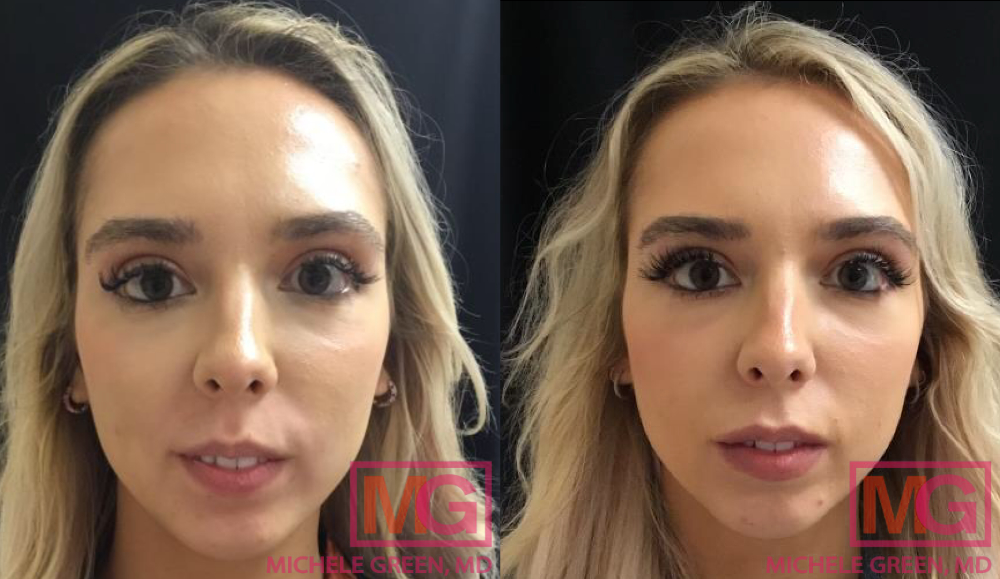 Before / After Juvederm Ultra Plus lip injections
How does lip augmentation work?
Lip augmentation, a cosmetic procedure that is also referred to as lip injections or lip fillers, entails treatment with injections of hyaluronic acid dermal filler to enhance the appearance of the lips. Hyaluronic acid is a naturally occurring sugar complex found in the skin. Hyaluronic acid promotes collagen production, which in turn plumps the skin and fills in lines and wrinkles and adds volume. Hyaluronic acid also increases the skin's moisture storing ability, leaving it both hydrated and rejuvenated. Injecting HA fillers into the lips is a safe and effective method for non-surgical lip augmentation that can provide patients with enhanced volume, definition, or both.
When it comes to lip augmentation, it's very important to consider what each individual patient is looking for, and to compliment the natural structure of the lips. This means that a crucial step in the process is reflecting on what you'd like your lips to become. As Perrie Samotin, journalist at Glamour Magazine and one of many of Dr. Green's lip augmentation patients, writes:
"The first step, according to Green, is to decide how big you realistically want your lips. Meaning, think long and hard about whether you really want to go from thin-lipped to Lisa Rinna in one fell swoop. It will be obvious. 'You really, really don't want [your lips] to be overfilled, and it's easier to have too little than too much,' Green said. But if you know you want to see a real difference right away, it's on you to voice that—especially since I've found that most doctors prefer their work to look hyper-natural."
Read more about Perrie's experience with Dr. Green in Glamour Magazine 
Dr. Green works with each of her patients to first identify their unique needs and personal aesthetic goals, customizing their lip augmentation treatment with lip fillers so their ideal cosmetic results are achieved.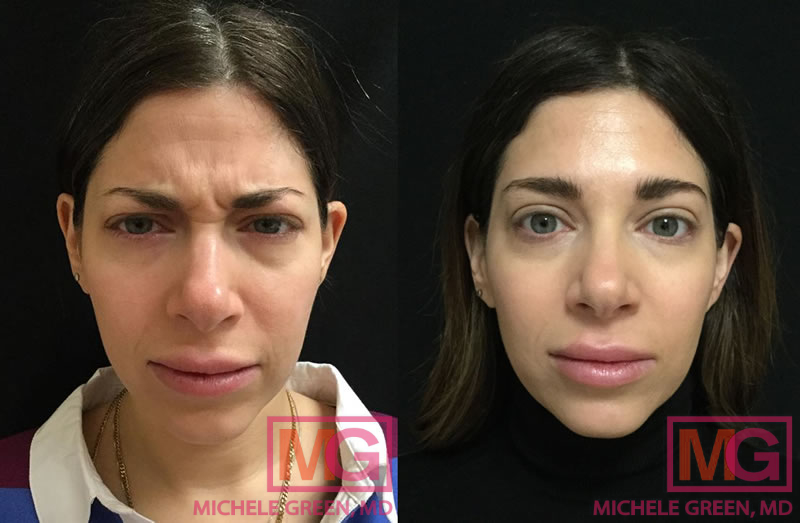 How Lip Injections Can Transform Your Look
Dr. Michele Green is a leading NYC board certified dermatologist, and she will work with you to determine your aesthetic goals. During the consultation, she will consider the different aspects of the lips and the surrounding skin.  The key areas of the lip region are:
Upper Lip: The upper lip is where shape and volume become key players. Injection zones vary to get the perfect shape and volume, but the key is to vary the lower border of the upper lip. Without this variation, patients risk the "trout pout," which appears artificial.
Lower Lip: The lower lip is more uniform, but tends to have increased volume int the center of the lip. Often, the lower lip can have a more voluminous injection in order to maintain the natural balance of the lips. The goal is to focus on central and vertical height, so that the lower lip looks even from side to side, with a lovely lift enhancement head-on.
Philtral columns: The philtral columns are the elevated areas of skin between the tip of the upper lip and the base of the nose. The natural shape of the philtral columns has a major role in its relationship to the upper lip, and definition can be an important consideration here.
White Roll: This is the edge along the lips that then transitions to skin. Definition along the white roll is essential when looking for a natural look, and this is a common injection site in order to create balance and glow.
Injectable Lip Fillers
Hyaluronic acid injectables, such as Juvederm, are manufactured with lidocaine in order to make the process of lip injection as comfortable as possible for the patient. Dr. Green often suggests to her patients that they take advantage of a topical numbing cream in addition to the lidocaine compounded in Juvederm itself. The numbing cream should be applied one hour in advance of the scheduled treatment to enhance patient comfort during their lip augmentation.
Since the production of hyaluronic acid and collagen slows with age, hyaluronic acid fillers can be used to replace this lost collagen and ultimately to reverse the signs of aging. Juvederm fillers can be used to decrease vertical lip lines, correct smile lines, and plump thin lips. Dermal fillers can also be used on different areas of the face to correct signs of aging, such as the temples, chin, nasolabial area (smile lines), tear trough, and cheeks, for pan-facial rejuvenation.
Hyaluronic acid lip enhancement is a long-lasting, natural alternative to plastic surgery that patients enjoy due to the fact that there is minimal, if any, downtime and quickly achieved, ideal cosmetic results.
What is the best lip filler?
There are a variety of hyaluronic acid fillers that can be used to create lip augmentation results that vary from incredibly natural-looking to dramatically glamorous. Although there are many dermal filler product options available, not all lip fillers are created equally. Additionally, different hyaluronic acid filler products are indicated for use in different areas of the face to enhance facial features or address the various signs of aging that develop naturally over time.
Juvederm products are one of the most popular brands of hyaluronic acid filler, with consistently outstanding cosmetic results. Created by Allergan, Juvederm provides a voluminous, plumped look for your lips that can have a long-lasting cosmetic impact, with the lip enhancing effects typically lasting for up to a year in duration.
Restylane is another rejuvenating hyaluronic acid lip injection that can be used for beautiful lip augmentation treatment, and is primarily geared towards those patients who want to create a more subtle lip enhancement effect. Restylane Silk and Restylane-L are two of the products within the Restylane family of dermal fillers that can be effectively used for lip injections, often recommended by Dr. Green for her patients who want a more natural looking, softer lip "look". Restylane Lyft is primarily used for the smile lines and oral commissures, and even for hand rejuvenation. In addition, patients who are in their 50's or older may prefer to take advantage of Restylane for its more subtle results. Restylane is another relatively long-lasting, semi-permanent lip augmentation treatment that typically lasts for 6 to 9 months in duration.
Belotero is an ultra-fine hyaluronic acid filler product that is used to wonderful effect to treat fine lines, and is useful for subtle lip augmentation. The cosmetic results don't last quite as long as Restylane or Juvederm, typically only reaching the 6-month mark. Belotero, however, is ideal for reducing the appearance of fine lines around the mouth that can develop as part of the aging process, also which are referred to as 'smokers lines'.
The lip filler product that is ultimately going to be best for your lip augmentation treatment will be dependent upon your particular skin needs and cosmetic goals. Dr. Michele Green in NYC is an expert injector and international leader in the field of cosmetic dermatology, with over 25 years of experience providing her patients from around the globe with their ideal results and long-lasting, luscious lips. Dr. Green will work with you to pick the best lip filler for your lip enhancement treatment so that you look and feel like the best version of yourself.
What is Juvederm lip filler?
Juvederm lip filler comes from the top-selling hyaluronic acid dermal filler collection, made by Allergan, which ranks in the top 3 most minimally invasive cosmetic treatments in the United States. Juvederm is designed from vycross technology which cross links low and high weight hyaluronic acids , which in turns creates an incredibly smooth and efficient injectable gel. The first Juvederm filler was approved by the FDA in 2006 for adding volume for any patient 21 or older, and in the last two decades Juvederm has expanded its collection of facial fillers which are designed to treat the various aspects of aging and sculpting:
Juvederm Volbella XC
This hyaluronic acid filler is a newer FDA-approved lip augmentation injectable used to create fullness and softness for the lips, as well as reduce the appearance of perioral lines, also known as "lipstick lines". Juvederm Volbella XC manages to create a soft, natural look.
Juvederm Ultra XC
This lip filler is a cross-linked gel that is designed to improve the fullness of the lips and mouth area, creating plump lips while also adding volume to reduce the appearance of fine lines. It can be tailored to a natural, fuller, or more dramatic pout. Juvederm XC is also used to plump the surrounding nasolabial area (smile lines), and oral commissures to prevent sagging and jowl formation.
Juvederm Ultra Plus XC
This product builds upon the Ultra XC formulation, creating a robust cross-linking process that aids more moderate to severe wrinkles and folds. Juvederm Ultra Plus XC is the type of dermal lip filler that Kylie Jenner had for her lip augmentation which gave her that famous luscious pout.
Which Juvederm is best for lips?
A variety of Juvederm lip fillers can be used depending on the desires of each individual patient. The first choice for most patients when it comes to lip plumping is Juvederm Ultra Plus XC. Dr. Green typically starts with just one syringe of Juvederm for lip enhancement. She embraces a conservative, "less is more" philosophy when it comes to treatment with cosmetic injections and will have you look at the results immediately after the injection to decide if you want a more dramatic result and even more lip plumping.
All three of the Juvederm hyaluronic acid fillers can be used to create a youthful, voluminous look for your lips, and Dr. Green will work with you to make sure your lip augmentation reflects your desires while also shaping your look to match the composition and structure of your natural facial features.
How long does Juvederm lip filler last?
So, how long do Juvederm lip fillers last? If you're a first-time patient, the question of how long do Juvederm lip injections last is likely at the top of your list, as this process is an investment for yourself, and long-lasting results are a crucial part of the decision-making process.
In terms of longevity, you may be in luck: Juvederm lip fillers have the longest lasting results of hyaluronic acid fillers, and they typically last for a full year with optimal use. First-time patients may not reach the full-year mark, as more hyaluronic acid may be absorbed into the body, but with multiple use, the timeline often extends.
How long does Juvederm XC last in lips?
Juvederm Volbella XC and Juvederm Ultra XC commonly produce results that last up to 1 year. Juvederm Ultra Plus XC, which is often used for more dramatic lip enhancement, can have lasting effects for over 1 year.
What is the Lip Augmentation Process Like?
The procedure for lip augmentation is incredibly quick and easy compared to other dermal enhancement treatments. It is recommended for patients 21 years and older and is particularly excellent for older patients looking to rejuvenate their look and feel the joy of fuller, fresher skin and lips.
When approaching your appointment, it's important to think about the "less is more" approach, as it is easier to enhance lips that have slightly too little volume than to adjust lips that are overfilled. Reflecting on what level of volume you realistically want can help your dermatologist to determine the exact amount of filler you would like to use, but typically one syringe of Juvederm will give patients the fullness that they are looking for.
In the week leading up to your appointment, there are a few things you should avoid:
Aspirin, Aleve, Ibuprofen or Motrin
Fish Oil
Multivitamins
Vitamin E
St. John's wort
These oral medications and supplements are blood thinners and should be avoided in order to prevent bruising. Aspirin, Aleve and Motrin all have a blood thinning effect, and can therefore make the skin quite susceptible to post-injection bruising. Refraining from alcohol and from smoking in preparation for treatment is also recommended. Furthermore, if you have any major breakouts or infections in the week prior to your procedure near the planned injection site, it may be best to postpone treatment until the breakout has cleared.
The appointment itself is completely easy, typically lasting 15 minutes. Dr. Michele Green is an experienced cosmetic injector, with over 20 decades in minimally invasive cosmetic procedures. During this procedure, Dr. Green will mark the injection sites to confirm location and the desired result, and layer Juvederm into all of the desired areas on and surrounding the lips. Dr. Green may also lightly massage the injection sites to ensure that the hyaluronic filler is evenly distributed. You will ice the treatment area immediately after your injection to reduce the chance of swelling.
How do you take care of your lips after Juvederm?
After your Juvederm procedure, very little downtime is required, if any. It's important to avoid manipulating the lips for 2-3 hours after injections (things like scrunching the lips, using straws, or drinking hot beverages) in order to allow the injections time to settle.
Within the first day after the procedure, swelling often occurs, creating an impression that the lips are 20% larger than they will be. Common side effects after the procedure include swelling, redness, tenderness, and bumps or firmness along the lips. Topical steroid creams can be used to minimize more moderate side effects, and icing for the first few days is recommended for all patients. You'll also want to avoid dental procedures for a few weeks after your appointment.
After 2 to 3 days, the lips will assume their injection volume and shape, and this look will continue to soften gradually over the course of 2-3 weeks, leaving your lips feeling luscious and full.
If you are in any way dissatisfied with your first treatment and are craving a more dramatic look, an additional lip injection can be applied after the first 2 weeks. If you learn that lip fillers are not for you, hyaluronidase can be used to dissolve the hyaluronic acid easily and painlessly. Hyaluronidase is an injectable enzyme that works to break down hyaluronic acid and can be used to reverse the effects of any HA filler treatment, including lip filler. Dr. Green will work with you from the very first consultation to ensure that your aspirations are met.
How Much Do Juvederm Lip Fillers Cost?
The total cost of your Juvederm lip filler treatment will ultimately be dependent on a number of contributing factors. The geographic location of the medical office in which you are treated, the experience level of the dermatologist performing your cosmetic injections and the type and number of syringes of product that are used to create your final cosmetic results are all factors that will influence the cost of your treatment. It may be more inexpensive to access dermal filler treatment from a nurse injector in a medical spa setting, however, it is important to be selective when choosing your injector in order to get the best overall cosmetic results and avoid unwanted side effects such as product migration or lip asymmetry. When you consult with board-certified dermatologist, Dr. Michele Green, at her private dermatology office in the Upper East Side neighborhood of Manhattan, you will have the opportunity to discuss with her in-depth your specific skin needs and overall aesthetic goals. Dr. Green is an expert injector and will customize your lip augmentation treatment so that it is perfectly suited to you and your goals, providing luscious lips within your budget.
After one syringe of Juvederm
Where else is Juvederm used?
Dermal Fillers are injectable gel-like fillers that replenish volume, enhance contour, and encourage natural collagen production in the skin and can be used across different areas of the face and body. Unlike cosmetic injectables like Botox and Dysport, dermal fillers are not neurotoxins. Instead of freezing the muscles as a way to reduce wrinkles, dermal fillers are able to smooth out the skin by naturally filling wrinkles in different areas of the face and body.
Collagen used to be the most common filler used in dermal filler procedures, but in recent years, hyaluronic acid fillers have presented with an incredible amount of patient success. Hyaluronic acid is a natural substance that provides the skin with hydration, volume, and suppleness. Hyaluronic acid fillers have the highest dermatological recommendation, and both Juvederm and Restylane offer a variety of dermal fillers for facial features beyond the lips including:
Cheek Enhancement: The use of dermal filler right near the cheek bone can be used as a means to create a nonsurgical lift that will revitalize and rejuvenate the skin.
Jaw Contouring: Jowls or sagging skin on the lower face can be firmed through the use of Juvederm injections along the jawline.
Tear Trough: Under eye hollows and dark circles can be corrected with dermal fillers injected into the tear trough area.  The best patients for this dermal filler site have undereye hollows without an excessive amount of skin laxity.
Nasolabial Folds: Nasolabial Folds, also known as "smile lines", are frequently treated with and without lip augmentation. A combination of dermal filler surrounding the lips and the cheeks can help to lift the skin and reduce these folds. Juvederm Ultra Plus is made especially for these deep lines, creases, and the lines which extend down the mouth to the oral commissures, known as marionette lines.
Volume Loss: Juvederm Ultra Plus can be combined with Juvederm Voluma XC (described below), as well as other dermal fillers to create a liquid face lift.  Many patients have pan-facial rejuvenation, to restore volume to multiple areas of the face during the same visit.  For example, the temples, chin, jowls, cheeks and nasolabial folds may all have lost volume. By using a combination approach, and layering more than one dermal filler, the different areas of volume loss can be restored to provide complete facial rejuvenation. Through the art of a liquid facelift, patients can avoid having invasive plastic surgery.
Juvederm Vollure XC
This injectable creates volume that helps to smooth wrinkles and folds throughout the face, with results lasting up to 1.5 years. From just a single visit, Juvederm Vollure can help to give you a plump, soft look to your skin, and the filler can be tailored to each patient to allow for a natural, beautiful glow.
Juvederm Voluma XC
This product is designed to sculpt, lift, and reduce wrinkles along the cheeks and midface. It creates a natural appearance and smooths the contour of the skin, with results lasting up to 2 years. Volume loss in the midface is a chief concern of many patients and Juvederm Voluma XC is the ideal way to replenish this lost collagen and improve facial sagging. Dermal filler such as Juvederm Voluma XC can be injected near the cheekbone in order to restore fullness that is often lost during the aging process, creating a natural lift that reduces the look of smile lines and deeper folds without the need for plastic surgery.
What is permanent lip augmentation?
Permanent lip augmentation options exist for those who are looking to create more long-lasting change to their look, typically these treatments are offered by a plastic surgeon:
Lip Implants: This process uses a Permalip implant insertion, where a surgical implant is shaped using an incision in the lip. A curved alligator clamp is then used to develop a tunnel in the lip that follows the curvature of the lip, and then the implant is positioned below the lip fat and above the lip muscles. Absorbable sutures are then used to close the incisions.
Fat grafting: This process has a slightly longer augmentation result, providing fuller lips for five years or more. During the fat grafting lip augmentation process, your own tissue is used. Fat tissue is collected from the stomach, which is then purified and inserted into the lips. The full treatment takes about ninety minutes and is done with local anesthesia.
Tissue grafting: Tissue grafting is similar to fat grafting, in that your own tissue is taken to be used for lip enhancement. In this case, skin is taken from the lower stomach area, relying on the dermis to be inserted into the lips.
Please note, these permanent lip augmentation procedures are typically less popular than lip fillers, as the results cannot be changed and the procedures are much more complicated, and the final look has a greater risk of appearing unnatural. Permanent lift fillers and tissue grafting are rarely performed now that there are so many minimally invasive hyaluronic acid fillers for lip enhancement.
Do Juvederm lip injections hurt?
No! Lip augmentation with dermal fillers is a minimally invasive cosmetic procedure that is made comfortable for the patient due to the fact that Juvederm is compounded with lidocaine. Lidocaine is a local anesthetic that is included to reduce any potential discomfort at the sites of injection. For her patients who are interested in lip fillers, Dr. Green will also provide a prescription for a topical anesthetic in advance of their treatment. The numbing cream should be applied topically to the treatment area one hour before the lip augmentation procedure is scheduled. Once you have arrived to Dr. Green's private dermatology office for lip filler enhancement treatment, the numbing cream will be removed and skin sterilized in preparation for treatment. After the injections are finished, an ice pack will be applied to the treatment area to reduce any potential swelling and for comfort.
Do lips swell after Juvederm injections? When does Juvederm swelling go down?
A mild amount of temporary swelling is a common side effect and to be expected with any dermal filler injections, including lip augmentation with Juvederm. The amount of swelling associated with lip filler treatment is minimal and typically resolves on its own within several days of treatment. Patients enjoy the fact that there is zero downtime involved with their lip filler injections, meaning that they can resume their normal daily activities immediately upon completion of their procedure. In addition, immediately upon completion of your lip filler treatment with Dr. Green, an ice pack will be applied to the area to reduce any initial swelling that may occur.
How often should I have Juvederm lip treatment?
Juvederm injections in the lips typically last for up to a year in duration. Many patients, however, elect to engage in maintenance treatment sessions throughout the year to keep up the best cosmetic results. When you consult with Dr. Green at her private, boutique dermatology office in the Upper East Side neighborhood of Manhattan, NYC, she will work with you to establish a timeline for your Juvederm lip filler treatment so that you can achieve and maintain your optimal cosmetic results.
Is Juvederm lip filler safe?
Of course! The entire family of Juvederm dermal fillers is FDA-approved for cosmetic injection and can be used to safely enhance the appearance of the lips. Having your Juvederm lip filler treatment with a board-certified healthcare professional, such as Dr. Michele Green in NYC, is the best way to ensure that your injections are performed in a safe and effective manner. Since Juvederm is composed of hyaluronic acid, which is a naturally occurring substance within the skin, it is incredibly rare to develop any serious side effects when treated by a professional or encounter an allergic reaction. Patients can rest-assured knowing that Juvederm is a dissolvable hyaluronic acid dermal filler product and the effects can be reversed if necessary by relying on the injectable enzyme hyaluronidase. When you choose Dr. Green as your injector for lip filler treatment with Juvederm, the process is guaranteed to be safe and effective, producing long-lasting, natural-looking ideal cosmetic results.
How do I begin the process of lip enhancement?
Fuller lips are associated with healthy, youthful beauty, and they've never been easier to achieve! Thanks to cosmetic dermal filler injections, patients can attain the perfect pout in a single treatment session without any downtime involved whatsoever. The best first step is to schedule a consultation with a board-certified cosmetic dermatologist and expert injector, Dr. Michele Green in New York City. Dr. Green is an internationally recognized leader in the field of cosmetic dermatology with over two and half decades of experience providing her patients from around the globe with their ideal cosmetic results.
Dr. Michele Green is consistently voted as one of New York's best physicians by Castle Connolly, Super Doctors, and New York Magazine for her holistic approach and 'less is more' philosophy when it comes to facial rejuvenation treatment, including lip enhancement with dermal filler injections. Dr. Green takes pride in the relationships that she establishes with each patient and creates a customized treatment plan for every individual that takes into account their personal needs and cosmetic goals. To get started with facial rejuvenation treatment and non-invasive lip augmentation, schedule a consultation with Dr. Green by calling the NYC-based office at 212-535-3088 or contacting us online today.