What is Microblading?
Microblading is a buzzword that you might have read about in fashion magazines or have seen references to online on social media, but may only have a basic understanding of what it actually is and what it entails.
Microblading is a cosmetic treatment that targets the brow area and eyebrows. It is like a semi-permanent cosmetic tattoo where the eyebrows are drawn onto the face. This form of semi-permanent makeup is used in place of the natural brows where the individual is perhaps looking for a more defined look in the eyebrow area.
One of the main reasons a person may consider a technique such as microblading is because they have thin eyebrows, and would prefer a fuller looking brow. Typically a brow color is selected that matches the natural hair in this area and the microblading artist draws hair-like strokes in the brow area to give the appearance of a fuller eyebrow. A brow artist can also help give a more defined eyebrow shape for those seeking perfect brows.
When it comes to microblading you are combining the skills of a makeup artist, with a tattoo artist and a dermatologist. Another name for microblading that is used occasionally is eyebrow embroidery.  However, Microblading can be performed with injectables, such as Botox and dermal fillers, such Juvederm and Restylane.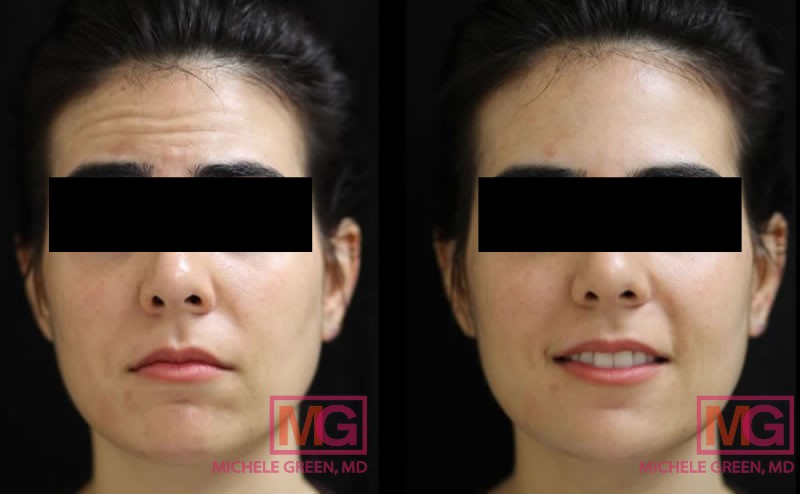 Before and After photo of 35 year old female treated with Botox injections (Forehead, Glabella & Crows feet)
What's the difference between Microblading and tattooing?
The main difference between microblading and a tattoo is that the brow hairs that are drawn onto the skin are only semi-permanent. This means that they will fade over time. The technique uses a special pen to deposit pigment into the superficial layers of the skin which is less deep than a traditional tattoo, so this means that the ink is only semi-permanent and will eventually fade away completely.
Does Microblading affect hair growth?
The general consensus is that microblading does not affect hair growth in any way. So if you're thinking about getting your eyebrows microbladed it means that if you want to change the appearance of the brows at a later date, or go back to just the natural hair, with time, you can. Although there will be a wait for the microblading technique to wear off.

Female 35-44, Microblading 3 months post treatment
How often do you need to do Microblading?
Most people find that microblading will last between one to three years before a follow-up appointment is needed. This means that eyebrow microblading is long lasting. Once the microblading procedure is underway any hair that is unwanted will be removed, however in preparation for the treatment the natural eyebrows should be left in place so that the person carrying out the microblading procedure can see how the natural eyebrows sit on the face. Since in many cases microblading is used to enhance the look of the natural brow, to provide a full brow you may not want to remove any hair in the eyebrow region at all.
In many cases, it can be part of an overall treatment option such as eye rejuvenation and this is becoming more and more popular as patients become more knowledgeable about how microblading and eye rejuvenation treatments can compliment each other.
If you're looking to find out more about Microblading treatments, Dr. Green can discuss the best options with you. To book an appointment, please contact our New York based office or call 212 535 3088